Last Updated on by Rodrigo @ OutofYourComfortZone
Paris is a city that never fails to amaze. It's a place where grand history meets innovative modernity, and where every corner is a postcard waiting to happen. From the iconic Eiffel Tower to the quaint coffee shops lining the cobblestone streets, Paris is truly a world unto itself.
I lived in Paris for three years and I go back every chance I get. Its rich history, stunning architecture, and mouth-watering cuisine have captured my heart.
So, to help you plan your trip, I've put together the ultimate three-day Paris itinerary. It has top attractions to help you get acquainted with the city. And I've even included some hidden gems to get you off the beaten path. It's perfect for seasoned travelers as well as first-time visitors.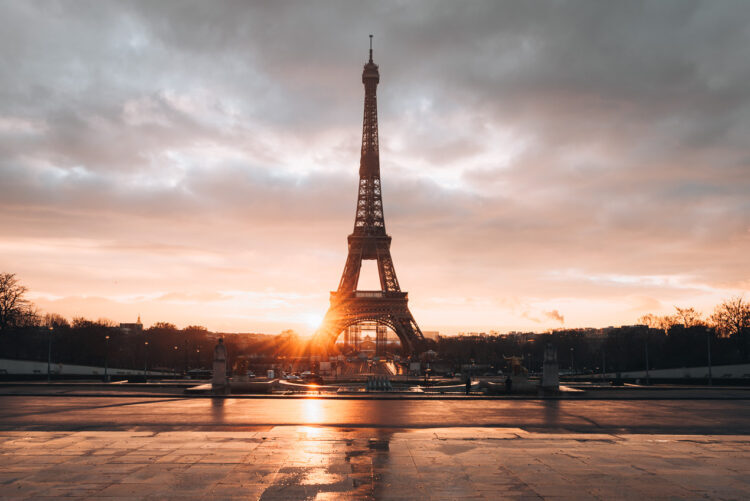 Day 1: Explore Iconic Landmarks
Tour the Louvre Museum
Located right in the heart of Paris is the largest art museum in the world, the Louvre. This historic monument once served as the residence of French royals. Today, it boasts an extensive collection of over 300,000 objects and works of art that date to ancient Rome and Greece. There are even pieces from some of the most renowned European artists.
The most famous among these are Leonardo da Vinci's "Mona Lisa" and the ancient Greek statue, "Venus de Milo."
Then there's the Louvre Palace itself. It's a remarkable architectural achievement in its own right.
While you could easily spend an entire day here, I recommend selecting a few exhibits ahead of time, so you don't miss out on the other sites.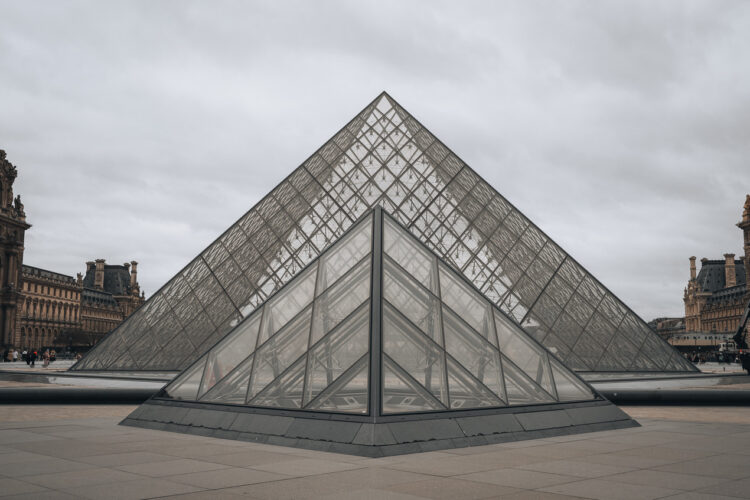 Explore Notre-Dame Cathedral
Not far from the Louvre is the awe-inspiring Notre-Dame Cathedral. It's located on Île de la Cité, an island in Paris, and is a central point for the city's history and geography.
Construction began in the 12th century and lasted for a whopping 200 years. And once you see this magnificent structure, you'll see why it took so long. From its intricate sculptures to its majestic rose windows, it's easily one of Paris's finest examples of Gothic architecture.
In 2019, a devastating fire destroyed the spire. Its restoration is planned until December 2024, but that doesn't mean you can't stop by. You can still tour the exterior of the cathedral and the surrounding area. And the square in front of Notre-Dame is a great place to admire its architectural details.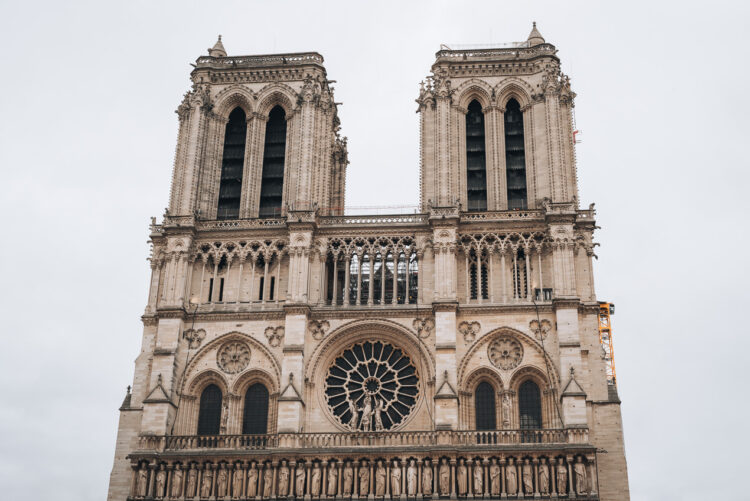 Visit Sainte-Chapelle
Sainte-Chapelle is a stunning gothic chapel that is most known for its stained glass windows.
It was built in the 13th century by King Louis IX to house his collection of Christian relics. The upper chapel is filled with 15 towering stained glass windows depicting scenes from the Old and New Testaments.
When the sunlight filters through the glass, it creates a breathtaking kaleidoscope of colors. It's an intimate and spiritual experience that will no doubt leave you in awe of its beauty.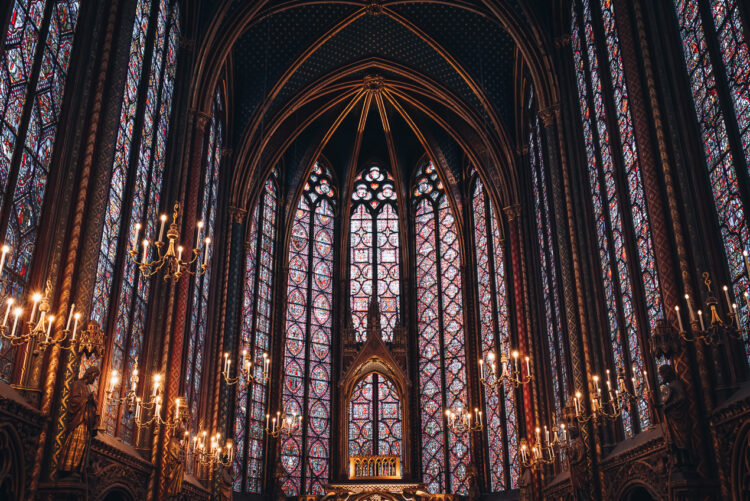 Admire the Eiffel Tower
Standing 330 meters tall, the Eiffel Tower is the undisputed universal symbol of Paris.
Since its construction for the 1889 World's Fair, it has captivated millions with its unique structure and panoramic views of the city. Whether you choose to go up to its viewing platforms or admire it from the ground, the Eiffel Tower is impressive from every angle.
The best times to visit are at sunrise, sunset, and at night. And the best places to view the Iron Lady are Trocadéro, the Arc de Triomphe Observation deck, Pont Alexandre III, Champs de Mars, and Pont de Bir-Hakeim.
My favorite time was at sunrise from Trocadéro. The place was empty, and I had my choice of photos. But, if you want to see the Eiffel Tower sparkle, then you'll have to go at night. Every hour, on the hour, it twinkles for five minutes. It's a mesmerizing spectacle, to say the least.
Cruise on the Seine River
No trip to Paris is complete without a leisurely cruise on the Seine River. As you glide along, you'll pass the most spectacular landmarks that define the City of Light. From the imposing Notre-Dame Cathedral to the grand Louvre Museum, it's an incredible way to sightsee.
Cruises run throughout the day and offer dining options. I recommend the evening cruise with dinner. You'll be able to watch the sunset while indulging in a delicious French meal. It's a memorable experience and one of the many reasons why people like Paris so much.
Day 2: Discover Art and History
Tour the Palace of Versailles
The Palace of Versailles, located in the city of Versailles on the outskirts of Paris, is an architectural treasure and a symbol of the French monarchy.
What started as Louis XIII's hunting lodge was transformed by Louis XIV into a magnificent palace. It, actually, set the standard for royal courts in Europe.
Today, the palace is renowned for the Hall of Mirrors, the King's Grand Apartments, and the Museum of the History of France.
The gardens are a masterpiece of symmetry and design. They feature elaborate fountains, sculptures, and patterned flower beds that spread across 8 square kilometers.
Then, if you're visiting Paris in summer, there's the Night Fountain Show every Saturday evening. It's a spectacular display that finishes with a gigantic firework show.
Wander Around Montmartre
Perched on a hill in the 18th arrondissement, Montmartre is a quaint district known for its bohemian spirit and artistic heritage.
In the past, it attracted artists like Picasso, van Gogh, and Renoir. They found the cost of living reasonable and the atmosphere beyond inspirational.
Today, it's home to the bustling Place du Tertre where artists display their works and sketch portraits. Its narrow, winding streets are filled with cozy cafés, eclectic shops, and historic buildings that add to its charm. So, if you want a glimpse of what living in Paris is like, wandering around Montmartre will do just that.
The neighborhood is also famous for the Sacré-Cœur Basilica and the Moulin Rouge cabaret.
Visit Sacré-Cœur Basilica
If you're in Montmartre, then a visit to the Sacré-Cœur Basilica is an absolute must. This architectural marvel is full of history and stunning views.
Its construction began in 1875 as a national vow of penance for France's defeat in the Franco-Prussian War. It was completed in 1914 and declared a national monument in 2022.
The basilica features a Romano-Byzantine design and is made entirely of white stone. And inside, you'll find a mosaic ceiling that depicts Christ with outstretched arms. It symbolizes his protection over France. It's, actually, one of the largest mosaics of its kind in the world.
You can visit the church and climb to the top where you'll have one of the best panoramas over Paris.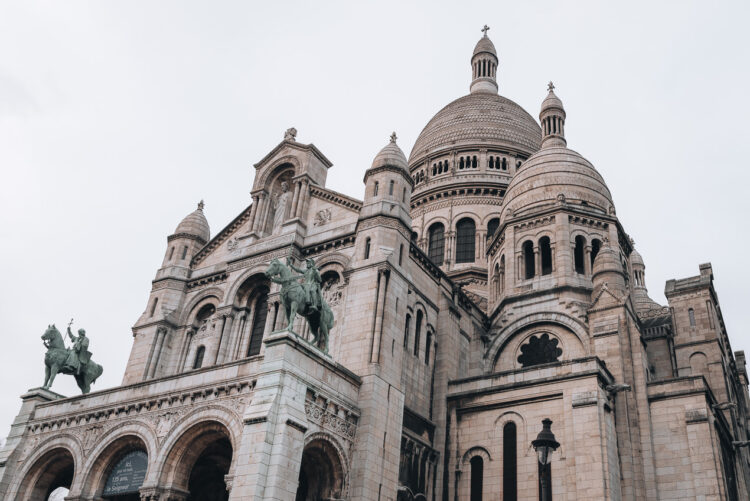 Discover Musée d'Orsay
The Musée d'Orsay is a must-visit museum for art lovers. It's housed in the former Gare d'Orsay, a Beaux-Arts railway station, and showcases an extensive collection of art from 1848-1914. In fact, it has a global reputation for its Impressionist and Post-Impressionist pieces.
The museum's layout will guide you through a chronological journey of art history to show you how art evolved during this era.
And the pieces on display include work from renowned artists such as Monet, Degas, Renoir, and van Gogh.
Beyond its exhibits, the museum is also known for its architecture and stunning clock face, which, now, houses the beautiful Café Campana.
Day 3: Experience Modern Paris
Visit Centre Pompidou
The Centre Pompidou is not just an art museum, but also a public library, and a center for music and acoustic research. Its futuristic structure was designed by the architectural duo Renzo Piano and Richard Rogers. It features brightly colored pipes and ducts from top to bottom.
Inside, it houses the largest museum for modern art in Europe, Musée National d'Art Moderne. Here you'll find a massive collection of artwork from the 20th and 21st centuries. Then, there's the rooftop where you can have a beautiful panoramic view of the city.
Needless to say, it's easy to see why it's turned into a cultural hub of Paris.
Shop and Dine in the Marais District
The Marais district is a blend of past and present, tradition and modernity. It's full of narrow, winding streets lined with vintage boutiques, art galleries, and classical French bistros. It is also home to the iconic Place des Vosges, Paris's oldest square, and the historic Jewish quarter.
Then, if you have time, I recommend the Musée Picasso. It's one of the smaller museums on this list, but it has an impressive collection that's worth checking out.
At night, the district transforms, revealing a bustling nightlife scene. There's a mix of hip bars, cafes, and nightclubs where you can dance until the early morning.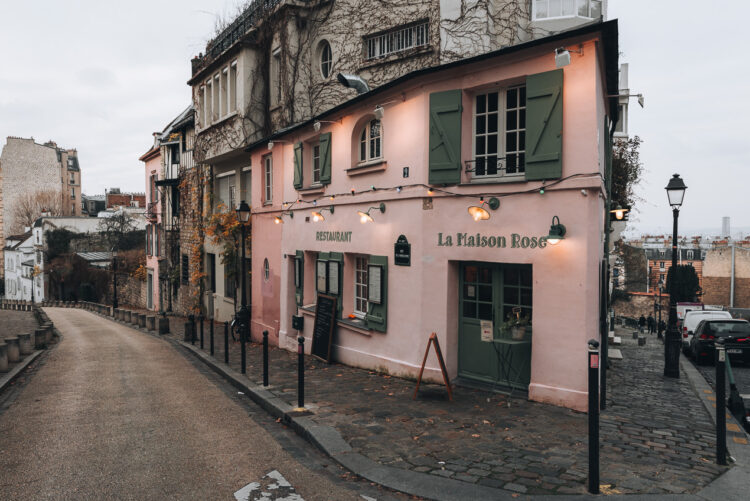 Explore the Latin Quarter
The Latin Quarter is known for its bustling student life, historical bookshops, and quaint cafes. It's also home to the renowned Sorbonne University.
Stroll along the Seine River, browse through the shelves of the iconic Shakespeare and Company bookstore, or enjoy a cup of coffee at a cafe. There's no wrong way to visit this part of Paris.
But my favorite site was the infamous Pantheon. This neoclassical mausoleum is where many of France's esteemed figures are buried. You can tour the monument and even go to the top for an amazing view of the neighborhood.
Then, at the edge of the district is the beautiful Luxembourg Gardens. This park is full of trees, flower beds, statues, and fountains. It's the perfect place to go for a breath of fresh air.
Stroll Along the Coulée Verte René-Dumont
The Coulée Verte René-Dumont, also known as the Promenade Plantée, is a delightful green walkway in the 12th arrondissement of Paris. This elevated pedestrian path follows the route of an old railway line and offers a peaceful escape right in the heart of the city.
Starting from Bastille and winding through the district, this path takes you through a series of public gardens. And along the way, you'll have beautiful views of the streets below. It's 4.7 kilometers in total and takes about two hours to complete.
It's most known to locals so this will be your chance to get off the beaten path. But I still recommend going in the morning if you want to have the place to yourself.
Discover the Louis Vuitton Foundation
Located in the 16th arrondissement of Paris, the Louis Vuitton Foundation is the pinnacle of modern art and architecture in Paris. It was designed by Frank Gehry and features an impressive building of glass sails that float above a water garden.
It opened in 2014 and has since been used to promote and support contemporary and 21st-century artistic creations. Here you'll encounter an exceptional collection of work by artists like Jean-Michel Basquiat and Andy Warhol.
Additionally, the Foundation hosts temporary exhibits that rotate throughout the year. So, you know your visit will be unique. I even attended a few concerts here. But if you're looking for something specific, check the schedule before you travel.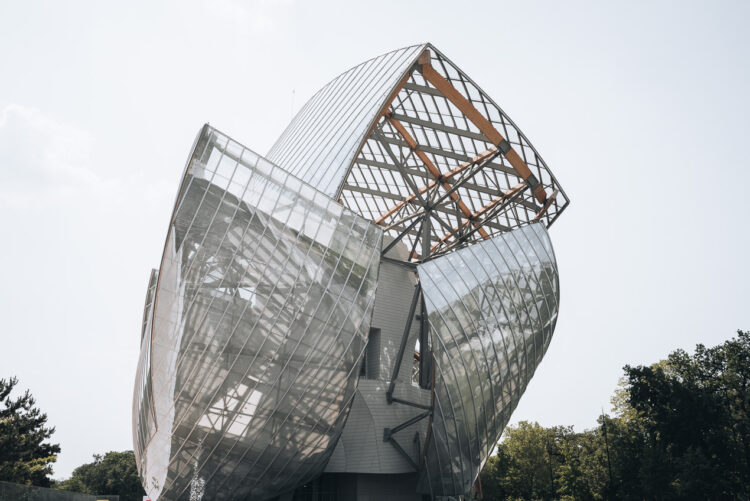 Take in the Views from the Montparnasse Tower
Of course, no trip to Paris is complete without taking in the view from the Montparnasse Tower. This 210-meter-tall skyscraper is the best alternative to admire the cityscape without the crowds, like at the Eiffel Tower.
This towering structure provides a 360-degree view of all of Paris. From its rooftop terrace, you'll have an unobstructed panorama of the Eiffel Tower, the Louvre, Les Invalides, the Sacré-Cœur, the Notre-Dame Cathedral, and the Panthéon.
You can go up either during the day or at night. But I recommend going at sunset. There is no better way to finish your stay in Paris.
Conclusion: 3 Days in Paris
From the splendor of the Louvre to the modernist marvels of the Louis Vuitton Foundation, your trip to Paris will no doubt be unforgettable. Of course, you could spend a week here, but three days will show you the best of the best and still give you enough time to get off the typical tourist path.
Whether it's your first visit or your fiftieth, the City of Light always has something unique to offer. That's why I keep going back!
Author bio:
Jen is the creator of Dabbling in Jet Lag, a blog focused on traveling and living in France. Her goal is to inspire others to get off the beaten path and explore some of the lesser-known places. On Dabbling in Jet Lag, she shares her experience as an expat in France as well as the best things to do around the country.
Planning your next trip?

Then don't forget travel insurance! You don't want to get stuck paying a ton of money and ruining your trip if you get sick or have an accident without travel insurance. WorldNomads is ideal for adventurous travelers, backpackers, or anyone looking to be protected during their trip. They cover almost every single activity you can image! Plus, you can have a 5% discount with the coupon code comfort5.

Already reserved your hotel or hostel? If not, we recommend Booking.com. They have a huge selection of hotels and hostels all over the world. Plus, in most cases, you can cancel your reservation without any costs up to a few days before the check-in date!

Still haven't booked your plane ticket and want to save big? Take a look at Momondo. It's a flight aggregator that combines several other ticket search websites to make it easier for you to compare prices and make sure you are getting the best deal.

And finally, will you need to rent a car during your trip? Then check out Rentalcar.com to search and compare car rental companies from all over the world in a single website. Then, you can find the cheapest price for the best car!