Last Updated on by Rodrigo @ OutofYourComfortZone
Ah, Paris, the City of Lights, and the epitome of romance and culture. Planning a trip to Paris is like stepping into a dream, where cobblestone streets, iconic landmarks, and delectable cuisine await to enchant your senses.
Whether it's your first visit or a return to this captivating city, the allure of Paris never fades. In this comprehensive guide, we will walk you through the essentials of planning an enchanting trip to the City of Lights, including how to find the best Paris vacation package deals for an unforgettable experience.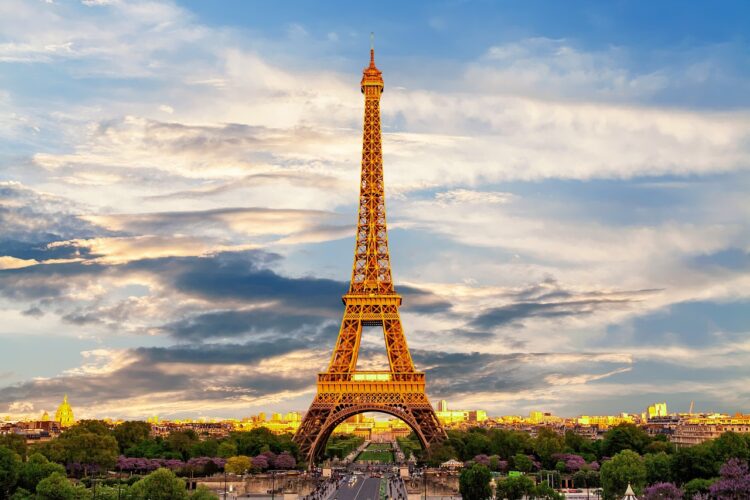 The Magic of Paris: An Overview
Before we delve into the nitty-gritty of planning, let's take a moment to bask in the magic of Paris. This city's rich history, artistic heritage, and timeless elegance have captivated hearts for centuries.
From the iconic Eiffel Tower, which offers breathtaking views of the city, to the world-renowned Louvre Museum, housing masterpieces like the Mona Lisa, Paris is a treasure trove of cultural and architectural wonders. And of course, let's not forget the culinary delights that await in every charming bistro and patisserie.
Planning a Trip to Paris: Where to Begin
Planning a trip to Paris requires careful consideration to ensure a smooth and enjoyable journey. Here are some essential steps to get started:
Setting the Dates: Determine the dates for your trip, keeping in mind the best time to visit Paris. Spring (April to June) and fall (September to October) offer pleasant weather and fewer crowds.
Length of Stay: Decide how long you'll be in Paris. A week allows for a more leisurely exploration, but even a short weekend trip can be filled with memorable experiences.
Budget: Establish a budget for your trip, taking into account airfare, accommodation, meals, activities, and souvenirs.
Travel Documents: Ensure your passport is valid for at least six months from your travel dates and check visa requirements if applicable.
Finding Paris Vacation Package Deals
When planning your trip, consider exploring Paris vacation package deals to simplify the process and potentially save on costs. These packages typically bundle together accommodations, flights, and sometimes activities, making it easier to plan your dream vacation.
Benefits of Paris Vacation Packages: By opting for a vacation package, you can often secure better rates on flights and accommodations. Packages also offer convenience, as many aspects of your trip are taken care of in advance.
Customization: Look for packages that allow customization to suit your preferences. Whether you want to explore art museums, indulge in gourmet dining, or enjoy a mix of sightseeing and leisure, there's a package for you.
Booking in Advance: To get the best deals, book your Paris vacation package well in advance, especially if you plan to travel during peak seasons.
Must-See Landmarks and Attractions
To help you make the most of your stay, we have compiled a list of the top 10 attractions in Paris. Are you ready for this incredible journey? Then come aboard with us on this unique experience!
1. Eiffel Tower
The iconic Eiffel Tower is an undisputed landmark of Paris and undoubtedly the city's number one attraction. Built in 1889 for the Universal Exposition, the tower offers breathtaking panoramic views of the city. Don't miss the chance to ascend to the top and appreciate the grandeur of Paris from above. At night, when the tower lights up, it becomes a romantic spectacle you cannot afford to miss!
2. Louvre Museum
For art and history lovers, the Louvre Museum is a true treasure trove. Home to an extensive collection of masterpieces such as the Mona Lisa and the Venus de Milo, it is the most visited museum in the world. Set aside at least half a day to explore this impressive palace and don't forget to admire its beautiful architecture.
3. Notre-Dame Cathedral
An architectural gem in Gothic style, Notre-Dame Cathedral is a historic and religious landmark in Paris. Explore the intricate carvings on its facade and, if possible, climb up to the towers for a breathtaking view of the River Seine and the city.
4. Montmartre and Sacré-Cœur Basilica
Montmartre is a bohemian and picturesque neighborhood known for its cobblestone streets, street artists, and charming cafes. Atop the hill, you'll find the majestic Sacré-Cœur Basilica with its white dome, offering panoramic views of the city. It's a perfect spot to soak in the romantic atmosphere of Paris.
5. Champs-Élysées and Arc de Triomphe
The famous Champs-Élysées avenue is one of the most iconic in the world. Lined with shops, cafes, and cinemas, it's a perfect place for strolling and shopping. At the avenue's end stands the imposing Arc de Triomphe, built by Napoleon to honor French military victories. Climb to the top for an incredible view of the boulevard and the twelve radiating avenues.
6. Seine River Cruise
One of the best ways to appreciate the beauty of Paris is by taking a relaxing cruise along the River Seine. Whether during the day or at night, the view of the city's main landmarks, such as the Eiffel Tower, Notre-Dame Cathedral, and the Louvre, is unforgettable and full of romance.
7. Saint-Germain-des-Prés Quarter
This charming neighborhood is famous for its intellectual and artistic atmosphere. Stroll through its cobblestone streets, visit traditional bookstores, and enjoy a coffee at one of the iconic Parisian cafes. It's the perfect place to experience the true bohemian essence of the city.
8. Musée d'Orsay
Housed in a former railway station, the Musée d'Orsay showcases an extensive collection of Impressionist and Post-Impressionist art. Works by artists such as Monet, Van Gogh, Renoir, and Degas are displayed here, providing a unique experience for art enthusiasts.
9. Palace of Versailles
Although not located in Paris, the Palace of Versailles is a must-visit attraction for anyone in the city. Just a short train ride away, this magnificent palace and its stunning gardens tell the story of French royalty and leave every visitor in awe.
10. Luxembourg Gardens
For a tranquil break amidst the city's hustle and bustle, visit the Luxembourg Gardens. This enchanting green space is perfect for relaxing, having a picnic, watching children sail their boats on the lake, and admiring the beauty of nature.
Paris is truly a city filled with charms and surprises. These 10 attractions are just the beginning of an unforgettable journey through the City of Light.
Embracing Parisian Culture and Cuisine
To truly experience Paris, immerse yourself in its vibrant culture and savour its delectable cuisine:
Parisian Cafés: Indulge in the quintessential Parisian experience of sitting at a café, sipping espresso, and people-watching.
French Cuisine: Treat your taste buds to French culinary delights, from buttery croissants and escargot to boeuf bourguignon and crème brûlée.
Seine River Cruise: Take a relaxing cruise along the Seine River, admiring the city's landmarks as they light up at dusk.
Beyond Paris: Exploring the Surrounding Regions
While Paris is undeniably captivating, consider venturing beyond the city to explore the charming regions of France:
Versailles: Visit the opulent Palace of Versailles and its stunning gardens, just a short train ride from Paris.
Loire Valley: Embark on a day trip to the Loire Valley, renowned for its fairytale châteaux and picturesque countryside.
Normandy: Discover the historical significance of Normandy with its D-Day landing beaches and charming coastal towns.
Conclusion
As you embark on planning an enchanting trip to the City of Lights, remember that Paris offers an unparalleled blend of romance, culture, and culinary delights. Finding the perfect Paris vacation package deals can streamline your journey, leaving you free to soak in the magic that this captivating city has to offer.
From iconic landmarks to charming neighbourhoods, each moment in Paris is a memory waiting to be cherished. So, pack your bags, brush up on your French phrases, and get ready to experience the enchantment of Paris—the city that forever captivates the hearts of those who wander its streets. Bon voyage!
Planning your next trip?

Then don't forget travel insurance! You don't want to get stuck paying a ton of money and ruining your trip if you get sick or have an accident without travel insurance. WorldNomads is ideal for adventurous travelers, backpackers, or anyone looking to be protected during their trip. They cover almost every single activity you can image! Plus, you can have a 5% discount with the coupon code comfort5.

Already reserved your hotel or hostel? If not, we recommend Booking.com. They have a huge selection of hotels and hostels all over the world. Plus, in most cases, you can cancel your reservation without any costs up to a few days before the check-in date!

Still haven't booked your plane ticket and want to save big? Take a look at Momondo. It's a flight aggregator that combines several other ticket search websites to make it easier for you to compare prices and make sure you are getting the best deal.

And finally, will you need to rent a car during your trip? Then check out Rentalcar.com to search and compare car rental companies from all over the world in a single website. Then, you can find the cheapest price for the best car!