Last Updated on by Rodrigo @ OutofYourComfortZone
Need to find a long-term place to stay somewhere in the world? Want to escape the city during the pandemic and go to the beach or the mountain? Do you want to rent a house, room, or apartment for a long period? Then take a look at the list below with 5 best websites to find long-term accommodation, including how each one works, a price comparison, and tips to get the best deal.
I'll be honest here. With all the moving around we do, one of my absolute LEAST favorite things to deal with is finding a place to stay with each move.
It's stressful, dealing with landlords at a distance can be a pain, and sometimes there just aren't many options.
But although finding long-term accommodation overseas isn't always easy…luckily, it's easier today than it ever has been before!
Thanks to the good 'ol internet, you can find clear descriptions of properties to stay at, high-quality photos, videos, reviews from past guests… just imagine how much harder it was to find a long-term place to stay 40 (or even 20!) years ago. Simply by relying on what they told you about the accommodation on the phone or perhaps a few black-and-white photos in the newspaper??
So whether you're moving overseas permanently and need a place to live, have to stay somewhere temporarily for work or studies, need a winter vacation rental, or are a digital nomad in need of accommodation for a few weeks at your next destination, the websites below can help.
On that note, let's dive into the 5 best websites to search for and book long-term accommodation!
Option #1: Airbnb (this link can give you up to $20 off on your first stay!)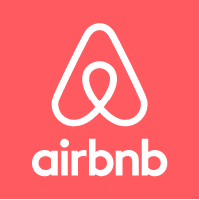 People often think about Airbnb for short stays, but it can also be a great resource for finding longer accommodation that's much more "homey" than a hotel.
Given that its specialty is rented out homes, you can rent an entire apartment or home that is furnished and ready for you to stay as long as you need.
As another benefit, Airbnb is a well-respected and trustworthy website for guests and hosts….and those who use it tend to use it again and again as an option to find great accommodation with a much lower price than a guesthouse or hotel.
With Airbnb's many search filters, you can personalize your stay with whatever you're looking for. You can choose to rent out an entire apartment/house yourself, a single room where you just share the home's common areas, or even a shared room.
Since you're looking for a longer stay, you can also select filters like the number of rooms, bathrooms, if there are laptop-friendly workspaces, a gym, or a pool, and even which home appliances are available. 
Many stays also offer discounts off the normal nightly price for longer stays. For example, stays of over a week may have a 20% discount, stays of over a month may have a 30% discount, etc. These discounts are set by the hosts, so they vary between properties.
One thing that makes Airbnb stand out is its "Unique Stays." Under this option, you can "live" in places like a boat in Rio de Janeiro, a castle in Ireland, and more.
The downside of Airbnb is that the fees can be quite high, especially for longer stays. The hosts choose if and how much to charge for a cleaning fee. Beyond this, there is always an Airbnb service fee and some places have local taxes that can be quite high. You can see the total price for your stay when you put in your travel dates.
Some properties offer free cancellation during a specific timeframe. This varies from host to host, so be sure to read through it before you book.
As a final note, it's only possible to pay by credit card on Airbnb, which gives you some security as a renter since you can dispute the payment later on with Airbnb if the property doesn't reflect what the description promises.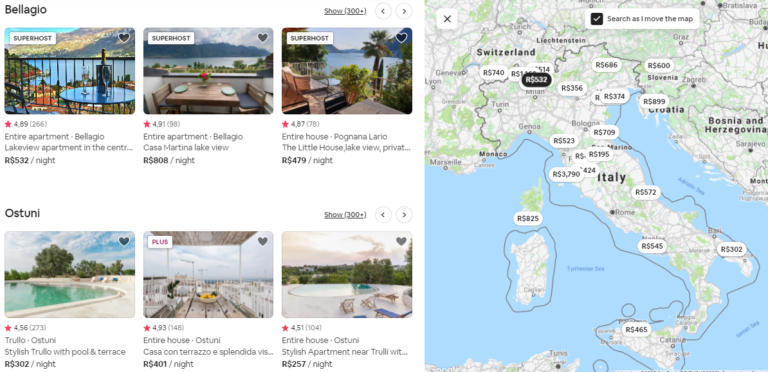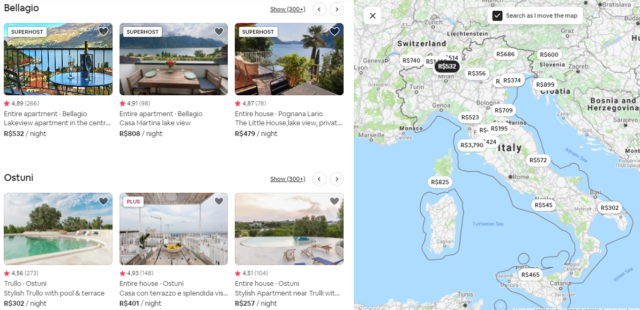 Option #2: Booking.com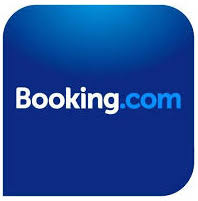 Like Airbnb, Booking.com is another website that most people only tend to think about for shorter bookings.
But although it may be one of the most "traditional" accommodation websites out there (after all, it has over 28 million accommodation options around the world!), it can also be a great place to find long-term stays.
One thing that makes it a good option to check out is that it often has the best prices (in fact, their website says they have a "best offer" guarantee). Since it has h access to so many hotels, guesthouses, and hostels around the world and brings them many reservations…Booking.com has the flexibility to offer great deals and discounts. 
Another nice benefit of Booking.com is their loyalty program. In other words, the more bookings you make with them, the more discounts you get. For example, since I make a lot of reservations with Booking.com, I'm a "Level 1 Genius Client"…which gives me a 10% discount on certain accommodation options.
While Booking.com may have many accommodation options overall, it does have fewer options suitable for longer stays (when compared to Airbnb) since they work just with rentals for individual rooms in hotels/guesthouses and entire homes or apartments.
All that said, the website also has plenty of filters that help you find a stay that fits what you're looking for.
One thing Booking.com does that many of the other websites lack is include a filter for "accessible accommodation."
In most cases, long-term stays on Booking.com are not refundable. But their fees do tend to be lower than places like Airbnb, so it's still worth looking into.
You often have to give a credit card to book your reservation (and you can choose to pay ahead of time or only at the property), but some properties do allow reservations without giving your credit card ahead of time.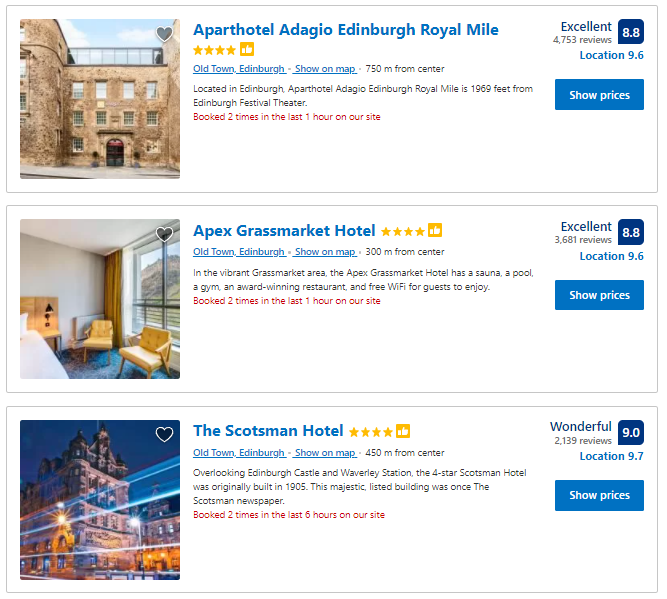 Option #3: Vrbo (former HomeAway)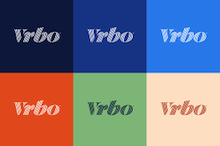 Vrbo ("Vacation Rental By Owner") is very similar to Airbnb, both in website layout and in accommodation options. They even have unconventional accommodation options, like mansions or farms. Currently, there are more than 2 million properties available for temporary rentals.
Honestly, there aren't a ton of differences between the two websites. The biggest difference is that Vrbo only allows rentals for entire properties. In other words, you can't just rent out a room in a shared home or apartment like you can on Airbnb.
Vrbo's filters aren't as helpful as other platforms, but they do offer free cancellation. This might seem like something small, but if you have an unfixed itinerary or are unsure of your plans, free cancellation means you can still book something before the options sell out…while also having the chance to still change it if needed.
Vrbo does have an "Accessibility" filter, so it's great to see another company concerned with the inclusion of travelers with disabilities. Nice work, Vrbo!
Fees from Vrbo are similar to those of Airbnb. There is often a cleaning fee charged by the property owner, as well as a service fee charged by Vrbo. You can see both of these amounts on the billing page.
Payments are accepted only by credit card in up to 12 interest-free payments. By booking and paying through Vrbo, you'll get payment protection, emergency relocation, and 24-hour service.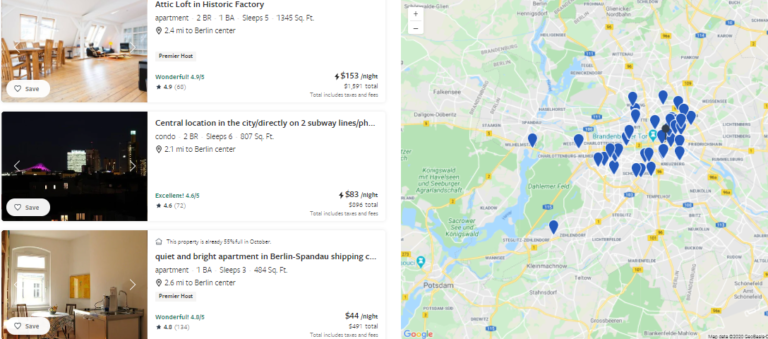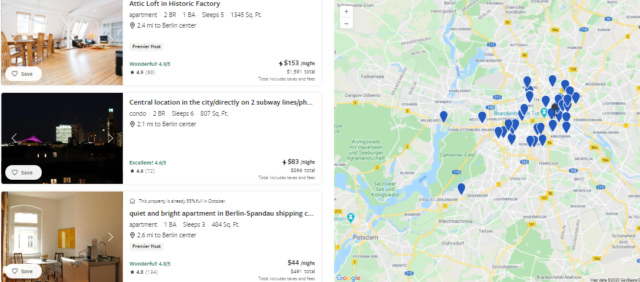 Option #4: TripAdvisor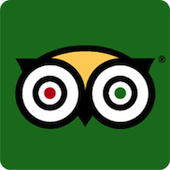 When we think of places to go for travel advice, Tripadvisor is certainly one of the first to come to mind.
This website works a bit like a forum or discussion board where tour guides and normal travelers post tips and reviews about itineraries, accommodation, restaurants, beaches, hiking trails, attractions, etc.
Despite the platform's popularity, I bet you didn't know that the website also works as a place to find vacation rentals, long-term accommodation, and flights!
In other words, TripAdvisor is an amazingly useful website: you can book your accommodation, plane ticket, and even build your itinerary, all in one place!
As far as accommodation goes, the website has a wide variety of properties that you can search through to find the best choice for your situation.
Your search begins here as it does everywhere else: you choose the destination, travel dates, and the number of guests. Then you can personalize and organize your search results based on what you're looking for (lowest price, highest rated, number of rooms, etc.).
One of my favorite features is the filter that lets you pick the view you want to have from your accommodation's window (such as a view of the ocean, a skyline, or the mountains!).
The other filters match those you'll find on other websites like elder access, kid-friendly, smoking or non-smoking,  pets permitted, services included, and type of accommodation. Unlike Airbnb and Booking, you don't have the option to filter more specific features like utensils or appliances available.
Once you've chosen where to stay, click on the "What to do" tab to see a ranking of the best local attractions in the area so you can start planning your trip. By clicking on any of the attractions, you'll be taken to a page with traveler photos, reviews, and comments about your selected attraction.
Despite all the great things TripAdvisor can do, they do not specify what the service or cleaning charges on the initial reservation page.
A final positive point is that you can pay by credit card or PayPal.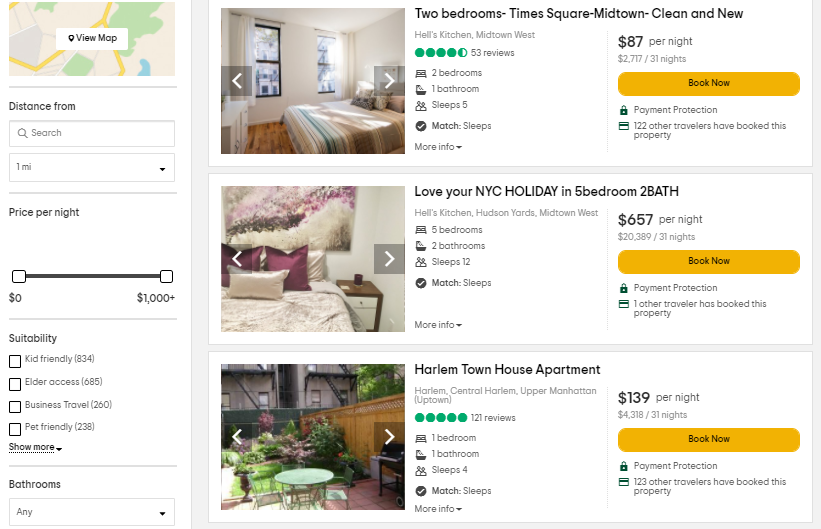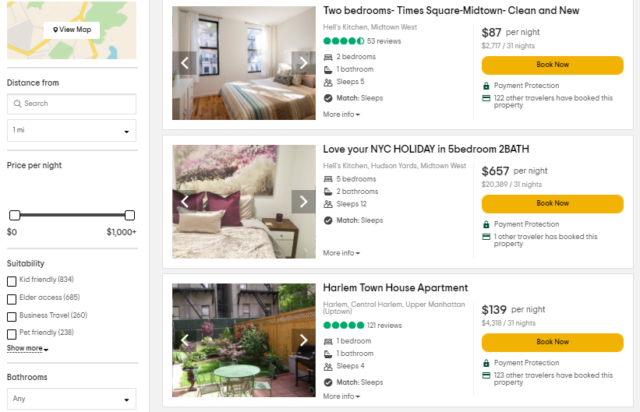 Option #5: FlipKey
Although our final option is owned by TripAdvisor, it's not very well known. However, it still has 830,000 properties in 190 countries!
The website isn't quite as modern as the others, but it certainly does its job in helping travelers find vacation rentals and other long-term accommodation.
Sometimes, you can find options or deals that aren't on the other websites, so I'd also recommend giving FlipKey a quick look before you make your booking. Especially because, depending on the accommodation, you can cancel for free. And as far as payment goes, you can pay by credit card, PayPal, or debit card (Flipkey is the only website on this list that allows debit card payments).


What is the cheapest website to book long-term accommodation overseas?
To give you a better idea of prices you can expect across different websites, I've compared the same properties in Brazil on several different sites below. Unfortunately, I couldn't find one property that showed up on all the websites, but this should give you an idea. The prices below are valid for a 20-night reservation for 4 people.
| | | | | | |
| --- | --- | --- | --- | --- | --- |
| | Airbnb | Booking.com | Vrbo | TripAdvisor | FlipKey |
| Entire apartment in Guarujá | 763 USD | 825 USD | | | |
| Same house in Campos do Jordão | 1,381 USD | 1,382 USD | | | |
| Entire apartment in Campos do Jordão | | | | 1,985 USD | 2,027 USD |
| Entire house in Itamambuca | 910 USD | | 797 USD | | |
As you can see from the chart, Booking.com and Airbnb have very comparable base prices. However, the final price will depend on the cleaning fee charged by the Airbnb host, the service fees, and the local taxes. Booking.com does not have these extra cleaning fees (so it may end up cheaper), but the other fees are usually comparable between platforms.
TripAdvisor and FlipKey tend to have comparable prices, which isn't really a surprise given that FlipKey is owned by TripAdvisor.
Of all the price comparisons, Vrbo stood out to me for its significantly lower price than Airbnb for the exact same beach property. Even with all the added taxes, the final price was still lower than the alternatives….meaning that Vrbo may be the best place to turn if you're looking for deals on long-term accommodation.
But at the end of the day, the cost between platforms and properties can vary significantly depending on the type of stay you're looking for, what requirements you have for the property, the cost of the service or cleaning fees, types of payments accepted, etc.
Bonus option:
If you're still unsure where to find the ideal accommodation for your trip, take a look at Plum Guide's options. This is a platform that works similarly to Airbnb, owners from all over the world register and offer stays to travelers.
However, the great difference of Plum Guide is in its evaluations. All properties listed on the website undergo rigorous testing by official company officials.
That way, you can be sure that your choice will meet the best standards of quality, cleanliness and service. The ratings take into account everything from shower water pressure to Wifi speed, everything is thought of when listing unique accommodations in the Plum Guide.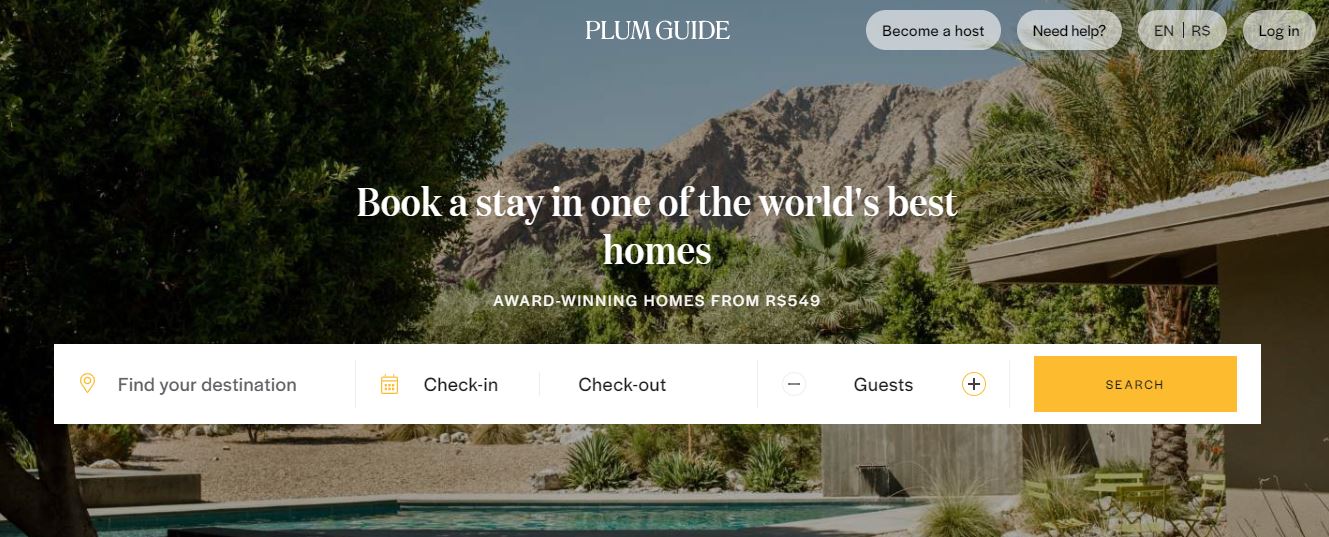 Casai
Another website option to find your accommodation is Casai. They work very similarly to the other names on this list, however, their difference is that the guest experience is entirely the company's responsibility.
That is, they manage, perform maintenance, cleaning, among other things to keep the accommodations always with the same high standard of service.
But attention, they only work in a few cities, they are: Rio de Janeiro, São Paulo and Florianópolis, in Brazil. And Mexico City and Tulum, Mexico.

3 final tips for finding long-term accommodation overseas (or vacation stays)
Do NOT pay your host outside of the platform you choose.
Although there may be some temptation to negotiate outside of these platforms and avoid all the fees, there are also a LOT of scams out there that you have to watch out for.
So if a host asks for you to negotiate off the platform and pay them directly another way before you've arrived, do NOT agree or send them money. (The only time this is safe to do is if you've met them personally and seen the property yourself first.)
One more thing to keep in mind: if you pay off the platform, you'll be on your own. You won't have the payment protection and ability to dispute charges that most of these platforms provide.
Read property reviews very carefully.
Reading reviews is important for trips of any length, but it's even more important if you're going to be staying somewhere for a while.
By reading reviews ahead of time, you'll know exactly what to expect from the property (whether good or bad)…and can thus you avoid any unpleasant surprises.
Don't be afraid to ask for a long-term stay discount.
Many hosts actually prefer to have longer stays as takes less effort for them to screen guests and clean between visits.
And if you're staying for a while, they'll often give you a long-stay discount.
So before booking, don't be afraid to reach out to politely introduce yourself and ask what their best price would be for a stay of X number of weeks/months. 
In short….
The 5 best sites to find long-term accommodation are:
Airbnb

Booking.com

Vrbo

Tripadvisor

Flipkey
Bonus Option: Plum Guide
Concluding
Beyond the tips above, here's my final advice about selecting long-term accommodation: compare your options on all the websites above.
It takes a bit more time, but then you can be sure that you find a long-term accommodation option as close to what you're looking for for the best price possible.
And after your stay, be sure to do your fellow travelers a favor and leave a review for the property you stayed at…and let us know in the comments area below which of the 5 websites you had the best luck with!

Good luck on your search!
Planning your next trip?
Then don't forget travel insurance! You don't want to get stuck paying a ton of money and ruining your trip if you get sick or have an accident without travel insurance. WorldNomads is ideal for adventurous travelers, backpackers, or anyone looking to be protected during their trip. They cover almost every single activity you can image! Plus, you can have a 5% discount with the coupon code comfort5.
Already reserved your hotel or hostel? If not, we recommend Booking.com. They have a huge selection of hotels and hostels all over the world. Plus, in most cases, you can cancel your reservation without any costs up to a few days before the check-in date! 
Still haven't booked your plane ticket and want to save big? Take a look at Momondo and Kayak. They are flight aggregators that combine several other ticket search websites to make it easier for you to compare prices and make sure you are getting the best deal. 
And finally, will you need to rent a car during your trip? Then check out Rentalcar.com to search and compare car rental companies from all over the world in a single website. Then, you can find the cheapest price for the best car!