Last Updated on by Talita
The European cathedrals are some of the most beautiful structures in the world. They have been around for centuries, and that history is reflected in their architecture.
The Reims Cathedral for example was built on top of a large hall dating back to Roman times, while St Vitus's Cathedral holds many treasures from where it has stood since 1037AD. 
This blog post will give you all the information you need to know about seven of most beautiful European cathedrals worth seeing—and you may want to get your travel insurance ready after reading this piece because of the 'itch' for visiting these locations that you may develop.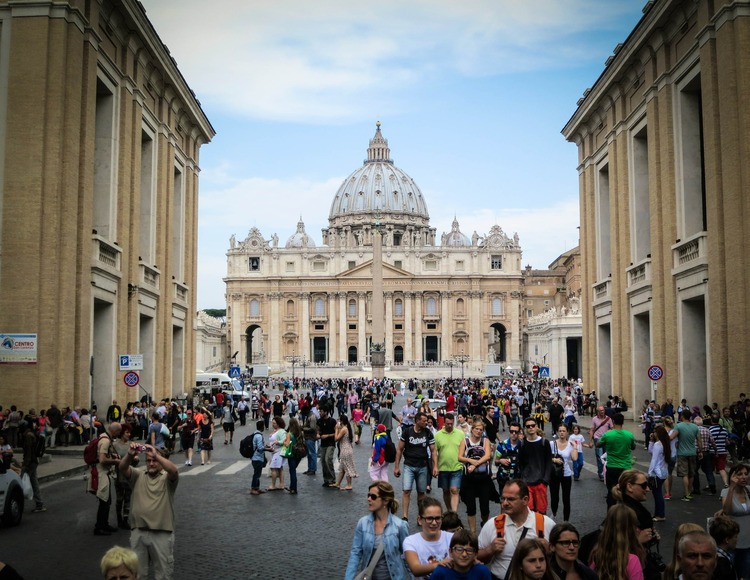 1. St. Peter's Basilica, Italy
This cathedral sits on Vatican Hill and is known as one of the holiest places in Christianity. It was built by Emperor Constantine I around 324AD after he saw a vision that led to him converting to Christianity, making it one of Europe's oldest churches! 
St Peters holds tombs for many popes and religious leaders, including John Paul II, who died in 2005, and Pope Benedict XVI, who retired at 78 years old because of his poor health. Since its first construction, the basilica itself has undergone some renovations, with Michelangelo adding frescoes like "The Last Judgment" (1541-45).
In addition to St. Peter's Basilica, there are several other landmarks in Rome that are worth seeing.
   2. Cologne Cathedral, Germany
This gothic cathedral was built in the 13th century to replace an earlier Romanesque church that had been destroyed by fire. The original plan for Cologne cathedral included two towers, but only one was completed due to lack of funds – which is a shame because it would have made it taller than Ulm Minster if they'd both been finished. 
It went through some pretty bad times under Napoleon and World War II when its roof collapsed during Allied bombing raids in 1944 after being hit with several bombs. Nowadays, you can go inside or climb up the tower so enjoy your visit!
   3. Reims Cathedral, France
This Gothic cathedral is located in the Cathedral Hill of Reims, and it has been there since at least 119AD. It's known as one of France's most famous cathedrals, which makes sense when you consider that every French king was crowned here from Louis IV to Charles X – an impressive list! 
The building itself underwent some serious renovation work during the 18th century because, by 1750, parts of it were falling apart, so they added extra buttresses to keep everything stable. Nowadays, visitors are able to see its amazing stained-glass windows depicting biblical scenes while being surrounded by detailed sculptors on all sides. Not a bad place for pictures!
   4. St. Vitus Cathedral, Czech Republic
This grand cathedral sits atop Prague Castle Hill with views over the city of Prague. Construction began in 1344, with additional work being done on it through to the 15th century by famous architects like Peter Parler, who worked on St Vitus Cathedral, Cologne Cathedral, and Charles Bridge. 
It's also known as one of Europe's most important Gothic cathedrals, which is why it attracts thousands of visitors per year! The cathedral held art treasures from Bohemia, so they were protected during the Hussite Wars – but sadly, most of these pieces are now gone after World War II.
   5. St Stephen's Cathedral, Austria
This gorgeous baroque-style building was built between 1703-60 under Emperor Leopold I at the same time that Vienna became an imperial residence again. This means that you'll find the Holy Roman Emperors are buried in its crypt along with other Habsburg monarchs – pretty impressive! 
During WWI, it was closed off due to anti-war protests, and during World War II, the tower's roof was taken away by Allied bombers. Luckily enough, after that, most of what you see today is still original, so if you're a fan of art nouveau, then this place will be right up your street.
   6. Sagrada Familia, Barcelona, Spain
This famous cathedral sits on top of La Rambla, which makes for some incredible views over the city while enjoying one of Europe's most popular attractions. The construction began in 1882 but hit hard times when Catalan architect Antoni Gaudi died six months later. 
The project was then halted for 15 years before it resumed in 1892 – but the cathedral still isn't finished! It's said that it could be completed around 2026 though you really wouldn't put money on that happening.
   7. St. Anna, Vilnius, Lithuania
This Lithuanian church is located right next door to St Casimir's Church and looks like a little Gothic castle with its square tower surrounded by turrets that are dotted along the roofline. This building has been through quite a lot since construction began back in 1495 when Lithuania became Christianized! 
It is said that it even had three steeples which were knocked down after World War II because they didn't fit with Soviet architectural styles of the day, so if you're looking for a taste of the old country, then this is the one to check out.
Interesting Facts about these Cathedrals
Like with most things that have historical significances, there are still more pieces of information you'd find interesting other than the ones you can readily find on the web. We've summarized some of those facts right below.
St. Peter's Basilica, Italy:

Located in Vatican City, is the largest church in the world and is one of Rome's most beloved spaces for tourists! Construction began over 40 years after Jesus' death on Calvary Hill then was burnt down just a few decades later, which saw Emperor Nero rebuild it. During Renaissance times, Bramante and Raphael worked on its design while Michelangelo got involved during the 16th century and completed its famous dome and Pieta statue. Today, you can visit this iconic building and go inside, where there's enough room for several thousands of people to gather unless you want to climb up Michelangelo's dome so you can see the Sistine Chapel up close! And perhaps, you better get a college paper writer do some of your papers if you have pending assignments because chances are pretty high you will be so much absorbed into this beauty and history that you will have very little time left for the assignments.

Cologne Cathedral, Germany:

Construction started on this famous German cathedral back in around 1248 but came to a halt after around only 75 years because it was left incomplete due to lack of funds. It still became successful, however, and you'll find that its architecture is what distinguishes it from other Gothic churches – including the fact that Cologne Cathedral has two spires whereas others have four or five! Despite being bombed during World War II, it is reported that more than 90% of this church's fabric is original, which means you're seeing history first-hand here.

Reims Cathedral, France:

If there is one thing Reims is best known for, it is its champagne cellars, so if you drink this bub stuff, then head over here to see where it all comes from. This French cathedral is also the place where kings of France were coronated back when Christianity was the country's official religion, which means you can find some beautiful stained glass pieces in its nave created by Henri Martin in 1892.

St Vitus Cathedral, Czech Republic: This grandiose-looking piece can be found in Prague and is the country's national sanctuary. Construction on this famous Czech cathedral began in 1344, which makes it one of Europe's oldest Gothic churches and was mostly done during the 14th century – but its construction has been altered many times over the centuries as wars came and went, so you'll see plenty of different styles here plus some incredibly ornate carvings on the exterior. It is also worth mentioning that this is one of Europe's most visited attractions and has a bell tower that stretches to the sky with spires, so if you want to go here, make sure it is open!
St Stephen's Cathedral, Austria: This stunning example of Gothic architecture can be found in Vienna, what makes it an instagrammable place, where you'll discover it still serves as a Catholic Church today! Its construction took almost 200 years to complete, which means that plenty of different architects were involved with its design along the way, including Mathias von Esterhazy, who was involved during the Middle Ages. Also notable is the fact that this Gothic cathedral contains thousands of pipes which makes it very popular with musicians.
Sagrada Familia, Barcelona:

Antoni Gaudi

got involved with this stunning building's construction

and worked on it until when he died, which means that this famous Spanish cathedral still isn't finished yet – but it has blown away plenty of visitors who have gone to see it so far. This place uses modernist architecture, an emerging architectural style back during the 19th century, while its neo-Gothic design adds to Catalonia's incredible heritage sites list.
In short
The 7 most beautiful European cathedrals you must visit are:
St. Peter's Basilica, Italy

Cologne Cathedral, Germany

Reims Cathedral, France

St. Vitus Cathedral, Czech Republic

St. Stephen's Cathedral, Austria

Sagrada Familia, Barcelona

St. Anne, Vilnius
Concluding
If you love churches, cathedrals, and architecture, then definitely check out these 7 European sites as they are some of the most incredible Gothic structures around! You'll be surprised by what you find, especially if you like visiting religious places!
Author Bio:
Charles Normandin writes original papers for NinjaEssays. He is an expert in writing unique texts and can also fluently speak three languages. Charles likes volunteering, drawing, and rock climbing.
Planning your next trip?