Last Updated on by Rodrigo @ OutofYourComfortZone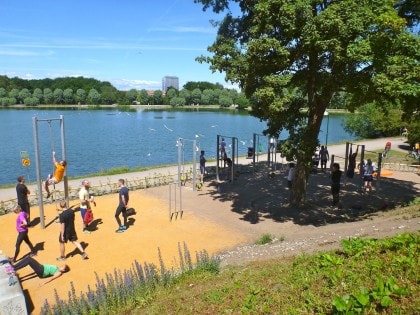 I love to travel. But I also love sports and exercise. And only those who have tried to do both at the same time knows how difficult it is after a whole day walking around a new place not to be tempted to go have a beer at the end of the day or merely returning to the hostel or hotel to relax.….or simply keep visiting every tourist spot until your feet feel!! Need a lot of willpower to stop everything and go to work out. If it is a short trip of less than a week, you can let your body goes a bit and compensate when you return home. But if you are going to backpack for a year (as I met a lot of people doing it), if you don't look out for your fitness during this whole period, you'll be looking like an amoeba at the end of your trip… besides, exercising or practicing some sport will give you more energy to travel which alone is already quite demanding on the body.
Well, I'm assuming here that you're not staying at a 5-star hotel with a gym larger and more complete than the one in my neighborhood. This post is for those like me who often travel for long periods at low cost and wants to stay in shape…or at least not losing too much. Here a few tips:
Run!!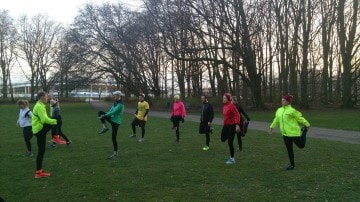 It is easy, can be done anywhere in the world and it costs nothing. Moreover, it is an excellent option to visit a place running and stopping when you want to admire and take pictures. You can cover a much larger area than just walking and in a much shorter time. It's also very cool to run later in the day in the same area where the locals run. Be the seaside or park. Makes you feel a bit like one of them…..but do not forget to pack your running shoes!!
Also, if you are in a country where people don't run very frequently (like in some developing countries), brace yourself for lots of stares and if you are a girl, potential catcalls.
Take a bike ride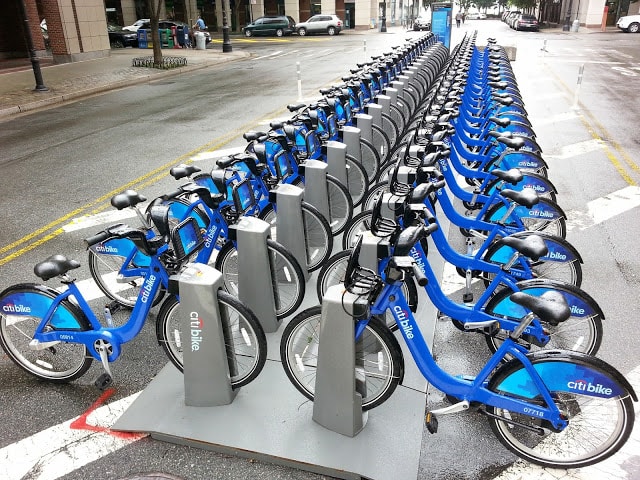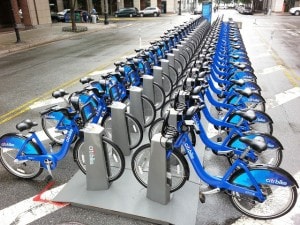 In many cities around the world, there are bikes for rent nowadays. Currently, in many cities, including São Paulo where I grew up, there are bike share schemes available. Normally you only need a credit card to use them. Who has never heard of New York's Blue Bicycles (and the controversy too)? If the city doesn't have this feature, ask at the front desk of your hostel, a good hostel's receptionist always knows everything that you can do in the city and can tell you about a place to rent bikes. Often there are also bike tours with tour guides to show you the city or countryside. Much better than doing a tour holed up in a bus all day. Knocking on wood when I say this because hopefully, I'll never need it….but it's always good to have adequate travel insurance when venturing the world with a bike.
Go for a swim!!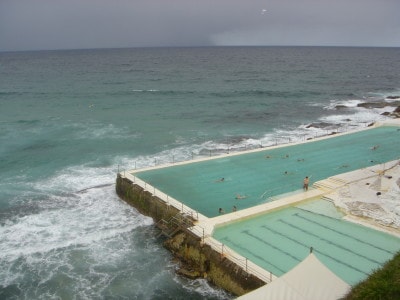 It's not often that you will have swimming pools, lakes and the ocean available wherever you travel…..especially if it's winter in the northern hemisphere. But if you are in beach places, you can always enjoy the water and keep fit rather than getting toasted in the sand. In many places, there are public pools that are often free!! And about lakes, it is always good to ask whether it is safe, but if you see a bunch of people swimming … go for it!! Once backpacking on a boiling day in Singapore, some people and I from the hostel went to a public swimming pool for about 2 dollars….instant relief from the heat.
Find a gym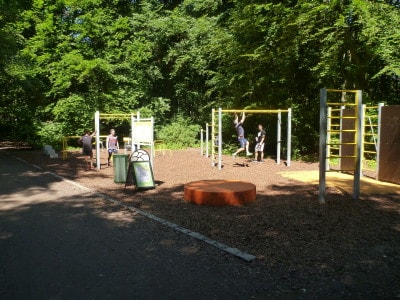 Nowadays, many large cities have small open-air gyms in their parks. Sometimes the equipment is very basic, like bars and places to do sit-ups. Some other times, you have ropes, bars of all kinds, brackets, weights and everything else you need to get ripped.

This one in the picture is in a park in Malmö, Sweden, where I currently live and is one of the best I've ever seen. Since it is not always that you can find this option, improvise with the item 5 below. A useful website listing many free calisthenics locations around the world is Calisthenics Parks (https://calisthenics-parks.com/).
Alternatively, if the outdoor workout isn't your cup of tea or the weather isn't supporting your wish to exercise, sign yourself up for a gym membership. I know traditionally gyms haven't been very welcoming to the backpacker in town for a short period, but I have come across a site in Amsterdam called Gym Nomad (https://www.gymnomad.com) who are on a mission to change that. Great gyms in Amsterdam, with visitor only membership pricing and flexibility to suit. They also show other free outdoor gyms and calisthenics parks which is great for the backpacker.
Use a playground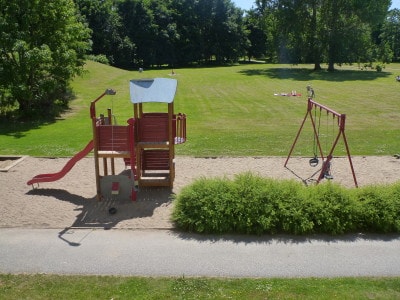 In the absence of these places of exercise, do like me and use the children's playground in parks. Of all the places I've been, it was very difficult to find one that did not have a playground somewhere. There you can hang yourself
everywhere to do chin-ups. You can support your feet in a place and do inverted push-ups. You can use supports to do plyometric jumps, jumping squats and more. Just be careful not to do all of this while the playground is full of babes, or the mothers will call the police thinking that you're some kind of pedophile!!
Bring elastic bands (exercise bands)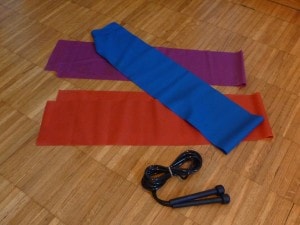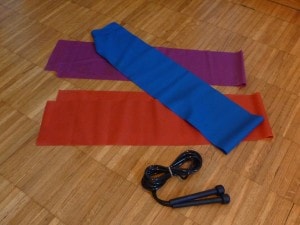 They are ideal for exercise indoors when you do not want to leave home, be for the cold, rain or because it's dark…and can be dangerous depending on the place. These elastic bands are very practical and I always carry them in my travels around the world. They weigh almost nothing and are very easy to carry in your backpack. Normally they are used in physical therapy but with different levels of resistance, they are also very effective in maintaining muscle mass. They are even used in space missions where the lack of gravity prevents the use of weights for exercise. There are a number of different exercises that can be done with these elastic bands. Take a look at the pictures below with some examples. And to buy these elastic bands, you can take a look at this link here with Amazon, or you can buy them here at eBay. And just have them delivered to your home. A jump rope is also lightweight, practical, and good for cardio for those who do not like to run.
Download fitness videos
These are great because you can work your whole body and, be depending on the video, you will exercise even your ear!! The only problem is that you need a laptop or something to be able to watch the video. Also, I do not think that you exercising like crazy in the social area of your hostel or in your dorm will be very welcome by your roommates. I think this option is better when you are in a hotel room or have a private room in a hostel. Space is also something important so then you can do it outside if you don't mind prying eyes.
Hostel's bathrooms or shower
That's my option when all else have failed. Maybe it's too late and there is nowhere to run (to tell the truth, there is always somewhere to run). Maybe you think it's too cold (so far, not even -20 °C/-4 °F were cold enough for me to stop running, so this excuse doesn't count). Or simply you want to train your upper body and there is no option of doing it around where you are. Well, this situation already happened to me, and as I was sleeping in a hostel dorm, so I wouldn't exercise in front of everyone. I went to the bathroom and I exercised inside, doing push-ups, abdominals, squats and other bodyweight exercises. Okay, I know this is not the most socially acceptable thing, but at least I know someone else who does the same (my girlfriend…I think that's why we work well with each other). Just do not forget to leave the bathroom or shower from time to time to not keep people waiting. It's just funny when you come out of the bathroom snorting tired and people look at you and think:"!! Wow, was it that hard to come out?!?!"
Make exercising or sports part of your trip
Finally and the best option of all, make exercising or sports part of your trip!! Go to a beach to surf or play football in the sand. Climb a mountain and exercise at the same time you have an amazing view. Paddle in a crystal clear lake. Go skiing and snowboarding in the nearest ski resort. Do Yoga in the middle of nature. Go white-water rafting. Do some rock climbing. Play beach volleyball with friends; basketball in the neighborhood's court. Snorkel in the coral. Go windsurfing at sea or skate at the park. Just do some research about the place you are visiting if there are sports activities available. Find out where are the places for sports and exercising. Look in the events area of the local Couchsurfing (I talk more about it here) if there are scheduled sporting events (to do….not to watch!!). Sometimes you will have to pay for it or to rent equipment. But I have already found a lot of these schemes FOR FREE!! If you look for it, you will find it!!
An important tip about food and travel insurance!!
There is no point in exercising a lot during your backpacking or travels and keep eating badly to save. McDonalds and noodles will fill up your belly but won't make your arm grow. They are calorie bombs with little nutrition. For the exercise to count, in life as a whole or while traveling, you should eat well and stay well hydrated (water, not soda!!). I give some tips about it on my page about food and drink, giving examples of how to eat well and cheaply while you are backpacking or just traveling.
Finally, unfortunately, injuries are a common event when practicing sports. And if you are traveling, mommy won't be there to take care of you. So, I would recommend a good travel insurance that would also cover sports. I have an article where I give the 3 Best and Cheapest Travel Insurances in the Market that will cover you for a lot of sports almost everywhere in the world.
But, if you are totally addicted to sports and adventure activities the way I'm, and need good travel insurance to cover all your activities, I recommend checking out my special article with the 3 Best International Travel Insurance for Adventure Activities and Extreme Sports.
That's it. As always, I'm open to criticism and suggestions in the comments area to improve this text and thus help others who, like me, love to travel and exercise but struggle to do both at the same time.
Happy travels!!
Planning your next trip?

Already reserved your hotel or hostel? If not, our article with The 6 Best and Cheapest Websites to Find & Reserve Accommodation can help you out. You'll also find some promotions and discount codes.

Still haven't booked your plane ticket and want to save big? Take a look at our page with 16 Tips to Save on Flights where you'll also find the 4 best websites to buy your plane tickets.

And finally, will you need to rent a car during your trip? Then surely our page with The 5 Best and Cheapest Websites to Compare and Rent Cars Around the World will help you choose the best rental car and find a good deal.
To see more of my favorite travel companies and resources that let me travel so much for such a low cost, take a look at my special page of "81 Travel Apps & Resources."
And if you want to hear about new articles, check out our latest pictures, and read our newest updates, be sure to follow us here….
…..and subscribe to our newsletter below!