Last Updated on by Rodrigo @ OutofYourComfortZone
Ah, Asheville. It's not just a city on a map but a resonance, a feeling, and an unfolding tapestry of experiences. Situated amidst the beautiful embrace of the Blue Ridge Mountains, Asheville projects an ambiance that's both classic and lively. Imagine walking down bustling lanes with historic charm or peaceful spots dominated by nature's beauty. As you traverse its core, you might sense a blend of old stories mixed with the modern hum of urban life.  
Let's dive deep into Asheville, exploring its familiar and lesser-known treasures. From its cultural delights to its diverse food scene, from shopping avenues to the captivating views offered by the best hotels in downtown Asheville.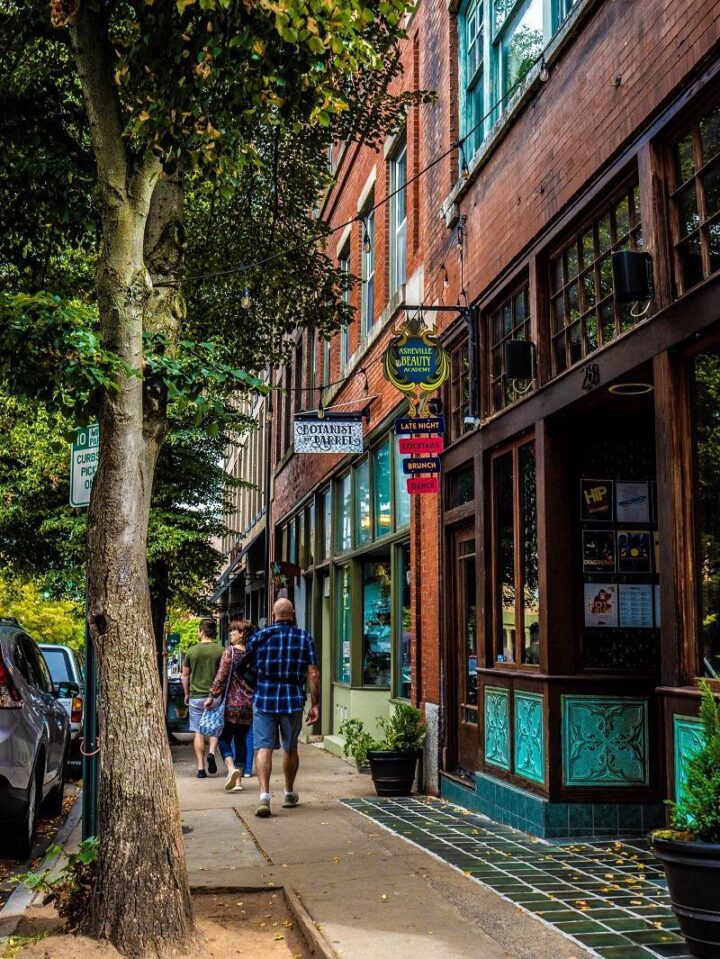 Asheville's Artistic Heartbeat: From Galleries to Grooves  
Art thrives in every corner here. Asheville houses more than just museums; they act as gateways to different eras and dimensions. Take the Asheville Art Museum. It stands as a pillar of the city's art heritage, showcasing an evolving array of American art from the 20th and 21st centuries, telling tales of imagination and fervor.  
Yet, the city isn't just about visual stories; it pulses with melodies. Events such as the LEAF Festival and the Mountain Dance and Folk Festival amplify Asheville's sonic legacy, attracting many with their mix of age-old and modern rhythms. 
Savoring Asheville: From Morning Coffees to Elegant Evenings  
Food in Asheville is an adventure for the palate. Envision this: Golden rays of the morning sun painting a quaint café while you savor a warm pastry or a delicious avocado toast. Cozy bakeries, like Owl Bakery or Liberty House, elevate these simple meals, turning them into gastronomic artworks. 
But the culinary journey doesn't end at breakfast. Restaurants like Cúrate and The MarketPlace take evening dining to another level, fusing local produce with international tastes, presenting dishes that please both the eye and the taste buds. 
Top Hotels in Downtown Asheville: Elevated Vistas and Beyond  
The beauty of Asheville's horizon is undeniable, whether bathed in the amber light of dusk or under the gentle shimmer of urban illumination. And where better to experience this beauty than from the summit of the best hotels in downtown Asheville?  
Choose accommodations like The Montford Rooftop Bar or The Social Lounge. Here, you're not merely booking a room but gaining a perspective, a space to soak in Asheville's full beauty. It's where nights evolve into unforgettable moments, where the city's expanse stretches out, enhancing your evening reflections or romantic dinners. 
Shopping Journeys: Exploring Asheville's Unique Retail Havens 
Shopping in Asheville offers more than just a purchase; it's about finding gems. Streets filled with one-of-a-kind boutiques echo tales of history, innovation, and vision. Venture into spaces like Grove Arcade or Woolworth Walk, and you're introduced to a range of handcrafted items, artisan-made jewelry, and rare finds. Whether you're an avid collector or just browsing, Asheville's shops ensure every item resonates, every buy holds a tale. 
Asheville's Outdoor Escapes: Stepping Out of the Urban Cocoon  
The city's charisma isn't limited to its urban core. Venture a little further, and nature presents itself with a captivating charm. The Blue Ridge Parkway, frequently known as "America's Favorite Drive", offers more than a drive—it's an expedition through epochs, cutting through woodlands, fields, and over mountaintops with ever-changing views.  
For a deeper dive into nature's embrace, the Pisgah National Forest is a treasure. With cascading waterfalls, lush forests, and extensive hiking paths, it's a haven of peace and energy. The forest seems to whisper tales of nature's eternal rhythm, of changing seasons, and of the unbreakable connection between humans and nature.  
Adding to Asheville's nature trifecta is the Great Smoky Mountains National Park. Recognized as a UNESCO World Heritage Site, this park stands as an ode to nature's magnificence. It offers mist-covered mountains, thick woods playing with sunlight, and a biodiverse environment, all waiting to be explored. It's not merely a spot to view nature but a place to celebrate it, a worthy inclusion in any Asheville visit. 
Discovering Asheville: A Mosaic of Moments and Memories  
Asheville is not just a point on the map, but a rich tapestry of experiences waiting to be felt. Beyond the scenic vistas and the rooftop spectacles, it's the city's essence that captivates the most. With art and music that bridges the past with the present, and gastronomy that makes every dish a festivity.  
From unique shopping experiences reminiscent of treasure hunts, to the best hotels in downtown Asheville that set new standards for luxury. Here's to Asheville, where every pathway, every flavor, every sound, and every horizon feels like a page from a captivating chronicle. 
Ashville is just one of the many amazing places you can visit around North Caroline in the United States. Here are few more…. 
Top 10 Attractions and Places to Visit in North Carolina, United States 
North Carolina, often referred to as the "Tar Heel State," is a place of immense natural beauty, rich history, and diverse culture. Nestled in the southeastern region of the United States, this state boasts a wide array of attractions that cater to every interest. Whether you're a nature enthusiast, history buff, or a foodie, North Carolina has something special in store for you. Join us on a journey through the top 10 attractions in North Carolina that are sure to leave you enchanted. 
   1. The Blue Ridge Parkway
Known as "America's Favorite Drive," the Blue Ridge Parkway offers breathtaking scenic vistas that stretch for 469 miles. Winding through the Appalachian Highlands, this road connects Great Smoky Mountains National Park in North Carolina to Shenandoah National Park in Virginia. Along the way, you'll encounter lush forests, cascading waterfalls, and plenty of hiking trails. Don't miss the vibrant fall foliage, which transforms the landscape into a mesmerizing tapestry of colors. 
   2. Biltmore Estate
A visit to the Biltmore Estate in Asheville is like stepping back in time to the Gilded Age. This sprawling mansion, built by George Washington Vanderbilt II, is America's largest privately-owned home. Explore the opulent rooms, extensive gardens designed by Frederick Law Olmsted, and enjoy wine tastings at the Biltmore Winery. The estate's timeless beauty is a testament to the grandeur of a bygone era. 
   3. Great Smoky Mountains National Park
Straddling the border of North Carolina and Tennessee, the Great Smoky Mountains National Park is a UNESCO World Heritage Site and a true natural wonder. It boasts over 19,000 documented species of living organisms, making it one of the most biodiverse areas in the world. Hike through the pristine wilderness, go wildlife spotting, and take in the mesmerizing views from Clingmans Dome, the park's highest peak. 
   4. Historic Wilmington
For a taste of history and coastal charm, visit Wilmington, a city steeped in heritage. Stroll along the cobblestone streets of the Historic District, where you'll find well-preserved antebellum architecture, quaint shops, and vibrant restaurants. Don't forget to explore the USS North Carolina Battleship Memorial, a testament to the state's military history during World War II. 
   5. Outer Banks
The Outer Banks is a string of barrier islands known for their unspoiled beauty and rich maritime history. Visit Cape Hatteras National Seashore, where you can climb the iconic Cape Hatteras Lighthouse and witness the convergence of the Gulf Stream and Labrador Current, creating a haven for marine life. The area is also famous for its shipwrecks and the Wright Brothers National Memorial, commemorating the first powered flight by the Wright brothers at Kitty Hawk. 
   6. Charlotte's NASCAR Hall of Fame
If you're a motorsport enthusiast, the NASCAR Hall of Fame in Charlotte is a must-visit attraction. Dive into the history of NASCAR, from its humble beginnings to its status as a premier motorsport. Interactive exhibits, historic race cars, and a Hall of Honor showcasing the sport's legends make this a thrilling experience for racing fans. 
   7. The North Carolina Museum of Art
Located in Raleigh, the North Carolina Museum of Art houses an impressive collection of American, European, African, and contemporary art. The museum's expansive outdoor park features sculptures and walking trails, creating a unique blend of culture and nature. It's a place where art aficionados and nature lovers can come together to appreciate beauty in all its forms. 
   8. Chimney Rock State Park
For a jaw-dropping view of the North Carolina landscape, head to Chimney Rock State Park. The park is named after the 315-foot tall granite monolith known as Chimney Rock, which you can reach via a series of well-maintained hiking trails or an elevator. At the summit, you'll be rewarded with panoramic vistas of Lake Lure and the surrounding Blue Ridge Mountains. 
   9. The North Carolina Zoo
Located in Asheboro, the North Carolina Zoo is one of the largest natural habitat zoos in the world. It's home to over 1,600 animals from around the globe, including elephants, lions, gorillas, and red pandas. The zoo's commitment to conservation and education makes it an ideal destination for families and wildlife enthusiasts alike. 
   10. Historic Tryon Palace
Step back in time at Tryon Palace, a historic site in New Bern that served as the first permanent capitol of North Carolina. Explore the meticulously restored 18th-century Governor's Palace, lush gardens, and interactive exhibits that provide insight into the state's colonial past. The site also hosts events and reenactments that bring history to life. 
In short…
In conclusion, North Carolina offers a diverse range of attractions that cater to all interests, whether you're drawn to the natural beauty of its mountains and coastlines, intrigued by its rich history, or enticed by its cultural offerings. With its warm hospitality and Southern charm, the Tar Heel State welcomes visitors to explore its treasures and create lasting memories. So, pack your bags and embark on a journey through North Carolina to discover the magic of this captivating state. 
Planning your next trip?

Then don't forget travel insurance! You don't want to get stuck paying a ton of money and ruining your trip if you get sick or have an accident without travel insurance. WorldNomads is ideal for adventurous travelers, backpackers, or anyone looking to be protected during their trip. They cover almost every single activity you can image! Plus, you can have a 5% discount with the coupon code comfort5. 

Already reserved your hotel or hostel? If not, we recommend Booking.com. They have a huge selection of hotels and hostels all over the world. Plus, in most cases, you can cancel your reservation without any costs up to a few days before the check-in date! 

Still haven't booked your plane ticket and want to save big? Take a look at Momondo. It's a flight aggregator that combines several other ticket search websites to make it easier for you to compare prices and make sure you are getting the best deal. 

And finally, will you need to rent a car during your trip? Then check out Rentalcar.com to search and compare car rental companies from all over the world in a single website. Then, you can find the cheapest price for the best car!