Last Updated on by Rodrigo @ OutofYourComfortZone
Bass are among the most popular freshwater fish to catch. They fight hard, are easy to target and can be caught in waters from small ponds to the Great Lakes.
Getting started in bass fishing requires the right gear and learning some basic techniques. This article will cover the essentials every angler should have in their arsenal.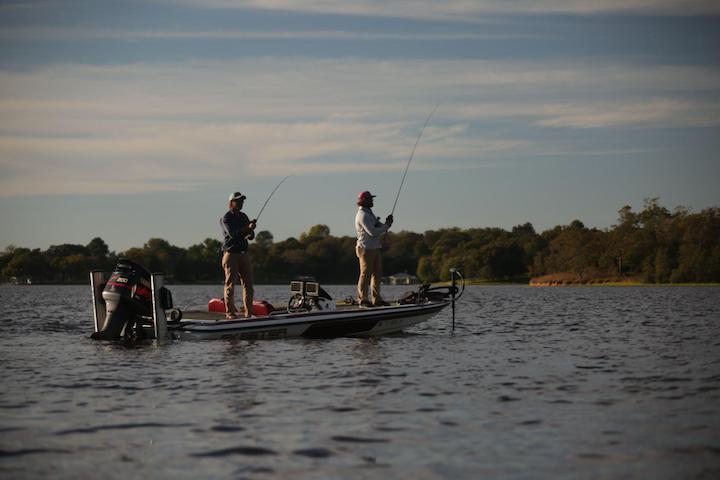 Fish Finders
As an avid angler, there's nothing more important than knowing where the fish are. That's why fish finders have become an indispensable tool for anglers of all ages and skill levels.
These devices use sonar technology to locate fish and other objects underwater, greatly increasing your chances of catching a big one.
For anglers on the go, a portable fish finder is a must-have. These devices offer all the functionality of a traditional fish finder but in a compact, lightweight package that's easy to transport. But what makes a portable fish finder so perfect for people who are always on the move?
● These devices are designed with portability in mind. They're small enough to fit into a backpack or tackle box, meaning you can take them anywhere you go. Plus, they're battery-powered, so you don't need to worry about finding a power source.
● Portable fish finders come equipped with features that are tailored to the needs of anglers on the go. For example, they often have a rugged, waterproof design that can withstand the rigors of outdoor use. They may also have a built-in GPS system that allows you to mark fishing hotspots and navigate unfamiliar waters.
● When it comes to operating a portable fish finder, the process is simple. Most models have a transducer that you attach to your boat or kayak, which sends out sound waves that bounce off objects in the water. The device then interprets these sound waves and displays the results on a screen.
● The display is an essential part of the fish finder, as it allows you to see what's happening beneath the water's surface. Look for a model with a clear, high-resolution screen that's easy to read even in bright sunlight. Some models even have color displays that make it easier to distinguish between different types of fish and underwater objects.
There are several types of fish finders available in the market, each with their own strengths and weaknesses. For anglers on the go, a portable fish finder is definitely the way to go.
When shopping for a portable fish finder, there are several factors you should consider.
● Pay attention to the frequency and power of the device. Higher frequencies and power output can provide more detailed images and better accuracy.
● Consider the display. Look for a model with a clear, easy-to-read screen that's suited to your needs.
● Think about any additional features that may be important to you, such as GPS, mapping, or the ability to share data with other devices. By considering these factors, you'll be able to choose the perfect portable fish finder for your needs.
A portable fish finder is an essential tool for any angler on the go. With their lightweight, compact design and advanced features, they make it easier than ever to locate fish and navigate unfamiliar waters. By choosing the right model and following these tips, you'll be well on your way to becoming a successful angler.
Rods and Reels
One of the most important pieces of equipment in any angler's tackle box is their rod. The right rod can make or break a day of bass fishing, as there are a number of different techniques that work best with specific types of rods.
The type of bait and fish you're targeting, as well as the type of water, will help determine which rod you need. Thick cover requires a heavier rod to deal with the extra resistance and fight off fish that might try to snap your line.
Reels are also important, and they can range from inexpensive, no-frills models to top-of-the-line imports that offer all the bells and whistles. Having the right reel for the job can be critical to your success, as a good quality one will be smooth and powerful and help you feel every bite.
For bass, a spinning reel is usually the best option. It will give you the versatility you need to use a variety of lures, including crankbaits, jigs and soft plastics. It's also a great choice for using the wacky rig, which is the second bait every new angler should learn. It's a simple technique that only uses a hook and a piece of soft plastic, so it can be used year-round in any conditions.
Fishing Line
Whether you're trolling for tuna offshore or flipping for bass in your local pond, the fishing line is the essential link between your lure and the fish. But not all lines are created equal – each has its own time and place, and properties that make it better suited for certain situations.
A monofilament line is more visible underwater than braid or fluorocarbon. That's why it's a common practice to add a fluorescent tip to your monofilament lines, as the bright color can help you see the line better when you're casting and retrieving.
Conversely, a clear fluorocarbon line is virtually invisible to bass when used as a mainline because of its colorless coating and ultra-thin diameter.
A Texas rigged plastic worm is one of the most versatile bass lures you can use. You can use it in any cover type, including grass, wood, docks and other structures.
This bait can also be fished during different seasons. In the spring, bass love crawfish-colored baits; in summer and fall they're more likely to chase shad-colored lures.
The same lure can be fished at varying speeds depending on the weather as well. Bass shy away from high sun and move into deeper, more protective cover when it's hot out.
Lures, Baits, and Soft Plastics
When it comes to bass lures, the selection can be overwhelming for newcomers. Start by keeping it simple and pick a few proven bait styles in a few different colors. Brighter lures like sardines, pilchards and slimy mackerel work well on clear days while dark colors like brown, green, black or even a neon hue are best in murky water conditions and overcast skies.
Soft plastics can be rigged with a variety of hooks and rigs to suit almost any situation. Learn how to rig a ribbon tail worm, crawl or brush hog and you can fish around rocks, structure, docks, bushes or lay downs with a small amount of effort.
Most soft plastics are made of plastisol and can be manipulated to change their durometer, which determines how hard or soft they are. This means a hand-poured drop-shot bait can be as soft as an injected Senko-style stick worm.
One of the hardest things for a new angler to learn is how to read the water and understand where, when and how to target bass. Having the right gear and a good understanding of how to fish is essential, but even more important is knowing when and where to catch them.
Tackle Boxes and Accessories
A good tackle box is essential for bass fishing, as it allows you to easily access and use your lures and other gear. A well-organized tackle box can also reduce the time you spend digging through it, so you can focus more on fishing and less on searching for your gear.
Another important tool to have on hand is a pair of pliers. This is especially important if you fish with treble hooks, which can be difficult to remove. A pair of pliers can be used to surgically remove the hooks from the most inaccessible corners of a bass' mouth, saving you the frustration and potential injury of trying to pull them out with your fingers.
A tackle box should also contain a variety of hard baits. Crankbaits, spinnerbaits, and weedless jigs are all staples that should be found in every tackle box. A variety of sizes and weights should also be included to match the conditions that you're fishing.
A lipless sinking crankbait is an excellent choice for fishing deep structure, while a split shot can help you reach further depths with a small amount of added weight. These are great options for bass anglers that want to target specific depths and types of cover.
Endnote
Bass fishing is an exciting and rewarding sport that requires the right gear and equipment to be successful. Whether you're a seasoned angler or a beginner, having the essential tools like a quality rod and reel, line, lures, and other accessories will help you catch more fish and enjoy your time on the water.
With the tips and recommendations outlined in this guide, you'll be well on your way to becoming a skilled bass fisherman and enjoying all that this great pastime has to offer.
Planning your next trip?

Then don't forget travel insurance! You don't want to get stuck paying a ton of money and ruining your trip if you get sick or have an accident without travel insurance. WorldNomads is ideal for adventurous travelers, backpackers, or anyone looking to be protected during their trip. They cover almost every single activity you can image! Plus, you can have a 5% discount with the coupon code comfort5. 

Already reserved your hotel or hostel? If not, we recommend Booking.com. They have a huge selection of hotels and hostels all over the world. Plus, in most cases, you can cancel your reservation without any costs up to a few days before the check-in date! 

Still haven't booked your plane ticket and want to save big? Take a look at Momondo. It's a flight aggregator that combines several other ticket search websites to make it easier for you to compare prices and make sure you are getting the best deal. 

And finally, will you need to rent a car during your trip? Then check out Rentalcar.com to search and compare car rental companies from all over the world in a single website. Then, you can find the cheapest price for the best car!