Last Updated on by Lohanna Reis
Want to send money online to Canada from somewhere else in the world? Or want to receive money from Canada to somewhere else in the world? Take a look at the websites below for your cheapest options for international transfers to/from Canada (including info on their fees, transfer time, exchange rates, and much more). 
It's always good to know what your options are for sending money to and from another country. Not just to make sure you are entrusting your money to a reliable company, but to also make sure you don't lose money on fees. 
In today's article, we're going to talk specifically about Canada and the best ways to send money to or from the country worldwide. 
But first things first, if you live in Canada or are paying for something there, you first need to know what an SWIFT code is and how to use it in your transfers.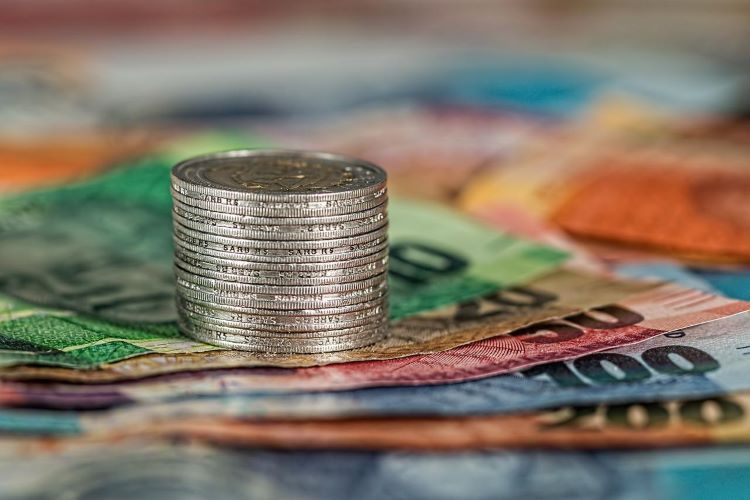 What is an SWIFT code and why is it so important to send/receive money in Canada? 
The SWIFT code (also known as BIC) is an international identification number for your bank account. It is the one you will use to identify the account you will send or receive the money. 
SWIFT has been used for money transfers between countries since 1973, with the aim of being a global trading channel and standardizing financial transactions internationally.
Each bank has a SWIFT code, so it's important you know what your account and account will receive the money. A quick Google search can tell you the correct code!
If you are sending money from Europe to Canada it is important to know about the IBAN system. It is the international identification number of your bank account, composed of the code of the country of the account (PT, BR, US, DE, ES…), control code, the identification number of the financial institution (ISPB) and the numbers of your branch and bank account.
So, if you still don't know what your IBAN is, you can pick it up from the internet banking of your account or contact your bank branch. Another way is through an IBAN generator such as IBAN Generator. 
3 things to consider before sending money to/from Canada from another country 
With so many platforms for international money transfers, it can be complicated to know which is the cheapest, safest, and most efficient. To help you out, I separated out 3 items that you have to take into consideration before you make your choice. They are: 
The frequency that you'll need to send money to/from Canada from overseas 

The daily exchange rate 

The platform's ease of use and how long it'll take for your transfer to be processed
    1. The frequency that you'll need to send money to/from Canada from overseas 
If you plan to do occasional international transfers to/from Canada, the most important item to look at is the exchange rate, the transfer processing time, and the service fees. 
But if you plan to make frequent transfers, it may help to look at platforms that offer certain benefits like creating an online account. This way, you can pay lower fees and manage everything directly through the platform's app or website. Platforms like Wise even have debit cards available for people who live in Canada.   
   2. The daily exchange rate 
You always want to pay attention to changes in the exchange rate, especially since the Canadian Dollar (and many other currencies) have seen large variations over the past months. Because of this, watching for the right time to make your transfer to (or from) Canada guarantees you won't lose too much money. 
So again, if you make frequent transfers, always make sure to check the current exchange rate. You can check for the daily exchange rate right on Google or on your country's central bank website. 
   3. The platform's ease of use and how long it'll take for your transfer to be processed 
After you've figured out the above, you also want to make sure the international transfer process is easy, quick, and painless. Nobody deserves to have to send a thousand documents just to create an account, wait several days to be approved, and only then be able to send money. 
Another thing to watch for is the transfer processing times. Some companies will promise same-day transfers to or from Canada, but the truth is that this can vary based on the form of payment you choose and other factors. So always be sure to read through the details before you make your transfer. 
I'll talk more about the processing times of each company and platform below.  
What are the 7 cheapest ways to send money overseas to/from Canada? 
And we've now arrived at our list of the cheapest ways to send and receive money from Canada. Below you'll find some more info about each company to choose from, their transfer processing times, their fees, and their transfer limits. 
As always, I recommend that you get a quick quote from each of the companies listed below. This way you can find out exactly which company will be the cheapest for your particular situation.
Wise is one of the most popular platforms in the world for transferring money between countries, and is often the first choice for those in Canada as well. 
What makes Wise stand out is their low fees and simple money transfer process. Plus, creating an account with Wise is very fast! 
Through Wise, you can even open up a digital bank account without jumping through too many hoops. With this account, you can send and receive money even more quickly (and with lower fees and stress). 
 You'll also receive a debit card that you can use normally in stores, restaurants, or at the ATM. 
Wise transfer processing times, fees, and limits for sending/receiving money to/from Canada
You can choose from 3 types of transfers: Low Cost, Fast and Easy, or Advanced. Low Cost can take up to 2 business days to process, but the other two options can be processed in as little as 6 hours 

Wise guarantees their exchange rate for up to 102 hours, which can be great in times of market fluctuation 

Their service fee varies with the amount you send (though they are still almost always the cheapest option!)…but sending money to Canada starts at 0.5% of the total and sending money from Canada is 1.4% of the total 

You can send up to 9,500 CAD per day with direct debit, and up to 3,000 CAD by debit/credit card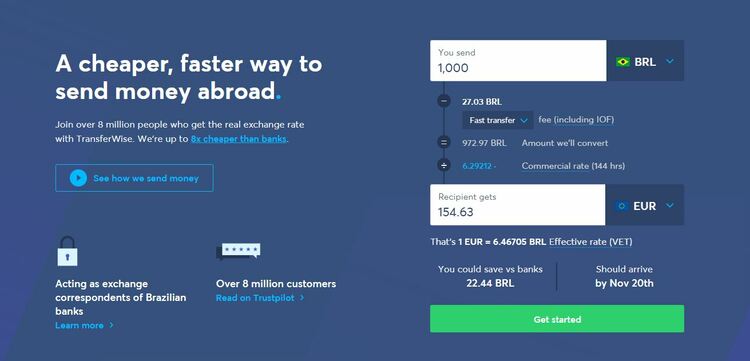 2. Xe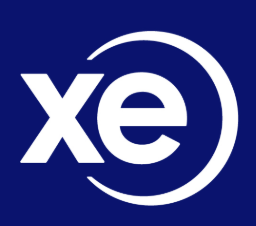 Xe is another popular platform for international money transfers, and they operate quite similarly to Wise. 
However, Xe is also popular for looking up currency exchange rates worldwide (including historical trends, which can be useful if you're deciding what time is best to make your transfer).
Note: Xe is not available with all currencies. So be sure to check their website to see if they offer the currency pair you need.   
Xe transfer processing times, fees, and limits for sending/receiving money to/from Canada
The amount you can transfer with Xe is unlimited (there is no maximum transfer limit) 

International money transfers generally take 1 to 4 working days (though they say many of their transfers arrive faster than this) 

Fees vary but are generally between 0.5-2% of the total amount sent 

Transfers under 500 USD have a fee of just 3 USD per transaction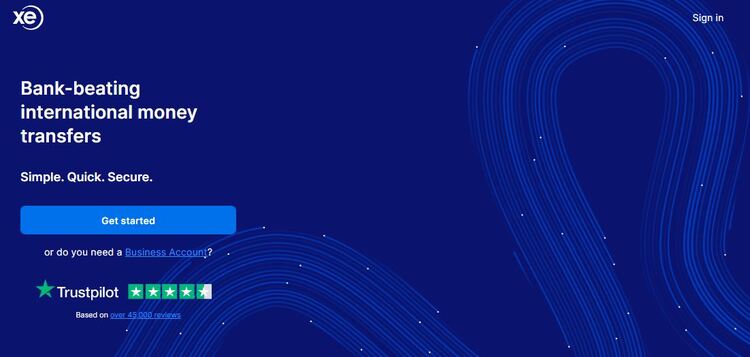 3. Remitly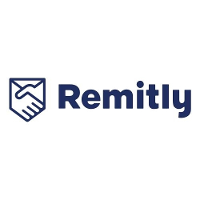 Remitly is a bit different from the other options on our list where transfers are normally done from one bank account to another because Remitly allows you to receive money in cash (which you can withdraw from an authorized location). 
Another way to receive money from Remitly is through delivery. Yes, they will deliver right to your house! 
As soon as you create an account on their website, you'll receive a discount on your first transfer. Unfortunately, you also need to have an online account before you can simulate your transfer to see the final cost. 
The countries that Remitly is available in are a little limited…so take a look at their website and see if it is a platform that can work for you.  
Remitly transfer processing times, fees, and limits for sending/receiving money to/from Canada
You can choose from two types of transfers: economic, which can take 3 to 5 business days to arrive at its destination, and express, which can take just minutes 

The service fee varies with the amount that is sent and the type of transfer 

The transfer limit is 2,999 USD per day or 10,000 USD per month (if you want to send a larger quantity, you'll need to send along some additional documents)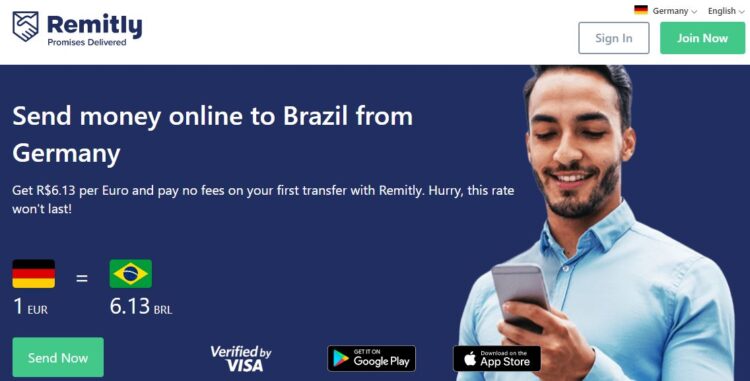 4. Ria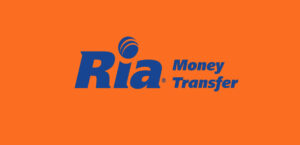 Ria is a multinational corporation that offers cross-border money transfer facilities to individuals globally. Founded in 1987, the company's main office is based in the United States and has witnessed substantial expansion in its worldwide outreach.
Ria provides a diverse array of services, such as bank deposits, wire transfers, and bill payments, and boasts a widespread network of over 436,000 agent locations in 160+ countries.
The primary objective of Ria is to provide safe, convenient, and economical options for people and households wishing to transfer money to their dear ones across the world.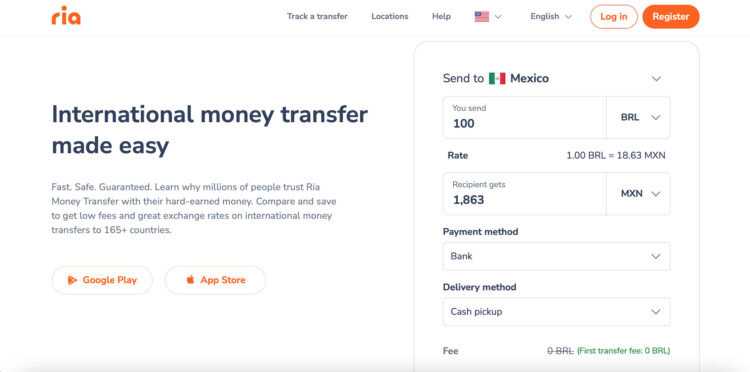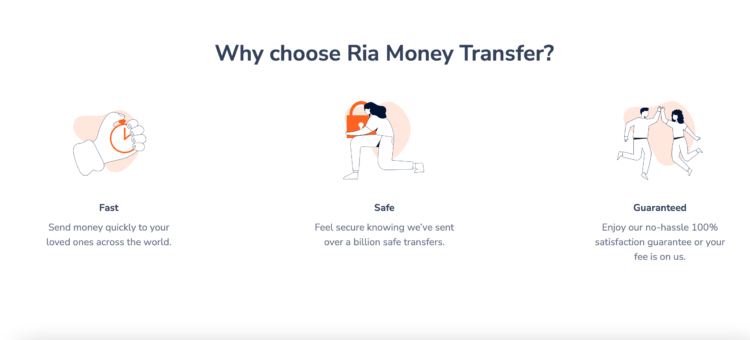 Remitly transfer processing times, fees, and limits for sending/receiving money to/from Canada
Ria has a global presence with over 436,000 agent locations worldwide, which makes sending and receiving money more convenient for its customers;

Ria offers a wide range of payment options, including wire transfers, bank deposits and bill payments.

Ria imposes daily and monthly limits on the amount a customer can transfer, which can be an inconvenience for those who need to send large amounts of money;

Ria may charge additional fees, depending on the destination country and the payment method selected by the customer;
   5. Instarem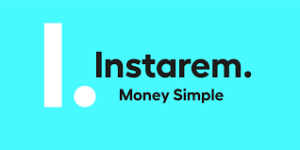 Instarem is a fintech company specializing in global currency exchange and money transfer services. Founded in 2014 in Singapore, the firm operates in over 25 countries worldwide, leveraging state-of-the-art technology to provide efficient, convenient, and cost-effective financial services to its clients.
Instarem's rates are highly competitive and clearly displayed for customers. Moreover, the company offers a loyalty program that allows you to earn points when you make fast and hassle-free money transfers from any location.
Regarding travel insurance, Instarem offers a comprehensive suite of products that covers medical emergencies, trip cancellations, lost baggage, and other unexpected incidents. Its insurance solutions are tailored to meet the specific needs of each client and can be easily purchased through the mobile app or website. Additionally, Instarem collaborates with leading insurance providers to ensure that its customers receive the most optimal coverage.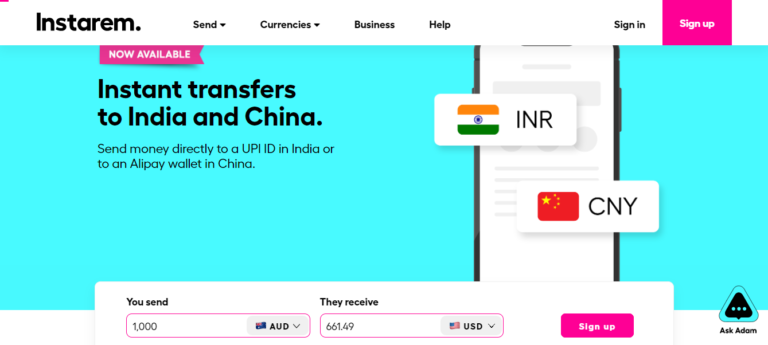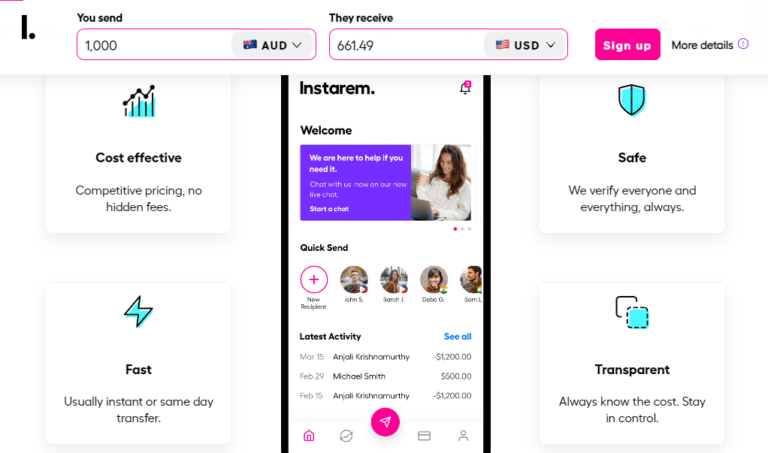 Remitly transfer processing times, fees, and limits for sending/receiving money to/from Canada
The company is present in more than 25 countries, which allows it to serve a wide variety of customers around the world. In addition, the company's geographic expansion has been constant and promising.

Transfer Fees and Limitations: Like any financial services company, Instarem charges money transfer fees and sets limits on transactions. This can make the company's services less accessible to customers with lower purchasing power or who need to send large amounts of money.
   6. TransferGo

Next up is TransferGo, which is a great choice that has been on the market for almost 10 years. They are especially known for the speed of their transfers, which can be received in as little as 30 minutes! 
With many types of transfers and payment methods available, TransferGo can be used to send and receive money in more than 60 countries worldwide. 
TransferGo transfer processing times, fees, and limits for sending/receiving money to/from Canada
Transfer processing times can vary from 30 minutes to 3 business days, depending on the type of transfer that you choose 

Their fees are fixed and change based on the type of transfer and payment method 

The platform itself doesn't have a daily transfer limit, though they do note that your bank might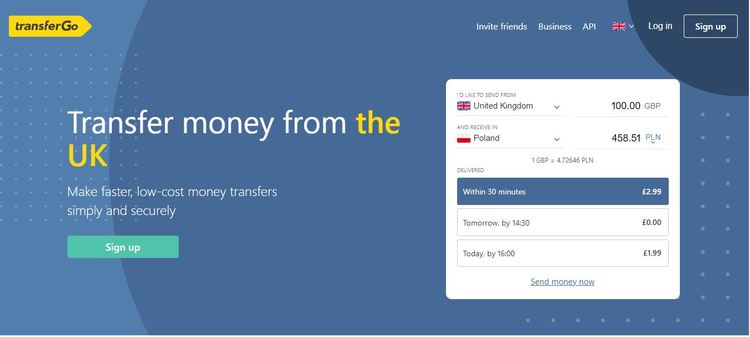 7. WorldRemit 
The last choice on our list, WorldRemit, is a large company for international money transfers. 
With operations in more than 150 countries and 90 currencies, they have more than 4 million clients around the world. Their headquarters are in Brussels, Belgium, and they are regulated by the National Bank of Belgium.   
WorldRemit transfer processing times, fees, and limits for sending/receiving money to/from Canada
WorldRemit fees are generally around 3.99 USD per transaction, but you can simulate a transfer to get an exact quote 

They have a daily transfer limit of 9,000 USD and a transaction limit of 5,000 USD for debit/credit cards 

Although their "official" transfer processing time is 2 business days, they state that 90% of their transactions are completed on the same day they are sent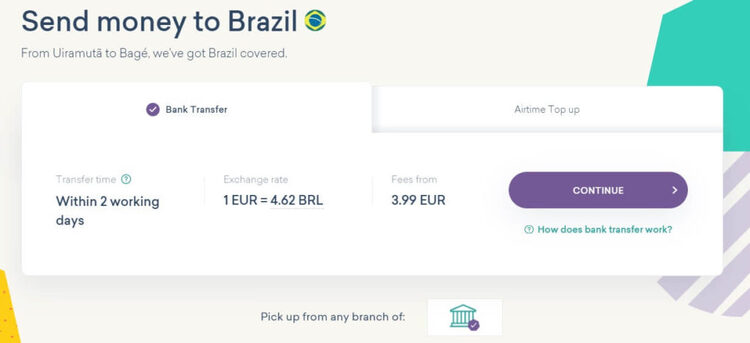 In sum… 
Here are the 7 cheapest ways to send money to/from Canada from overseas: 
Wise

XE

Remitly

Sendvalu

Azimo

TransferGo

WorldRemit 
In conclusion… 
There are lots of options out there for making international money transfers to/from Canada. So you want to be sure you know what the cheapest and most efficient ones are. 
I put together the list above based on my own personal experience and research with the companies I thought offered the best value between service and price. Now you just have to choose the one that best meets what you need. 
If you've ever used any of these companies before, comment below with your experience! And, of course, if you have any other questions about transferring money overseas, just let me know in the comments area below and I'll get back to you. 
I've spent lots of time living overseas and dealing with transferring money between countries, so I know how annoying it can be. That's why I'm happy to help! 🙂 
Planning your next trip?
Then don't forget travel insurance! You don't want to get stuck paying a ton of money and ruining your trip if you get sick or have an accident without travel insurance. WorldNomads is ideal for adventurous travelers, backpackers, or anyone looking to be protected during their trip. They cover almost every single activity you can image!
Already reserved your hotel or hostel? If not, we recommend Booking.com. They have a huge selection of hotels and hostels all over the world. Plus, in most cases, you can cancel your reservation without any costs up to a few days before the check-in date!
Still haven't booked your plane ticket and want to save big? Take a look at Kayak and Momondo. They are flight aggregators that combine several other ticket search websites to make it easier for you to compare prices and make sure you are getting the best deal. 
And finally, will you need to rent a car during your trip? Then check out Rentalcar.com to search and compare car rental companies from all over the world on a single website. Then, you can find the cheapest price for the best car!