Last Updated on by Lohanna Reis
Unlimited drinks, gourmet meals, and plenty of space to stretch your legs…
It sounds like we're talking about flying first class, doesn't it?
But believe it or not…this is possible in economy! That's why today we'll be talking about 3 airlines with the best (& most luxurious!) economy classes in the world.
(In other words, the best flights that you can possibly take without having to empty out your wallet!)
You see, although flying was once quite inaccessible for many…thankfully it's grown more normal (and affordable!).
And for those who can shell out a bit more money, there have always been some undeniable advantages of traveling with the largest and most luxurious airlines out there.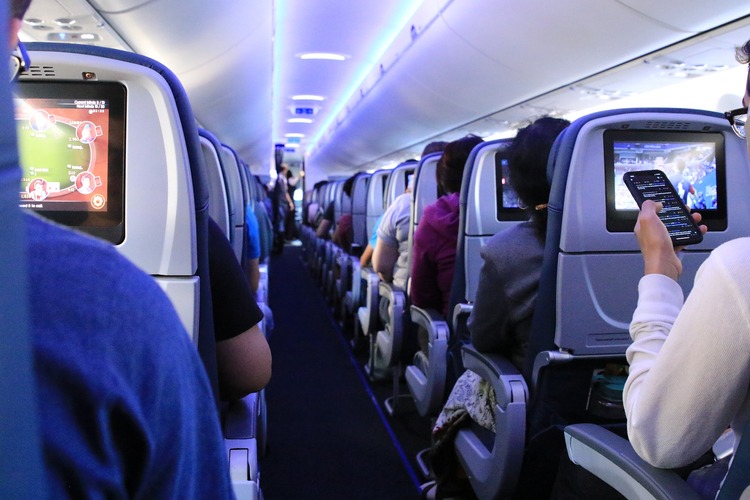 Because as wonderful as traveling may be, thinking of the long hours stuck on a plan isn't fun for everyone.
But luckily, it's now possible to have a better experience in economy if you choose the right airline.
And so, in this article we'll look at the most luxurious economy classes in the world. All 3 offer flight experiences that may have an above-average price (not always though)…but give you the customer service, amenities, and differentiators that only a world-renowned airline can offer.
Plus, all 3 airlines are the Middle East, which are a great place for connecting or doing a stop-over in super long haul flights. Actually, don't forget to check my article on how to survive long haul flights and the top 10 longest flights in the world! 
Qatar is one of the most famous airlines in the world. Known for its excellence, flying with Qatar is for sure a unique experience – even in economy class!
This company serves more than 150 countries around the world, with state-of-the-art aircraft and exemplary service. Your differentials? Countless. See some of them below.
How is it to fly with Qatar in economy class?
Qatar offers the most spacious seats of any airline, unlimited date changes, and full ticket refunds. All without additional fees!
Beyond this, Qatar goes out of its way to provide the best flight for its passengers. Because of this, if you fly with Qatar you can enjoy an amenities kit with products like Institut Karité Paris lip balm, socks, an eye mask, and much more.
Another advantage of flying with Qatar is that all of their meals are curated by famous chefs, alongside their many options for unlimited snacks and drinks.
During your flight, you'll also have more than 4,000 options for entertainment including big-name movies, series, and must-see premiers.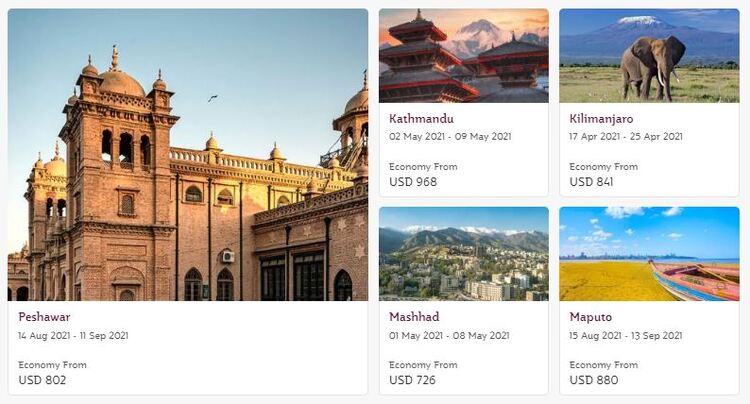 Another thing that makes Qatar stand out is that you can fly while staying connected to the world, given that most of their planes are equipped with modems that let you send/receive texts, access to the internet, and USB slots to charge your electronics.
And if you're traveling with children…alongside an entertainment channel for kids and a free gift from Qatar, little ones will also receive special refreshments and snacks made just for them.
One special touch is the lighting system of Qatar's aircrafts, which is projected to decrease jet lag with LED lights that imitate the sunrise and sunset.
Finally, the flight attendants are trained to help you with whatever you need and the company guarantees impeccable service from purchasing your flight to checking in to checking your bag.
Despite not being as well known as Qatar, Etihad has been gaining space among the best airlines in the world. Headquartered in Abu Dhabi, one of the 7 Emirates of the United Arab Emirates (UAE), Etihad serves more than 150 destinations worldwide.
How is it to fly with Etihad in economy class?
By flying economy with Etihad, you'll have access to complimentary food and drinks, premium blankets and pillows, high-quality entertainment, and (paid) WiFi.
On their website, you can easily choose a seat from special options like Economy Space (where you can select more spacious seats) or Economy Neighbour-Free (where you can reserve an entire row just for you).
But even if you don't select a seat in one of these special options…don't worry! Even in "normal" economy, you'll still get large, comfortable seats, special headrests, and adjustable back support.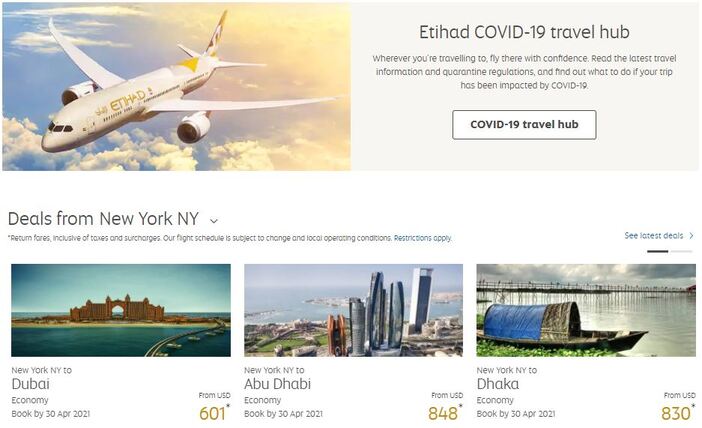 With Etihad, you can also request (at least 24 hours in advance) a special meal, including kosher and non-vegetarian Hindu meals.
If you have any food intolerances, you can also make note of these. And if you're traveling with kids, don't forget to request a children's meal when you buy your ticket!
Another advantage of flying with Etihad is that you can pay an extra fee to get access (for up to 8 hours before your flight) to the many Etihad lounges spread throughout the world. Inside these lounges, you'll find complimentary food and drinks, free showers and luxurious bathrooms, wifi, magazines, and newspapers.
Emirates is probably the most world-renowned airline in the luxury sector. Even if you have never made a long flight, you may have heard of this company. And it is not for nothing that Emirates is so recognized worldwide, as it is an example of luxury, exceptional service, and convenience.
How is it to fly with Emirates in economy class?
Among the things that makes Emirates stand out is their menu. The plates served during the flight are always inspired by the cuisine of your destination. (Which is a great way to sample it before you land!)
Beyond their excellent and numerous meals, you'll also get unlimited free drinks throughout your flight.
For children and individuals with dietary restrictions, you can choose and request a special meal when booking your flight.
Another feature that Emirates takes seriously is entertainment – with more than 1,500 films, 4,500 channels, and hundreds of games for you to choose from.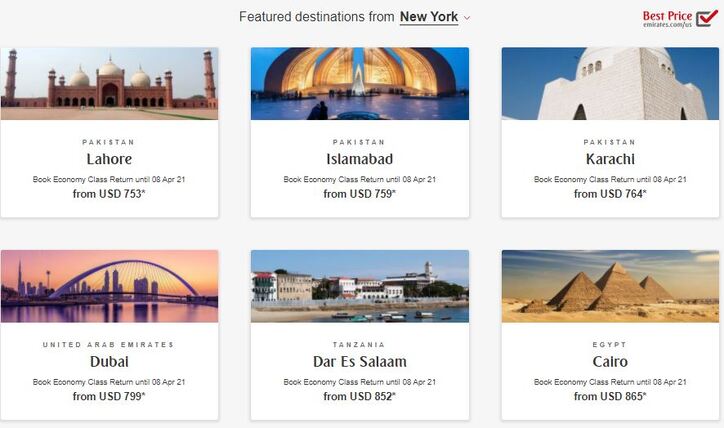 Further proof that Emirates thinks about every last detail? The stars on the ceiling of the aircraft that adapt to the local time zone – serving as an impressive visual that also helps you avoid jet lag.
All passengers also receive amenity kits with masks, socks, a toothbrush, tooth paste, and ear plugs. Blankets, pillows, and headphones are always available as well.
And if you're someone who likes to stay connected to the world, Emirates has everything you need – WiFi, USB chargers, and the ability to send text messages and get phone service via satellite (paid).
When buying your ticket, you can choose your seat for free. And if you're unsure about which seat to choose, you can explore Emirates' 3D seat map to choose the perfect spot for you to relax during your flight.
Comparative table of economy classes in Qatar, Etihad, and Emirates
Now that you have seen the benefits of flying in economy class on some of the best airlines in the world, you may be wondering – Which one is more worth it? And what is the average price of the economy class of these renowned airlines?
Well, it certainly depends on your place of origin and destination. But to help you choose, here is a comparative table of the main differentials of these companies and another one about the average price of these flights.
| | | | |
| --- | --- | --- | --- |
| | Qatar | | |
| Menu | Elaborated by renowned chefs | Gourmet | Specially planned based on your destination |
| Differentials for children | An exclusive entertainment channel, complimentary gift and different meals in children's lunch boxes | Children's entertainment (films and games) and meals for children | Differentiated meals, interactive games, and children's films |
| Training | More than 4,000 entertainment options, including renowned films and series and unmissable releases | Hundreds of hours of entertainment on board with blockbusters, TV shows and boxsets. | More than 1,500 films, 4,500 channels and hundreds of games for you to choose from |
| Amenities kit | Contains | Included in | Yes |
| Free drinks | Included | Courtesy | Unlimited |
| | | | |
| --- | --- | --- | --- |
| | Qatar | Etihad | Emirates |
| New York – Dubai | 324,67 | 1.076,60 | 889,60 |
| London – Berlin | 684,11 | – | – |
| Beijing – London | 2.999,00 | 3.279,00 | 7.485.00 |
*Quotes are accurate as of 05/05/2021 for departure on 05/11/2021 in USD
In short…
Here are the 3 best (& most luxurious!) economy classes in the world:
Qatar

Etihad

Emirates
Conclusion…
I hope this list has helped you to know a little more about the best economic classes available on the market. I am sure that regardless of your choice, flying with any of these airlines will be an unforgettable experience.
And if you have any questions regarding this article, airlines, or about purchasing airline tickets in general, write in the comments. It will be a pleasure to help you!
Planning your next trip?
Then don't forget travel insurance! You don't want to get stuck paying a ton of money and ruining your trip if you get sick or have an accident without travel insurance. WorldNomads is ideal for adventurous travelers, backpackers, or anyone looking to be protected during their trip. They cover almost every single activity you can image!
Already reserved your hotel or hostel? If not, we recommend Booking.com. They have a huge selection of hotels and hostels all over the world. Plus, in most cases, you can cancel your reservation without any costs up to a few days before the check-in date!
Still haven't booked your plane ticket and want to save big? Take a look at Kayak and Momondo. They are flight aggregators that combine several other ticket search websites to make it easier for you to compare prices and make sure you are getting the best deal. 
And finally, will you need to rent a car during your trip? Then check out Rentalcar.com to search and compare car rental companies from all over the world on a single website. Then, you can find the cheapest price for the best car!