Last Updated on by Lohanna Reis
Do you enjoy traveling in luxury, comfort, and style? How about staying in the best hotels? And skipping out on the stress of organizing your tickets, visits, and activities yourself? If this sounds like you, take a look below for the most famous luxury tour companies in the world!  
Knowing what type of traveler you are is essential for a good trip. What aren't you willing to sacrifice on your trip? Nice hotels? Top-rated restaurants? The comfort of having everything taken care of for you? 
If these 3 sound like things that you don't want to sacrifice, then luxury travel may be for you. In which case, the 5 best international small group tour companies for luxury travel that I've listed below should help out! 
With a luxury tour company, you'll be paying not only for the trip itself, but for the unique experiences, personalized service, and the variety of comforts at your disposal.  
Interested? Then read on!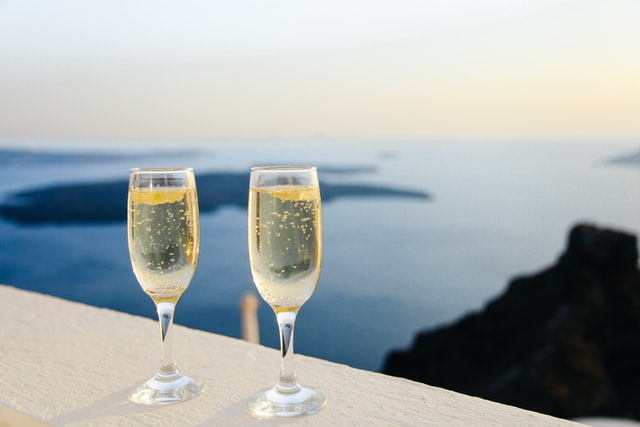 Benefits of traveling with on a guided trip with a luxury tour company 
Anyone who opts for luxury travel rarely regrets it because you can: 
Travel in total comfort and safety 

Count on specialized travel consultants to plan your trip 

Get access to unique, one-in-a-lifetime travel experiences  
Travel in total comfort and safety 
As I mentioned at the beginning of the article, comfort and luxury travel go hand-in-hand. Companies that offer this type of travel know exactly what their clients are looking for…and thus offer the best services, infrastructure, and security. 
You won't need to deal with messy transfers, "nothing special" accommodations, or crowded attractions. Especially because many companies, including the ones on this list, will have access to exclusive visiting hours for many popular tourist attractions.  
And when it comes to safety, these companies definitely prioritize the well-being of their travelers both before and during their trips. This is, after all, one of the core features of luxury travel. 
Count on specialized travel consultants to plan your trip 
Another major advantage of luxury excursions is the way that your trip will be planned. In other words, you won't have to worry over any of the details because there will be a team of specialized travel consultants at your disposal to help. 
Your only job will be to tell them about the trip you want to take, where you want to go, and what you'd like to do. 
Many of these types of companies have 100+ excursions across the 7 continents for groups of all kinds for you to choose from. Whether you want to travel as a family, solo, or with friends. In some cases, you can even have your tour 100% customized. 
Get access to unique, one-in-a-lifetime travel experiences  
And when it comes to experiences…luxury travel gives you access to plenty of unique options. After all, even more than visiting the places themselves, a major benefit of luxury excursions are the types of activities you get to participate in. 
Such as wine tasting in France, a guided helicopter tour of the Canadian Rockies, a tea harvest and tasting in Sri Lanka, a gondola ride through the canals of Venice… 
There may be several excursions to a single destination, allowing you to find one with the exact experiences you're looking for. 
Here's an example of this below. As you can see, there are 8 separate tours to choose from just for Italy alone!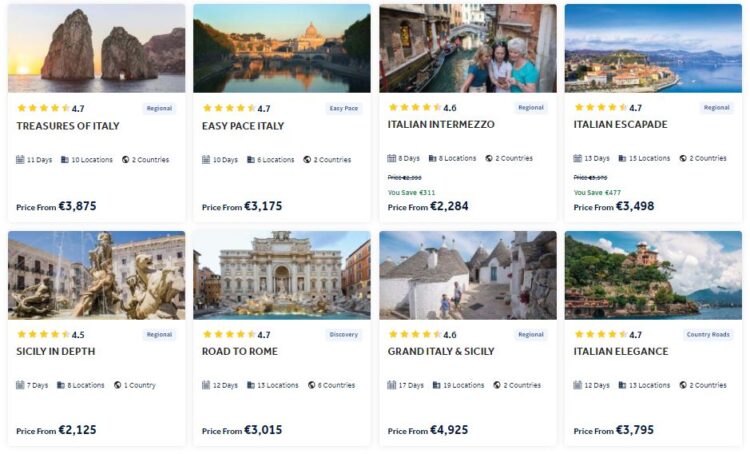 Comparison table of the 5 best luxury travel companies for guided tours in the world + 1 bonus
Insight Vacation

Trafalgar

Abercrombie & Kent

Globus

Tauck

Luxury Gold 

Option to create a custom tour

Yes

Yes (but you need to have at least 10 people)

Yes

Yes

No

Yes

Small group options

Yes

Yes, with 20-29 people depending on your destination

Yes, with up to 18 people

Yes, with 20-24 people

Yes, with up to 24 people

Yes, with up to 24 people 

Family tours available?

Yes

Yes

Yes

Yes

Yes

Yes

Solo tours available? 

No

Yes

Yes

Yes

Yes

No

Flexible bookings

Yes, you can move your trip up until 30 days before 

Yes, you can move your trip up until 60 days before 

Only for Covid-related reasons 

no

Yes 

Yes, you can move your trip up until 60 days before 

COVID-19 vaccination requirement?

 

Required

Required

Not specified on site

Required

Only to destinations where required

Required 
The 5 best international companies for luxury tours 
Below, you can find some more info about these luxury travel companies…as well as what a think a few of their most interesting tours on offer are! 
And keep in mind that you can easily explore each website yourself to see the different destinations and book your trips directly with them…no third party sites needed! From there, they can even help you with flights, transfers, visas, and other details. 🙂 
The first company on our list today is Insight Vacations, one of the 40 brands in the decade-old The Travel Corporation (TTC). 
With Insight Vacations, you'll find excursions in diverse corners of the world and with diverse lengths. You'll also find more than 100 different activities included in the various packages. 
One of the nicest benefits of Insight Vacations is that you can choose from different ways to travel. In other words, beyond traditional groups, you can also find tours for small groups (up to 24 people) that you bring together, private tours, or women-only tours. 
And when it comes to COVID-19 safety, Insight Vacations has adopted several measures against the virus including vaccine card requirements and the addition of a Well-Being Director on all their tours. You can also make changes to your travel plans up to 30 days before your departure for no extra fees.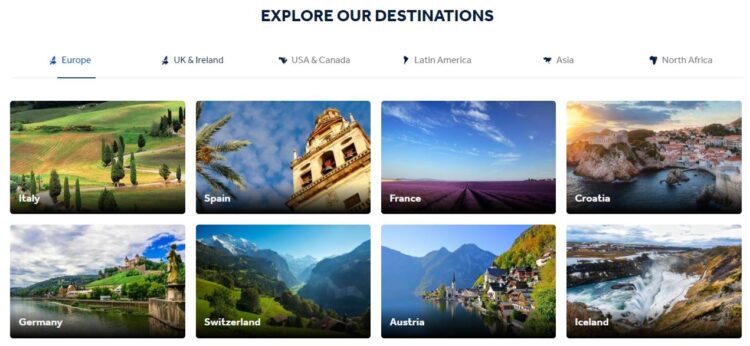 Luxury tours from Insight Vacations that deserve mention
BEST OF ITALY: an 11-day guided tour that covers the best of the country's history and cuisine
AMERICAN PARKS TRAIL: over the course of 8 days, you'll visit the "Wild West" of the United States including Yellowstone National park, Mount Rushmore, and more 
More than 5 million tourists have already traveled with Trafalgar, which is also a part of The Travel Corporation.
What makes Trafalgar stand out is their customer service. You can even schedule a video call to speak directly with an agent and ask any questions you might have! 
Beyond this, all of their tours have been designed based on the idea of "Make Travel Matter." In other words, with the goal of creating experiences that are as good for the traveler as they are for the community and the environment. 
As with Insight Vacations, with Trafalgar you can choose from a large number of small-group tours. However, you can also "design" your own tour to take on your own or with a group you put together. 
Current COVID-19 measures include required vaccinations and the flexibility to reschedule your trip if needed.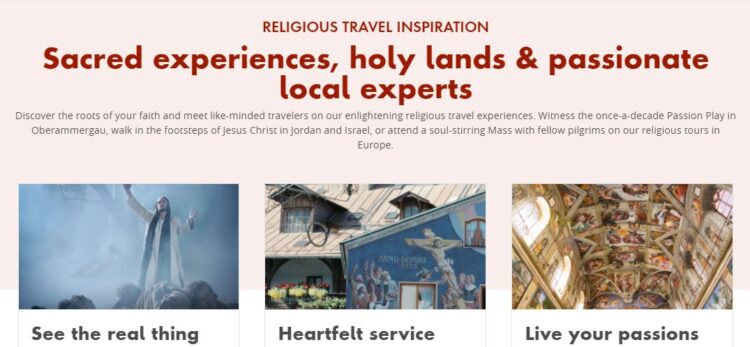 Luxury tours from Trafalgar that deserve mention
CHRISTMAS MARKETS OF AUSTRIA, GERMANY AND SWITZERLAND: with a 4.7 out of 5-star rating, this luxury excursion will take you through the dreamiest Christmas markets in Europe 
HIGHLIGHTS OF VIETNAM: spend 12 days exploring all that Vietnam has to offer from north to south 
Another large name in the luxury travel world is Abercrombie & Kent, which has been offering tours since 1962. 
Recognized worldwide as a leader in luxury travel, Abercrombie & Kent stands out for their high-end experiences. Beyond offering group tours (including those for families and small groups), they also offer luxury cruises, personalized itineraries, and even trips with private jets.
Through A&K, you'll have the opportunity to explore more than 100 countries spread throughout the continents.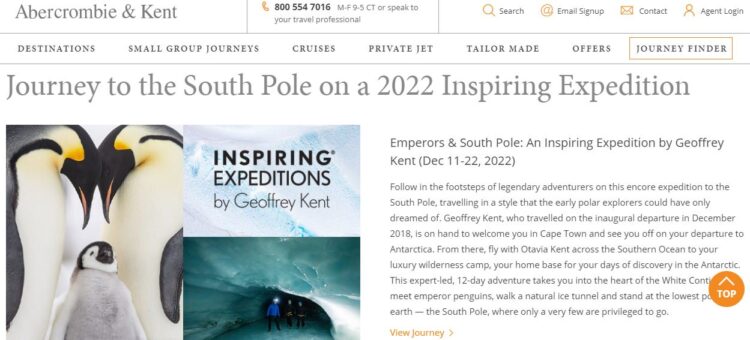 Luxury tours from Abercrombie & Kent that deserve mention
The Great Migration Safari: an opportunity to spot wildlife while spending 14 days in luxurious chalets in Kenya and Tanzania 
Australia & New Zealand: a 17-day excursion to explore the best of these two island countries, including a private cruise from the port in Sydney 
When it comes to luxury travel, Globus is another option worth looking into. With a 90-year history (you read that right!), Globus has tour options that range from classic to exotic destinations, to cruises, and to religious trips. 
Globus also stands out for offering "Adventure a la Carte" on their tours, or free time to explore your destination however you like. 
When it comes to COVID-19, Globus has highlighted their concerns on their website and emphasized that they are following all safety measures. As well as giving you the flexibility  to change your plans if needed. 

Luxury tours from Globus  that deserve mention
Journey Through the Holy Land: a 9-day excursion made for history-lovers that  passes through famed cities like Jerusalem and Nazareth (you'll even have the chance to float in the Dead Sea) 
Portugal in Depth: explore the best of Portugal over the course of 11 days with visits to cities like Porto, Lisbon, and Coimbra  
Tauck has been offering luxury tours for 96 years (and three generations!). Today, they have tours in more than 70 countries. 
One thing that makes Tauck stand out from the other options on this list is the exclusive access their travelers get. In other words, you won't ever have to face long lines or crowded places since your group will have special visiting hours just for them. 
With Tauck, you can choose from traveling solo or putting together your own group with friends and family.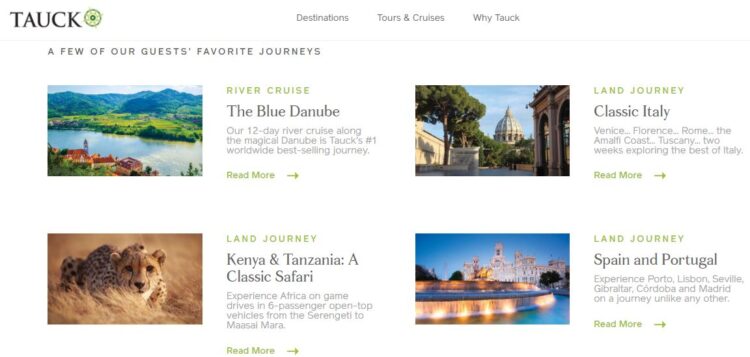 Luxury tours from Tauck that deserve mention
Alaska: Call of the Wild: this family tour will give you 8 days to explore Alaska, featuring a kayak tour along the Kenai Peninsula 
A Portrait of India: in 18 days, you'll adventure through the 2nd most populous country in the world with visits to New Delhi, Bombay, Jaipur, and much more 
Yet another member of the TTC, Luxury Gold is another name in luxury travel that we couldn't leave off the list. 
If you're seeking elegance, then Luxury Gold is the choice for you with their special "VIP Experiences" that put you in the best and grandest hotels out there. Some examples include Ashford Castle in Ireland, and Lion Sands Game Reserve in the heart of the South African jungle. 

Luxury tours from Luxury Gold that deserve mention
British Royale: 10 days dedicated to the British royals, beginning in London and passing through 9 other cities to end in Edinburgh, Scotland 
In sum…
Throughout today's article, we've talked about the 5 best international luxury travel companies. Here they are again: 
Insight Vacations

Trafalgar

Abercrombie & Kent 

Globus

Tauck

BONUS: Luxury Gold 
In conclusion…
No matter what company you choose, you'll find high-quality service and amazing experiences. You just have to pick the right tour!
Let us know below what you thought of the list, if you're a luxury travel person, if you have any questions…and I'll happily get back to you! 
Planning your next trip?