Last Updated on by Lohanna Reis
Although I have been to the country a couple of times in the past, it wasn't until taking a road trip from Svolvaer to Nordkapp that I came across its real beauty. Driving through different terrains and localities provided me with memories like nothing else.
When I came back home, I had friends asking about my experience. So, I decided to pen down this guide for them and everyone else interested. Let's begin then!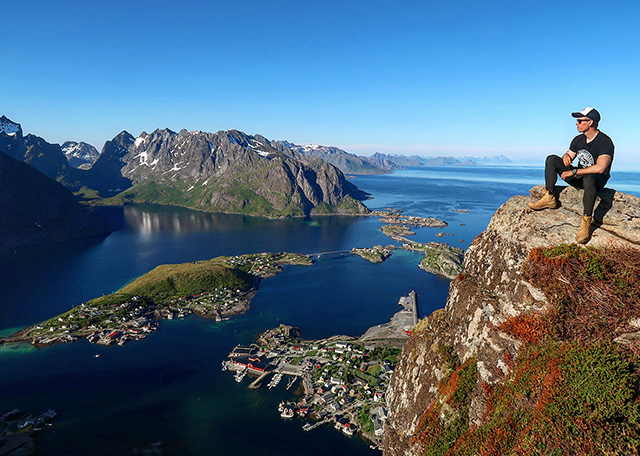 Travel map from Svolvaer to Nordkapp: Discover the best of Norway by car!
Below you will find a complete road trip planner from Svolvaer to Nordkapp. Enjoy tips on things to do and where to stay during your adventure, as well as driving recommendations in Norway.
To help you plan and visualize your itinerary, I also made a map with all the places mentioned in this article so that you can make the most of all my tips. (just click on the map below to zoom in).
Start: Svolvaer
Before you embark on the rest of the journey to Nordkapp, take out some time to explore Svolvaer. And what can be better than starting off by watching the mesmerizing Northern lights from the strategically placed Lofoten group of islands?
You can easily catch a glimpse of the aurora borealis from practically any direction. Moreover, the islands are located very close to one another, meaning you can quickly move around to follow the light trail.
And while at it, don't forget to choose the guided photography trips to capture this once-in-a-lifetime experience. Or go for the complete sailing, hiking, and fishing tour to the unpopulated island of Litlmolla and Skrova.
If you have enough time in hand, then I'd also suggest opting for a cruise trip to Trollfjord to get up-close and personal with the local wildlife and landscape of the region. It's the best way to watch the regal sea eagles and experience the enchanting beauty of the majestic mountain tops and mysterious ocean depths.
What Else Can You Do In Svolvaer?
After you're done satiating the nature lover in you, it's time to unwind in the much-popular ice bars of Svolvaer.
My favorite was the Magic Ice Bar located at Fiskergata 36, which has different sculptures, glasses, and even tables and chairs made of ice! And the friendly staff was nothing less than a bonus.
On that note, I should also suggest taking a Lofoten brewery tour, which will introduce you to the Lofotpils brewery – the only craft beer brewery in the region. Its owner, Andreas Thorvardarson, is an entrepreneur who has successfully fulfilled his family dream of operating a brewery in this part of the world.
Despite employing only a handful of people most of the time, it produces some of the finest stouts, amber ales, and pilsners that leave you craving for more. Interestingly, he has also started the Hollafaest music festival in Svolvaer that takes place every year in July.
Where To Stay In Svolvaer?
Some of my top recommendations for staying in Svolvaer are:
Anker Brygge Fishermen's Lodge

Vestfjord Hotel (best for budget accommodation)

Svinoya Rorbuer

Hammerstad Camping
Next stop: Andenes
The next destination on this trip was Andenes, which is located at a distance of about 133 miles from Svolvaer (taking approximately 3 hours to drive).
However, I'd strongly recommend keeping extra time handy- not because the roads are difficult to drive on but because it's virtually impossible not to stop and admire mother nature along the way! And keep an eye for spotting local wildlife like sea eagles, plants like golden cloudberries, and the natural peat bogs formation.
Andenes is a small town cum fishing port that's situated at the northernmost tip of the Andoya island. Inhabited by about 2,000 fishermen, it houses one of the largest fishing communities on the island. And this can be credited to the land's unhindered access to the rich continental shelf water on three sides, which also makes for great ocean viewing anytime, anywhere.
Since I was pretty tired on the day of my arrival to Andenes, I spent the rest of my time exploring the shops, cafes, and the church here. But before heading back to the hotel, I made it a point to visit the tourist service center that provides vital information about the land and its weather conditions.
What Else Can You Do Andenes?
Among other things, you can definitely go whale watching (sperm whales if you visit Andemes in summer and humpbacks if you're here in winter). I'd advise doing some research beforehand so that you can book an experienced guide for a fulfilling trip. And before you hit the waters, you will be taken to the Whale Museum, which can also be visited on its own.
If you're feeling less adventurous (and more seasick), then the Sea Safari Andenes trip may be a better alternative for you. It lasts for only a couple of hours while ensuring optimum proximity to the sea and its inhabitants. Once you're back on shore, visit the lighthouse and polar museum.
Other than that, you wouldn't want to miss out on visiting Spaceship Aurora, the lone operational space center of the country. It saw the first rocket launch in the early 1960s, which kickstarted the Norwegian space era.
Where To Stay In Andenes?
Although there aren't a lot of places offering tourist accommodation, here are some hotels and apartments that you can try:
Hotel Marena

Heggelund-huset

Kristina Apartments

Jangaard Apartment
Welcome to Senja
Getting to Senja from Andenes was perhaps one of the best parts of this trip for me, thanks to the transportation system between these two islands.
Although they are situated relatively close to each other (the distance between them is about 43 miles), I'd strongly suggest opting for the car ferry service, which is operated three times a day during summer. It connects Andenes to Gryllefjord (situated north of the Senja island). But make sure you reach the port well in advance, as the tickets can't be pre-booked.
Lasting for about an hour and 40 minutes, this on-sea trip will give you the opportunity to get close to the water and even spot whales without paying extra.
Once you set foot on Senja, you will invariably be intrigued by the rising peaks culminating into the sea and the white sand beaches adorned by turquoise waters. What I liked the most about this place is that tourists are free to stop anywhere and start walking in any direction to find out more about the place.
Talking about the main tourist attractions, my first recommendation will be the Ersfjordstranda. Not only is it one of the most picturesque beaches on Sanja, but it's also home to a popular, gold-plated toilet facility designed by a very skilled architect. Plus, the surrounding area makes the perfect spot for camping.
Another location worth mentioning is the Tungeneset wooden walkway, overlooking the Oksen mountain and waves of the Northern Sea. When the weather is calm, the still water acts as a mirror to reflect the mountain peaks.
But I couldn't get enough of the scenic landscape, which led me to the 44-meter long Bergston viewing platform. You can stop at its car park to catch a glimpse of the enchanting scenery below.
What Else Can You Do In Senja?
Senja is undoubtedly an adventurer's paradise, as there are numerous hiking trails that one can go on. While the Husfjellet hike takes you through a forest to watch the mountain peaks on the other side, the Russehula hike along the coast concludes at the historic Russehula cave. But don't worry, you won't miss seeing the mountains on this route as well.
If you're a novice and still want to experience hiking, then the short and easy Sukkertoppen hike will come to your rescue. Starting from the Hamn i Senja holiday resort car park and extending up to the mountains on the other side (or vice versa), it offers a full panoramic view of the Bergsoyan archipelago.
Besides, the Hamn i Senja is itself a place of tourist attraction due to its location and the views on offer.
You can also visit the Ånderdalen National Park for its pine forests, lakes, and the Senja Troll Park while on the island.
Where To Stay In Senja?
With its spacious accommodations, local cuisine, and gateway to local activities, Hamn i Senja is my top choice for staying here. Some other popular stay destinations are:
Norwegian Wild

Senja Fjordhotell

Skagi Senja hotel & lodge

Northern Light Hotel/Camp Steinfjord
The White Beaches of Sommaroy
A nearly 4-hour drive from Senja will take you to Sommaroy, which is basically a fisherman village-getaway from Tromso. For me, this place served as the ideal stop on the coast to rejuvenate my senses. And I was pleasantly surprised by the fact that despite having a population of 300, it's one of the busiest fishing villages in the area.
Coming to its landscape, the first thing that caught my eye was the white beaches – complemented well by the green waters. Most of the beaches here only have birds, so you can hone on your birdwatching skills.
Aside from that, there are a lot of shallow coves, which will tempt you to take a dip later in the day when the water gets a little warm. Those long strolls along the waterline, collecting shells will always remain close to my heart.
After taking a full night's rest, I started the next day with a trip to Haja island, which is the highest one among its peers in Tromso county, located north of Sommaroy. It stands at a staggering 486-meter above the water.
On the west is the Storhavet range, and if you can be here at midnight during the peak of the summer season, you may well see the midnight sun shining on the horizon.
I happened to know about a little hiking trip on my way to Tromso via the main highway, which takes visitors to a beautiful viewpoint on the Ornfloya hilltop. The trek is merely 2 kilometers long (round-trip) and has an elevation of about 150 meters. But the view from above is absolutely magical.
What Else Can You Do In Sommaroy?
There are local tour facilities for participating in extreme adventures like sea kayaking and RIB (rigid inflatable boat) tours that will definitely give you an adrenaline rush. Alternatively, if you want to go for something serene, choose the cruise tours with fishing activities on board.
Furthermore, there are boat services up to the Tussoy island, facilitating same-day pickup and return.
Where To Stay In Sommaroy?
The best accommodations in and around Sommaroy are:
Sommaroy Arctic Hotel Tromso

Buvik Sea Lodge

Laukvik

Sjotunbrygge
Nature & Wildlife in Tromsø
Following a hearty breakfast, you can proceed to Tromsø, which is about an hour's drive from Sommoroy. From watching the Northern lights to whale watching and partying till you drop – Tromsø has got your back. In fact, this city, popularly known as the "Paris of the North," has more pubs than anywhere else in the country.
If you're here for the Northern lights in winter, then I'd definitely suggest opting for dog sledding with huskies for a never-before experience of traveling through the snow-capped landscape. What's more, you can choose between self-driven, half-day, or full-day options according to your convenience.
Likewise, you can book reindeer sledding and feeding trips to "meet-and-feed" the animals from a safe vicinity. It was during this activity that I got the opportunity to interact with the indigenous Sami population and learn more about their predominant cultures and traditions.
The Tromsø fjord cruise trips are also quite versatile. Whether you want to go on a dedicated fishing trip or are eager to know more about marine life, these trips cover it all. Moreover, visitors can choose between sailboats or rib-boats according to their comfort.
Summer in Tromsø is all about gazing at the midnight sun to your heart's content and indulging in outdoor activities like hiking and fishing. Overall, this town is surrounded by the wild beauty of fjords and rising mountains.
What Else Can You Do In Tromsø?
If you want to spend some leisurely time in the town, then consider visiting the Arctic Cathedral, Polar Museum, and the top of the Floya mountain with a cable car ride. I was particularly fond of Downtown Tromsø, as it plays home to some of the most popular restaurants and pubs in the city.
Where To Stay In Tromsø?
There are quite a few apartments and homestays in different parts of Tromsø, which include:
Red Old House Tromsø Apartment

Homestay In Tromsø

BraMy Apartments The Penthouse
And if you're looking for hotel stays, then my top suggestions are:
Clarion Hotel The Edge

Enter Amalie Hotel

Enter City Hotel

Scandic Ishavshotel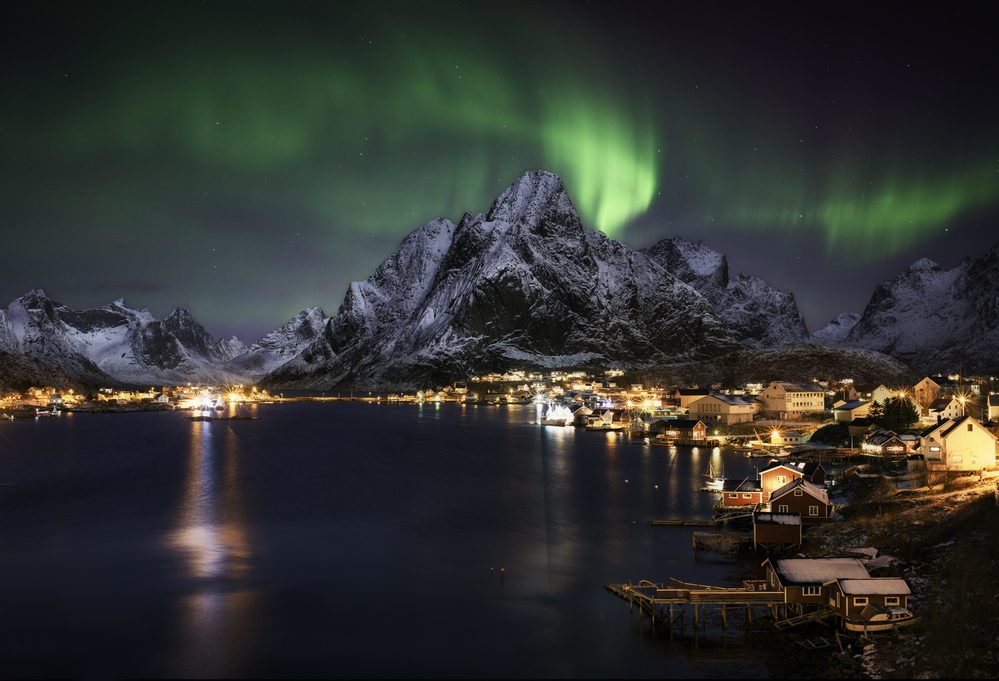 Stay In The Igloo Room In Alta
The penultimate stop on this trip, Alta, is located about 188 miles away from Tromsø. This means that driving non-stop here will take approximately 6 hours. I took some refreshment breaks in between and got here in a little less than 7 and ½ hours.
Although you may know this city as one of the most famous spots for viewing the Northern lights, there's way more that you will find here. It has a rich history, starting right from the stone age when people from different cultures and traditions made this region their home.
Today, Alta has emerged as one of the premium tourist destinations in all of Europe, providing a fantastic mix of modern activities that take you close to the ethnicity of the land.
On my first day here, I wasted no time booking an igloo room to spend the night. And contrary to what I had heard, the experience turned out to be quite comfortable and memorable. Just carry enough warm clothes and a good sleeping bag for the purpose. There's also a hotel in the nearby fjords that remains operational from December to March, before the ice starts melting.
What also made my sleep more sound was the snowmobile trip I had taken at night, which allowed me to explore the region under the twinkling stars. I took one again the following day to get a clear view of the Arctic landscapes nearby.
Aside from that, keep some time to visit the Alta canon, which is the largest of its kind in Northern Europe. Visitors can travel here via boating, hiking, canoeing, or buses with guides. And if you're a history lover like me, then the Tirpitz Museum will satisfy your curiosity with its artifacts and displays about Nazi Germany and the World War.
What Else Can You Do In Alta?
The Northern lights cathedral is an iconic monument in the city and is adorned with architectural features that are hard to find in other regions of the country. You will also get the chance to interact with the local Sami population and taste their cuisine.
Additionally, many visitors prefer taking a day trip to the northern cape, which is the furthermost point of Europe. It will take about 4 hours to drive from Alta to the cape.
Lastly, there are whale watching facilities in Alta fjord, which has humpback and orcas as well.
Where To Stay In Alta?
Some of the popular stays among first-time visitors are:
Rica Hotel Alta

Thon Hotel Alta

Bjornfjell Mountain Lodge

Trasti & Trine
Final Destination: Nordkapp!
The drive from Alta to Nordkapp took almost 3 hours and 45 minutes, and I enjoyed every bit of it, soaking in the beauty of Norway to the fullest. Instead of visiting any point right off the bat, I dumped my luggage in the room and started with a leisurely stroll on the roads.
During my walk, a local told me about the Nordkapp Visitor Center, which is located at the Nordkapp Cliff. It has a couple of restaurants, souvenir shops, and some little statues to complete your stroll the right way.
On the next day, I decided to take on a relatively challenging hike to Knivskjellodden, which takes about 6 hours of walking (ascending and descending). Besides seeing the arch and the natural rock formation here, I could also spot seagulls and nod my head to their humming.
On the northern side of the island is the quiet village of Gjesvaer, famous for its landscape. And then there's the Honningsvag, which has the only airport of Nordkapp.
What Else Can You Do In Nordkapp?
Nordkapp is also a quite popular destination for watching the Northern lights and the midnight Sun. There are fishing trips and art galleries for art lovers in Kamoyver and Honningsvag. A day trip from Nordkapp to Rovaniemi will take you to the meeting spot of the cold waters of the Arctic and Atlantic.
Wildlife lovers will also enjoy the husky safari, reindeer farm, and animal day tours offered in this region.
Where To Stay In Nordkapp?
My top hotels in Nordkapp are:
Scandic Nordkapp (best for viewing Northern lights)

Nordkapp Vandrerhjem Hostel

The View

Scandic Bryggen
FAQs – Driving In Norway
Is Your Driving License Valid In Norway?
If you have a valid EU or EEA (European Economic Area) license, then you're legally free to drive in Norway. For people from other countries, their license is valid in Norway for 3 months provided it's also valid in the originating country.
Are Norwegian Road Tolls Compulsory For All?
Yes, all Norwegian road tolls are compulsory for drivers, and most of them are automatic.
What Are Some Road Rules For Tourists?
Always drive on the right

Wearing seatbelts and switching on headlights all the time are compulsory

No mobile phone while driving

Speed limits are in kilometers/hour and should be followed strictly, unless specified otherwise
Summing up…
The perfect travel itinerary for a road trip from Svolvaer to Nordkapp in Norway includes:
Svolvaer

Andenes

Senja

Sommaroy

Tromsø

Alta

Nordkapp
Final Words
With that, I have reached the end of this road trip guide.
Hopefully, you're now better acquainted with the Norwegian roads and set out for that memorable trip with friends or family. But before you do that, make sure to get the weather forecast. After all, the last thing you'd want is to drive on those icy roads with little to no experience.
Beyond that, get familiar with the petrol stations on your route beforehand and set aside a significant budget for refueling purposes. Fuel prices in Norway are pretty steep due to the nature of the terrain.
Wishing you a happy and safe journey!
Planning your next trip?
Then don't forget travel insurance! You don't want to get stuck paying a ton of money and ruining your trip if you get sick or have an accident without travel insurance. WorldNomads is ideal for adventurous travelers, backpackers, or anyone looking to be protected during their trip. They cover almost every single activity you can image!
Already reserved your hotel or hostel? If not, we recommend Booking.com. They have a huge selection of hotels and hostels all over the world. Plus, in most cases, you can cancel your reservation without any costs up to a few days before the check-in date!
Still haven't booked your plane ticket and want to save big? Take a look at Kayak and Momondo. They are flight aggregators that combine several other ticket search websites to make it easier for you to compare prices and make sure you are getting the best deal.
And finally, will you need to rent a car during your trip? Then check out Rentalcar.com to search and compare car rental companies from all over the world on a single website. Then, you can find the cheapest price for the best car!