Last Updated on by Rodrigo @ OutofYourComfortZone
Planning a family vacation is a fun and exciting experience. It gives you something to look forward to, it boosts family bonding, and planning ahead as much as possible will make the entire thing less stressful.
However, if you've found yourself waiting until the last minute (summer vacation is just around the corner!), you might already be stressing about where to go this year with the family. Getting everyone out of the house for a week or so can quickly become a headache to even think about.
Thankfully, it's not too late to plan a fun-filled family vacation that everyone will enjoy. There's a lot to consider and prepare for. But, by breaking things down and weighing out your options, you can plan ahead for the perfect vacation this summer.
You might even end up patting yourself on the back when this becomes the trip your kids talk about for years!
Still not sure how you're going to pull it off? We've got some helpful planning tips to make it easier.
 

 1. Pick the Right Place
Studies have shown that planning a vacation can be good for your mental health. The anticipation of going somewhere you're excited about can give you a boost and make you happier. You can also start to visualize yourself there and feel inspired throughout the planning process.
Of course, the first step to proper planning is picking the ideal destination. The more excited you are to go somewhere, the greater the mental health benefits.
It's important to choose a somewhat neutral destination that everyone in the family will enjoy. This might not be the time to book a private romantic island getaway.
Theme parks like Disney World never go out of style for kids and adults alike. However, they can be pretty crowded during the summer months, so keep that in mind. If you want something more low-key, consider taking a road trip with your family and making the trip itself the experience rather than a single destination. Road tripping makes it easier to visit multiple places, so everyone can choose something they'd like to experience.
   

2. Plan Your Budget
There's no denying that travel is expensive. Gas prices are still on the rise, making car, RV, and air travel higher than in the last few years. That shouldn't stop you from taking a trip with your family. However, it might make you focus on a budget ahead of time more than you used to.
Some of the best budgeting tips for a family vacation include
Setting a maximum

Planning for big expenses

Adding in smaller things like souvenirs, public transportation, and entertainment costs

Setting aside a specific amount each month for your vacation
You can find ways to cut down on costs if you're trying to keep your budget low. Consider staying with family members or friends nearby your destination instead of paying for a hotel. Or, go camping and carry your "shelter" around with you by RVing or traveling to different campgrounds with a tent. You could even choose a cheaper family vacation destination that's just as exciting but won't break the bank.
If you want to make a little extra money for your trip, consider investing. It's possible to start investing on a tight budget by carefully selecting things based on your income, risk tolerance, goals, and age. You might not see immediate results, but you can start saving for your vacation now and saving for the future with investments, so you may not have to be so strict with your budget on your future trips.
It can also be worth it to start a side hustle to make a little extra money for your trip. The gig economy is more popular than ever, with over 59 million American adults participating in 2020. If you have a special skill or talent that could make money "on the side," you can dedicate that money specifically to your trip without having to create a separate budget or cut back on other expenses. Some of the highest-paying gig jobs include
Ride-sharing

Training or coaching

Tutoring

Reselling items online

Freelance work
Thinking of extra ways to make money on the side is a fantastic way to set up a "trip fund," and you might end up reaching your financial goal for the trip faster than you would if you strictly cut back and saved each month.
   

3. Prioritize Your Family's Safety and Well-Being
Safety and health should always be at the top of the list when you're planning a family trip. If you have little children, especially, it's important to consider vacation ideas they can be a part of without risking injury or getting sick.
Again, that starts with choosing the right destination. Even if your family is adventurous, you have to keep things like ages and abilities in mind. Camping is a great way to bond with your family and can be incredibly relaxing. However, it also comes with a lot of risks.
If you decide to go camping or spend a lot of time doing outdoor exploration on your trip, make sure you pack a first aid kit, stay on safe trails and highly-populated campgrounds, and take along any medications or preventative care items (sunscreen, bug spray, etc.) to keep everyone protected.
If you're heading out of the country, you can plan for everyone's safety ahead of time by ensuring you and your kids are up-to-date on your vaccinations. Some countries won't allow you to enter without them, but it's something that can be taken care of quickly by a visit to the doctor.
You should also make sure wherever you're going that you'll have access to medical care and an English-speaking doctor. No one wants to think about getting hurt or something happening to their children on vacation, but accidents happen. By focusing on those details ahead of time, you'll be less stressed about those risks when you're supposed to be enjoying yourself.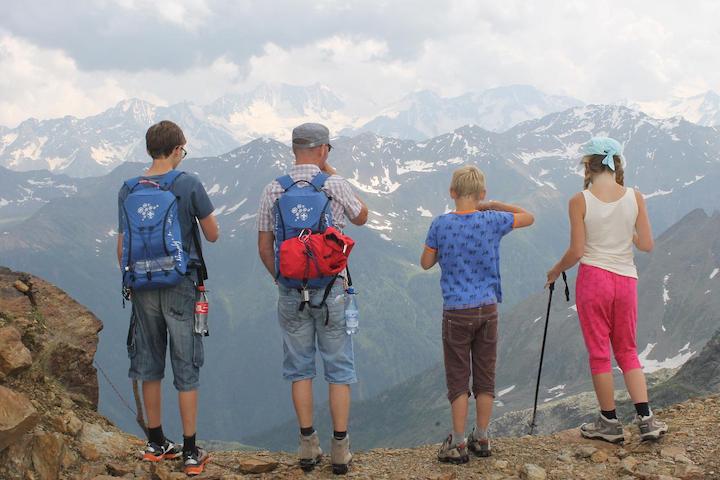 4. Pack the Essentials
Packing is one of the most important parts of any trip. However, when you're in charge of packing for yourself and your kids, it can also become one of the most stressful parts.
Depending on the ages of your children, you might have to do all of the packing for them or help them remember what they'll need for your time away. If they're able to pack on their own, one of the best ways to ensure they don't forget everything is to make up checklists. The lists should include essential items like
One "dressy" outfit

One pair of pants and one shirt per day, plus one extra of each

Pajamas

One pair of underwear per day

Proper shoes for all of your activities

Socks

Toiletries
It's also a good idea to create some checklists of your own so you don't forget anything. That includes creating a list for your own suitcase as well as everyone else's, so you can double-check before you leave.
Don't rush through packing. The longer you give yourself and your family members to put their bags together, the less stressful it will be and the more time you'll have to check things over without rushing.
   

5. Choose the Right Activities
The goal of any successful family vacation should be to strengthen your bond with your partner and/or kids and to make memories that will last a lifetime.
With that in mind, your destination is only part of the equation.
Choosing the right activities for your entire family can feel overwhelming at first, but a few tips can make it easier to narrow down what you want to do and what everyone will enjoy.
First, make it a family discussion! Get everyone involved in the planning process, especially once you've decided on a destination. Give your kids some time to research the location or talk to them about different options they can choose from for activities. This gives them a sense of responsibility and even some "control" in the planning process. Whatever they pick as their activity, they're more likely to enjoy rather than you deciding everything for them.
Second, be inclusive but fair. If you have children with a wide age variation, your older kids might not want to do the same things as the young ones. The young ones might not be able to participate in some of the things your teens want.
It can help to have multiple adults on the trip, so everyone gets to do at least one activity of their choice, even if it means "splitting up" for a while. This keeps everyone happy and ensures they'll have happy memories to talk about when they get home.
Whether you've just started to think about a summer vacation or you're already in the planning stages, don't let yourself get too stressed out! As you can see, it doesn't have to be a complicated process.
By using some of these tips, you can make the planning experience easier on yourself, more fun for your family, and less exhausting overall. The more you plan now, the more relaxed you'll be on your vacation, and the easier it will become to plan ahead each year.
Planning your next trip?
Then don't forget travel insurance! You don't want to get stuck paying a ton of money and ruining your trip if you get sick or have an accident without travel insurance. WorldNomads is ideal for adventurous travelers, backpackers, or anyone looking to be protected during their trip. They cover almost every single activity you can image!

Already reserved your hotel or hostel? If not, we recommend Booking.com. They have a huge selection of hotels and hostels all over the world. Plus, in most cases, you can cancel your reservation up to a few days before the check-in date without any costs! 

Still haven't booked your plane ticket and want to save big? Take a look at Momondo. It's a flight aggregator that combines several other ticket search websites to make it easier for you to compare prices and make sure you are getting the best deal. 

And finally, will you need to rent a car during your trip? Then check out Rentalcar.com to search and compare car rental companies from all over the world in a single website. Then, you can find the cheapest price for the best car!