Last Updated on by Lohanna Reis
Milwaukee, Wisconsin's largest city, has plenty to offer as a tourist destination. However, it's also conveniently located near other great places people can explore. Whether you live in Milwaukee or visit the city, it's a good idea to explore the surrounding areas — which are ideal for day trips.
There are close areas with a rich history, popular tourist spots, and plenty of outdoor exploration opportunities for nature buffs. You can find ideal day trips for tourists, families, couples and anyone wanting to get a break from Milwaukee or make the most of their time while close to the city. Here are ten of the best day trips from Milwaukee, Wisconsin.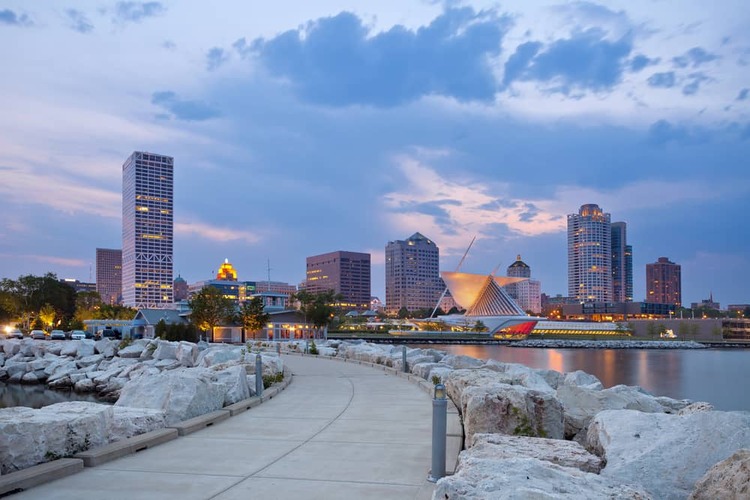 1. Wisconsin Dells, Wisconsin
Considered the world's water-park capital, Wisconsin Dells is located in the Southern region of Wisconsin. It's about a 2-hour drive away from Milwaukee, and the area has plenty to offer for families and everyone alike. It has the largest indoor water park in the country — Kalahari. Not only that, but it also has Mt. Olympus Water Park, which is famous for its massive wave pool.
If you're looking for a place to eat, Moosejaw Pizza is a family-friendly place with some of the best pizzas in the city. Other indoor activities include the many spas and indoor Jacuzzis. If you're staying with a significant other, the city has plenty of romantic stays like Mirror Lake and Tamarack Resort.
It also offers many outdoor activities — for those who enjoy ropes courses, boat tours, zip-lining, and horseback riding. Hiking is also quite popular in the region, and the trails are some of the best in the state.
2. Lake Geneva, Wisconsin
While there are many lake towns in Wisconsin, nothing quite comes close to Lake Geneva. If you're looking for a change of scenery, all you have to do is drive southwest of Milwaukee – since it's only around an hour away. It's a resort town that has a 26-mile path created around the lake. The Lake Geneva Cruise Line offers boat tours if you're want to check it out from the water.
If you love hiking, the Lake Geneva Shore Path is a trail with a beautiful water view and is located next to many gorgeous mansions. The Big Foot Beach State Park is a 271-acre area with magnificent trails. For adventure-seeking souls, they have zip-line tours, which allow you to view the region from above.
The city offers many indoor tourist spots, such as the Lake Geneva Library, which is about a mile away from the lake. It also has many ice cream shops and restaurants such as the Sprecher's restaurant and pub, highly popular for its root beer.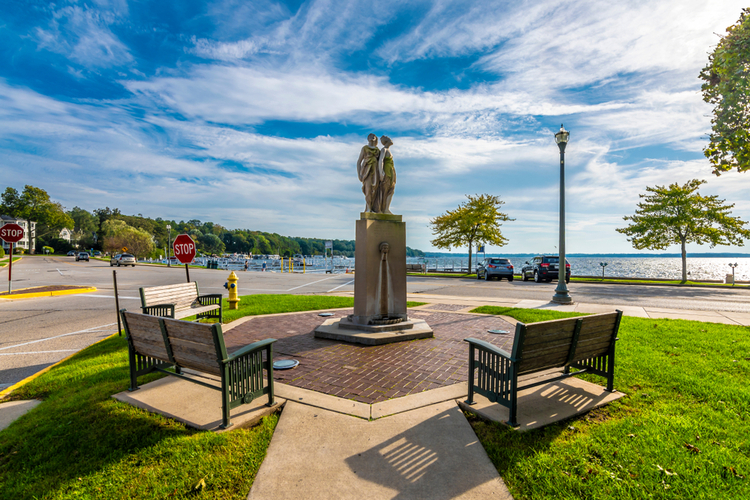 3. Indian Mounds & Trail Park
Located at the Koshkonong Mounds Road southwest of Fort Atkinson, Indian Mounds and Trail Park is a must-visit historical site. It consists of sculpture-like mounds in the shape of animals, created about 1500 years ago. These mounds look like turtles and birds. It's said that it was home to natives many hundred years ago, who conducted their ceremonies here.
Due to the historical significance of the Indian Mounds & Trail Park, it's one of the most popular attractions within a 50-minute distance of Milwaukee. The Lincoln Era Exhibit & Library is close by if you want to learn a bit more about history.
4. Devils Lake Wisconsin
Devil's Lake Park is a beautiful state park located in Baraboo, a 2-hour drive from Milwaukee. It's 9,217 acres in size and offers plenty of fun for everyone.
The park has two beaches on opposite ends. The beaches are an excellent option for families and people who want to swim or have a relaxing day. You can rent boats or kayaks to explore the waters. There are plenty of picnic areas with tables and grills, so be sure to arrive early if you want to get one since they get taken up fast.
It's also a fantastic spot for hikers with many different hiking trails for all skill levels. There are rock formations and vistas on the East Bluff Trail. There are flat trails near the beaches, such as the Tumbled Rocks and Grotto Trail. Additionally, the park also has a nature center where you can learn more about the animals found in the park. There are events that occur there all year round, so do look online for possible events before you come.
5. Kettle Moraine Scenic Drive
The Kettle Moraine scenic drive is one of the best sightful routes near Milwaukee, passing through forests and shaped by a beautiful landscape. About 44 miles from Milwaukee, it only takes around 45 minutes by car to get there. It's one of the best places to go for a nice cruise for all age groups. There are plenty of photo opportunities so if you're bringing a camera along, bring a backpack to ensure it stays well-protected. The Kettle Moraine State Forest makes for great camping grounds if you want to spend a night or two there apart from just driving.
Most campgrounds close by October, but The Ottawa Lake campground is open all year round and has about 100 sites. It's an ideal place for outdoorsy and adventure-seeking people – hikers and campers. The Ice Age National Scenic Trail consists primarily of forest areas. You can also bike along trails, making it the ideal destination for bikers.
6. Chicago, Illinois
Located almost 100 miles from Milwaukee, Chicago is known as the Windy City. It's about 1.5 hours away by train or car, but the train is sometimes better because of Chicago's heavy traffic. There are plenty of shopping malls, diners, parks, and museums.
It's an excellent place for art enthusiasts since it has the Chicago Children's Museum, the Art Institute of Chicago, and much more. The Museum of Science and Industry, Chicago, is another huge and famous museum that measures 400,000 square feet.
The classic Chicago experience entails trying out their deep pan pizza and ventures on a tour boat to see the city's glorious architecture. You also have popular tourist attractions like Millennium Park — which is home to the famous "Bean". If you go during the winter, it's perfect for ice skating. You also have the Willis Tower, which provides a beautiful bird's eye view of the city from its observation deck.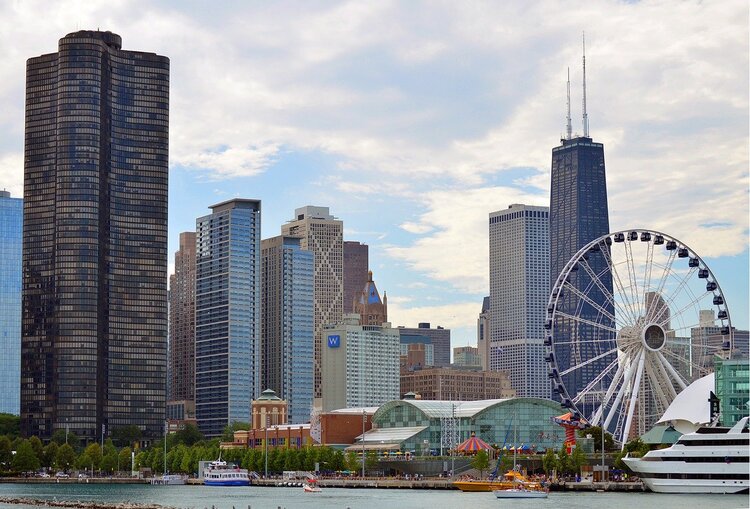 7. Six Flags
Six Flags Great America is the ideal place for kids and adventure-loving adults, as it's a roller coaster heaven for many. It's located in Gurnee, Illinois, about 45 minutes from Milwaukee. Apart from roller coasters, it also has simpler rides and waterparks, making it the perfect amusement park for different interests.
It has around 60 rides and 20 roller coasters such as the Goliath, American Eagle, and the Viper. It's a great spot, especially if you're visiting as a family. If you aren't into the whole amusement park scene, drop off the kids and check out the town, which offers many shopping areas. It's home to Illinois's biggest outlet mall — Gurnee Mills — which has over 200 stores.
8. Kohler, Wisconsin
Kohler, Wisconsin, was a small village initially created with the intent of being the home for factory workers that worked for the company Kohler. It's 55 miles from Milwaukee and makes for a great short one-day trip. Visitors can get tours of the factories where they get to see washroom faucets and bathtubs in production. The design center also has a museum inside. The town offers state-of-the-art golf courses and plenty of restaurants.
The Sheboygan River is a great hangout spot for those who want to spend their day enjoying the outdoors. There is also the Kohler-Andre State Park and the botanical gardens tour. The Blind Horse Restaurant and Winery is a great visit for those who are interested in Napa-style restaurants. If you have a sweet tooth, check out the Craverie Chocolatier Café.
If you want to unwind and relax, it features the Kohler Waters Spa. For couples who are looking for a peaceful couple's getaway, Kohler, Wisconsin, is a great option.
9. Green Bay, Wisconsin
The oldest settlement in Wisconsin, Green Bay, is located right by Lake Michigan. It has something for all kinds of people, including sports lovers, families, children, and history enthusiasts. Packers fans will certainly have a blast here, as it's home to the stadium of the Green Bay Packers — Lambeau Field. The car ride from Milwaukee to here is around 2 hours.
Apart from Lambeau Field, other attractions include the Green Bay Children's Museum, Neville Public Museum, Green Bay Botanical Garden, National Railroad Museum, and Bay Beach Amusement Park. There are plenty of breweries you can tour that offer handcrafted beers too.
If you visit during the summer and want to enjoy some fantastic views, buy a ticket to the well-liked Fox River Tours.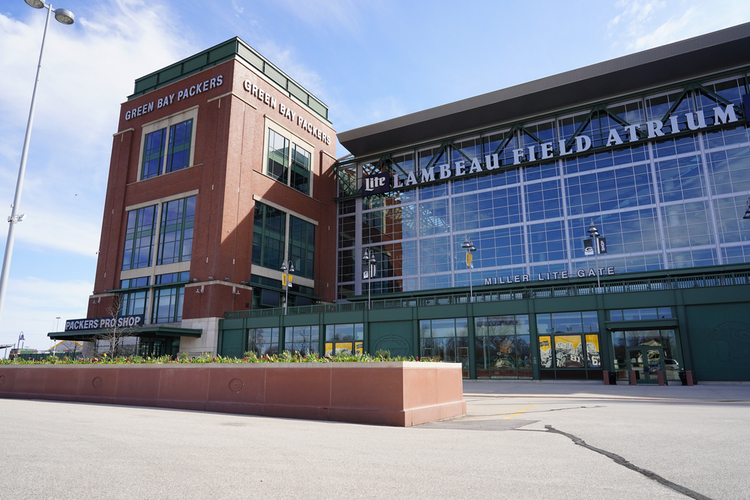 10. Fort Atkinson, Wisconsin
The famous city of Fort Atkinson, established in 1832, is built on the Rock River. It's only at a distance of 58 miles or 39 minutes away from Milwaukee. This is a fantastic place for history enthusiasts, but it also has other great attractions. The Fireside Dinner Theater is a combination of fine dining and live theater, and many come from nearby areas to watch the evening shows. It features many Broadway Musicals and Christmas Shows.
The small town offers the perfect combination of history and entertainment. The Hoard Historical Museum has a rich exhibit of the many influential people and history. You can also enjoy the beauty of nature by paddling away in the river or taking a stroll along the river.
BONUS:
House on the Rock (AKA the weirdest and most wonderful place you'll ever visit), Spring Green, Wisconsin
If you're a fan of oddities and bizarre roadside attractions, then the world-famous House on the Rock can't be missed!
Featuring a (you guessed it) house built on top of a rock, the largest carousel in the world (yes, really), a 200-foot model of a whale attacking a giant squid, an indoor re-creation of an early 20th-century American town, and more.
(And if you're a fan of American Gods, then you'll certainly recognize some of the scenery as well!)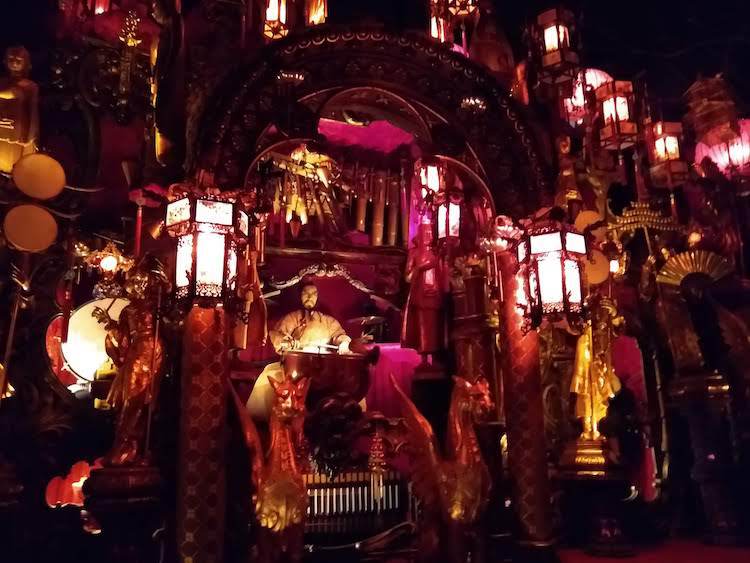 Bio: Martin Soto is an avid traveler and outdoor enthusiast. You can find him over at TravelExplorator.com where he blogs about his travels. When he's not at work or visiting different cities, he's probably outside playing soccer.
Planning your next trip?
Then don't forget travel insurance! You don't want to get stuck paying a ton of money and ruining your trip if you get sick or have an accident without travel insurance. WorldNomads is ideal for adventurous travelers, backpackers, or anyone looking to be protected during their trip. They cover almost every single activity you can image!
Already reserved your hotel or hostel? If not, we recommend Booking.com. They have a huge selection of hotels and hostels all over the world. Plus, in most cases, you can cancel your reservation without any costs up to a few days before the check-in date!
Still haven't booked your plane ticket and want to save big? Take a look at Kayak and Momondo. They are flight aggregators that combine several other ticket search websites to make it easier for you to compare prices and make sure you are getting the best deal.
And finally, will you need to rent a car during your trip? Then check out Rentalcar.com to search and compare car rental companies from all over the world on a single website. Then, you can find the cheapest price for the best car!