Last Updated on by Talita
Banff National Park is the oldest and most visited national park in Canada. Visitors come to the Canadian Rockies to enjoy the mountain views, hike to mountain peaks, watch wildlife, camp in nature, admire the turquoise lakes, and enjoy the solitude.
I've lived near Banff National Park for over a decade, and every time I visit, it takes my breath away. Many hiking trails offer glacier views or cooling off in a pretty lake. There are endless options for canoeing or stand-up paddleboarding, and the combo of mountain views and wildlife watching is what every visitor enjoys the most.
Because there is an overwhelming amount of activities in Banff, I will break down the best options for spending four days in Banff. This is what an ideal itinerary looks like if you're visiting the Rockies for the first time: spend four days in Banff, 1-2 days driving the Icefields Parkway (with an optional detour to Yoho National Park), and three days in Jasper National Park.
Let's look at an ideal 4 day Banff itinerary for summer.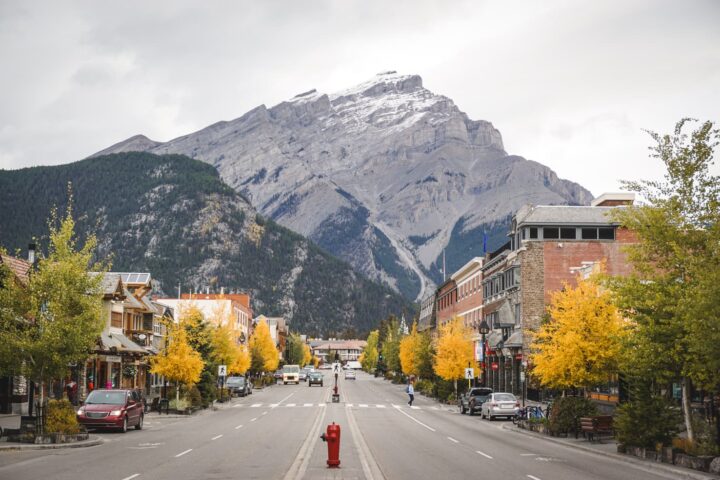 Day 1 – Banff town & Canoeing on Bow River
Banff town
The famous little mountain town of Banff lies in the heart of Banff National Park, offering staggering mountain views and lots of activities.
After you check in to your accommodation, stroll along the main Banff Avenue. There are mainly restaurants and gift shops. I highly recommend getting lunch at the Grizzly House and ice cream at Cows. Banff has now declared Banff Avenue a pedestrian zone, making it much nicer without the traffic and a great place for a photo with the iconic Cascade Mountain.
Continue walking across Bow River and take the trail towards Bow Falls. A bit more challenging trail leads to Tunnel Mountain and the nearby Hoodoos. For a scenic spot, drive the Mount Norquay Scenic Drive for a unique view of Banff from above.
To learn about the history of the mountains surrounding Banff, visit Cave and Basin National Historic Site, the birthplace of Banff National Park. You can enter a small cave with a natural hot spring and a museum. Other options are visiting the Whyte Museum of the Canadian Rockies or the Banff Park Museum National Historic Site.
Canoeing on Bow River
In the afternoon, go canoeing, one of the most popular activities in the Rockies. Heading north along Bow River, you arrive at Banff Canoe Club. They offer canoe, kayak or stand-up paddleboard rental. For a group experience, join the Big Canoe Tour that runs three times a day or the evening Wildlife on the Bow Tour, which gives you a great introduction to the amazing wildlife you can see in the Rockies.
Day 2 – Vermilion Lakes & Sulphur Mountain
Vermilion Lakes
There's no better way to start your day than watching the sunrise with a cup of hot tea in your hand. Whether you grab one from your hotel or a café on the way, walk or drive towards Vermilion Lakes. The best options for sunrise are Vermilion Lakes or Two Jack Lakes (a bit further from Banff). At Vermilion Lakes, there's a wooden dock that is a perfect spot for watching the mountains wake up.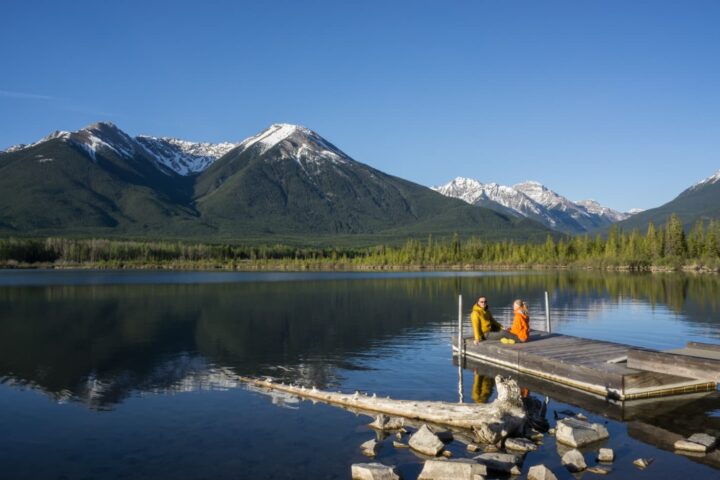 Sulphur Mountain by gondola
Banff Gondola to the top of Sulphur Mountain is one of the most popular attractions in Banff. There are two options for how to reach the mountain top: gondola or hiking. Riding up the gondola takes about 8 minutes and costs about 55 CAD, depending on the day, as they use flexible pricing. You see the incredible views of the Spray Valley, Banff, Bow Valley, and Lake Minnewanka on a clear day.
If you choose to ride the gondola, purchase tickets online to avoid line-ups, but only a few days before your desired date. Mountain weather changes often, and if there's fog or smoke, you won't see much. And they don't offer refunds due to the weather.
Sulphur Mountain Hike
A little-known option to reach Sulphur Mountain is hiking up. Whether you drive up to the gondola from Banff or take the public Roam bus, head to the Upper Hot Springs Parking Lot, where the trailhead starts.
The trail is well-trodden and climbs through the forest on many switchbacks. It's 4.5 km to the top, with occasional views of Rundle Mountain, Banff and Bow Valley. Once on top, you can continue 1 km further on a boardwalk to the old weather station and then visit the interpretative centre, gift shop or restaurant inside the gondola terminal.
If you're tired and don't feel like hiking down the mountain, you can purchase a gondola ticket for your ride down. The best thing about Sulphur Mountain Hike is that it's accessible year-round. They have a campfire at the upper terminal to warm up and delicious meals in the restaurants before you continue.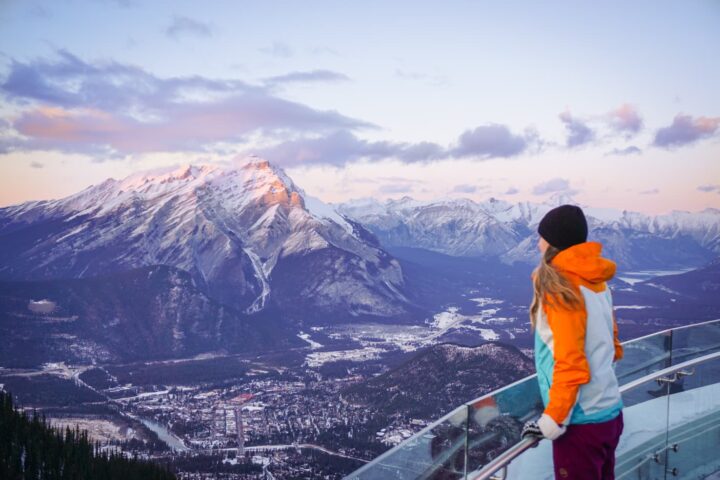 Day 3 – Lake Minnewanka & Johnson Lake
Lake Minnewanka
Lake Minnewanka is the largest lake in Banff, located about 15 km from town (and right next to Two Jack Lakes). You can take a boat cruise across the lake and see some wildlife on the shore. Or you can rent a kayak and go paddle on your own. It's best to arrive in the morning to beat the crowds; the water is the calmest before the wind picks up.
If you'd like to spend more time at Lake Minnewanka, I recommend hiking to Aylmer Lookout or doing a combo of bike/hike/bike. You can rent a mountain bike in an outdoor store in Banff and head to Lake Minnewanka by car or take the public bus.
The first 8.5 km of the Aylmer Lookout trip is along the lake, which you can hike or bike, then hike 4 km uphill to the lookout. The panoramic view of Lake Minnewanka from the top is one of the most rewarding in Banff National Park, and you will most likely have it to yourself.
It's important to note that the area around Lake Minnewanka is a prime grizzly bear habitat. Parks Canada recommends making noise while hiking or biking and carrying a bear spray (can be purchased or rented in outdoor stores).
If you visit in high summer from July 10 to September 15, no biking is allowed along Lake Minnewanka and hiking only in groups of 4 or more.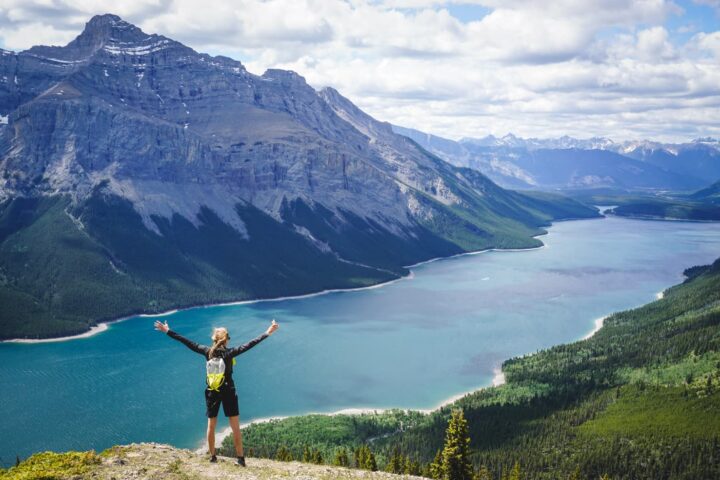 Johnson Lake
To cool off after the hike or finish off the hot day, head to the nearby Johnson Lake. While most of the lakes in Banff National Park are fed by glaciers and cold year-round, Johnson Lake is much warmer.
You see families enjoying their day on the shores, picnicking, swimming, stand-up paddleboarding, kayaking or hiking around the lake. The nearby forest provides enough shade to rest and admire the mountain views.
Day 4 – Moraine Lake & Lake Louise
Moraine Lake
Moraine Lake is the most famous lake in Banff National Park, and it used to be pictured on the 20-dollar bill. It has a stunning turquoise colour and is surrounded by Ten Peaks.
When you visit, hike up the short trail up the Rockpile for the best views of Moraine Lake. Afterwards, you can rent a canoe, grab a snack at the lodge, walk along the shore or try one of the many hikes in the area, such as Consolation Lakes.
Moraine Lake has become so popular that visiting with your vehicle is no longer permitted. All visitors must book a shuttle bus. The most budget-friendly option is the Parks Canada shuttle, which you can book months in advance or when they release the rest of the tickets 48 hours before the date you'd like to visit.
Another option is a shuttle from private companies. And there are many options – sunrise shuttle, hop-on Banff shuttle or open-top double-decker bus.
The best thing is that all shuttles also visit Lake Louise so that you can see both iconic lakes on the same day. If you'd like to hike at either or both lakes, I recommend spreading your visit over two days so you have enough time to enjoy them. Either way, Moraine Lake and Lake Louise are the most popular lakes in Canada, so definitely visit both.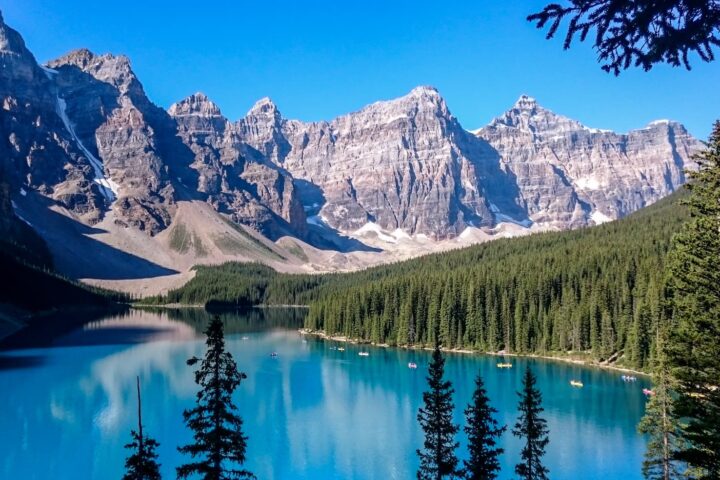 Lake Louise
Lake Louise is another scenic lake with Victoria Glacier in the background.
The historic Fairmont Chateau Lake Louise overlooks the lake and offers luxurious accommodations and dining options. A popular activity at Lake Louise is walking along the shore to the end of the lake and canoeing for a closer look at the Victoria Glacier.
I recommend hiking to see Lake Louise from a bird's eye view. You can hike to Plain of Six Glaciers Teahouse, Agnes Teahouse, Big Beehive, Devil's Thumb, and Fairview Lookout.
My favourite is Mount St. Piran Hike. It passes the Lake Agnes teahouse, and the trail leads away from crowds for the well-deserved view of Lake Louise from above. The hike is 14 km long (round-trip) with 960 meters of elevation, but it's worth it!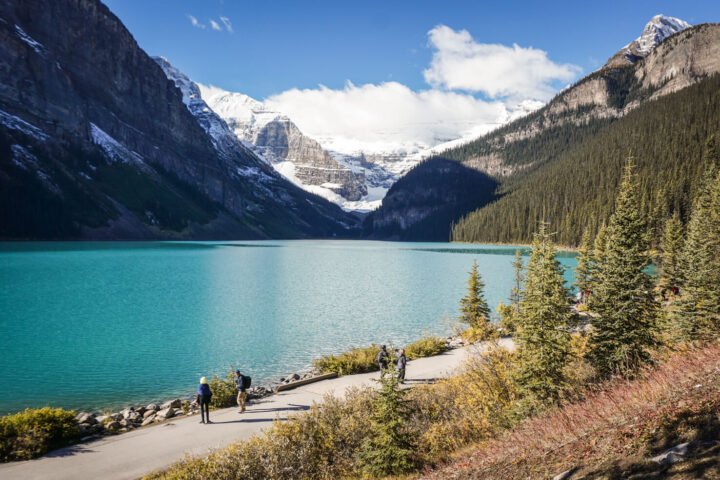 Banff Travel Tips
Wildlife watching
Many visitors come for wildlife watching. You can see elk, deer, mountain goats, bighorn sheep, black bears, grizzly bears, and more. Due to increased dangerous behaviour from tourists, Parks Canada strongly enforces wildlife-watching rules, such as never feeding any wildlife, not approaching or stacking any wildlife, and not turning your back to any animal to take a selfie.
Parks Canada recommends carrying a bear spray and learning how to use it if you go hiking. Go to the Visitor Centre for information about bears or visit the Parks Canada website.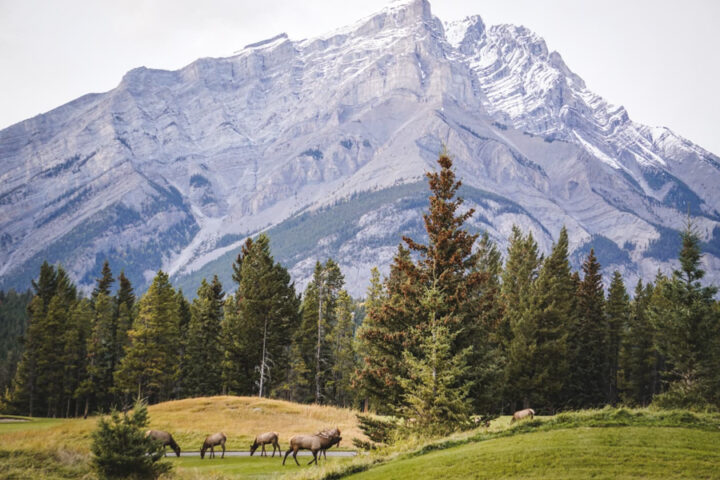 Park Pass
To visit any national park in Canada, you must purchase a Park Pass, either at the booth when entering the park or online in advance. I recommend getting one in advance as the lines can be huge when entering the national park.
You have an option to buy a daily pass or a yearly pass. Buying the annual pass makes more sense if you visit for a week or longer. Then you can use it the next year because you will definitely want to visit again!
Accommodation
Hotels in Banff National Park get very expensive in summer and are often booked months in advance. I recommend booking your accommodation as soon as you book your flights. If you'd like to make your trip more budget-friendly, there are 14 campgrounds in Banff National Park.
You can rent a campervan and camp in Banff in either reservable campgrounds or first-com first-serve campgrounds. And if you're extending your trip to Yoho or Jasper National Park, there's no shortage of campgrounds as well.
What next?
I highly recommend coming to the Rockies for at least seven days, ideally 10-14 days. After four days in Banff, stop at Yoho National Park for a few days and continue on the Icefields Parkway to Jasper National Park.
Icefields Parkway is one of the highlights of the Canadian Rockies due to its many beautiful hiking trails, glacial lakes, waterfalls, endless glacier views, and wildlife-watching opportunities. The 232 km scenic drive from Lake Louise in Banff National Park to Jasper National Park has been named among the most beautiful road trips worldwide. You can drive it in a few hours or take your time; I recommend a full day or two days.
Icefields Parkway has limited amenities, so filling up the tank in Banff, Lake Louise or Jasper before your road trip is best. There are also some options for meals and snacks, but it's very limited, they're overpriced and not worth it. There's no cell service or Wi-Fi on Icefields Parkway, so plan your trip before you go.
Once you arrive at Jasper, you will see immediately why I recommend including it in your Rockies itinerary. The highlights of Jasper National Park are hiking Mount Edith Cavell, taking SkyTram to Whistlers Peak, boat cruise across Maligne Lake, visiting Maligne Canyon, having a picnic at Pyramid Island, hiking Valley of the Five Lakes, and swimming at Horseshoe Lake or Edith Lake.
I hope this travel guide was helpful and makes planning your trip to Banff a breeze!
Planning your next trip?

Then don't forget travel insurance! You don't want to get stuck paying a ton of money and ruining your trip if you get sick or have an accident without travel insurance. WorldNomads is ideal for adventurous travelers, backpackers, or anyone looking to be protected during their trip. They cover almost every single activity you can image! Plus, you can have a 5% discount with the coupon code comfort5.

Already reserved your hotel or hostel? If not, we recommend Booking.com. They have a huge selection of hotels and hostels all over the world. Plus, in most cases, you can cancel your reservation without any costs up to a few days before the check-in date!

Still haven't booked your plane ticket and want to save big? Take a look at Momondo. It's a flight aggregator that combines several other ticket search websites to make it easier for you to compare prices and make sure you are getting the best deal.

And finally, will you need to rent a car during your trip? Then check out Rentalcar.com to search and compare car rental companies from all over the world in a single website. Then, you can find the cheapest price for the best car!