Last Updated on by Lohanna Reis
If you're reading this, there's a good chance you dream of studying and living abroad. And who could blame you? Packed with endless possibilities for adventure, personal growth, and new experiences, it's no wonder so many students aspire to take their education internationally.
But if you've ever tried to make that dream a reality, you may know just how daunting the process can be. How do you find the right program, i.e. an essay writer or any other? What about visas and housing? How do you stay on top of your schoolwork while adjusting to a new culture?
Don't worry – we're here to help! In this post, we'll outline everything you need to know about making the most of your time abroad. So sit back, get ready to learn, and let us show you how to study and live abroad like a pro!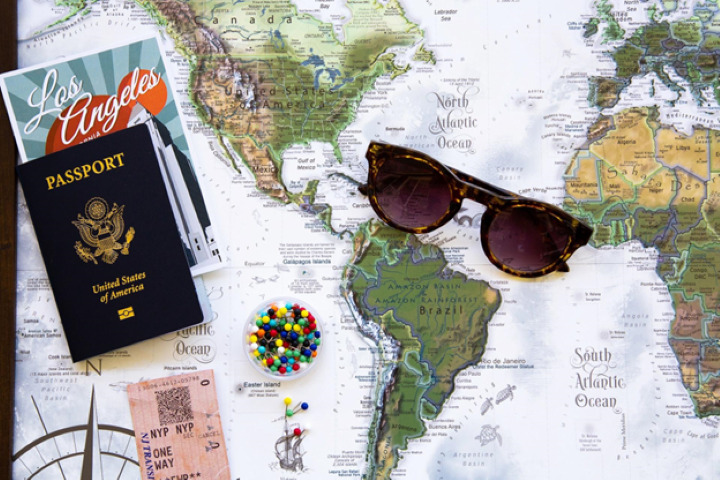 1. Choose the Right Program and School
Considering furthering your education, but not sure where to start? It's important to choose the right program and school that fit your needs to get the most out of your investment.
There are many factors to consider when making your decision such as location, cost, duration of the program, job prospects after graduation, and whether the program is offered online or in person.
Once you've narrowed down your choices, it's important to do your research and make sure that the school is accredited and that the program will give you the skills and knowledge you need to succeed in your desired field. Making the right choice now can set you up for a lifetime of success.
2. Research the Cost of Living and Tuition
The cost of living and tuition can be major factors when deciding whether to study abroad. For foreign students, the cost of living in a country can be expensive, and tuition fees can also be higher than at home.
However, there are many scholarships and financial aid options available to help offset the costs. Additionally, many study abroad programs offer discounts or special pricing for students. So, while the cost of living and tuition may be a factor to consider, they should not be a deterrent to pursuing your dream of studying abroad.
3. Prepare for Culture Shock
When students study abroad, they often find themselves in unfamiliar territory. They may be unfamiliar with the language, customs, and way of life in their host country. This can lead to a feeling of isolation and homesickness. It is important to remember that these feelings are normal and that there are ways to cope with them.
One way to prepare forculture shock is to research your host country before you arrive. Learn about the customs and the way of life so that you will be less likely to feel out of place when you arrive. Also, try to connect with other foreign students who are studying in your host country. They can provide valuable support and help you to adjust to your new surroundings. With a little preparation, you can minimize the impact of culture shock and make the most of your study abroad experience.
For many students, studying abroad is a once-in-a-lifetime opportunity to experience a new culture and expand their horizons. However, it's important to remember that foreign countries can have very different climate conditions than what you're used to at home.
That's why it's essential to pack appropriately for your study abroad trip. In addition to bringing items like a heavy coat and sturdy shoes, you'll also need to research the local customs before you go. For example, in some cultures, it's considered offensive to show too much skin in public. By doing your homework ahead of time, you can make sure that you're prepared for anything that comes your way during your study abroad adventure.
4. Pack Appropriately to Study Abroad
There are a few things to keep in mind when packing for your study abroad trip. First, remember that you'll be living in a foreign country and may not have access to the same amenities that you're accustomed to at home. This means you'll need to pack essential items like toiletries, medications, and clothes that will suit the climate of your destination country.
It's also a good idea to bring along some familiar items from the home to help you feel more comfortable in your new surroundings. However, don't overpack – you'll likely be doing a lot of walking and won't want to lug around heavy luggage.
Finally, make sure to check the visa requirements of your destination country and obtain any necessary travel documents before you depart. By following these simple tips, you can ensure that you'll be prepared for anything during your study abroad adventure.
5. Make Friends with Locals and Other Students
One of the best ways to make the most of your study abroad experience is to connect with locals and other students. Locals can help you learn about the culture and customs of your host country, and they can also introduce you to new places and experiences that you wouldn't have otherwise.
Other students who are also studying abroad can provide valuable support and friendship, especially if you're feeling homesick or overwhelmed. Connecting with locals and other students is a great way to enrich your study abroad experience and create lasting memories.
6. Stay Safe and Healthy While Abroad
Foreign students studying abroad often face a variety of challenges, including language barriers, cultural differences, and homesickness. While these challenges can be daunting, many wonderful opportunities come with studying abroad.
Students who are willing to step outside their comfort zones can have life-changing experiences, make new friends from all over the world, and learn about other cultures.
However, it is important to study carefully and to be prepared before setting off on such an adventure. Here are a few tips to help you stay safe and healthy while you study abroad:
7. Do your research
Before you travel, take some time to research your destination. Learn about the local culture, customs, and laws. This will help you to avoid any potential misunderstanding or conflict.
8. Stay in touch with loved ones
It can be helpful to stay in touch with your family and friends back home. Let them know your travel plans and how they can reach you in case of an emergency.
9. Be aware of your surroundings
Be alert and aware of your surroundings at all times. This will help you to spot any potential danger and to keep out of harm's way.
10. Follow the advice of local authorities
When in doubt, always follow the advice of local authorities. They will know the best way to keep you safe in case of an emergency.
11. Keep a healthy lifestyle
Finally, remember to take care of yourself while you study abroad. Eat healthy foods, exercise regularly, and get enough rest. By taking good care of yourself, you'll be better equipped to handle whatever challenges come your way.
3 Best Countries to Study in
When deciding where to pursue their studies, international students have a wealth of options to choose from. However, not all countries are created equal when it comes to providing an optimal learning environment. Here are three of the best countries to study in, based on factors such as the quality of education, cost of living, and employment opportunities.
1. Canada
It is widely considered to be one of the top destinations for international students. This is due in part to the high quality of education available at Canadian universities. In addition, Canada is an incredibly welcoming country, with a diverse population and a variety of cultures.
Students also appreciate the relatively low cost of living in Canada compared to other developed countries. Finally, upon graduation, international students in Canada are eligible to apply for a work permit, making it easier to transition into the workforce.
2. The United States
It is another popular choice for international students. American colleges and universities offer a world-class education, with ample opportunities for research and extracurricular involvement. In addition, many American cities are bustling cultural hubs, offering an exciting and diverse array of activities and attractions. And while the cost of living in the US can be high, there are many scholarships and financial aid programs available to help offset the expenses.
3. Australia
It is an increasingly popular destination for international students. Like Canada and the US, Australia offers high-quality education. But what sets Australia apart is its unique culture and lifestyle. From its stunning beaches to its vibrant cities, Australia is a truly one-of-a-kind place to live and learn. And with tuition fees that are lower than both Canada and the US, Australia represents excellent value for money.
There are many factors to consider when choosing where to study abroad. But if you're looking for an excellent education in a dynamic and exciting country, these three destinations are sure to meet your needs.
Conclusion
If you're thinking of studying abroad, these tips will help make your transition easier. By choosing the right program and school, researching the cost of living and tuition, preparing for culture shock, packing appropriately, making friends with locals and other students, and staying safe and healthy while abroad, you'll be able to have a more enjoyable experience.
So what are you waiting for? Start planning your study abroad adventure today!
Planning your next trip?

Then don't forget travel insurance! You don't want to get stuck paying a ton of money and ruining your trip if you get sick or have an accident without travel insurance. WorldNomads is ideal for adventurous travelers, backpackers, or anyone looking to be protected during their trip. They cover almost every single activity you can image! Plus, you can have a 5% discount with the coupon code comfort5.

Already reserved your hotel or hostel? If not, we recommend Booking.com. They have a huge selection of hotels and hostels all over the world. Plus, in most cases, you can cancel your reservation without any costs up to a few days before the check-in date!

Still haven't booked your plane ticket and want to save big? Take a look at Momondo. It's a flight aggregator that combines several other ticket search websites to make it easier for you to compare prices and make sure you are getting the best deal.

And finally, will you need to rent a car during your trip? Then check out Rentalcar.com to search and compare car rental companies from all over the world in a single website. Then, you can find the cheapest price for the best car!