Last Updated on by Rodrigo @ OutofYourComfortZone
As a minimalist traveler, you only bring with you the necessary items. That can make the packing process a bit challenging and frustrating. You often find yourself in a situation where you want to fit everything into a small bag. But you also don't want to sacrifice style or comfort. So, how do you ensure you have all you need and remain minimalistic as you love? 
When you're a minimalist traveler, each piece of luggage you bring needs to serve a specific purpose. You can't just take any old suitcase or duffel bag and expect it to work well for your style of travel. Your luggage style should also complement your traveling purpose or theme. And so, here's a guide to choosing the best minimalistic luggage style for your next trip.
Luggage Styles For Minimalist Travelers
As a minimalist traveler, several bags and luggage styles can suit you. Here are great examples of some of the best luggage styles for you:
   1. Underseat Luggage 
For your personal item, you need to make sure it's small enough to fit under the seat, so choose dedicated underseat luggage. We recommend choosing leather underseat luggage, as it's far more professional and stylish, as well as aging well with leather patina. 
An underseat luggage bag is perfect for those who want to keep everything within arms' reach. You can easily place essentials like a charger, lip balm, books, and snacks in this bag. When choosing an underseat luggage bag, ensure that it has several compartments to help keep you organized.
   2. The Convertible Carry-On Bag
This bag is the most versatile type of bag you can own as a minimalist traveler. It's small and lightweight, but it can expand when needed. It makes it perfect for carrying on to a plane or storing in a small space. It can carry everything you need for a week-long trip, yet it still meets most carry-on size restrictions. 
This type of bag is suitable when packing rolled clothes. You can easily store them in small compartments, and they will not take up too much space. It means that you won't need any extra luggage when you're traveling.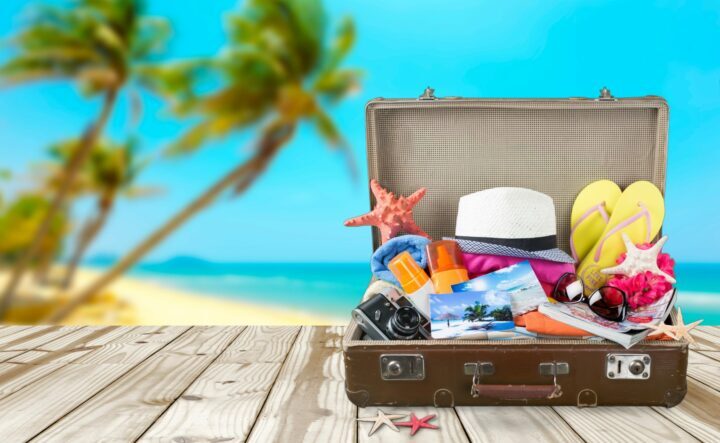 3. Duffel Bags 
A duffel bag is a good option for minimalist travelers since it's an average-sized and lightweight shoulder carry-on. Most duffel bags come in cylindrical shapes, which make them easy to store in small spaces. Moreover, their straps can also be carried in your hands or as a backpack. It makes them perfect for carrying for both short and long-distance travel.  
Duffel bags are typically for carrying gear or sports equipment. For example, if you're going on a hiking trip, you can easily pack all your gear in a duffel bag. They are also great for packing rolled clothes.  
   4. Bucket Bags
Bucket bags are perfect for short trips. Since this is the smallest among the other bag options, it's only suitable for an overnight or two-day trip. Bucket bags are tall bags with a circular top opening, closed through a drawstring. You can easily place and take out your items with this bag.
Moreover, you can find various styles and materials of this type of bag in the market. The most common material used for it is leather due to its durability. However, you can also find fabric, rubber, polypropylene, and other materials used for this bag. The key is to find ones that have enough pockets inside or outside and are durable.
   5. Backpack 
A backpack is essential for any traveler but is especially handy for minimalists. A good quality backpack will last years and can be used for day hikes or as a personal item on flights. If you're traveling light and prefer the convenience of easily movable luggage, a backpack is your best bet.   
Backpacks also come with compartments where you can fit all your belongings, such as electronics, clothes, and jewelry. And, if you choose a backpack with wheels, it can easily be converted into a small suitcase when you need to check your bag. Some modern backpacks even come with charging ports that allow you to charge your devices on the go.
   6. Bags On Wheels 
Wheeled luggage is essential for anyone who wants to avoid backaches and heavy lifting. A good set of wheels can make all the difference when you're trying to navigate through a crowded airport or train station. 
You can settle for carry-on wheeled luggage or full-sized luggage on wheels. Also, a hard-shell suitcase is ideal if you're looking for durability and protection. But, if you want something lighter and more minimalist, choose a soft-sided bag with wheels. 
When selecting wheeled luggage, ensure it's the right size as you don't want a large bag that is difficult to maneuver or too small that can't fit all your belongings.  
   7. Technology Bags
A minimalistic lifestyle is about getting the clutter or unnecessary items out, and technology can be a crucial part of this lifestyle. It's common for minimalist travelers to bring gadgets such as laptops and cameras with them when they travel. Instead of carrying a map and a compass that may clutter their bag, a single phone can do all the trick for them. Some minimalists also work while traveling; hence bringing their devices are necessary.
The best way to carry these items is in a small, soft-padded, lightweight bag. This bag will ensure that your devices are well-protected and easy to transport. A good option is a neoprene sleeve, which can be easily stored in your luggage. Another option is a hard-shell case, which protects your devices from impact.
Things To Consider When Choosing The Best Luggage For You
There are some things to consider when choosing minimalistic travel luggage that will fit your style and the purpose of your trip. Here are some of them:
Size is a crucial factor when planning to travel as a minimalist. It's the one aspect that you shouldn't get wrong. First, the bag shouldn't be too small as this would mean you'll be forced to leave out some of your belongings. Second, the bag shouldn't be too large as this would make it difficult to carry around and might even exceed the weight limit.   
Therefore, ensure that you pick that medium-sized bag that can accommodate all your belongings without being too bulky or cluttering when traveling. You can first arrange the items you'll need, then choose luggage that perfectly fits the items.   
Consider The Type And Purpose Of Trip 
The purpose of traveling can significantly affect the style and type of luggage that you'll be choosing. For example, it would make sense to settle for duffle bags when attending a sports event. However, if you're going on a business trip, it's advisable to go for the more sophisticated and stylish leather bags.  
Also, the type of trip matters because some might require you to travel by air while others allow the use of any means of transportation. Air travel has more restrictions when it comes to luggage size and weight as compared to other means.
Consider The Length Of The Trip 
Even as a minimalist traveler, the length of your trip will still play a role in what type of luggage you should bring. For instance, if you're going on a long vacation or business trip, you'll need to pack more items than if you're taking a weekend getaway.  
If you're only gone for a few days, then you can get away with just a small suitcase or backpack. But, if you're gone for weeks or even months, you'll need to invest in larger luggage that can fit everything you need. In this case, choose a medium-sized suitcase or large backpack. The type of bag to choose should keep the items you would bring safe and not inconvenience you at any point. Even as you keep things minimalistic, ensure that you're comfortable and not struggling with your belongings.
When choosing luggage, you'll also want to consider its durability. This aspect is especially crucial if you're a frequent traveler or plan on using your bag often. A good quality bag will last years and withstand travel wear and tear.  
Choose a bag made from durable materials like nylon or leather. And, if you want extra protection, choose a hard shell suitcase. This bag will keep your belongings safe and sound, no matter how rough the journey gets. However, if you're going to pleasant and secure environments like a resort or hotel, you can bring any light bag.
Choose A Checkpoint Friendly Luggage 
While traveling, it's common to come across several checkpoints. For example, in the airport, you may be required to go through security and customs when arriving in a new country. It can be a problem if your luggage type doesn't have compartments or your belongings are all mixed up. Taking them out and putting them back will also take a lot of time, and you may lose some of them. 
Nowadays, plenty of checkpoint-friendly luggage options make going through security a breeze. If you hate taking everything out of your bag, this is the perfect type of luggage you can use. For example, checkpoint-friendly luggage will have a designated laptop sleeve or other compartments where you can easily take out your electronics for inspection. This bag will help speed up the process and make it more convenient.  
You may think that color isn't an essential element when choosing a minimalistic bag. However, selecting a specific color for your bag can make a difference in your trip. A black or dark-colored bag is ideal as it won't show dirt and stains easily. However, if you want your luggage to stand out, then choose a brighter color. Doing so will help you spot your bag effortlessly on the baggage claim carousel.  
You can choose colors depending on the occasion, season, or style. For example, a pastel pink bag may be perfect for a summer trip. A deep green bag may be better suited for winter travel.  
Conclusion 
When choosing the best luggage-style, there are many factors to consider. But, as a minimalist traveler, you'll want to focus on lightweight and durable bags. Additionally, choose a bag that is the right size for your trip and has compartments for easy organization. And finally, don't forget to pick a color that suits you. With these tips in mind, you'll be sure to find the perfect luggage style for your next trip.
Planning your next trip?

Then don't forget travel insurance! You don't want to get stuck paying a ton of money and ruining your trip if you get sick or have an accident without travel insurance. Our page with The 3 Best and Cheapest Travel Insurance on the Market can help you choose the right plan and will give you some discount coupons for the biggest insurance companies!

 Already reserved your hotel or hostel? If not, our article with The 6 Best and Cheapest Websites to Find & Reserve Accommodation can help you out. You'll also find some promotions and discount codes.

 Still haven't booked your plane ticket and want to save big? Take a look at our page with 16 Tips to Save on Flights where you'll also find the 4 best websites to buy your plane tickets. 

And finally, will you need to rent a car during your trip? Then surely our page with The 5 Best and Cheapest Websites to Compare and Rent Cars Around the World will help you choose the best rental car and find a good deal.