Last Updated on by Rodrigo @ OutofYourComfortZone
Ensuring you have the best accommodation possible is essential when planning your holiday. After all, if you don't enjoy where you stay or are dissatisfied with your choice, how much fun can you expect from your vacation?  
For those looking for an idyllic Greek getaway, renting an impressive villa instead of staying in a hotel is becoming an increasingly popular option for some good reasons. With villas offering everything from luxury amenities to local cultural experiences and unbeatable privacy and cost-friendliness compared with five-star hotels, read on to learn what makes booking a villa in Greece such a great idea.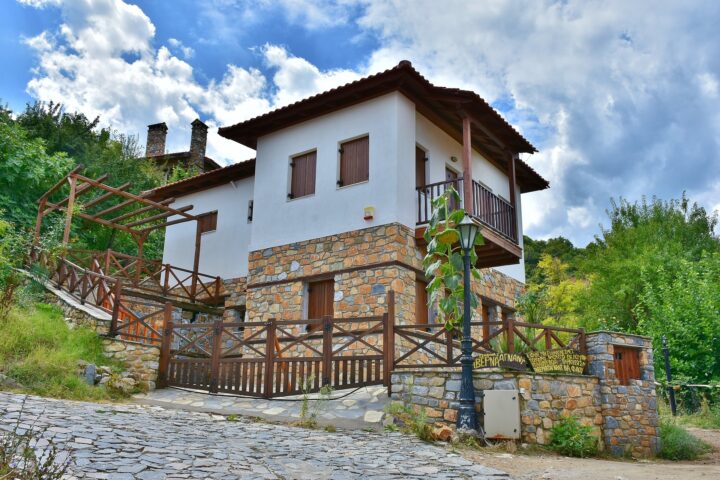 What is a Villa? 
If you want to learn more about why you should stay at a villa instead of a hotel, it might be a good idea to look at what a villa actually is. A villa is a type of house originally constructed as a country house, except it was made for the upper-class ancient Romans. Of course, we should not confuse these villas with those created as small farming compounds after the fall of the Roman Republic.  
So, how big are villas? That would depend entirely on where you are visiting; some countries, especially the more exotic travel destinations, have massive villas bigger than the average country home, while others have smaller suburban-styled semi-detached villas.  
Regardless of the destination, villas are associated with luxury since the idea is to rent or buy them as a sort of holiday home to get away from normal life and enjoy the finer things. As such, most villas have swimming pools, private chefs, massive kitchens, state-of-the-art entertainment systems, and more.  
What is a Hotel? 
Now that you have a better idea of what a villa is, it is time to look at how a hotel would be described and what function it serves. Much like villas, hotels are a type of establishment where you would pay for accommodation, usually on a short-term basis. However, compared to a villa, hotels are generally much smaller, and, in most cases, you will only be renting a room unless some situations require or offer more.  
The idea of a hotel is essentially a place to sleep while you are visiting another country. In most situations, it is usually used while on business since it is relatively short-term. The biggest difference between a villa and a hotel is that almost every villa you visit will be luxurious.  
In terms of hotels, since it is only a room, it can only be luxurious to an extent, and there is quite a disparity between luxury hotels and regular ones. The idea of a hotel originates from that of an inn, which basically served to provide a roof and meals for travellers, and in most cases, merchants.  
Now that we have discussed the basics, we'll explore why you should stay in a villa instead of a hotel. 
   1. Security 
The first reason that might convince you to stay in a villa rather than a hotel would be the difference in the level of security. First, hotels, in general, are relatively safe. However, they only have a few security guards, usually in the lobby. Besides that, you need to hope no one can trick a security card or pick locks.  
In terms of villas, there are security guards at the entrance to the villa complex, and more importantly, security guards that patrol the grounds at all times. In addition, since there aren't any floors to traverse, they will arrive quicker at your villa if you ever need to call them.  
   2. Food 
One of the biggest differences between hotels and villas is the food, and it is probably one of the biggest reasons why you should stay at a villa compared to a hotel. Most hotels around the world do offer room service, but the food is usually terrible. If they don't offer that, there are sometimes restaurants at hotels, but those are quite expensive.  
Villas, on the other hand, allow you to cook your own meals since a fully functioning kitchen is at your disposal. More importantly, if you are staying at a fancier villa, you will have access to a private chef, which is included in the cost.  
   3. Staff 
The next difference between a hotel and a villa is the staff, which is significantly another reason you should consider staying at a villa for your next holiday. First, the staff at a hotel is there to serve everyone, which means there isn't much of an opportunity to form a relationship with them. More importantly, they are most likely severely underpaid, which makes things uncomfortable. Lastly, the staff available basically consists of housekeepers and the receptionist.  
In terms of villas, there are, of course, housekeepers, and usually, a housekeeper is assigned to a specific villa, so you will be able to get to know them. As mentioned above, some villas allow you to have a personal chef, and some even offer a personal chauffeur. Some villas even offer trip planning services or offer teams that help with babysitting and more. 
   4. Rooms 
One of the biggest differences between a hotel and a villa is the rooms available. Unless you are quite rich, you will most likely book a maximum of two rooms for your family. This means you will be staying right next to people you don't know. You are also most likely going to need to share beds.  
In terms of villas, you might get a villa with up to six rooms, so everyone in your family can stay on their own without needing to share beds, which can be quite annoying. In addition, villas are like standalone homes, complete with bathrooms, a kitchen, a living room, and more. Essentially, you will be getting way more space.  
   5. Cost 
Finally, the last difference on this list between a hotel and villa, and a reason you might want to consider staying at a villa, is the price. At first, you might think hotels are cheaper, which is probably the case if you compare the cheapest hotels to the cheapest villas.  
However, as you might have read throughout the article, villas offer significantly more benefits than hotels. In other words, if you were planning on staying at an expensive hotel, you are most likely going to find a villa for the same price, which is way more worth it at the end of the day.  
As you can see, there are quite a few reasons why you would choose to stay at a villa rather than at a hotel. First, in terms of price, you will get far more value if you spend the same amount at a villa instead of a hotel.  
Second, when renting a villa, you will have access to far more rooms than you would at a hotel at a lower price. There is also the fact that you have access to a pool, as well as a personal chef if you are staying at pricier villas. More importantly, security is definitely better at villas than at hotels.   
So, the next time you plan a vacation, especially if you're going to Greece, don't forget to include villas in your options!  
Planning your next trip?