Last Updated on by Rodrigo @ OutofYourComfortZone
Have you recently finished school or college and are looking for a place to visit where you can make the most of your youth? Do you want to visit all of the best party islands while you vacation in Greece? 
Lucky for you, many incredible islands will make your stay memorable.
Whether you like to party all night or prefer a more low-key evening, we've got the perfect places for you! 
You can explore these islands independently or through Greece group tours. 
All of these islands have something special about them. Some offer great food, others boast beautiful scenery while more are known for their vibrant nightlife. You'll find everything from hipster bars with live music to nightclubs by the beach with top DJs! So, pack your bags because it's time to hit one of these awesome Greek party islands!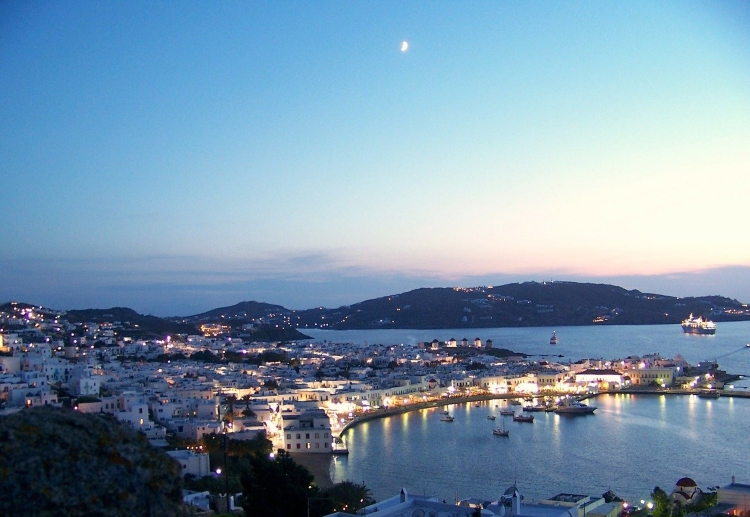 Corfu  
Corfu is one of the smaller Greek islands, but this doesn't take away from what it has to offer when it comes to nightlife. This island is easily accessible, and you can find the cheapest ferry tickets via Let's Ferry right here.
Although there are not too many tourists that make their way to this island, the locals love to party just as hard, and you will always find a good time. In the old town of Corfu, you will find a few pubs and bars that will accommodate your desire to party, however, it is best to make your way to Kavos or Sidari where you can experience some awesome parties at various places including beaches, open-air nightclubs, and many bars.  
   2. Ios                                     
Ios is an island that falls as part of the collection of the Cyclades. It is located between the islands of Naxos and Santorini and has most of the most prominent reputations of being a party island. While other islands have also claimed this title, when it comes to Ios, you will find far more laid-back parties where people don't get dressed up to go out and have a good time.  
Here you will find plenty of parties, whether it is day or night. There are parties at bars and restaurants, on the beaches, at clubs, and even on different boats depending on the time of year. Here in Ios, the party never stops, and the night never ends with countless different places to have a good time.  
If you are looking for a good beach party theme, you may even want to make your way to Mylopotas too.  
   3. Skiathos          
This island is also known as the Mykonos of Northern Greece. This island is known to have an incredibly lively party scene with a lot of action and activity to explore. During the summer months, this island experiences its peak of party life with something going on every single night.  
When it comes to Skiathos, there are 3 main areas to focus on for a good party: the old port, the backstreet around Trion Lerachon Square, and the road leading up to the airport. Skiathos is home to many different pubs and bars.  
Here on Skiathos, there is always something going on and you will always be able to find a good party to enjoy after a long day of lounging around on the beach.  
   4. Zakynthos 
Although Zakynthos is the third largest of the Ionian Islands, it is by far the most popular island among tourists. The island has something for everyone, from quiet coves and sandy beaches to vibrant nightlife and historic landmarks.
Visitors can enjoy a variety of activities, such as swimming, sunbathing, hiking, and exploring the island's many caves. Additionally, Zakynthos is home to many restaurants and bars, as well as a lively nightlife scene.  
Located in the Ionian Sea, Zakynthos is one of Greece's most popular party islands. The island has a relaxed atmosphere and is home to many bars, clubs, and restaurants. Visitors can enjoy stunning beaches, crystal-clear waters, and beautiful scenery.
There are also plenty of activities to keep partygoers entertained, such as boat trips, jet skiing, and windsurfing. Zakynthos is the perfect place to let your hair down and enjoy an unforgettable party experience. 
   5. Paros 
The island of Paros is situated in the Aegean Sea and is a popular tourist destination for its beautiful beaches, clear waters, and quaint villages. Visitors to Paros can enjoy plenty of activities such as swimming, windsurfing, sailing, and exploring the island's many archaeological sites.  
The island is also home to many traditional Greek restaurants and cafes, making it the perfect place to sample some delicious local cuisine. Whether you're looking for a relaxing beach holiday or an action-packed adventure, Paros has something to offer everyone.  
There are many reasons why Paros is a great party island. First of all, it has a great party atmosphere with a wide variety of bars and clubs to choose from. Secondly, the island has a great selection of beaches, which are perfect for spending lazy days in the sun or for party-goers who want to dance the night away.   
Thirdly, Paros is situated in the Aegean Sea, which means that there are plenty of opportunities for swimming, snorkeling, and windsurfing. Finally, Paros is home to many VIP party venues, which are perfect for those who want to enjoy the best that the island has to offer.   
Whether you're looking for an unforgettable party experience or simply want to relax in the sun, Paros is the perfect destination. 
   6. Kos 
Kos is a Greek island located in the southeastern Aegean Sea. It is part of the Dodecanese island chain and has a population of about 40,000 people. The island is well known for its nightlife and beaches and attracts tourists from all over the world.
Kos is a popular island destination for vacationers looking for sun, sand, and sea. But Kos has much more to offer than just beaches. The island is also home to many historical and cultural attractions.
Visitors can explore the ruins of the ancient city of Hippocrates, walk through the medieval streets of the old town, or visit one of the many museums and galleries. Kos is also a great place to enjoy the outdoors, with plenty of hiking and biking trails to explore.  
One of the things that makes Kos such a great party island is its location. The island is situated close to other popular islands such as Mykonos and Rhodes, which means that there are always plenty of people around to party with.
In addition, Kos has a reputation for being one of the most relaxed and laid-back island destinations in Greece, which makes it an ideal place to let your hair down and have some fun.  
   7. Mykonos          
Last but not least we have Mykonos which is the epitome of a party island when it comes to Greece and the Greek islands.   
Mykonos is the first place anyone would think to go to if they are looking to experience the most out of Greek parties and to experience Greek parties and nightlife at its absolute best, and this is for a good reason.   
Unlike some of the other islands which are far more relaxed when it comes to their parties, Mykonos goes all out and hosts some of the most extravagant and amazing parties you will ever attend. Everything about the island is lush and luxurious, and this goes for the parties.  
By day you can spend time laying out on the beach, soaking up the summer sub and splashing out in the waves, and by night you can stay up, moving from party to party without any end in sight. Partying the night away and then recovering on the beach the next day is a staple when it comes to Mykonos.  
 In summary, the best party islands in Greece are:
Corfu

Ios

Skiathos

Zakynthos

Paros

Kos

Mykonos
Planning your next trip?