Last Updated on by Rodrigo @ OutofYourComfortZone
The benefits of outdoor activities, such as hiking, are invaluable when many of us are constantly glued to our phone screens.
Hiking is a physically and mentally rewarding activity. Venturing on a hiking adventure boosts cardiovascular health, enhances fitness, and uplifts mood.
Choosing a hiking trail is one of the most crucial aspects of the hiking experience, particularly when planning a family adventure.
As an individual, you can decide to get up and just start hiking any trail closest to you without considering any factor. But when it has to do with a family trip, there is a need to consider every single family member before choosing a trail, especially children.
This article will discover the best ways to select family-friendly hiking trails and maximize your wilderness travel experience.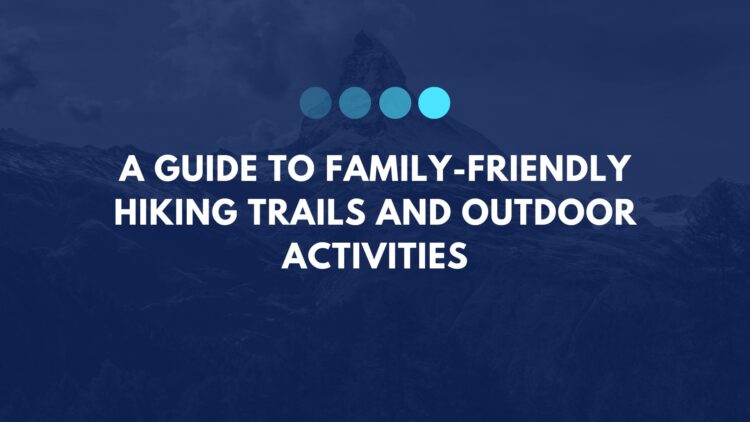 How To Choose a Family-Friendly Hiking Trail
When selecting a hiking trail that caters to every family member, including children, consider three crucial factors:
● Difficulty Level: While choosing a trail, you want to choose one that plays to the strength of all individuals in the family, and besides distance, an important feature that can determine how difficult a trail is, is the elevation. For a family trip that includes children or grandparents at a ripe age, you want to choose a trail with no steep elevation, among other things.
● Distance: This is a significant factor to consider. The trail's distance for a family hike must be decided before you begin.
● Amenities: You should also consider the kinds of amenities on the trail. Amenities like restrooms, picnic areas, etc. A family-friendly trail must-have amenities that will make the activities more interesting.
You should check out Tanner's Trails for useful tips to help you decide which trail will be great for your adventure travel. You will also find tips on how to cut down your budget to save some money without ruining your fun and many other healthy suggestions.
Handling Kids During a Family Hike
If you are embarking on a family hike, you will likely be going with your kids, and it is important to get some pointers so that you will be able to prepare yourself for anything.
Children can be entertained during a hike, filled with enthusiasm and curiosity. Still, you need to understand that they do not have wilderness self-reliance ability, and you need to do the following things to guide and protect them.
1. You Must Be Patient: This goes without saying. Even in the house, you should know that caring for children takes a lot of patience. They will move slower; you must calm down and match their energy.
2. Find Time For Breaks: Taking a break after some distance is significant when you are on a hiking trail with children. Children are fragile, and taking a break will help them recuperate their energy.
3. Be Lively Guide: When hiking with children, maintaining engagement is vital. Interact with them throughout the hike to keep them interested. Comment on the things you see during the hike, like a flower, a rare animal, etc. You must motivate bored or tired kids with a challenge.
Make the outing memorable for the children, and feed their curiosity. After the adventure, let them have fun facts to share with their friends at home and in school.
Important Gears To Take on a Hike
Packing the right gear is an essential part of wilderness travel. Certain items must be taken with you if you want a smooth hiking adventure.
● Backpacks: A backpack is a crucial item that must not be forgotten because this is what will house almost all the other items you will need for the hike. This is where you will keep your water, snacks, extra clothing, rainwear, Insect repellant, and Sunscreen.
● Trekking Poles: When embarking on a hike with a steep elevation, you will need a trekking pole. It will aid your ascension and descension.
● Maps: You want to have a map handy when you are on a hike. Having a map can help you find your way back if you get lost.
● First Aid Kit: this might be the most important of all the items listed here because you want to be prepared for any hazard. It is not a secret that wilderness travel might come with many hazards. You can only survive an unforeseen hazard by carrying your first aid kit with you on the journey.
To be forewarned is to be forearmed, as they say. And these are the items you need to carry to help you travel safely in the wilderness.
Be Safe Out There
While it's wonderful to embark on a hike occasionally to reap the excellent physical and mental benefits it offers, ensuring your safety throughout the journey is equally essential.
While on a hike, you need to:
● Stay Hydrated: Drink water or any other healthy drinks you have with you occasionally. This is very important.
● Be On The LookOut For Hazard: Stay vigilant and watch out for things that can harm you and your family during your trip.
● Stick To Your Trail: Don't ever go off your designated trail. Yes, it's an adventure, but don't be too impulsive.
● Stay Together: Nobody in your hiking group should wander off, be together at all times, and whenever you notice anyone is missing, call for help immediately.
Concluding…
Hiking is one of the most incredible adventures you can embark on and a very rewarding one. The best time to start is now. Follow the instructions highlighted in this article and enjoy an abundance of fun.
Planning your next trip?

Then don't forget travel insurance! You don't want to get stuck paying a ton of money and ruining your trip if you get sick or have an accident without travel insurance. WorldNomads is ideal for adventurous travelers, backpackers, or anyone looking to be protected during their trip. They cover almost every single activity you can image! Plus, you can have a 5% discount with the coupon code comfort5.

Already reserved your hotel or hostel? If not, we recommend Booking.com. They have a huge selection of hotels and hostels all over the world. Plus, in most cases, you can cancel your reservation without any costs up to a few days before the check-in date!

Still haven't booked your plane ticket and want to save big? Take a look at Momondo. It's a flight aggregator that combines several other ticket search websites to make it easier for you to compare prices and make sure you are getting the best deal.

And finally, will you need to rent a car during your trip? Then check out Rentalcar.com to search and compare car rental companies from all over the world in a single website. Then, you can find the cheapest price for the best car!