Last Updated on by Lohanna Reis
Whether you're a parent of a toddler or two adult college students, you will undoubtedly want to travel with them at some point. Going on vacation as a family is one of the most memorable and rewarding experiences you can have with your kids, regardless of their age. 
However, generational gaps can often interfere with you fully enjoying your vacation – kids simply act differently than fully-matured adults. Toddlers will naturally be scared of unknown stimulants, noises, and environments, while more mature kids often won't agree with your travel plans or activities.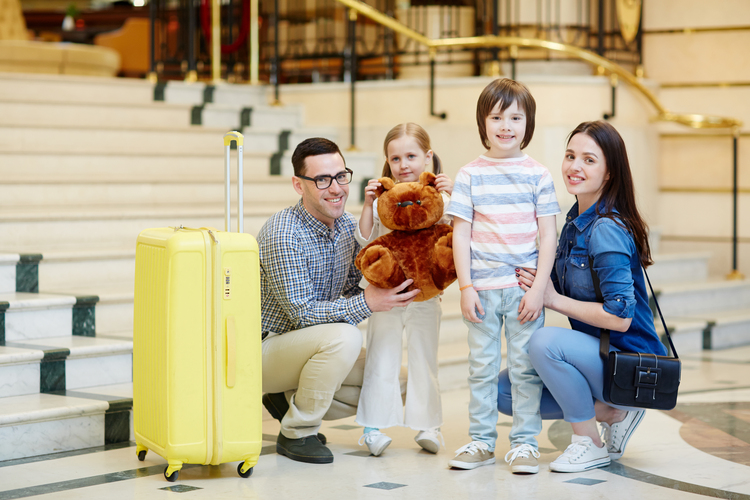 It's why careful planning, budgeting, and crisis precautions are a must whether you're traveling abroad or hopping to a neighboring country. Let's discuss what you can do to make traveling with kids enjoyable and less stressful, as well as why you should do it in general.
Perks of Traveling with Kids
Before we get into the nitty-gritty of traveling with kids and the mistakes you should avoid, it's not all doom and gloom. Traveling with your kids is always a special occasion and a time for the whole family to bond over something they can share – travel.
No matter how old they are or where their interests lie, your kids will sooner or later be very grateful for your trips abroad or the adventures you made across the country. 
You should NOT avoid traveling with your kids altogether – all you need to do is take some precautionary measures so that everyone can stay safe while doing so. Here are some amazing reasons to definitely travel somewhere with your kids and simply spend some time together creating invaluable memories:
Teach kids to appreciate different cultures and lifestyles

Facilitate your kids' interests in foreign languages

Assist your kids in developing new life skills while traveling

Discover more about your kids' likes and dislikes while on the road

Simply witness your kids reacting to new environments and experiences

Educate your kids on basic survival skills through practical examples

Teach your kids about the values of travel and why they should continue traveling

Help kids learn more about foreign currencies and how they differentiate from yours

Help your whole family bond and become closer thanks to traveling with kids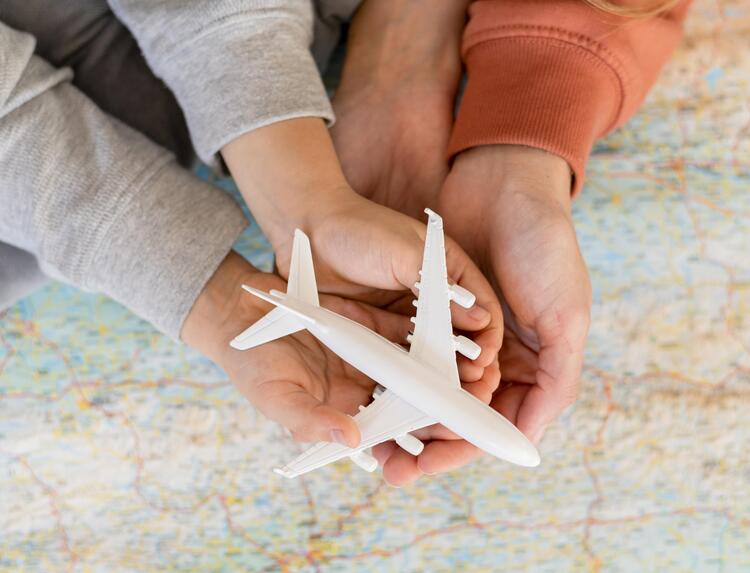 Which Mistakes to Avoid When Traveling with Kids?
   1. Expecting Kids to Behave Well While Traveling
Regardless of whether you're traveling to France, Greece, Italy, or even Russia or China, you'll need the patience of a saint with your kids. Kids simply think differently than adults do and their attention spans are typically far shorter than ours.
This can lead them to become bored with whatever hike, walk, tour, or activity you're currently participating in. Visiting historic sites or a museum is not high on the list of fun activities for kids. 
When traveling with them, it's best to adjust your travel plans and stick to kids-friendly activities. Ask your kids what they'd like to do, whether that's a visit to a local park, going to movies, or trying out new food.
Develop a quid pro quo deal with them so that both you and your partner, and your kids, can all do the things you're interested in. However, it's best to temper your expectations in this regard and be prepared to compromise throughout the trip.
   2. Overpacking in Hopes of Covering All Bases
As a parent, you will undoubtedly want your kids to be as comfortable as possible when traveling abroad. But, the reality is that you cannot anticipate every single factor of the trip ahead of time.
That's why you should avoid overpacking and carrying a moving-sized suitcase just for your kids. Think smart and pack their underwear first, with extra shirts and a pair of footwear depending on where you're headed. 
Think about how viable it would be for you to do laundry while traveling since many destinations feature on-demand laundromats and similar businesses. Your hotel might also be able to help you with laundry when they see that you're traveling with kids. 
Don't make the mistake of overpacking and carrying twice as many clothes for your kids as you do for yourself. When you're on a temporary family trip, your kids should have as much or as little to change into as you do.
This will make packing, traveling from one place to another, and subsequently unpacking at home much less stressful.
   3. Lacking Dedicated Health Insurance for your Kids
Kids can get hurt deceptively quickly when traveling abroad. Given their less-than-perfect motor functions at an early age, kids can fall, scrape their knees, hurt their heads, etc.
When that happens – don't panic. All you need to do is come prepared. Start by getting a dedicated first aid kit from a local pharmacy and being familiar with its content. 
Pack some antihistamines, paracetamol, vitamin C, and other preventive medicine and food supplements just to be safe. If you're traveling from the US to Europe or from Europe to Africa or South America, think of the local climate of your destination.
Even you will have issues adjusting to different air humidity, temperature, or weather patterns in a different continent, let alone your kids. 
It's also essential that you visit a local insurance company and get a travel insurance package. Again, you can never anticipate what might happen once you're on the ground. It's best to have a backup plan and be able to visit a local doctor or a clinic without worrying about exuberant costs.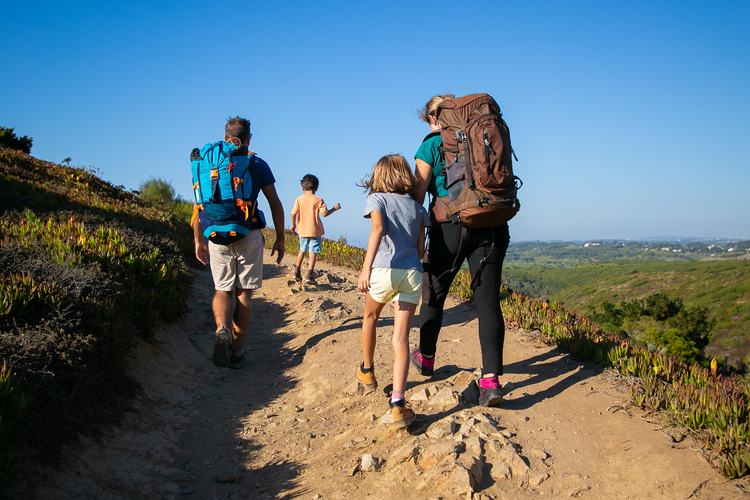 4. Packing Too Few Snacks or Too Little Water
We're all a little snacky when we travel and kids are no exception. Snacks are particularly important if you're going on a road trip and plan to spend hours outdoors. Healthy snacks like cereal bars, fruit, or even fresh salads are great for kids to munch on.
You should also think about packing plenty of water for the trip. Avoid juices and sugary drinks as much as you can because they won't satiate your thirst and make kids even more hyper. 
Water is essential for traveling with kids for multiple reasons, not only for drinking. You can use water to quickly wash your hands, clean clothes or surfaces from spillages, or even wash fruits and veggies. If you're traveling by car, bring plenty of water along with you. 
If, however, you're traveling by plane, make sure to get bottled water for everyone as soon as you land at your destination. You don't want your kids to dehydrate and they won't know how to communicate those physical feelings very well – hydrate them, and yourself, constantly.
   5. Not Thinking About their Homework Assignments
School assignments and holidays are something you should take into consideration when planning a trip with your kids. Whether your kids are K-12 or academic students, they'll undoubtedly have homework and writing assignment tasks waiting for them back home.
Worse yet, your child may be a college student with very serious paper or thesis assignments waiting for them and leading them to be distracted while traveling. 
You can help them by reaching out to essay writers from TopEssayWriting through a reliable writing service that will assist them in finishing up their tasks on time. Working with professional writers online will ensure that your kids don't miss out on any assignment deadlines while traveling with you.
You will teach them about time management and problem-solving, since using a writing service can help students in different situations. 
This will help your kids manage their school or college activities moving forward even when they don't travel with you specifically. It will make them more aware of their obligations and more responsible as an adult later on.
   6. Improperly Dividing your Attention Among the Kids
When you're traveling with more than one child, travel becomes a balancing act. Every child will expect your full attention regardless of whether their two siblings are sitting right next to them.
This is why traveling with kids can be so challenging, but also so fun and dynamic at the same time. It's important that you don't neglect any one child under your care while traveling, whether you're a parent or a teacher traveling with kids. 
Try to divide your attention among everyone and check them every few minutes to make sure they're okay and still with you. Kids can easily stray away from the group because they lack the sense of danger associated with traveling abroad. 
While this means you'll have less time to sightsee, it's also good that you're paying more attention to your kids while abroad. They may not understand the care you provide them with fully at that moment, but they'll appreciate it nonetheless sooner or later.
   7. Double-Checking Everything Before Heading Back Home
Depending on how old your kids are, they may not be able to pack their clothes, souvenirs, and backpacks, or suitcases properly. This is both a great learning opportunity and a chance for you to double-check that everything is packed and ready to go. 
Don't let your kids pack their things on their own because something will inevitably be left behind. Go over everything you've brought along initially and check if it's all still there. Look through your hotel room, bathroom, car, or any other place where suitcase contents might find their way. 
Ask your kids if they're sure whether they packed everything or not. Most of the time, they'll say "yes", but sometimes they'll remember a small thing or two left behind in a nook somewhere. Double-checking everything you've brought along on the trip before traveling home is crucial, especially if you're abroad. 
If you leave your favorite sweater in Germany, Spain, or the UK and go back to the US, you'll want to say goodbye to it. The same goes for anything you plan to take home with you – don't rush and work with your kids to ensure that everything is ready.
   8. Not Talking About the Trip After Coming Back Home
Finally, the biggest mistake you can make when traveling with your kids is not talking about it after the fact. Whether you visited a neighboring city or went on a long trip abroad – ask them about it. Talk to your kids to discover what they liked and disliked about the trip and what they'd like to do on the next one. 
This insight is invaluable as you will learn more about your kids' travel affinities and how to make their next trip even more memorable. They might even give you a great travel destination to check out next off the top of their heads. 
You can ask your kids to journal about their travel experiences, write an essay about it, or have photos printed and stuck around the house. Your travel experiences are life-long memories and they should be cherished, not treated as one-and-done deals. 
This will teach your kids the value of traveling with their parents, something that they'll pass down to their kids one day. Talk about your trips together and your kids will appreciate everything you do for them that much more for it.
Making the Most out of Traveling with Kids (Conclusion)
Taking your kids abroad or on a road trip for a few days is one of the best things you can do for them as a parent. Traveling with kids doesn't have to be nerve-wracking – all you need to do is plan and brainstorm on possible crises. However, you cannot plan for everything and your child might surprise you by coming down with a cold or having a stomach virus. 
As a parent, your job is to help your child overcome not only their fear of travel but also any health emergencies that might crop up. Don't forget to pack a first aid kit and grab family travel insurance while you're at it. Even though you may not need it in the end, it's best to stay safe about it. Make the most out of your traveling with kids by organizing your trips as best as possible upfront – the rest is out of your hands.
Author's bio. Jessica Fender is a professional writer and educational blogger at Essaywritertool. Jessica enjoys sharing her ideas to make writing and learning fun.
Planning your next trip?