Last Updated on by Lohanna Reis
In the last few years, coworking spaces have become a hub for remote workers looking for a safe place to get work done while enjoying their travels. As one of the top locations for digital nomads in Mexico, you can find plenty of great places for coworking in Playa del Carmen.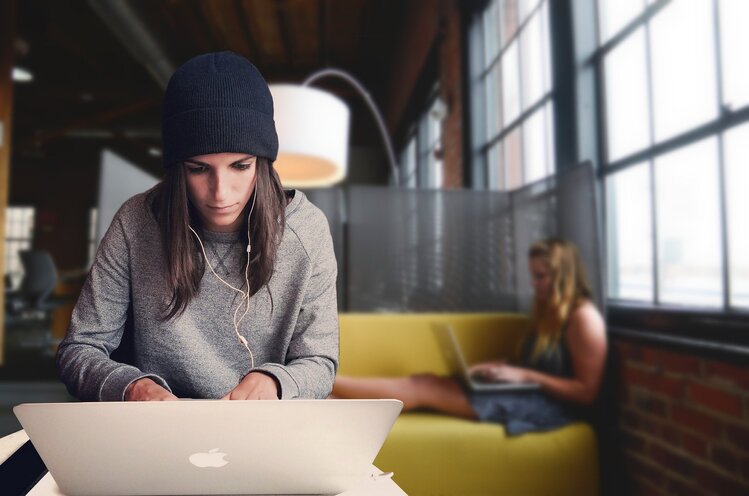 There is a wealth of advantages to joining a coworking community. The built-in amenities like comfy workspaces and free access to services encourage a healthy work-life balance and help increase overall productivity.
If you're traveling solo, other coworking members provide great outlets to socialize and network. In addition, this great Mexican getaway will enchant you with the beautiful landscapes and beaches of Playa Del Carmen.
Whether you're considering planning a trip to Playa del Carmen in the Yucatan Peninsula, or are already there and want to work from a great location, consider these top-rated coworking spaces in beautiful, beachy Playa.
Best coworking in Playa del Carmen #1: BUNKER Coworking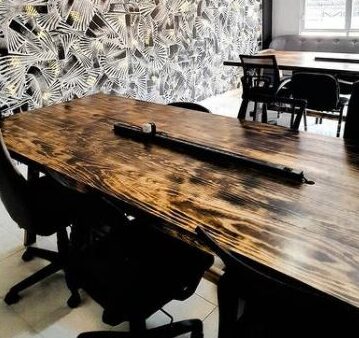 Just three blocks away from the beach, Bunker Coworking is a great pet-friendly option for digital nomads looking for flexible workspaces. They provide shared, private, and virtual workstations that allow you to get work done and private phone booths to attend any calls that may require more privacy. 
As a member, you have 24-hour access to the premises and a wide range of services that make your stay at Bunker more enjoyable. Enjoy fast internet, unlimited printing, free coffee and snacks, comfortable areas where you can have a drink and relax, and a great community of friendly coworking members.
Prices range per hour, day, week, or month so be sure to visit their website for detailed information. If you're undecided whether this is the place for you, new people can request a free day pass after signing up for the Bunker Coworking mailing list.
Best coworking in Playa del Carmen #2: Xinergy Workation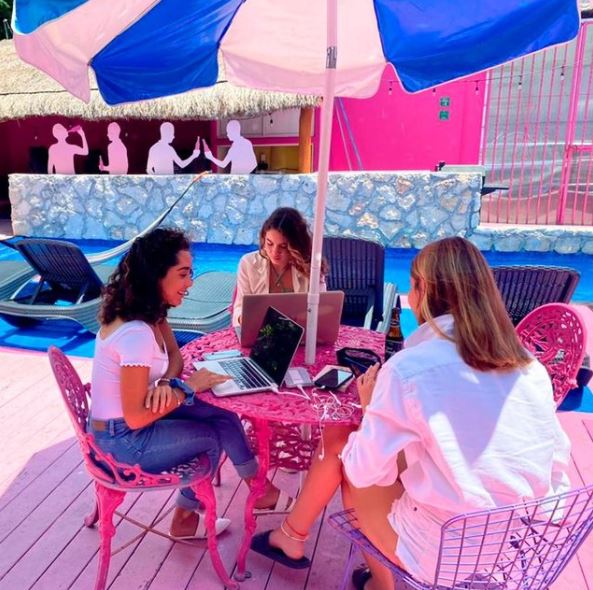 There's a reason why Xinergy Workation receives consistent five-star ratings. It provides all the amenities required to give its members the perfect combination of workplace productivity and fun. 
Get some work done in any one of their shared or private work areas or reserve the conference room for private meetings. If you prefer to work outside, choose between the pool area, terrace, or palapa. Hungry? Enjoy free snacks and coffee or order from any of the eight restaurants that deliver directly to Xinergy. 
Come break time, enjoy a friendly ping pong or foosball match with other members, play some chess in the common area, or read a book by the pool from the free little library.
Membership prices vary, so make sure to contact Xinergy for a quote.
Best coworking in Playa del Carmen #3: NEST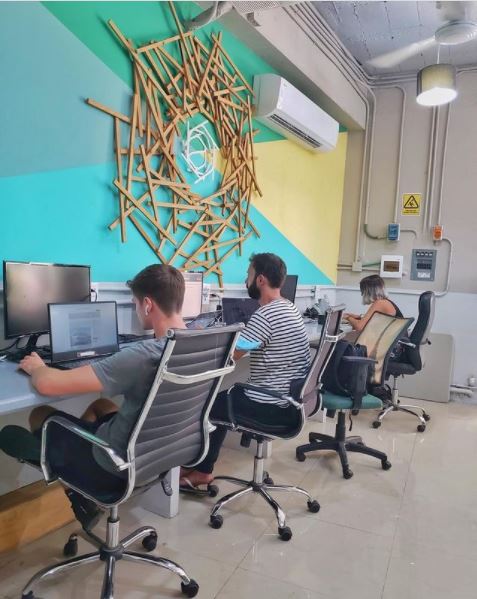 If you're looking for a coworking space in an excellent location, Nest is it! 
You can find this eco-friendly coworking space in the heart of Beach Center, within walking distance of the beach and of Fifth Avenue, where you can find the trendiest restaurants, clubs, bars, and shops.
Aside from services like high-speed internet, lockers, and mail reception, Nest offers four types of work areas: Creative Wing (dimly lit and quiet, this space is meant to help members focus), Production Wing (this room aims to inspire members to network and provides free snacks), open areas (for those who prefer to work outside), and a meeting room. 
Access to services and amenities will vary depending on your membership. You can choose between a daily (starting at 13 USD), weekly (starting at 60 USD), or monthly plan (starting at 180 USD), or from other membership packages. Members who ride their bicycles to Nest can receive a discount.
Best coworking in Playa del Carmen #4: Co Work-in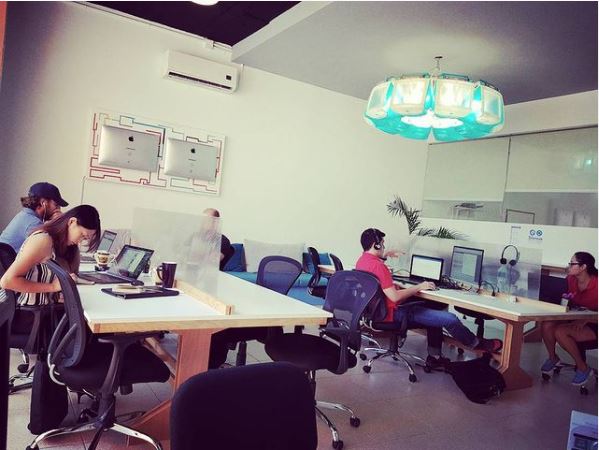 If you're looking to work remotely from a coworking space with a slightly more professional environment, Co Work-in may be the option for you.
Choose from shared spaces with tables that can accommodate up to 6 people, private or double offices that you can rent for a more private work experience, and conference rooms ideal for meetings or training.
Co Work-in boasts having the fastest high-speed internet (100 Mbps) in Playa del Carmen, offers air conditioning throughout its facilities, and all the equipment you need for successful board meetings.
Membership rates vary by the type of workspace you choose and by the hour, day, week, and month. For example, shared space prices range from 50 MXN-2,900 MXN and private offices from $100 MXN-7,499 MXN. 
Best coworking in Playa del Carmen #5: Work-It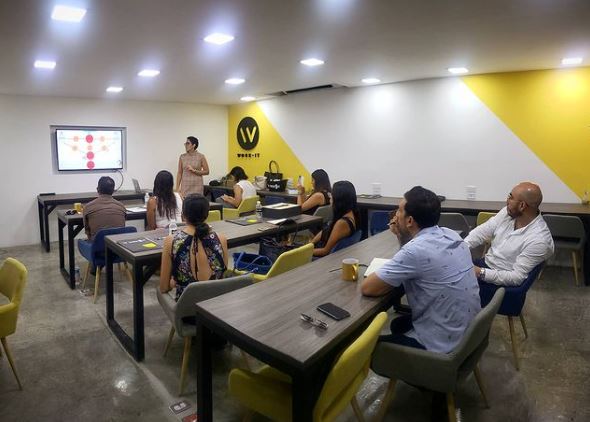 Work-it members rave about the quiet and professional work environment, making it easy for remote workers to focus. Stay productive by using any one of their shared spaces, private offices, multipurpose rooms, and private phone booths. Keep in mind that this coworking space doesn't offer any outdoor working areas.
Digital nomads who have worked from here come back time and again for its cozy work environment and friendly staff who are eager to help you get set up. If you need to take a break, grab a free coffee at the kitchenette. 
While their website doesn't give specific information on their pricing, you can contact them through WhatsApp at 984-241-5296 or phone at 984-803-5082 for more personalized information. 
Best coworking in Playa del Carmen #6: WorkZone Coworking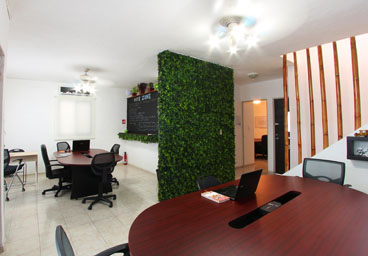 WorkZone Coworking's concept is "a shared office with excellent internet, great ambiance and, most importantly, incredible coworkers." Members have access to shared workspaces with comfortable desks and chairs, a fast internet connection, and unlimited use of printers and scanners. They can also reserve a meeting room at no extra cost.
Take a break and relax in a hammock on the patio or network with other digital nomads on the terrace. To completely reset, you can take a nap, watch a movie, or play video games in the chill room. If you're feeling adventurous, their free bicycles are the ideal transport to the beach, which is a few blocks away.
Membership pricing and benefits vary depending on your plan. The daily plan starts at 10 USD, weekly at 50 USD, and monthly at 125 USD.
Choosing where to stay in Playa del Carmen 
Now that you know the top coworking spaces in Playa, it's time to consider where to stay. Whether you're still planning your trip or have been here for a while, you want to stay somewhere that is comfortable and is in a great location.
In my personal opinion, Casai is your best option. They offer short-term and long-term apartment rentals for travelers, are located in the safest neighborhoods in town and provide a guest experience similar to that of top-rated hotels. 
Their apartments have everything you need to feel right at home and offer a perfect blend of luxury, comfort, and locality that you're sure to love.
   Discover Casai: the best long-term rentals for digital nomads in Playa del Carmen
In short
The 6 Best Coworking Spaces in Playa del Carmen Mexico are:
BUNKER Coworking

Xinergy work

CHILD

Co Work-in

Work-It

WorkZone Coworking
Planning your next trip?