Last Updated on by Talita
Looking to discover the most beautiful cities in Mexico? You're in the right place — and you're also in luck, because there's no shortage of colorful, colonial cities in Mexico.
While this list has been limited to just 10, Mexico is full of historic cities reminiscent of Europe, but often, much more colorful. The places to visit in Mexico you'll find here are mostly large- and medium-sized cities, but if you venture off the beaten path in Mexico, you'll find even more beautiful cities in Mexico.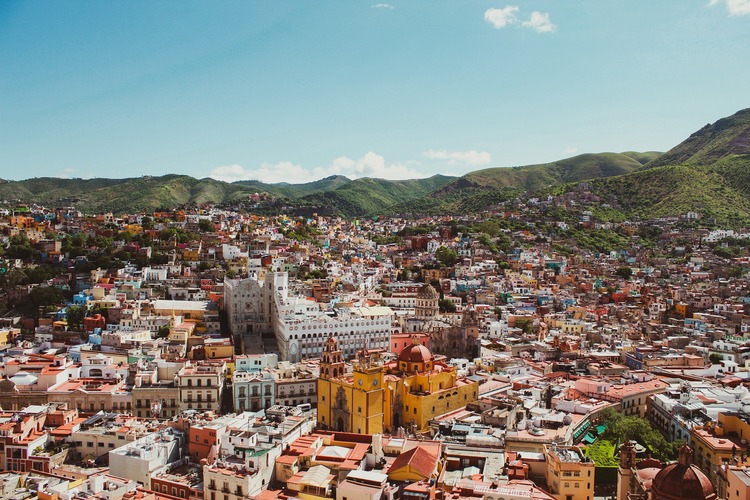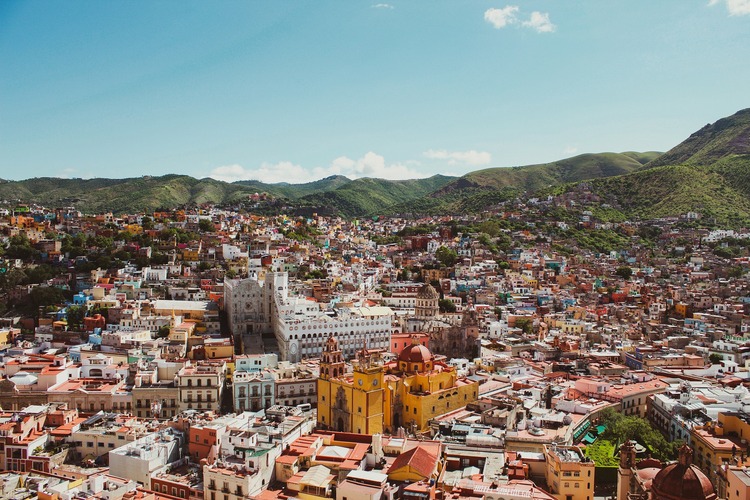 For now, let's look at these 10 best places to visit in Mexico for travelers looking to experience colorful cities in Mexico. Beyond physical beauty, these places are also historic; most are either a UNESCO World Heritage Site or pueblo magico, Mexico's "magic towns," so they are not just beautiful, but also interesting.

If you've been wanting to travel to Mexico, let's get to the list, which will be all the inspiration you need to finally book that Mexico trip!
Map of the Best and Most Beautiful Cities in Mexico
So that you can locate yourself and plan your trip better, in case it's your first time going to Mexico, I made this map with all the cities indicated in this post. I hope it helps!
 

  1. San Miguel de Allende
San Miguel de Allende, Mexico, is located in Central Mexico, about 3.5 hours from Mexico City by car or bus. In fact, San Miguel de Allende is one of the best day trips from Mexico City, especially for foodies, wine lovers and artists.
This UNESCO World Heritage Site is in Guanajuato, a state known as one of the most colorful in Mexico. Of the other cities in the state, San Miguel de Allende is considered the most beautiful.
In the last 10-15 years, many American, European and Canadian expats have relocated to this beautiful colonial city. As with all Central Mexico, San Miguel de Allende is blessed with what's known as an "eternal spring" climate, so it has cool, mild weather all year long.

Beyond perfect weather, the city is stunning and historic. The iconic architecture of Mexico is so well preserved in San Miguel, and each home and building seem prettier than the next. Of them all, the iconic Parroquia de San Miguel Arcángel is the most photographed.
This large, pink, gothic-style cathedral is the town's centerpiece. It is located in the Jardín Allende (Allende Garden), a lovely and well-manicured park and garden that serves as the town square or central meeting point.
As one of the safe places to visit in Mexico, spend some time with no agenda and simply wandering the hilly, cobblestone streets of San Miguel de Allende. Pop into a casual cafe or make reservations for one of the fine dining restaurants for dinner. Well known as a top foodie destination, many of Mexico's most famous chefs have restaurants in San Miguel de Allende/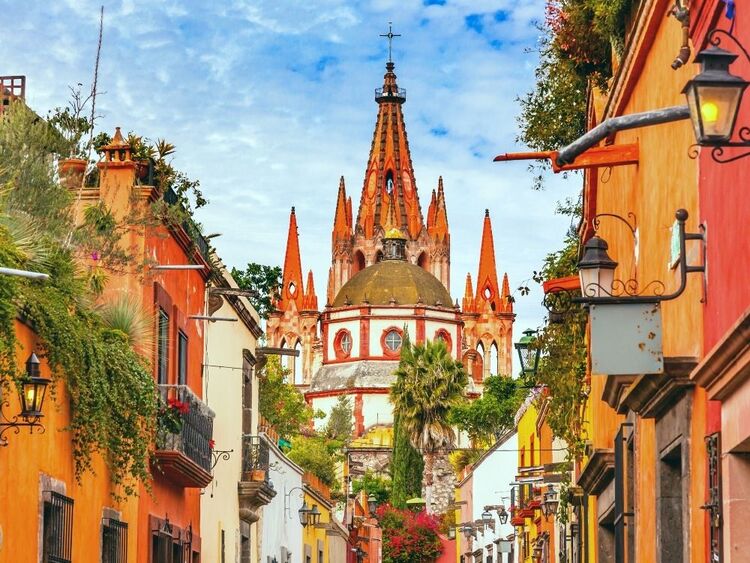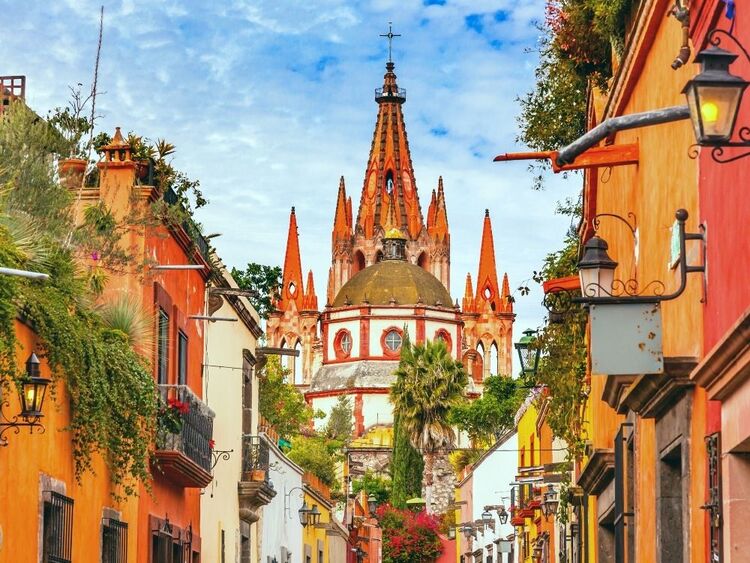 2. Merida
Located in the Yucatan Peninsula, Merida is not far from the popular destinations of Cancun, Tulum and Playa del Carmen, but it feels like it's a world away. As it's not as popular and crowded as those other destinations, Merida still retains a charming small town feel.

Known as the safest city in all of Mexico, more and more people are visiting Merida, Mexico, with each passing year. For culture travelers, Merida is a must-see Mexico City. It is located right in the middle of the Yucatan and considered the Mayan Cultural Capital of Mexico.
Within the city itself, once considered the richest city on the continent, there are many historic mansions-turned-museums to admire. The Casa de Montejo, located in Plaza Grande (Main Plaza/Town Square) is among them, as well as the historic Museo Palacio Canton on Paseo de Montejo.
Also on Paseo de Montejo, Merida's tree-lined and most beautiful street, there's the beautiful Monumento a la Patria (Monument to the Fatherland), a giant monument with 300-hand carved figures by Colombian artist Romulo Rozo, chronicling about 1,000 years of Mexican history.
In Centro Historico (Historic Downtown), the streets are filled with colorful buildings in varied architectural styles that seamlessly blend the old world with the new world. There are historic monuments all over, art galleries and parks to relax in — which gives Merida a very European feel.
As more and more people discover Merida through its beautiful photos on social media and YouTube, it won't stay a Mexico hidden gem for much longer. For those visiting the Mexican Caribbean beaches in the Yucatan, make sure to add a stop in Merida to your Tulum Mexico itinerary.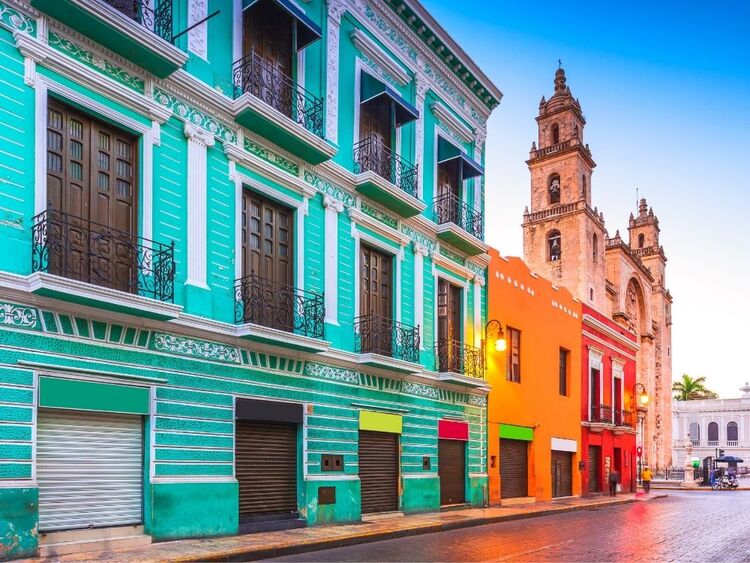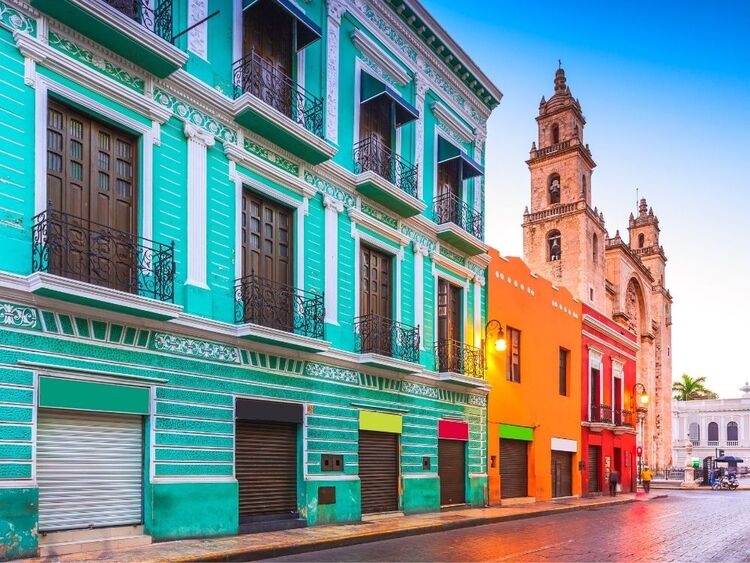 3. Tulum
About four hours by car or bus from Merida, is the pueblo magico of Tulum, Mexico. If you're wondering — What is a pueblo magico? — here's your answer!
Pueblos magicos, or magic towns, are small towns in Mexico designated by the Secretary of Tourism as noteworthy for their historic significance, folkloric traditions and/or natural beauty. There are about 135 in the country, including Tulum, and about seven others in the Yucatan Peninsula.
Tulum is located right on the Caribbean Sea, about two hours south of Cancun by car or bus. It has become quite famous as one of the most Instagram worthy Mexico beach destinations, and attracts artists, backpackers, yogis and beachgoers alike.
Tulum is part beach and part jungle and is in fact known as the "Bali of Mexico," as it's similar to Bali, Indonesia, in that regard. Tulum and its surrounding areas also have several Mayan Ruins to explore, similar to the Hindu temples of Bali.
Besides the beautiful beaches of Tulum, there are large-scale art pieces all over town, the famous Tulum beach clubs and resorts known for embodying the local architecture. This design esthetic uses reclaimed wood and bamboo, blending nature and building, for an echo chic look.
This quintessential Tulum look makes it one of the most beautiful places in Mexico! It is also one of the most unique places in Mexico, with a style unlike anywhere else in the country.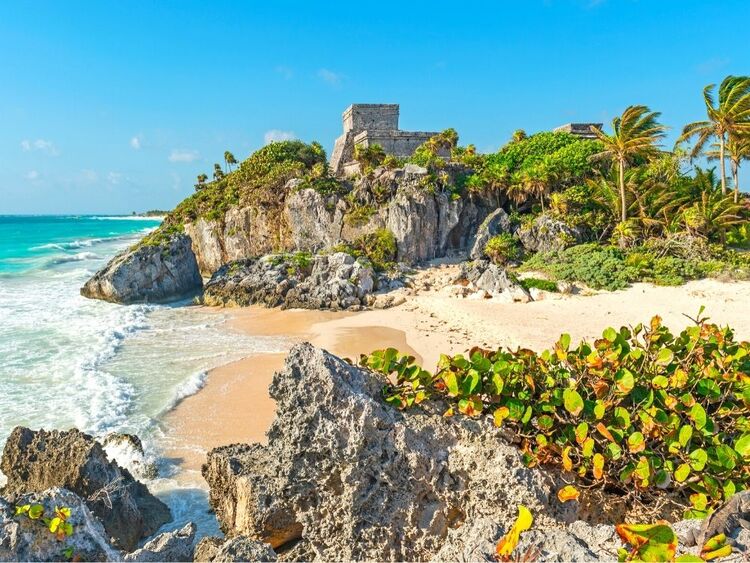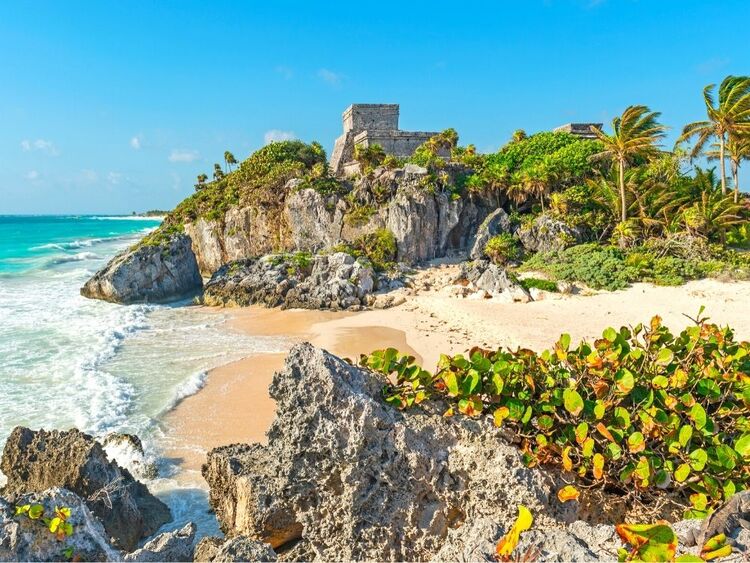 4. Guanajuato City
Just an hour from San Miguel de Allende, you'll be in the capital of Guanajuato state — Guanajuato City (which is often just referred to as Guanajuato). Much like San Miguel, Guanajuato is a colorful city, with cobblestone streets and narrow winding alleyways.

There are plazuelas (plazas) all over town, as well as numerous colonial churches and historic buildings. Unlike San Miguel, which has a large expat population and can feel a bit watered down in terms of Mexican culture, Guanajuato oozes it.
This city is much more popular with national tourism versus the huge number of international tourists that visit San Miguel. There are also several art colleges and universities in Guanajuato, making the town feel festive and lively year-round.
For actual festivals, one of the biggest performing arts festivals in the world, the Cervantino Festival, takes place each year in Guanajuato. It is immediately followed by Día de Muertos, or Day of the Dead, Mexico's biggest country-wide festival.
Even on regular days of the year, Guanajuato is a very special and beautiful place. It's a great place to have no plans at all, so you can wander the streets, take photos, spend some time people watching in the plazuelas, sipping a coffee at a sidewalk cafe and more.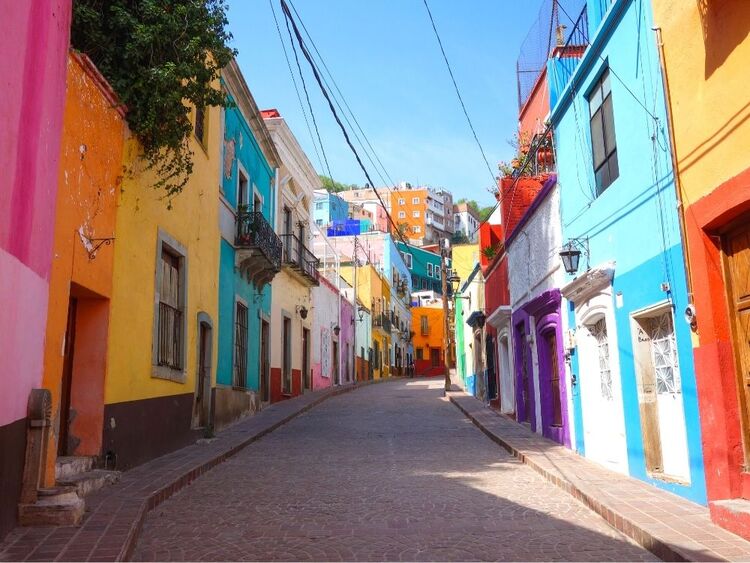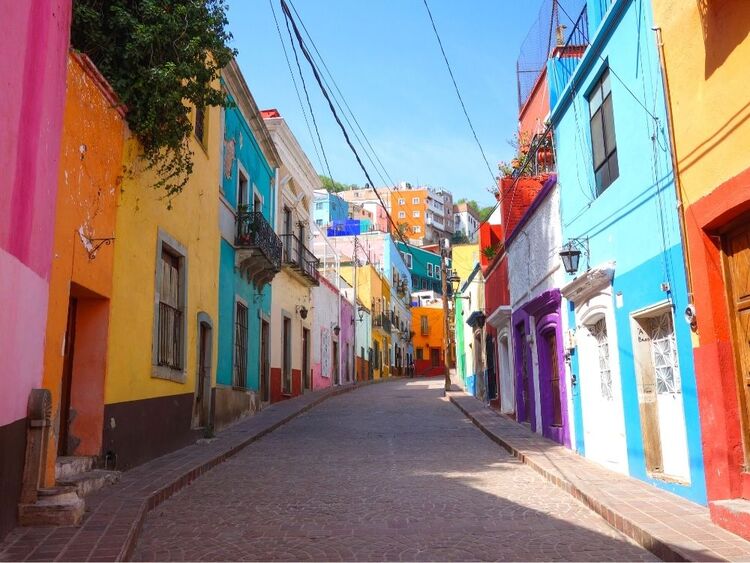 5. Puerto Vallarta
Located on the Bay of Banderas and the Pacific Coast of Mexico, Puerto Vallarta has been attracting everyone from movie stars to Average Jo and Joannas for decades now.
It was first made famous in The Night of the Iguana, a 1964 film starring Elizabeth Taylor and Richard Burton. The two acting legends famously took their on-screen romance off screen after filming, bought a home together and lived in Puerto Vallarta for a few years.
The home, which is now one of the best boutique hotels in Puerto Vallarta, is just one of the beautiful buildings in Downtown Puerto Vallarta. Two areas in downtown, Viejo Vallarta (Old Town) and the Zona Romantica (Romantic Zone) are lined with historic buildings, reminiscent of an old Hollywood movie. Deciding the best place to stay in Puerto Vallarta is very important.
While famous for its beautiful beaches, that's only half the story of Puerto Vallarta. Just behings the beaches you'll find the Sierra Madre mountains, where many head to hike up to the hidden waterfalls, rivers, natural pools and pueblos (small towns).
If you are looking for somewhere in Mexico that checks a lot of boxes — beaches and nature, strong ties to its indigenous culture, colorful colonial architecture, and great food — Puerto Vallarta certainly offers a lot of reasons to visit.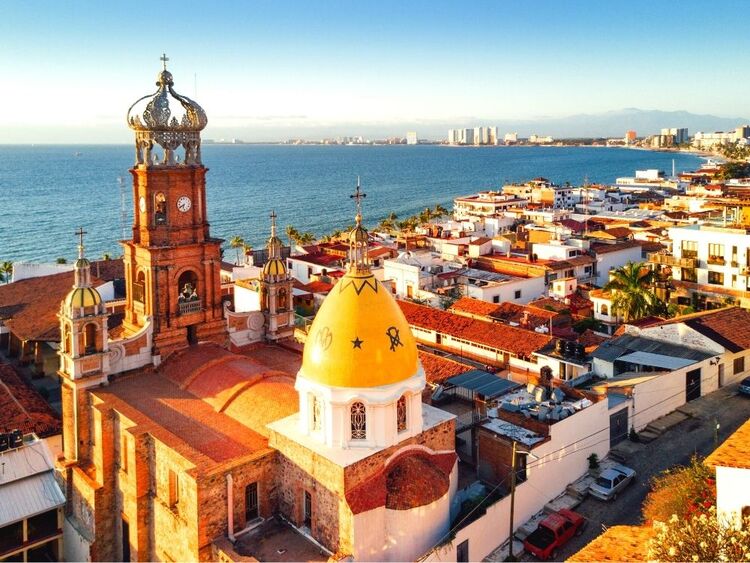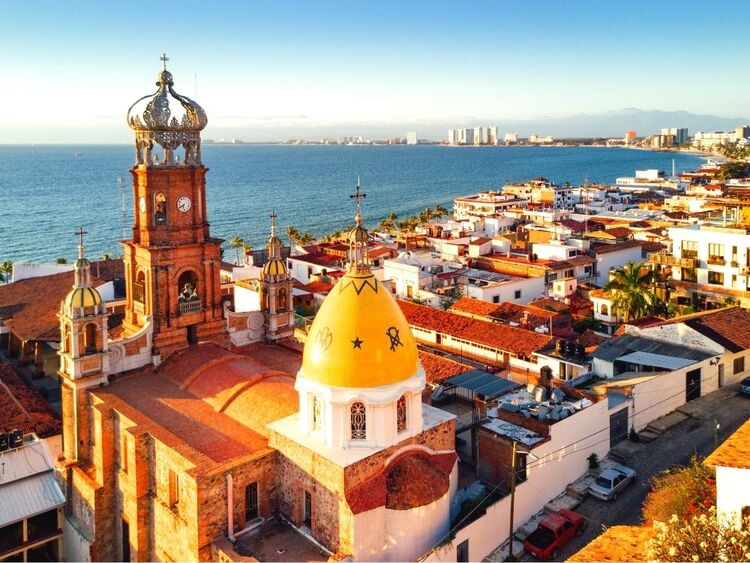 6. Valladolid
At only about two hours from both Tulum and Merida, you'll find the pueblo magico Valladolid. This colorful city is becoming more and more popular with each passing year, but for now, still maintains a charming small-town feel. 
From Tulum, many visitors head to Valladolid to get more of a feel for one of Mexico's culturally rich cities. In the Zocalo (Town Square), you'll find the Parque Principal (Main Park) gorgeous Iglesia de San Servacio, a cathedral dating back to 1545.

Not far away, there's the historic Convento de San Bernardino de Siena, one of the oldest Franciscan missions in Mexico. The convent is located at the end of the Calzada de Los Frailes, the prettiest street in Valladolid, with great cafes, and colorful shops.
Valladolid and its surrounding areas also have a lot of natural beauty. Many of the most picturesque and best cenotes in Yucatan are near this town. If you're wondering — What is a cenote? — here's your answer!

Cenotes (pronounced sen-no-tays) are swimmable sinkholes containing freshwater. Underneath the entire Yucatan Peninsula, there is a river connecting all the cenotes, but with some the limestone rock once covering that part of the river has collapsed, revealing the water underneath.
Some cenotes are fully exposed like a swimming pool, some are partially exposed, and some are located underground in caves. You can see all three types in various cenotes in and around Valladolid.

One of the best cenotes in Valladolid is located only about a 10-minute walk from downtown. Cenote Zaci is a partially open cenote, and looks like something out of a movie set in a tropical paradise!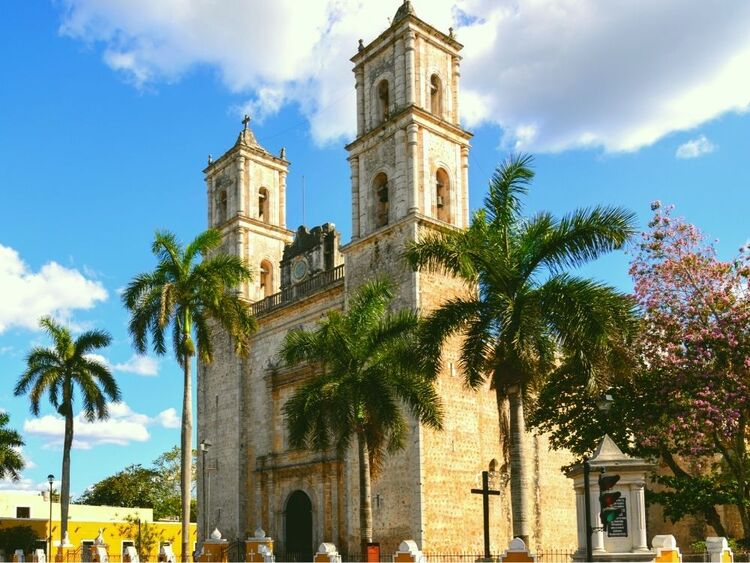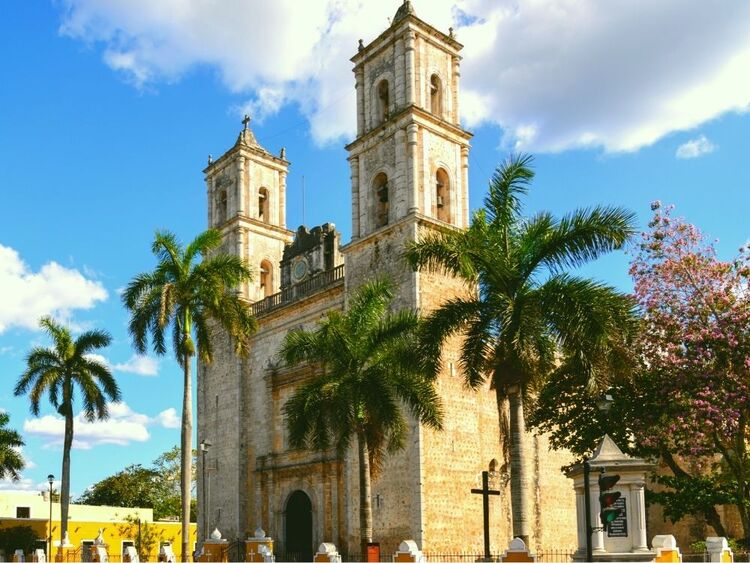 7. Mexico City
While many people don't associate beauty with big cities, they'd be wrong in the case of Mexico City. While Centro Historico and the Zocalo (Historic Downtown and the Town Square) may not be everyone's cup of tea, the smaller neighborhoods are quieter, calmer and absolutely beautiful.

Among the most beautiful parts of Mexico City are the Roma, Condesa and Juarez neighborhoods. These parts of town have tree-lined streets and vintage buildings in every architecture style, from art deco to French Renaissance! There's also beautiful street art to admire, sidewalk cafes and some of the best parks in Mexico City.
Speaking of parks, Mexico City has one of the biggest urban parks on Earth, Parque Chapultepec (Chapultepec Park). In fact, the city is full of green spaces and parks, which often shocks most visitors.

Back in Centro Historico, you'll find many of the beautiful, iconic Mexico City buildings. One of the city's best-known buildings, Palacio Bellas Artes, a golden-domed Italian Renaissance theater, is here and right next to the Alameda Park.

Just across the street from the park, you're in Barrio Chino (Chinatown). Didn't know there was a Chinatown in Mexico City?! You're not alone! Though not a big Chinatown by any means, it's certainly a pretty one with paper lanterns and parasols strung from one side of the street to the other.
In terms of being beautiful, Mexico City is so visually stimulating that it's hard to ignore. There's everything from large, open parks, to opulent cathedrals and theaters, to tree-lined cafes covered in street art, and so much more beauty to discover in Mexico City.
And your tour will be much easier if you plan an itinerary to Mexico City.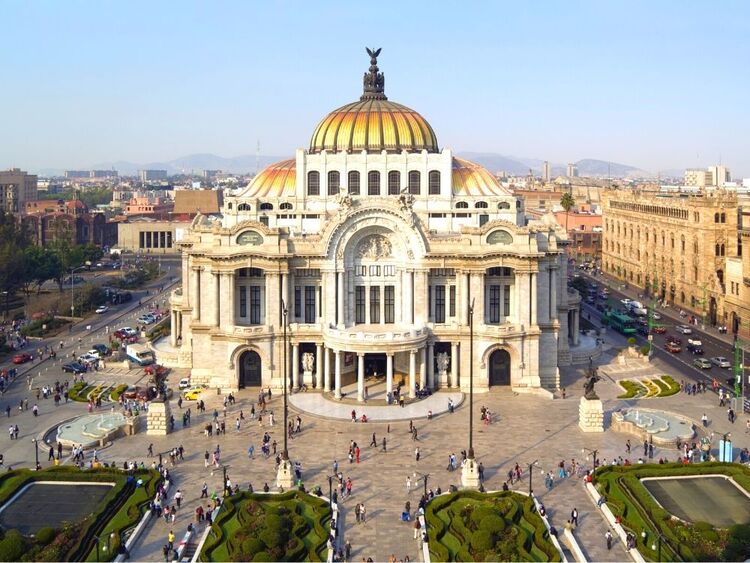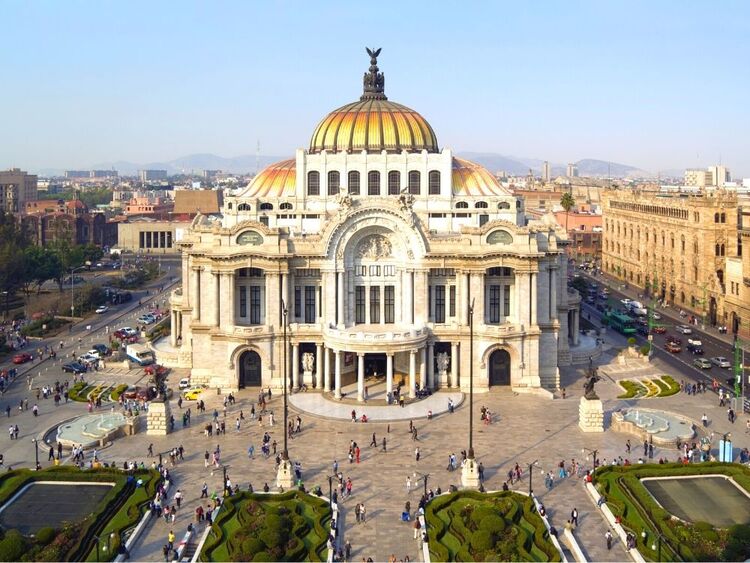 8. Puebla
About three hours from Mexico City by car or bus, you'll find the city of Puebla, Mexico. This is another one of the 35 Mexico UNESCO World Heritage Sites, a prestigious designation awarded by the United Nations Educational, Scientific and Cultural Organization (UNESCO).
Puebla is known for its beautiful colors and for having a lot of churches (legends say there are 365 churches, one for each day of the year!), but also for its food and ties to the Cinco de Mayo holiday.
One of the most underrated foodie destinations in the world, sampling authentic Poblano cuisine is reason enough to visit this historic city — but that's a topic for another blog!
A popular day or weekend trip from Mexico City all year-long, many had to Puebla on May 5th, or Cinco de Mayo. Though a very popular holiday in the U.S. and other countries, in Mexico, it's rarely celebrated outside of Puebla.

Historically, it's the only city with true ties to the holiday, which is often mislabeled as Mexican Independence Day; that is on September 16th.
On May 5, 1862, Mexico declared victory against France at the Battle of Puebla, essentially ending the Franco-Mexican War. As this took place in Puebla, the city has elaborate festivals and battle reenactments each year to celebrate.
Besides Cinco de Mayo, Puebla is a beautiful city on any day of the year. The historic downtown is filled with colorful buildings, especially on the famous Callejón de los Sapos, and you'll find talavera art in many places. Talavera is a colorful Mexican tile and pottery art, most associated with Puebla state.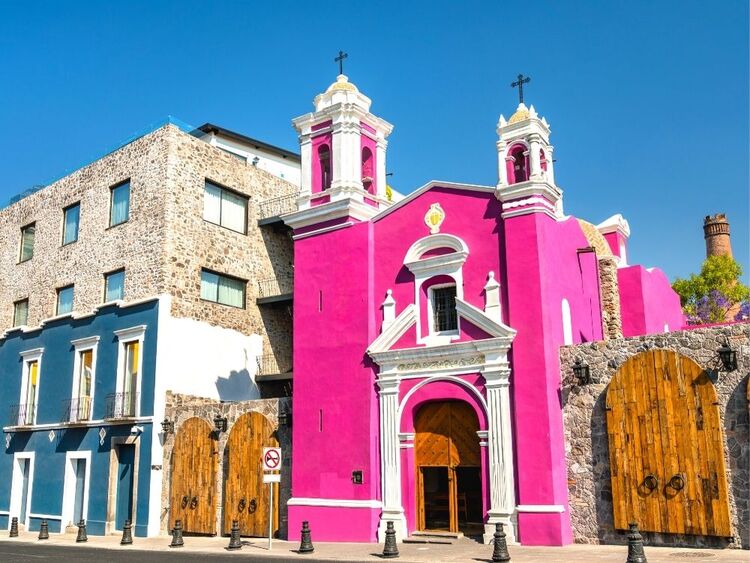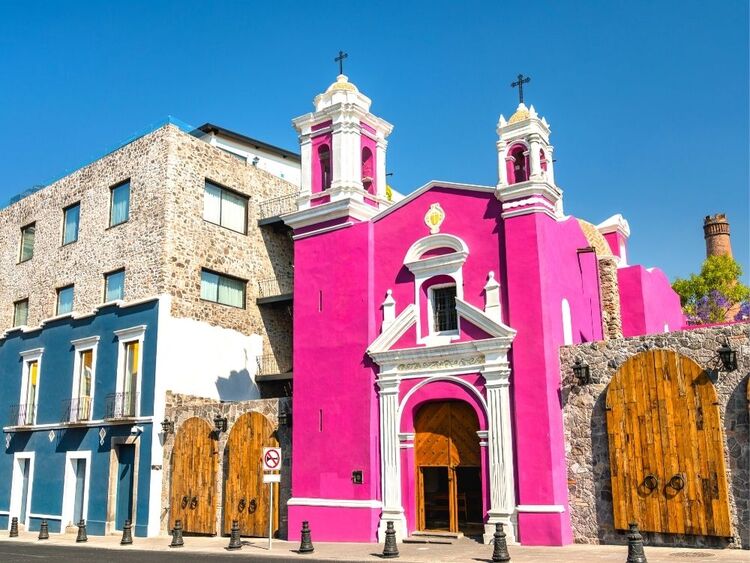 9. Oaxaca City
The last of the UNESCO sites on this list is Oaxaca City. The entire Centro Historico (Historic Downtown) is a UNESCO World Heritage Site, but it's also just a gorgeous city.
Oaxaca City is the capital of Oaxaca state, though most will just say "Oaxaca" when referring to the city. It is considered the cultural hub of not only the state, but also of all Mexico. Oaxaca is also considered the "Foodie Capital of Mexico."

Besides amazing food, Oaxaca hosts some of the most colorful, traditional and fun festivals in Mexico. In July, there's the Guelaguetza Festival (pronounced geh-la-getz-uh), known as one of the largest folk festivals on the Americas Continent. 

Each November 1-2, there's the Day of the Dead festival. This centuries-old holiday dates back to the Aztecs, though its traditions did change a bit during the Spanish Conquest. What remains today, is a beautiful city-wide celebration of our deceased loved ones.
Besides Centro Historico, with its colorful buildings and historic churches, there's also the Xochimilco (so-chee-mill-co) and Jalatlaco (ha-lat-lack-oh) neighborhoods to explore. Xochimilco is the oldest neighborhood in the city, and Jalatlaco is an artist's paradise, with its funky shops, cool galleries and colorful buildings.
The areas surrounding Oaxaca City are great places to explore, both for artists and those who want to buy Mexican folk art. There are several well-known Oaxacan art towns, and each one only makes one type of art.

In San Bartolo Coyotepec, it's barro negro (black clay pottery); in Teotitlan del Valle, artisans produce hand-woven Zapotec rugs; and in San Martin Tilcajete, its alebrijes (al-lay-bree-hays). These are colorful animal hybrid characters, said to act as spirit guides, and as they are handmade, no two alebrijes are alike.
If you are still a little bit unsure about your travel to Oaxaca, check this article with things to do in Oaxaca.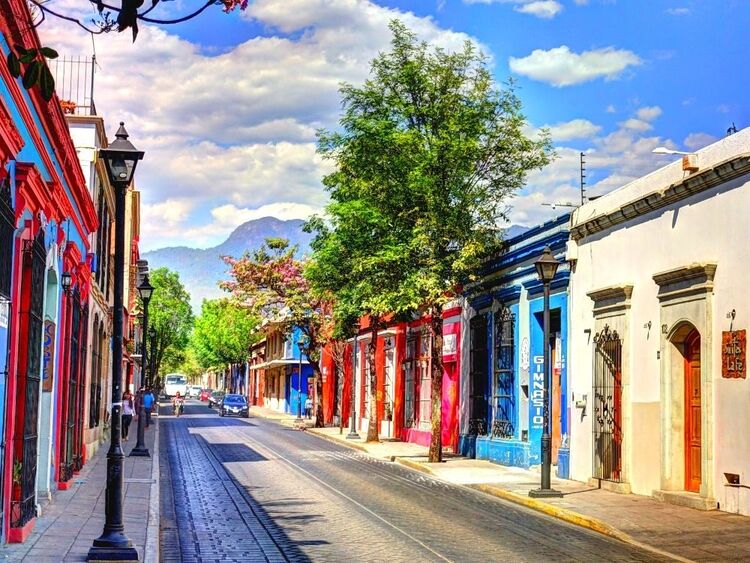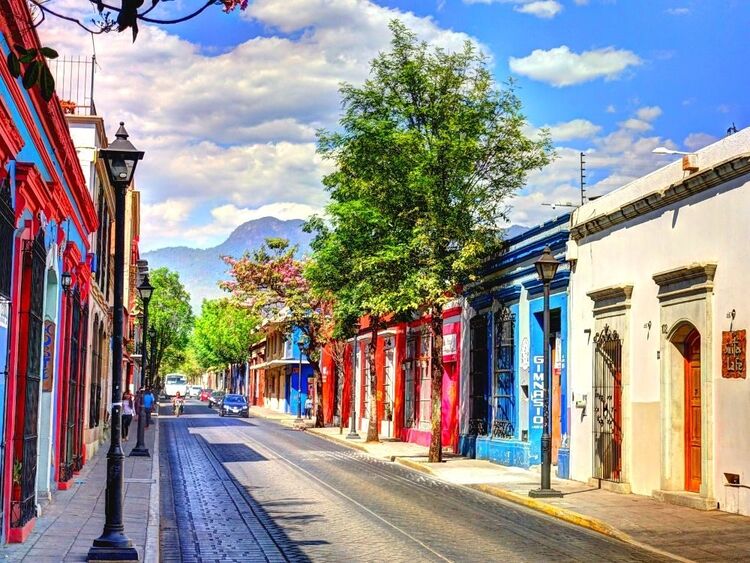 10. Taxco
The final city on the list is Taxco de Alarcón, Mexico, in the state of Guerrero. This is another one of the pueblos magicos (magic towns) and looks like something straight out of a storybook.
The large, Parroquia de Santa Prisca y San Sebastían, AKA the Church of Santa Prisca, towers over this mountain town. This Spanish colonial cathedral was once the tallest building in Mexico but has since been surpassed by another church. Regardless, it's hard to miss, and also quite stunning.
Taxco is located high up in the Sierra Madre mountains, so it is a very hilly town. When visiting, many will take a taxi up to the top of town and walk down to the bottom though it's winding alleys with cobblestone streets. Adding to the charm, all taxis in Taxco are vintage VW bug cars!
The city is heavily associated with silver — both for silver mining and for the local Taxco silver artisans who craft it into jewelry, silverware and more. Nowadays, mining has taken a backseat and tourism has taken over as the way many earn money.
Taxco's reputation for beautiful, handmade silver pieces, along with its stunning and picturesque landscape, have been drawing the attention of more and more visitors each year. Located only about three hours by car or bus from Mexico City, Taxco is fast becoming a Mexico bucket list destination.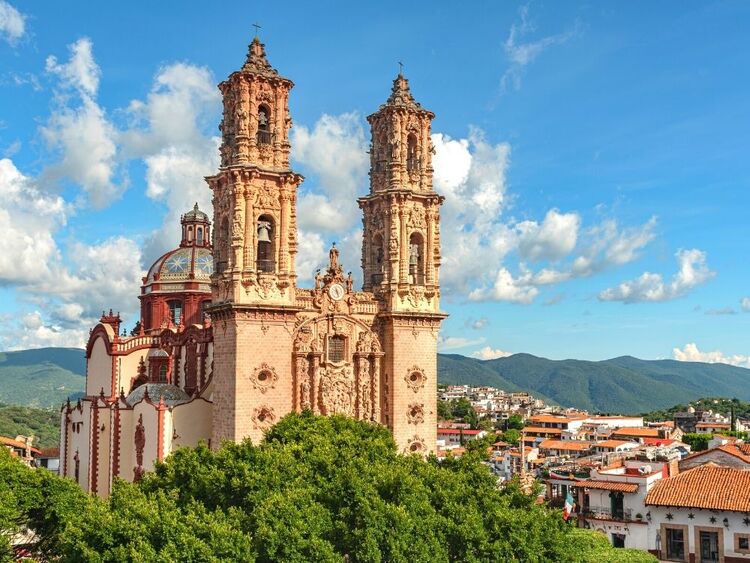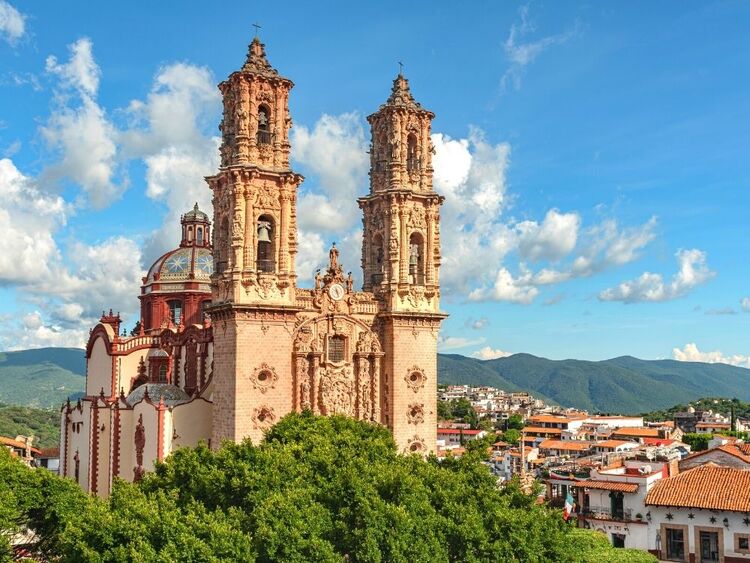 Which of these beautiful cities in Mexico caught your eye?
Activities, attractions, and tours to do in Mexico
If you are planning to visit Mexico and would like to take tours and excursions, I recommend using Get Your Guide or Civitatis to search for the best activities in the region. There you can find tours from a few hours to full-day excursions.
On both platforms you can compare prices, select activities, filter the best options based on your tastes, see attractions based on the dates you want to visit the place and much more!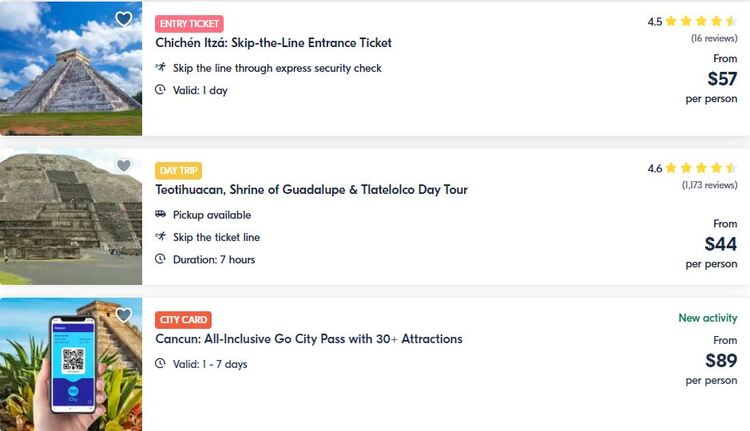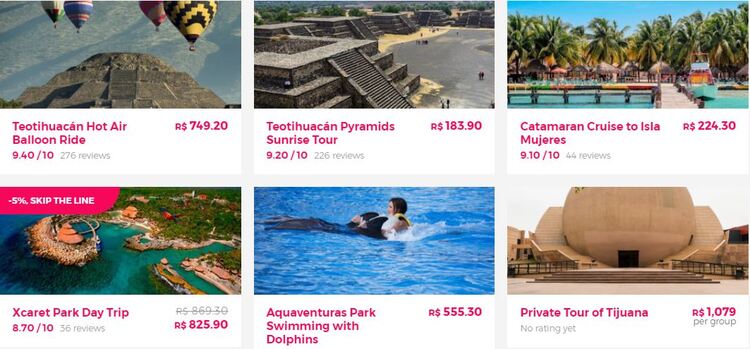 In short…
The 10 most beautiful cities in Mexico for you to visit are:
San Miguel de Allende

Merida

Tulum

Guanajuato City

Puerto Vallarta

Valladolid

Mexico City

Puebla

Oaxaca City

Taxco
________________
BIO
Shelley is a former Miami travel magazine editor who ditched the office for the world! After traveling solo to 14 states in Mexico, she now lives in Merida, Mexico full time. Shelley now helps other women cross Solo Travel and Mexico Travel off their bucket list through her Travel Mexico Solo blog and Dream To Destination podcast.
________________

SOCIALS

Instagram
Planning your next trip?
Then don't forget travel insurance! You don't want to get stuck paying a ton of money and ruining your trip if you get sick or have an accident without travel insurance. WorldNomads is ideal for adventurous travelers, backpackers, or anyone looking to be protected during their trip. They cover almost every single activity you can image!
Already reserved your hotel or hostel? If not, we recommend Booking.com. They have a huge selection of hotels and hostels all over the world. Plus, in most cases, you can cancel your reservation without any costs up to a few days before the check-in date!
Still haven't booked your plane ticket and want to save big? Take a look at Kayak and Momondo. They are flight aggregators that combine several other ticket search websites to make it easier for you to compare prices and make sure you are getting the best deal. 
And finally, will you need to rent a car during your trip? Then check out Rentalcar.com to search and compare car rental companies from all over the world on a single website. Then, you can find the cheapest price for the best car!