Last Updated on by Rodrigo @ OutofYourComfortZone
13 excellent and different guided tours around France. Tours with a variety of prices, days, destinations, themes, age, luxury level, and adventure.
Tourism in France is a unique experience. With its rich history, diverse culture and stunning landscapes, the country offers a plethora of attractions for all tastes and interests.
Paris, the French capital, is one of the most popular and iconic destinations for visitors. Known as the "City of Light", Paris is home to such wonders as the Eiffel Tower, the Louvre and Notre-Dame Cathedral. Visitors can stroll the charming streets of Montmartre, explore the cafes and shops of the Champs-Élysées and enjoy authentic French cuisine at one of the city's many renowned restaurants.
In addition to Paris, France has a plethora of other fascinating cities such as Nice, Marseille, Lyon and Bordeaux.
For those looking for stunning natural landscapes, France does not disappoint. The Provence region is known for its lavender fields and villages. In addition, France is famous for its majestic castles. These magnificent historic buildings transport visitors back in time and are true architectural masterpieces.
With an efficient transport network and a wide range of accommodation, tourism in France is accessible and welcoming. Visitors have the opportunity to immerse themselves in the rich French culture, enjoy world-renowned cuisine and explore stunning landscapes.
In short, tourism in France is an incomparable experience. Whether exploring the streets of Paris, admiring the beauty of the natural regions or immersing yourself in the country's history and culture, travelers will find a variety of experiences that will remain in their memories forever. France is truly a magical destination that captivates and delights all who visit.
Top 10 Tourist Attractions in France
Before we get to the central point of the article, how about discovering some of the most renowned tourist attractions in the country to help you in your search for excursions and itineraries that best suit you?
As mentioned earlier, a large part of French tourism is related to natural phenomena and scenic beauties. Here are the top 10 tourist attractions that generate great interest in France:
Eiffel Tower in Paris: A globally recognized icon, symbolizing Parisian elegance and grandeur.
Notre-Dame Cathedral in Paris: A Gothic masterpiece that captivates visitors with its impressive architecture and magnificent stained glass windows.
Nice Beach on the French Riviera: A stunning coastline with sunny beaches, crystal-clear waters, and a sophisticated atmosphere.
Palace of Versailles: A dazzling palace dating back to the era of the French monarchy, with its impeccable gardens and stunning opulence.
Loire Valley: A region full of majestic castles, such as Château de Chambord and Château de Chenonceau.
Mont Saint-Michel, Normandy: A rocky island with an imposing medieval abbey, surrounded by a mystical atmosphere and breathtaking landscape.
Mont Blanc in the French Alps: The highest mountain in Western Europe, offering stunning landscapes, challenging trails, and world-class skiing opportunities.
Louvre Museum in Paris: One of the largest and most famous art galleries in the world, home to masterpieces like the Mona Lisa.
Carcassonne in Languedoc-Roussillon: A fortified medieval city that looks like it came straight out of a fairy tale, with its imposing walls and cobblestone streets.
Papal Palace in Avignon: An impressive palace that bears witness to the power of the Catholic Church in the Middle Ages, with its beautiful gardens and grand halls.
Is it better to travel independently or in group tours in France?
Regardless of whether you choose independent travel or group tours, each option has its own positive and negative aspects.
When traveling independently in France, for example, you have greater flexibility to create your own itinerary and choose activities that align with your interests, without having to strictly follow a group's plans.
Furthermore, you'll have the autonomy to do what you want, when you want, at your own pace, and the freedom to explore France in your own way, without being tied to a fixed schedule. It's worth noting that this option can also be more cost-effective, depending on the choices you make regarding accommodation, transportation, and sightseeing.
However, traveling independently requires detailed planning, with research on accommodation, transportation, and activities, which can be time-consuming and laborious. Communication can also become a challenge if you don't speak the local language. Additionally, there are security risks in more remote areas that need to be taken into account.
On the other hand, on a group tour in France, you'll have company, and it's a great opportunity to meet people with similar interests. Traveling in a group can be more relaxed and enjoyable, and being accompanied by a local guide who knows France like the back of their hand provides an added sense of security.
However, this option may somewhat limit your freedom, especially if you want to have a more flexible trip without commitments to pre-determined schedules and itineraries.
In summary, the choice between traveling independently or on a guided group tour depends on your personal preferences. Both options have their advantages and disadvantages, and it's up to you to decide what is best according to your profile.
But if you prefer to travel independently, check out our selection of the 12 Best Ways to Prepare for Your Trip to France. I guarantee it will make your life easier!
| | |
| --- | --- |
| Pros of traveling on a group tour | Pros of traveling on your own |
| Company and opportunity to meet people with similar interests | Flexibility to create your own itinerary and choose activities |
| Peaceful and fun group experience | Autonomy to follow your own schedule |
| More safety when riding in a group, especially with an experienced local guide | Freedom to explore Iceland without having to stick to a schedule |
| Less need for planning and research as the tour already provides accommodation, transport and activities | Potential savings, since depending on the choices it can be cheaper |
| Possibility of access to places or activities that may be difficult or impossible to reach alone | Potential savings, since depending on the choices it can be cheaper |
13 Best Tours and Itineraries to Explore France
Best Iceland Tours and Itineraries for Guided Small Group Adventures
   1. GAdventures – France Family Journey (9 Days)
Explore the wonderful history, art and culture of France on an adventure that ranges from the iconic monuments of Paris to the incredible cave dwellings of the Loire Valley.
Discover secret places in the splendid gardens of Giverny and Versailles, study the strategies behind WWII operations and unlock ancient mysteries in the halls of historic castles and cloisters. From crepes to cathedrals, discover the many treasures this incredible country has in store for travelers of all ages.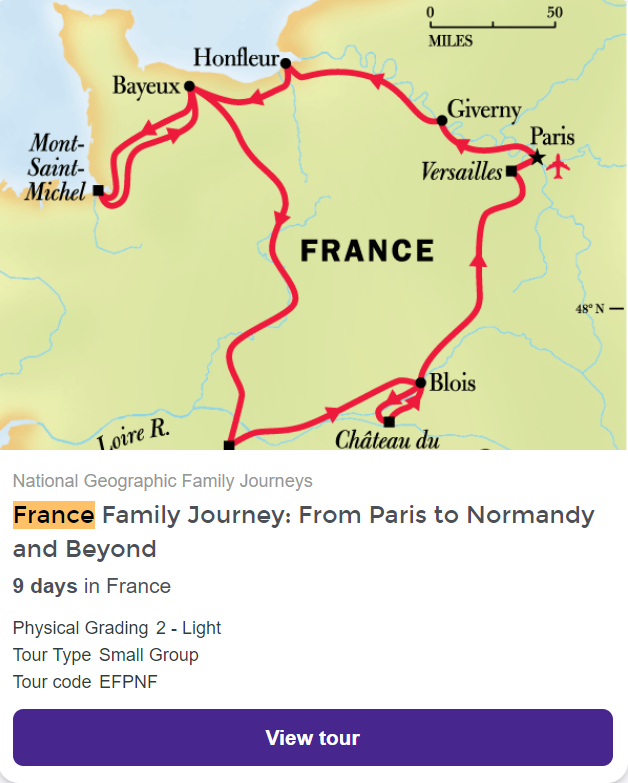 2. GAdventures – Paris and Normandy Highlights (8 Days) 
Connect with France's rich history and culture as you embark on a journey from the evocative gardens of Giverny to the hallowed battlefields of Normandy. Marvel at the medieval towns of Bayeux and Rouen, touch WWII uniforms and other D-Day artifacts, and discover the incredible monastery of Mont-Saint-Michel, a gravity-defying UNESCO World Heritage Site.
End your adventure by exploring the sights and sounds of Paris – and toast the captivating capital with fine French wines and cheeses.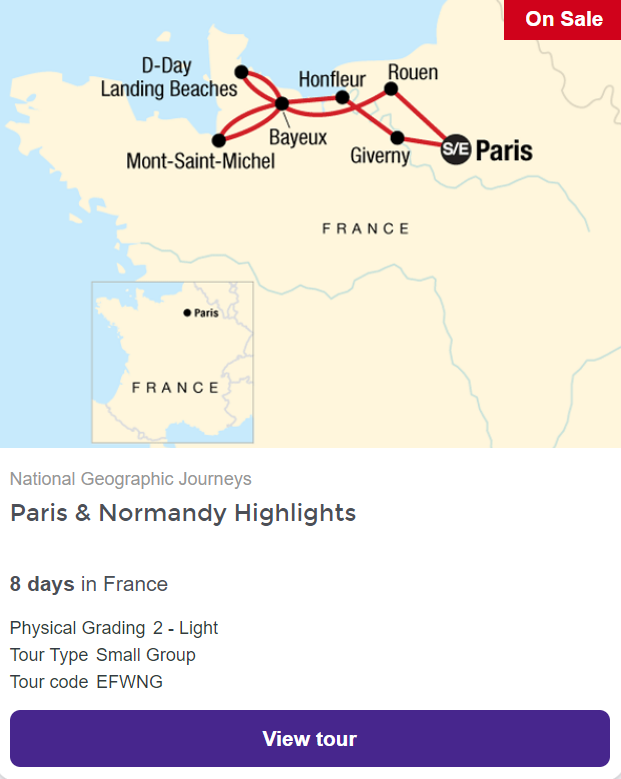 3. Intrepid – Cycle Provence (8 Days) 
Winding through rows of vineyards, under imposing aqueducts and through forests on this exhilarating cycling adventure through Provence. This journey through the south of France is an idyllic combination of scenic trails, historical sites and wine tasting. Visit the serene gardens of St. Remy to see where Vincent van Gogh created his famous works.
Indulge in regional red wines at a winery near Avignon. Walk the cobbled streets of Les Baux and marvel at the breathtaking views from the top of its limestone cliffs.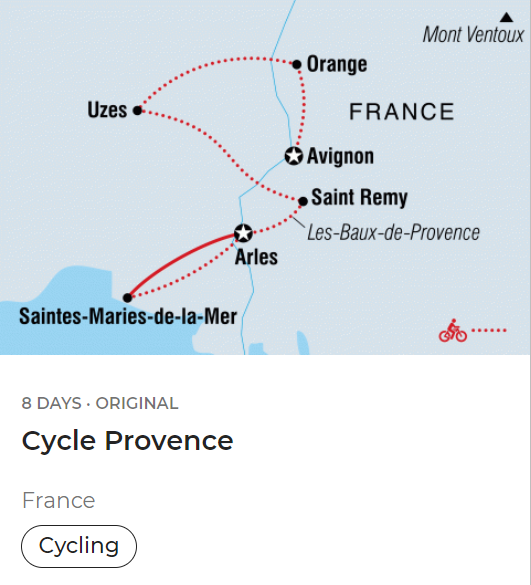 4. Intrepid – Mont Blanc Highlights (8 Days)
If you're looking for unforgettable alpine vistas, rewarding hikes and a fantastic place to rest each night, you've come to the right place. Embark on an eight-day hiking adventure through the Alps, traversing awe-inspiring scenery each day before returning to your base in Chamonix.
With cable car rides included on multiple days, you'll have more time to explore and less time to tackle grueling climbs, and with an International Mountain Guide leading the way, you can be confident you're in good hands. From glistening glaciers to mirrored lakes, the best of the Alps is revealed on foot.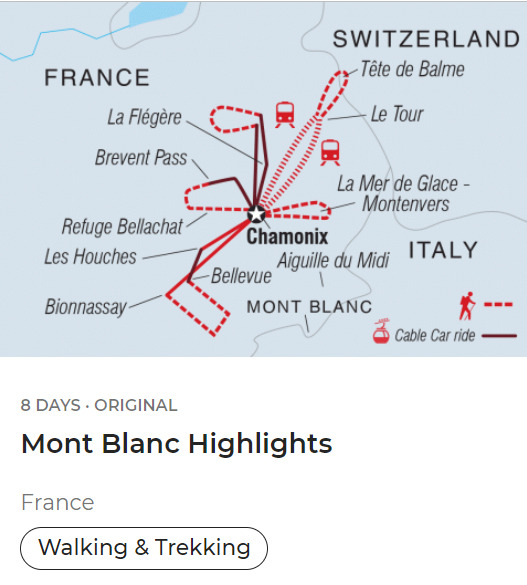 Best Iceland Tours and Itineraries for Groups of Young Singles (18-35 Years Old)
   5. Contiki – Food and Wine in a French Chateau (4 Days)  
A mouth-watering gastronomic and oenological odyssey, with the 16th-century Château as the base.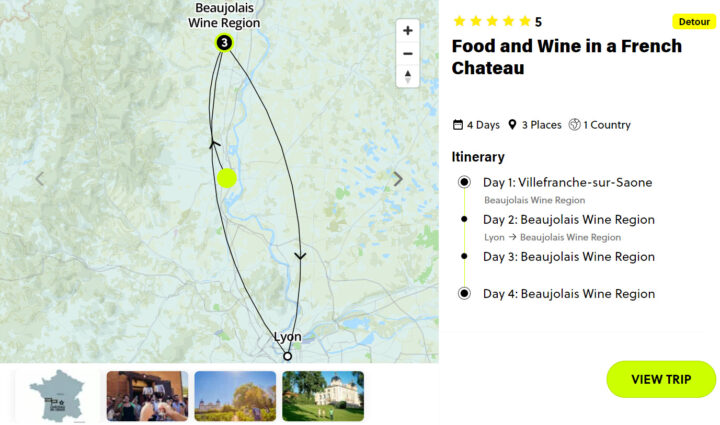 6. Contiki – Paris for New Year (4 Days)
There's so much to see in Paris, so experience the elegant French capital in depth on this 4-day New Year's Eve package. See the city on an "Illuminations" tour, visiting the must-see sights!
Take time to live like the locals do, sampling authentic French cuisine, relaxing on a Seine River cruise or immersing yourself in the city's cultural side by exploring its many museums, galleries and cafes.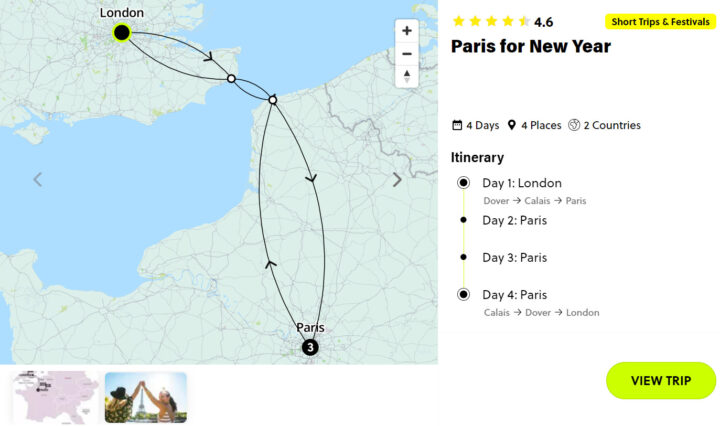 7. Contiki – Paris for Christmas (4 Days)
All year round, Paris has the ability to bring us to our knees with its idyllic and enchanting vibes. And this only increases when the city is covered in snow and full of Christmas spirit. Depart London and enjoy the festivities and winter wonderland that is a traditional European Christmas.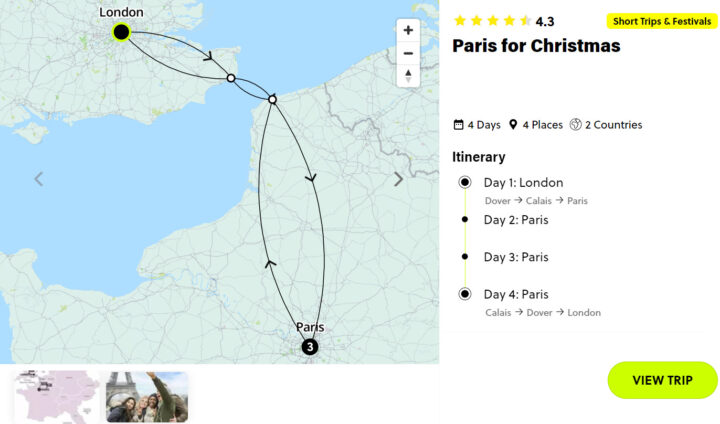 Best Luxury and Comfort Iceland Tours and Itineraries for Small Groups with Guides
   8. Trafalgar – Best of France (13 Days) 
Expect only the best on one of our favorite trips around France, starting and ending in Paris. Spend the night like a French nobleman in an elegant Château in the Loire Valley, be inspired by the beauty of Provence like Cézanne and visit the playground of Monaco.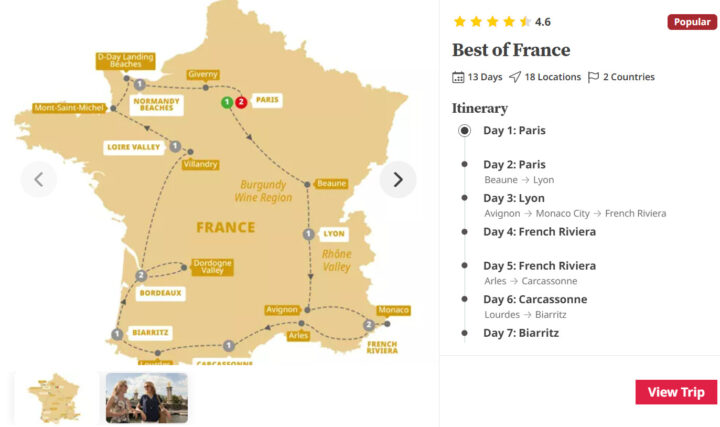 9. Insight Vacations – Country Roads of France (16 Days) 
A 16-day guided tour that embraces the best of the country, from fortified cities to fine wines. Drive along the Grand Prix circuit in Monaco, stopping to visit its cathedral, where Princess Grace was buried.
In Avignon, play pétanque, a sport similar to bocce, and celebrate your new skills with a refined French aperitif. Travel to Carcassonne, a fortified city complete with ramparts and a medieval tower. Drive through the Dordogne Valley and enjoy farm-to-table dining accompanied by regional wine in Sarlat-La-Canéda.
In Paris, enjoy the most beloved spots in the City of Lights: marvel at the Eiffel Tower, gaze at the glorious facades of the Louvre and be driven along the elegant Avenue Champs-Élysées to Napoleon's Arc de Triomphe.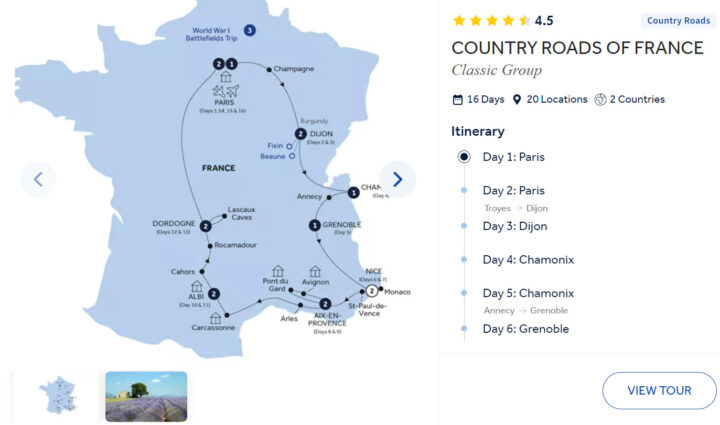 Tourradar's Best Iceland Tours (Best Site to Search and Compare Iceland Tours of Different Lengths, Styles, Prices, and Operators)
   10. Tourradar – Provencal Days (6 Days)
Start in Avignon and end in Aix-en-Provence! With this cultural tour, you will have a 6-day tour package that will pass through Avignon, France, and 7 other destinations in the country. The tour includes hotel accommodation, meals and more.

   11. Tourradar – Romantic France (8 Days) 
Start and end in Paris! On this tour, you will have an 8-day tour package that will pass through Paris and 13 more destinations in France. The tour includes hotel accommodation, an expert guide, insurance, meals, transportation and more.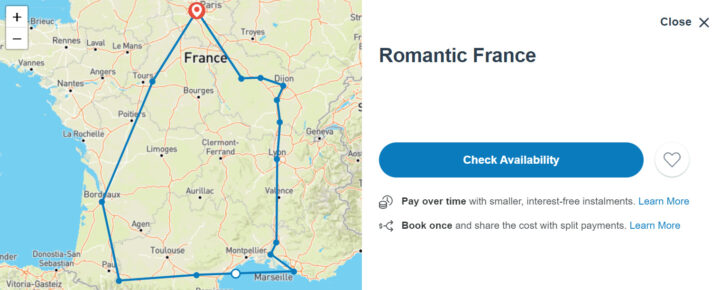 12. Tourradar – French Dream (5 Days) 
Start and end in Paris! With this tour, you will have a 5-day tour package that will pass through Paris and 14 more destinations in France. Tour includes hotel accommodation, an expert guide, insurance, meals, transportation and much more!

   13. Tourradar – Best of France Tour (6 Days)
Start and end in Paris! With the cultural tour, you will have a 6-day package that will pass through Paris and 9 other destinations in France. The tour includes hotel accommodation, an expert guide, meals, transportation and more.

Concluding…
We noticed that there are many companies offering amazing tours, excursions and tours around France, from exciting adventures to cultural and relaxing experiences.
With so many options available, you need to conduct detailed research before choosing a company that meets your needs and expectations. We recommend checking the reviews of other travelers to ensure you are choosing a reliable option, as well as checking details such as the accommodation options on offer.
Regardless of the company you choose, I can assure you that going to France will be amazing!
Planning your next trip?

Then don't forget travel insurance! You don't want to get stuck paying a ton of money and ruining your trip if you get sick or have an accident without travel insurance. WorldNomads is ideal for adventurous travelers, backpackers, or anyone looking to be protected during their trip. They cover almost every single activity you can image! Plus, you can have a 5% discount with the coupon code comfort5. 

Already reserved your hotel or hostel? If not, we recommend Booking.com. They have a huge selection of hotels and hostels all over the world. Plus, in most cases, you can cancel your reservation without any costs up to a few days before the check-in date! 

Still haven't booked your plane ticket and want to save big? Take a look at Momondo. It's a flight aggregator that combines several other ticket search websites to make it easier for you to compare prices and make sure you are getting the best deal. 

And finally, will you need to rent a car during your trip? Then check out Rentalcar.com to search and compare car rental companies from all over the world in a single website. Then, you can find the cheapest price for the best car!