Last Updated on by Rodrigo @ OutofYourComfortZone
I know that much of the travel advice out there is for people traveling on their own. However, "backpacking" isn't for everyone!
So today, I want to discuss another option: going on group tours. But there's a lot of options and a lot of companies to choose from!
I already have some articles about the best tour companies (such as the 5 Best Group Tour Companies for Young Solo Travelers and the 5 Best International Tour Companies for Adventure Travel).
But I didn't yet have an article about the best websites you can use to search for and compare tours from these companies.
And that's why I prepared this article with tips about the 5 biggest & best websites to buy tours around the world, as well as the step-by-step process you can follow to choose the right tour for you.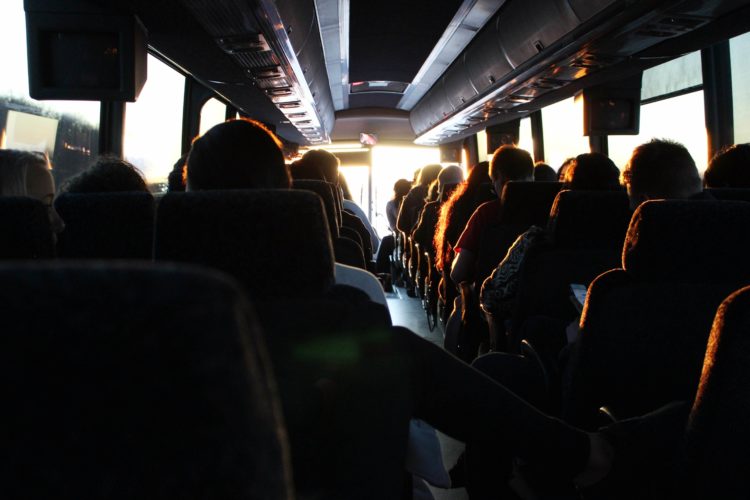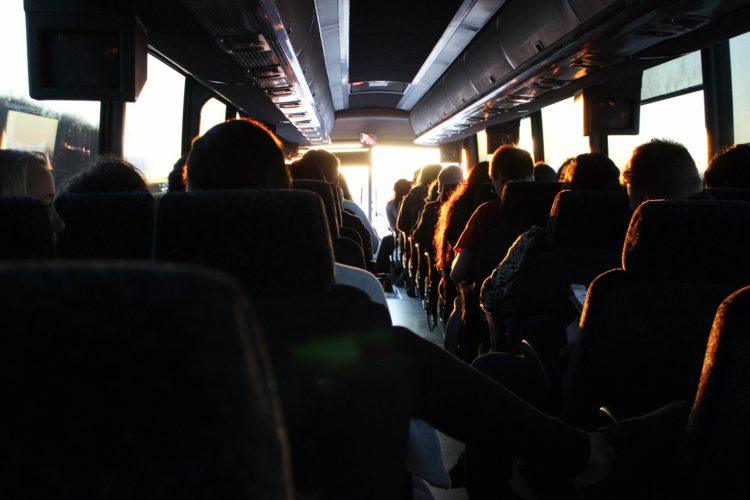 So, how do these websites to buy tours work?
Okay, let's start by talking about how these sites actually work since there's a difference between the websites to buy excursions here and the agencies/companies that actually offer them.
What the websites I'm going to be talking about today do are let you compare the prices and different options that tour agencies/companies offer while filtering by things like :
Dates and length of trip

Destinations

Age of traveler(s)

Type of trip

Type of accommodation (

shared dorm in hostels, 5-star hotel, etc.

)

Prices
Websites like this are common for flights, such as Skyscanner, Momondo, and Kayak, which show you flight options for a wide range of airline companies. The websites in the list below work essentially in the same way, where they earn money by receiving a percentage of the sale through the comparisons of the diverse tours they offer.
I like these websites because they let you compare prices, as well as see all the options for the type of tour you want to do all at once. By seeing all the available tour options at once, you'll certainly be able to find a tour that's right for you no matter where you want to go in the world!
What are the 5 best websites to search for, compare, and buy international tours around the world?
Now that we've gone through how these websites actually work, it's time to talk about what they actually are.
The biggest and best websites to search for international tours are:
TourRadar

Travel Talk

Affordable Tours

Solo Female Travelers Tours

Tours 4 Fun
I'll talk a bit more about each tour in detail below.
TourRadar is a company founded in 2010 which has grown into one of the most versatile websites when it comes to multi-day trips and excursions.
The company was founded by two Australian brothers, Travis and Shawn Pittman, who decided to create a company that aims to connect people with unforgettable travel experiences.
Because of this, you'll find lots of options for tours from many different companies on their website – from classic excursions to cities like Rome, Paris, and London, to more adventurous trips like biking around the island of Madagascar or doing extreme sports in New Zealand.
You can also find tours specifically for young travelers, adults, singles, or even luxury travel. In other words, there's something for everyone!
Better yet, like the other websites below, you can see reviews from other travelers who have done the tours so you know exactly what to expect before booking.
Given how widespread TourRadar's offering is, they are considered to be one of the best websites to search for and buy tours in the world, and have won a number of prizes in the past 5 years for their innovations in travel.
Ah and just so you know…TourRadar also gives away a free tour to someplace in the world each month!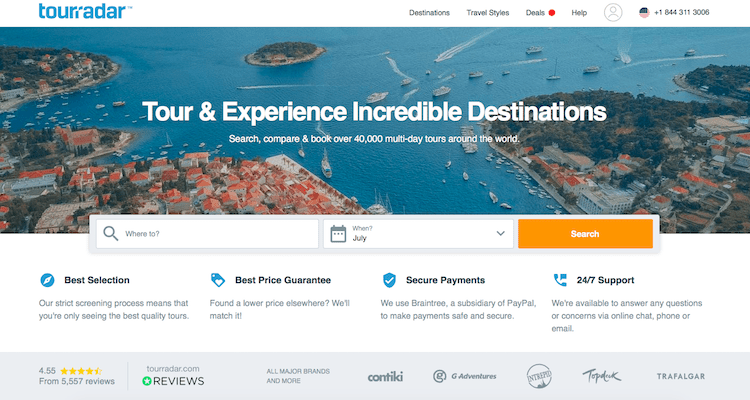 To enter, just go to this link here or click the image below.
Win a free tour with TourRadar!

Travel Talk is a slightly different company from the ones mentioned above, because it works with its own tours instead of working with third parties. This has its advantages since it is possible to trust the qualities of the excursions, as you are negotiating directly with those involved.
However, the company does not offer so many options for tours, some of the main destinations served by Travel Talk are: Egypt, Greece, Turkey, Portugal, Africa, Vietnam, Peru, among other diverse options.
This company is very famous in the tourism industry and most of the comments on Travel Talk praise and comment on how well qualified the tour guides were. Another positive point is that TravelTalk prices are well taken into account when compared to other companies in the industry.
Each tour is designed to be a unique experience and the company is very conscious about the safety of customers and employees, always following the recommended protocols, it is no wonder that the company has the "Safe Travels" seal offered by the World Travel Council and Tourism (World Travel and Tourism Council).
In addition, they have special flexible conditions, such as cancellation without penalties and clear, pre-informed fees. Nothing to be scared of during your tour with expenses not previously informed!
It is worth remembering that TravelTalk is not an adventure travel company nor are they specialized in excursions for groups of young Singles, but it is a great and recommended option for travelers to visit classic destinations and local tours with experienced guides.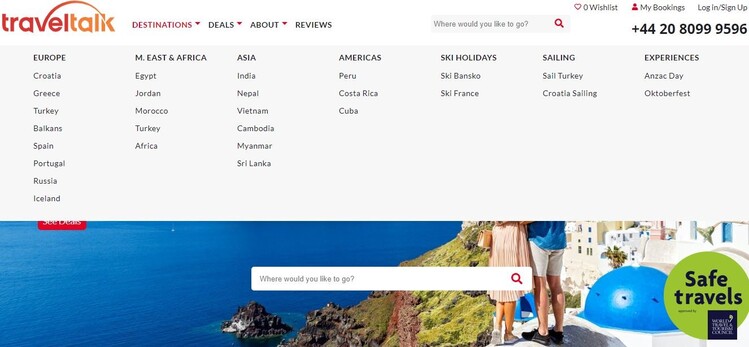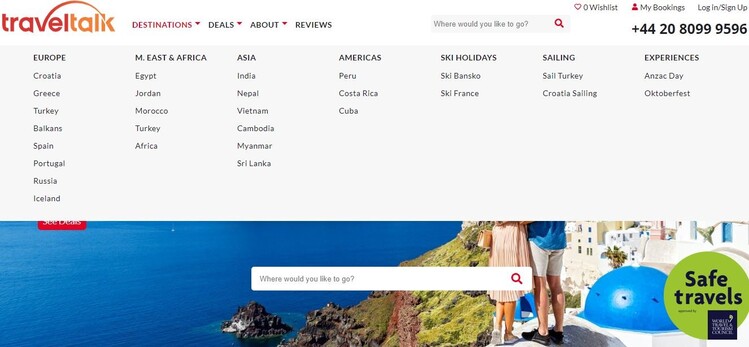 Affordable Tours is the oldest company on this list as it was founded in 1999. They're an award-winning company in the tourism area, and have trips and excursions to all the continents.
What makes Affordable Tours different from the others is right in its name – their offer of cheap trips. This doesn't mean that the trips you'll find on the website are inferior to the other companies, quite the contrary.
The great thing about Affordable tours is that they've chosen high-quality tours at the lowest price they can be so as many people as possible can travel worldwide.
As with the other websites, you'll find a wide variety of tours here, from romantic tours to the loveliest cities in Italy to adventure excursions in Thailand, historical explorations in Africa, and visits to the most incredible beaches in Central America. Just do a bit of research and type in where you want to go to see all the tour options available to you.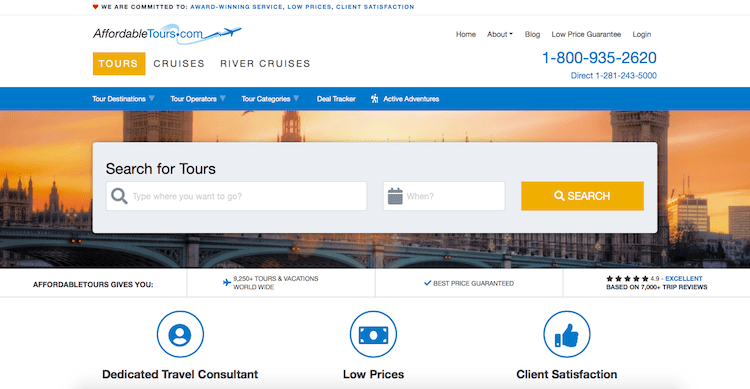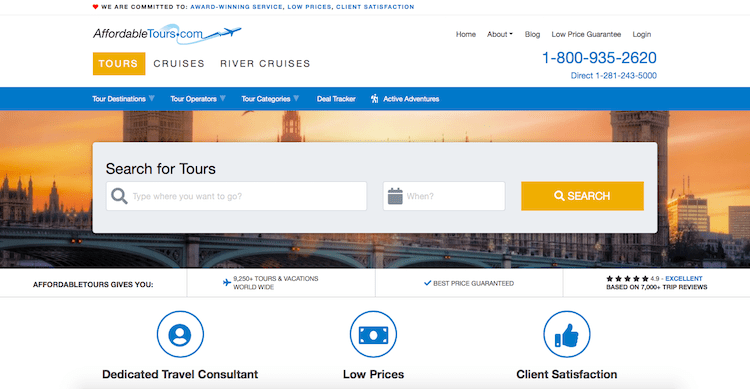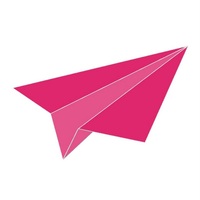 SFT Tours is a company for people traveling alone and wanting to participate in a women-only tour in small groups to destinations such as Iceland, Tuscany, Tanzania, Sudan, Mongolia, and Antarctica.
This company has a community of 100,000 members on Facebook called Solo Female Travelers, and they want women the opportunity to travel the world, even if they don't have a friend or partner to go with.
Solo Female Travelers empower women to travel alone while recognizing that safety and accessibility are some of the concerns of women traveling alone, so they organize small group tours to destinations that are typically too challenging or less challenging to travel alone.
They match you with another woman who travels alone, so it's also a great opportunity to make new friends. All of your trips support women owned/focused/led companies and partner with companies that align with their mission to empower women.
Your walks on Kilimanjaro are led by one of only 6 female guides (out of 2,000!) who work on the mountain. There are a wide variety of options, from luxurious getaways in the Italian countryside to epic adventures such as motorbike expeditions through Mongolia.

Tours4Fun is another one of the biggest websites to buy international tours. Unlike TourRadar, beyond just comparing and booking excursions around the world, you can also book hotels, cruises, and guided tours/attraction tickets within a city that you're visiting.
Tours4Fun was founded in 2006 and has become well-known in the tourism industry worldwide. They've grown and become even more well-known with the joining of the Chinese tour company Ctrip.
Another interesting thing to mention is that the website has a forum where travelers can discuss specific destinations and tours, give tips and opinions, and talk about the best types of trips for each type of traveler. Finally, you can also leave reviews and notes about tours you've done, which lends more credibility for other people who are thinking of buying these same tours.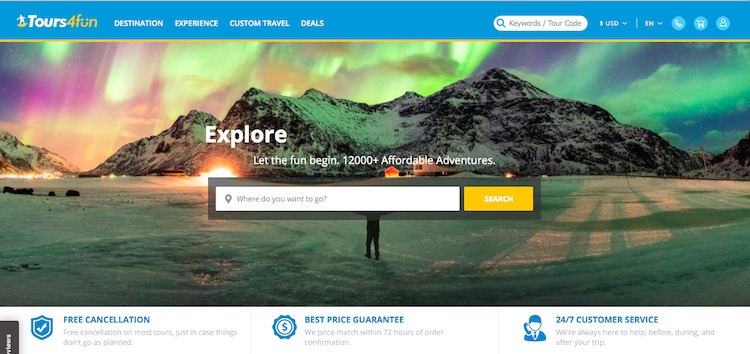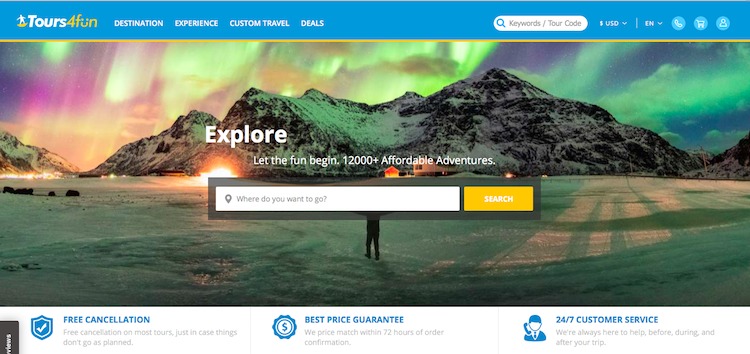 Comparison table of the 5 biggest & best websites to buy tours around the world
| | | | | | |
| --- | --- | --- | --- | --- | --- |
| Website | TourRadar | Travel Talk | Affordable Tours | Solo Female Travelers Tours | Tours 4 Fun |
| Has tours for couples | Yes | Yes | No | No | Yes |
| Has tours for seniors | Yes | No | No | No | No |
| Has tours on all 7 continents | Yes | Yes | Yes | No | Yes |
| Has a discussion forum for travelers | No | No | No | Yes | Yes |
| Has reviews of tours from previous travelers | Yes | Yes | No | Yes | Yes |
| Has specific trips for children | Yes | No | Yes | No | No |
| Has luxury travel trips | Yes | Yes | No | Yes | Yes |
| Focuses on cheap trips | No | Yes | Yes | Yes | No |
| Has tours for young adults | Yes | Yes | No | Yes | No |
Is it worth buying a tour from one of these websites?

Or is it better to travel on your own?
After learning more about these websites, many people ask if it's worth buying a tour or if they should just organize a trip themselves.
There isn't an easy answer here since everybody has different travel styles and expectations. So, I created the table below comparing a trip organized on your own versus one purchased via one of the websites listed above.
| | | |
| --- | --- | --- |
| | Going with a tour | Organizing a trip on your own |
| Possibility of meeting new people | Yes | Yes |
| Flexibility in the itinerary | No | Yes |
| Worrying over food & accommodation | No | Yes |
| Quick help with any type of emergency | Yes | No |
| Possibility of saving extra money during your trip | No | Yes |
| Help with getting entrance tickets to attractions | Yes | No |
| Special discounts for groups | Yes | No |
As you can see, there are pros and cons to getting a tour from websites like the ones listed above and to organizing a trip on your own.
The best advice I can give is to weigh each side before making your decision.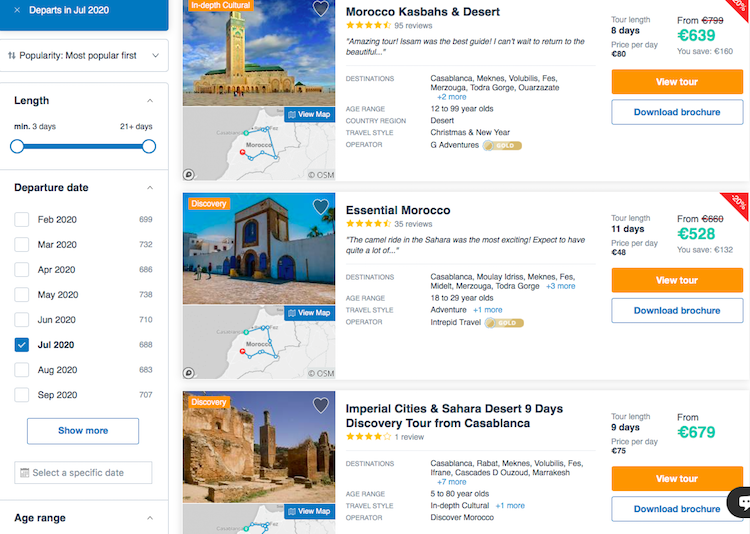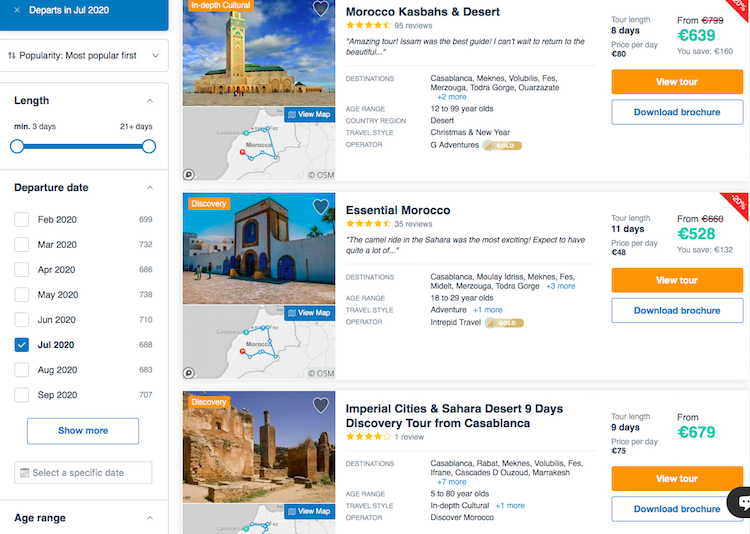 How to choose the right tour for you: a step-by-step process
Now that you know the 5 biggest websites to buy tours around the world, saw my table comparing the 5 of them, and have thought about whether or not this is a good option for you, you should have a fairly solid idea in mind of what your trip might look like.
And to help you "solidify" your idea even more, I'll walk you through what you need to do, step-by-step, to choose the best tour for you.
The steps are to look at the following:
Type of tour or excursion

Destination

Dates

Flights

Type of room

Length of excursion

Budget
I'll talk more about each step below.
1. Type of tour or excursion
The first thing that you have to consider when choosing the right tour for you is what you want to do. There's a big difference between a trip to Niagara Falls vs a trip to historic Rome, for example.
Here are some questions to ask yourself:
Will you be traveling on your own or with others? If with others, how many?

Are you looking for adventure?

Are you looking to learn more about a place's history?

What level of physical difficulty would you like your tour to have?

Do you prefer luxury travel or a more basic trip?

Do you want to go on an excursion with many people or in a small group?
These are just a few of the questions you can ask yourself before making a decision. You can add other questions in here which will help you not only in this first step, but in all the others that I'll talk about below.
2. Destination
Once you've decided what type of tour you want to do, it's time to decide where you want to visit.
For example, if you want beaches and parties, then there are specific destinations you'll want to look into.
When considering destinations, make sure to consider not only your budget, but also the tour language, who you'll be there with, and, of course, the cost of a flight there!
3. Dates
The third step is to not only think about what dates you're available, but also the best season for your trip. For example, if you want to ski in Chile, then you have to make sure you're there when there is snow.
It's also worth making sure you know when your destination has holidays (meaning many things are closed) so you're not caught by surprise.
4. Flights
And now it's time to look at flights. The best tip I have here is to book your trip as early as you can so you can get a good flight.
And obviously, there some tour starting destinations that will be cheaper to fly to than others. But no matter where you're flying to, there's always ways to save on your plane ticket.
My articles 16 tips to save on flights and the 3 best websites to search for and buy plane tickets can help you here!
5. Type of room
One nice benefit of buying a tour from one of these websites is that you can filter by what type of room you want to have.
For example, there are options for private rooms in luxury hotels. There are also rooms for couples, perfect for anyone looking for a romantic tour. And for those who want to save and get the most from their trip while spending the least, there are also options to sleep in shared dorm rooms.
As I said, this will all depend on what type of tour you want to do.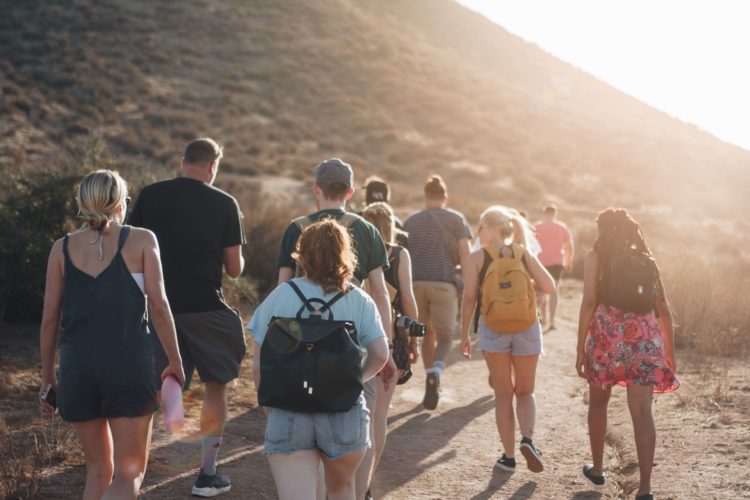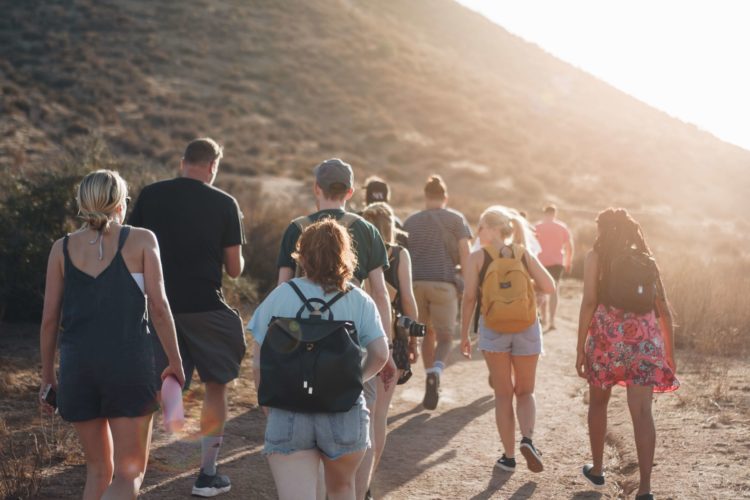 6. Length of tour
Another important thing is to decide how long your trip will be since this decision can affect even the website that you choose to buy your trip from.
If you're still undecided about how long your trip should be, here's some questions to ask yourself:
How much travel time do you have available?

How many places do you want to visit on your trip?

Do you have all the visas and authorizations to stay the length of time that you want to?
As with the first step, you can also add in additional questions to help you decide.
7. Budget
Before settling on a trip, naturally you have to think about your budget and how much you can realistically spend.
Thankfully, each of these websites above lets you filter your searches by price.
On Tour4Fun, you can input the maximum and minimum that you want to pay for a tour. For TourRadar, you can choose the minimum or maximum price that you want to search for by person or by night! I like this feature a lot because it lets you do things like compare the price with a 7-day tour vs a 12-day tour to see which is cheaper per day traveled!

After all, there's no point planning your dream trip if your wallet won't let it be possible. Well, sometimes I do that…but that's just for fun!

So here's my final suggestion: check the prices on all 5 websites! The more you research, the better your chance of finding a tour for the best price possible.
In conclusion…
Whenever you think about doing a tour, no matter where it is or what type, it's always important to also think about the planning that you need to do before booking. Luckily, the 5 websites, the table, and the steps I gave above can help!
So…what'd you think about these 5 websites? Have you used any before? Or any others you would add?
If you have any questions about how they work or any comments about tours in general, let me know in the comment area below. I'm always available to help out!
Planning your next trip?
Then don't forget travel insurance! You don't want to get stuck paying a ton of money and ruining your trip if you get sick or have an accident without travel insurance. WorldNomads is ideal for adventurous travelers, backpackers, or anyone looking to be protected during their trip. They cover almost every single activity you can imagine! Plus, you can have a 5% discount with the coupon code comfort5.
Already reserved your hotel or hostel? If not, we recommend Booking.com. They have a huge selection of hotels and hostels all over the world. Plus, in most cases, you can cancel your reservation up to a few days before the check-in date without any costs!
Still haven't booked your plane ticket and want to save big? Take a look at Kayak and Momondo. They are flight aggregators that combine several other ticket search websites to make it easier for you to compare prices and make sure you are getting the best deal.
And finally, will you need to rent a car during your trip? Then check out Rentalcar.com to search and compare car rental companies from all over the world on a single website. Then, you can find the cheapest price for the best car!