Last Updated on by Rodrigo @ OutofYourComfortZone
13 excellent and different guided tours around Italy. Tours with a variety of prices, days, destinations, themes, age, luxury level, and adventure.
Italy is a country known for its rich history, vibrant culture and beautiful scenery, which makes it a popular tourist destination across the world. With an array of attractions ranging from ancient cities and iconic monuments to stunning beaches and mountainous scenery, Italy offers something for every type of traveller.
One of the main tourist attractions in Italy is the city of Rome, a true window into the past, with its well-preserved Roman ruins and its Renaissance architecture. What's more, Italian cuisine in Rome is simply delicious, with dishes like pizza, fresh pasta and gelato that are enjoyed around the world.
Other must-see cities are Venice and Florence, in the Tuscany region.
Italy is also a dream destination for food lovers. Each region of the country has its own culinary specialty, such as risotto from Milan, Neapolitan pizza, pesto from Genoa and pasta à la carbonara from Rome. In addition, Italy is world famous for its wines, such as Chianti, produced in the Tuscany region.
In addition to historic cities, Italy offers a variety of stunning landscapes. The Amalfi Coast region is known for its dramatic cliffs and seaside villages such as Positano and Amalfi. Lake Como, in the north of the country, is an enchanting place, surrounded by mountains and dotted with charming lakeside villages.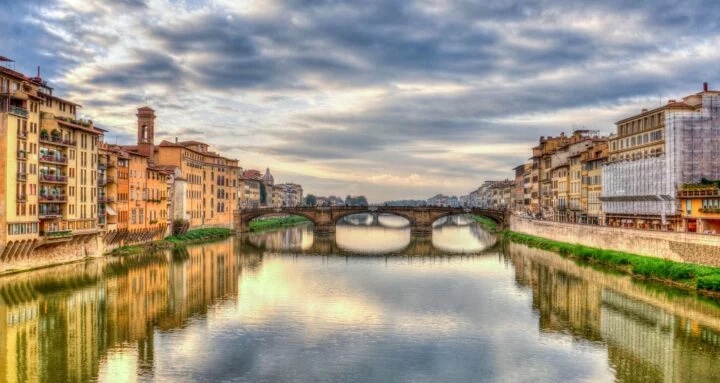 Top 10 Tourist Attractions in Italy
Before we delve into the main subject of this text, it's important to familiarize yourself with some of Italy's most popular tourist destinations to assist you in your search for excursions, itineraries, and tours that suit your preferences.
As mentioned earlier, Italy is a charming country. Below, we present a list of the top 10 attractions and tourist cities that are worth visiting in Italy:
Venice:

Known as the City of Water, Venice offers a romantic setting with its winding canals, gondolas, and the breathtaking St. Mark's Square.

Milan:

Apart from being the fashion capital of Italy, Milan is home to the magnificent Milan Cathedral, Leonardo da Vinci's Last Supper, and the Teatro alla Scala.

Naples:

Known for its vibrant food scene and its proximity to the ruins of Pompeii and Mount Vesuvius, Naples is a city full of energy.

Florence:

The birthplace of the Italian Renaissance, Florence is famous for its stunning architecture and Renaissance artworks, such as the Uffizi Gallery and the Duomo.

Amalfi Coast:

A stunning coastline dotted with beautiful villages like Positano and Amalfi, where you can enjoy panoramic views of the Mediterranean Sea.

Rome:

With its historical monuments such as the Colosseum, the Roman Forum, and the Vatican, the city is a treasure trove for history and architecture lovers.

Pisa:

The city that houses the famous Leaning Tower is a must-visit destination, with its cathedral and baptistery also deserving a visit.

Verona:

Known as the city of Romeo and Juliet, Verona is rich in history and offers beautiful squares like Piazza delle Erbe and the Roman amphitheater, Arena di Verona.

Sicily:

The largest island in the Mediterranean, Sicily combines a rich cultural heritage, stunning beaches, active volcanoes like Mount Etna, and delicious cuisine.

Siena:

A charming medieval city, Siena is famous for its central square, Piazza del Campo, and the spectacular horse race known as the Palio.
Is it better to travel independently or in group tours in Italy?
Regardless of the option you choose to travel in Italy, whether independently or on a group tour, each has its pros and cons.
Opting for independent travel, for example, offers greater flexibility to plan your own itinerary and choose activities according to your preferences. You'll have the freedom to decide when and how to engage in activities, allowing you to explore Italy at your own pace. Moreover, this option can be more cost-effective as you can control expenses based on your choices.
However, independent travel requires detailed planning, including research on accommodation, transportation, and activities. You need to be prepared to deal with potential challenges, such as the language barrier, and take extra precautions regarding safety, especially in more remote areas.
On the other hand, a group tour with a guide provides the company of fellow travelers and the opportunity to meet people with similar interests. Additionally, traveling in a group can provide a sense of security, especially if accompanied by an experienced guide who knows Italy well.
However, this option may slightly limit your freedom to explore Italy independently, as you'll be following a predetermined itinerary and schedule set by the group.
In summary, the choice between traveling independently or in a group in Italy depends on your personal preferences. Evaluate your interests, time availability, budget, and comfort level when making your decision. Both options offer advantages and challenges, and the key is to find the travel style that best suits your needs and expectations.
If you decide to travel independently, we recommend our 5-day itinerary for Calabria!
| | |
| --- | --- |
| Pros of traveling on a group tour | Pros of traveling on your own |
| Company and opportunity to meet people with similar interests | Flexibility to create your own itinerary and choose activities |
| Peaceful and fun group experience | Autonomy to follow your own schedule |
| More safety when riding in a group, especially with an experienced local guide | Freedom to explore Iceland without having to stick to a schedule |
| Less need for planning and research as the tour already provides accommodation, transport and activities | Potential savings, since depending on the choices it can be cheaper |
| Possibility of access to places or activities that may be difficult or impossible to reach alone | Greater challenge and opportunity to learn and grow with the experience of planning and conducting your own trip |
13 Best Tours and Itineraries to Explore Italy
Best Italy Tours and Itineraries for Guided Small Group Adventures
   1. G Adventures – Ultimate Italy (14 Days)
From the villages of the Cinque Terre to the medieval splendor of Tuscany, this is an adventure for those who want to indulge in all of Italy's charms.
Stroll through grand squares and winding alleyways, cruise along Venice's canals and float past villas on Lake Como. Marvel at the ancient grandeur of Rome and the Renaissance masterpieces of Florence.
An experienced local Chief Experience Officer will take care of the details so you can travel at a leisurely pace and enjoy the scenery, whether you're tasting wines in Tuscany or sampling local delicacies within the walls of enchanting Montepulciano.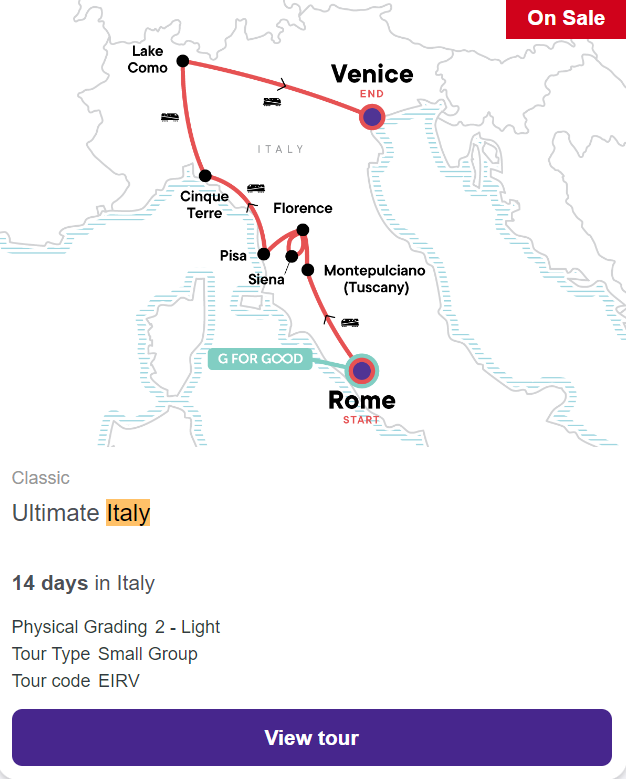 2. G Adventures – Local Living Italy: Amalfi Coast (8 Days)
Charming hilltop towns, acres of lemon groves and vineyards, miles and miles of stunning cliffs caressed by cobalt-blue waters… its official name is the Amalfi Coast, but this magical land goes by the name "paradise".
On this trip, you'll live like one of the area's lucky locals, discovering the small towns, mountain trails and local customs of this uniquely beautiful place.
Explore the ruins of Pompeii in the morning, cruise along the Mediterranean coast in the afternoon, and cozy up in your home base, a converted 17th-century convent, at sunset. It's paradise found.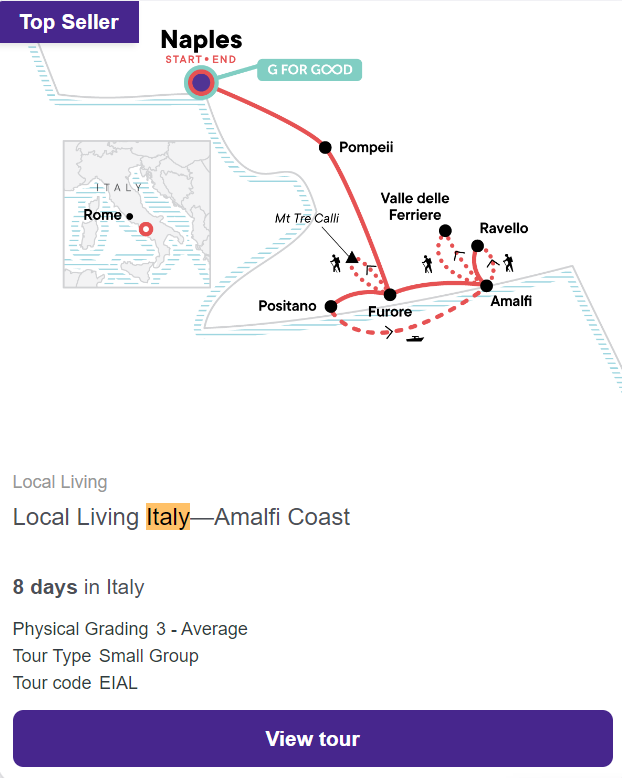 3. Intrepid – Italy Experience (10 Days)
Travel to Italy and savor the myriad flavors of this culinary haven on a journey from the canals of Venice to the cobbled streets of Rome. Explore historic sites and villages on this special adventure for foodies through some of the most incredible places in Italy.
There's plenty of time to feast on fresh seafood, full-bodied wines, the world's finest balsamic vinegars and pesto.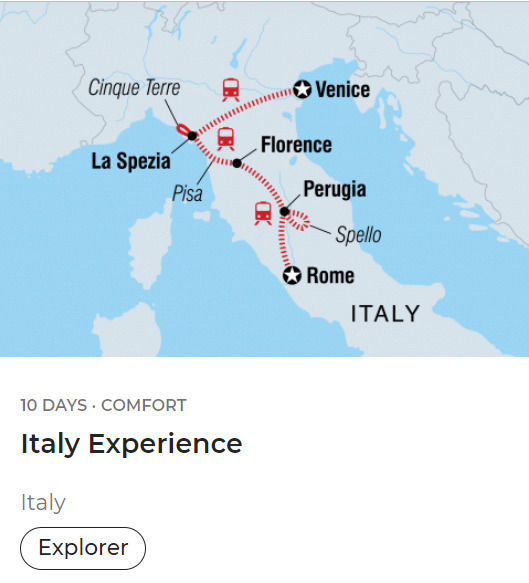 4. Intrepid – Highlights of Italy (8 Days) 
Start your Italian adventure along the canals of Venice, take a walk through the enchanting Cinque Terre, soak up the beauty and history in Florence, and end in the squares of Rome.
With plenty of free time for independent exploration and the freedom to discover Italy's history and culture at your own pace, there's no better way to experience this wonderful slice of Europe.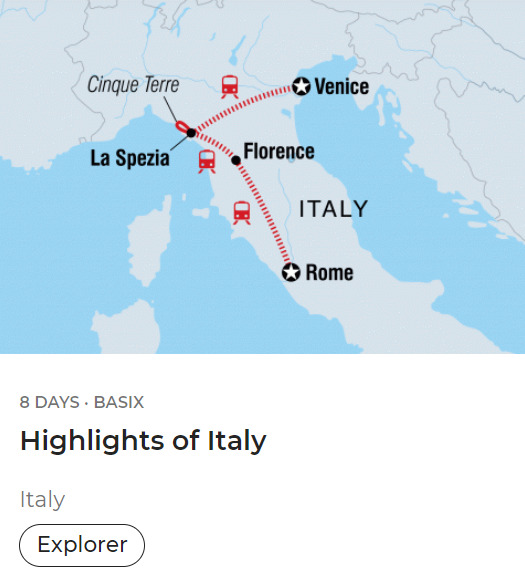 Best Italy Tours and Itineraries for Groups of Young Singles (18-35 Years Old)
   5. Contiki – Simply Italy (15 Days) 
15 days of pure immersion in Italian life. Passing through Rome, Florence, Milan, Venice and bringing you the best of this country. Explore Rome's historic highlights, wander the streets of Michelangelo's Florence, soak up the sunshine on the Amalfi Coast and much more.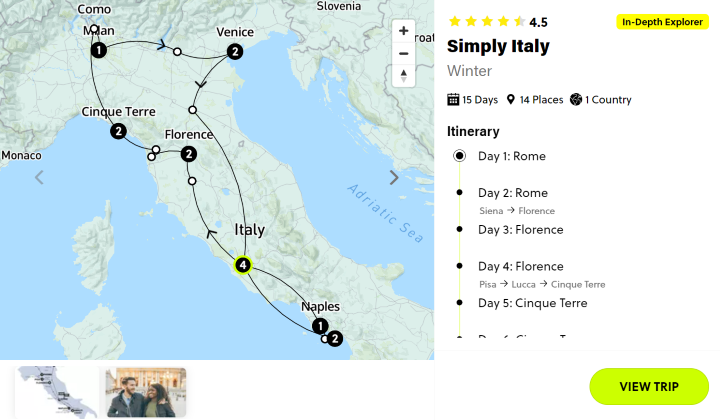 6. Contiki – Italian Espresso (10 Days)
This is pure Italian travel, covering all the big must-see destinations of Venice, Florence and Rome, plus the smaller charms of Pisa, Verona and Siena. You'll be delighted with antipasto and chianti, taste regional specialties in local trattorias, sail along the canals and islands of Venice, and explore the magnificent architectural city of Florence.
Look forward to comfortable hotels and plenty of world-famous espresso and pizza along the way.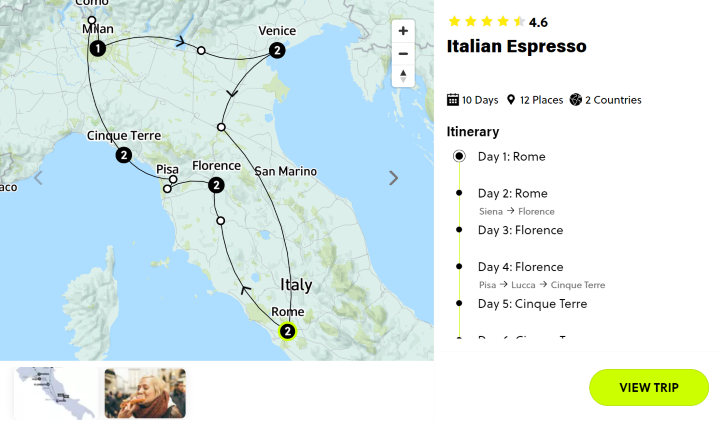 7. Topdeck – Delve Deep: Italy (11 Days)
Just thinking about that country makes your mouth water, your stomach growls and your pants seem to tighten.
In addition to the gastronomic delights, this place is full of history, landscapes that seem to have been edited in Photoshop, cities so romantic that even the biggest skeptics turn into Julia Roberts from "Eat, Pray, Love", and more duomos, churches and squares than you can remember.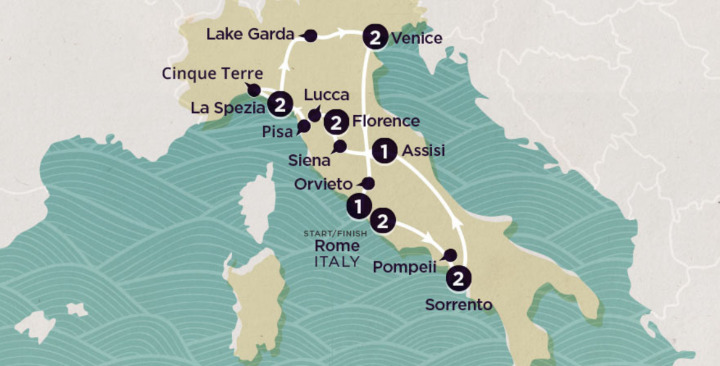 Best Luxury and Comfort Italy Tours and Itineraries for Small Groups with Guides
   8. Trafalgar – Italy Bellissimo (11 Days) 
If toasting Tuscany's epic sunsets, enjoying the sun-drenched sophistication of Italy's most popular cities, and sipping olive oil at an authentic Italian Borgo with new friends sounds like your idea of perfection, this is one of those trips through gorgeous Italy that would seduce you. even the mermaids of Capri.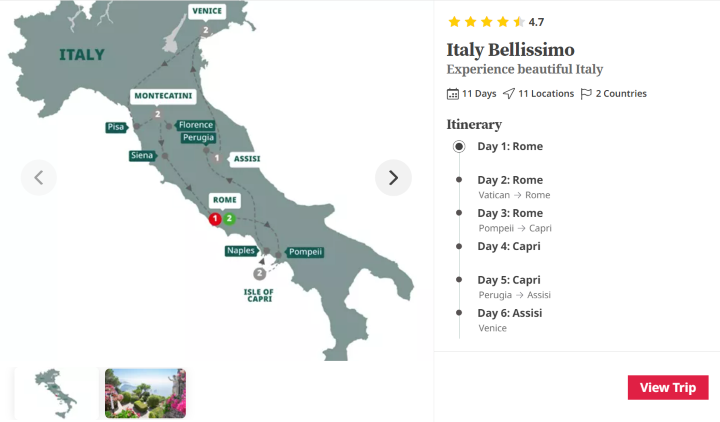 9. Trafalgar – Wonders of Italy (11 Days)
Want to experience the full Italian experience? Explore the Vatican like a VIP, cruise along the rugged coastline of the Cinque Terre, get lost in the picturesque center of San Gimignano and discover the art of glassmaking in Venice. From Rome to Lucca to Bologna, the Wonders of Italy come to life as you enjoy a glass of Tuscan Chianti.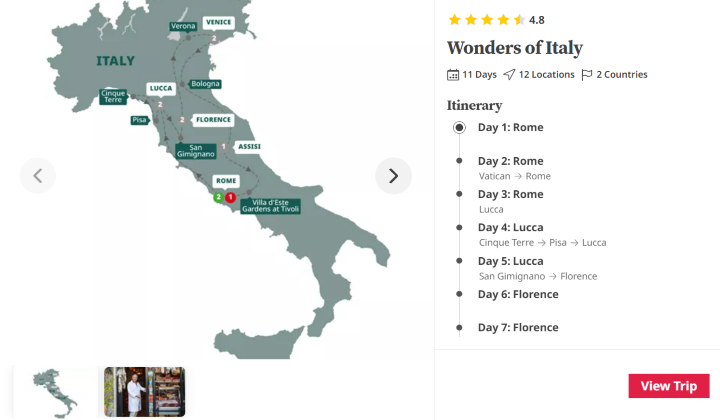 10. Insight Vacations – Treasures of Italy (11 Days) 
Experience Italy on an 11-day guided tour. Explore the Eternal City with a Local Expert, who will take you to the Vatican Museums for a tour of the Pope's art collection and a behind-the-scenes tour of the Bramante Staircase, a spiraling architectural masterpiece. Later, see the famous Colosseum and the Arch of Constantine.
Cruise to Capri, where you'll take a convertible taxi to the top of the island for unparalleled views of the rugged coastline and sparkling sea. Then, walk through the Gardens of Caesar Augustus and admire the Faraglioni Rocks with a Local Expert.
In Venice, walk around St. Mark's Square and admire its namesake basilica; later, allow yourself to be serenaded as a gondolier takes you along the city's canals. Sail to the colorful island of Burano, where you can toast to a fantastic journey over a celebratory dinner with wine and freshly caught specialties.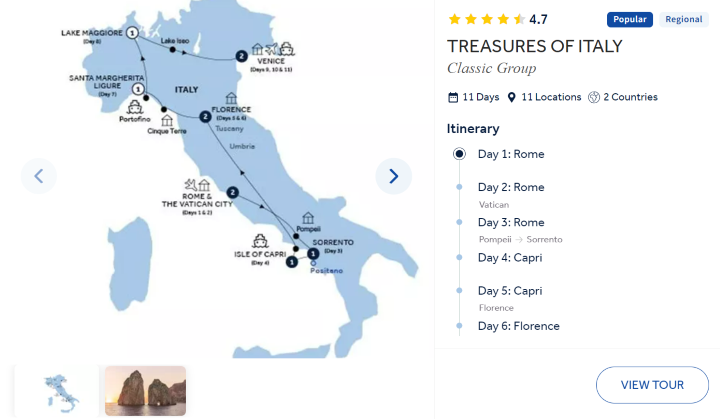 Tourradar's Best Italy Tours (Best website to search and compare Italy tours of different lengths, styles, prices, and operators)
   11. Tourradar – The Best of Tuscany (4 Days)
Start and end in Florence! With this tour you will have a 4-day travel package that will pass through Florence and 4 other destinations in Italy. The tour includes accommodation, an expert guide, transport and more.

   12. Tourradar – Wonders of Northern Italy with Bernina Train from Milan (5 Days)
Start and end in Milan! With this tour you will have a 5-day travel package that will pass through Milan, Italy and 9 other destinations. The tour includes accommodation in a hotel, as well as an expert guide, meals and transport.

Best Itineraries and Group Tours in Italy for Women Only
   13. Solo Female Travelers – A Venetian Affaire 
A glamorous Venetian Affair to discover the most iconic parts of the Floating City as you walk across centuries-old bridges, clink glasses of Prosecco on the rooftops and canalside terraces of aristocratic palaces, and learn more about the UNESCO-listed city's past, its classic traditions and its gastronomy and wines.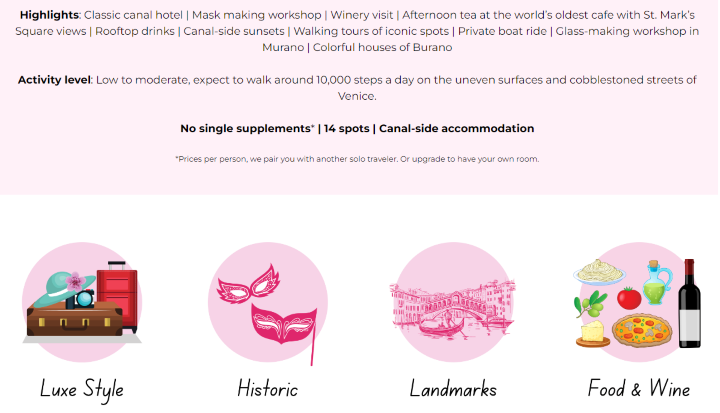 Concluindo
Italy is a captivating destination for those seeking cultural, historical and adventure experiences. With a wide variety of tour and excursion options available, it is crucial to conduct thorough research before choosing the company that best meets your needs and expectations.
Check the reviews of other travelers and the details of the accommodations offered. This is essential to ensure a smooth and safe journey.
However, no matter which company you choose, one thing is for sure: visiting Italy is a truly once-in-a-lifetime experience! Get ready to embark on an unforgettable journey and immerse yourself in this adventure across the country, where you will be immersed in its rich history, enchanted by its vibrant culture and dazzled by its stunning landscapes.
Planning your next trip?

Then don't forget travel insurance! You don't want to get stuck paying a ton of money and ruining your trip if you get sick or have an accident without travel insurance. WorldNomads is ideal for adventurous travelers, backpackers, or anyone looking to be protected during their trip. They cover almost every single activity you can image! Plus, you can have a 5% discount with the coupon code comfort5. 

Already reserved your hotel or hostel? If not, we recommend Booking.com. They have a huge selection of hotels and hostels all over the world. Plus, in most cases, you can cancel your reservation without any costs up to a few days before the check-in date! 

Still haven't booked your plane ticket and want to save big? Take a look at Momondo. It's a flight aggregator that combines several other ticket search websites to make it easier for you to compare prices and make sure you are getting the best deal. 

And finally, will you need to rent a car during your trip? Then check out Rentalcar.com to search and compare car rental companies from all over the world in a single website. Then, you can find the cheapest price for the best car!