Last Updated on by Rodrigo @ OutofYourComfortZone
Of all Italy's regions, Calabria is one of the most-known and richest in culture, gastronomy, and beaches.
That said, it's still not anywhere near the most visited region of the country, which is great for anyone in search of more tranquil travel that avoids the chaos of the touristic centers. So, if you're thinking that this means that there's not much to visit and do in this region, then you'd be wrong!
That's why I've created this 5-day Calabria itinerary, full of tips for places to visit, tours, and reasons to visit this true gem in the south of Italy. Read on to learn how wonderful a trip to Calábria can be!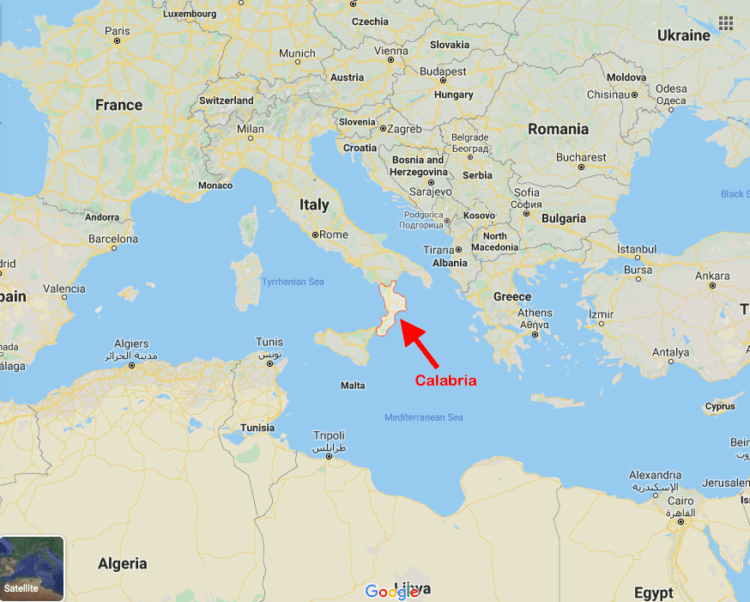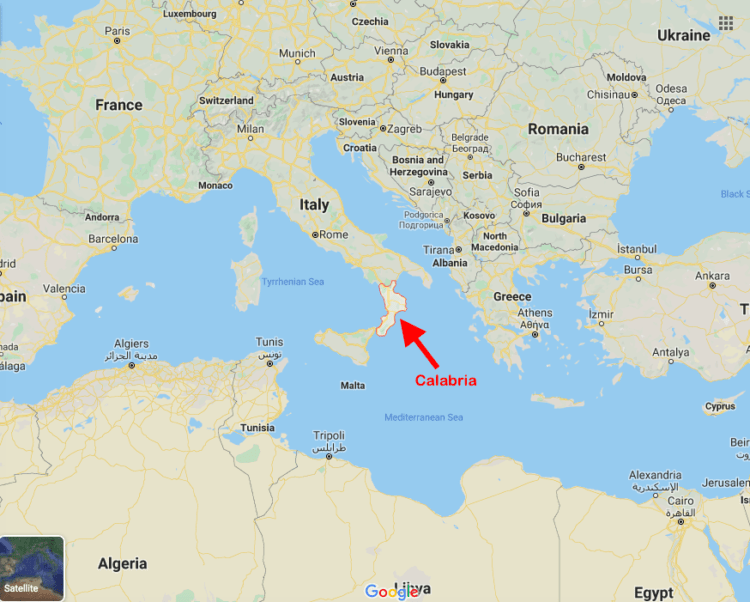 What and where is Calábria?
Before we get into anything else, it's important to know a bit about this region, its history, and its culture. Put simply, Calabria is a region in the south of Italy that occupies the "toe" of the boot. Its capital is Catanzaro and its current population is around 2 million.
The oldest cities in the region date back to the ancient Romans, meaning that this place is home to a lot of history as well as traditions that have crossed centuries. The presence of the Arbëreshë community (people of Albanese origin that established themselves in Italy between the VX and VXII centuries) is just one example of the diversity and the cultural richness Calabria contains.
Calabria is also known for having some of the most beautiful beaches in all of Italy, but this is something I'll talk more about down below. So, we can continue with the top reasons to visit Calabria.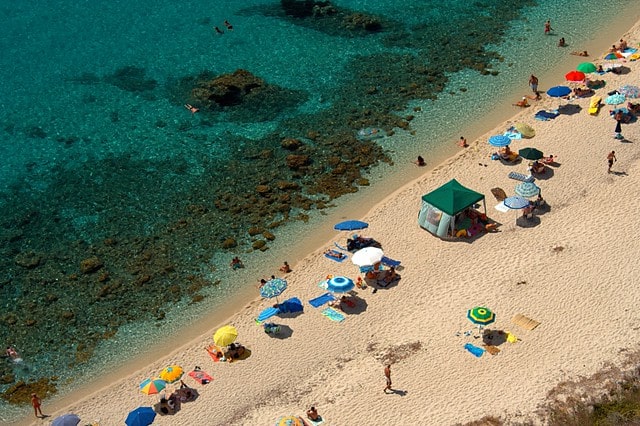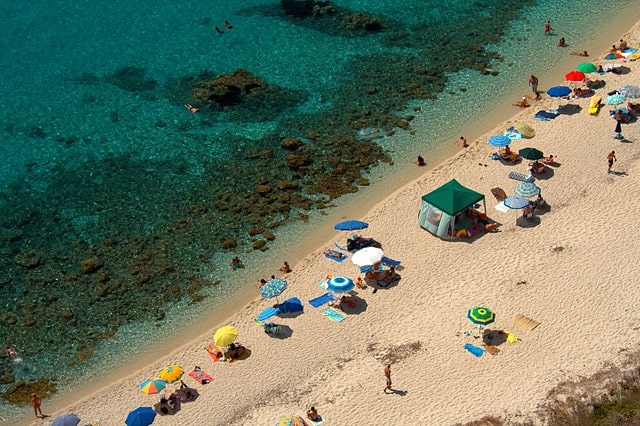 Why visit Calabria?
I think that the intro I've given above is enough to make someone want to visit Calabria! But I want to go further to show even more why it's worth the trip. That's why I've separated this next part into sections as follows:
History

Mountains

Beaches

Welcoming locals

Cuisine
The History of Calabria
As I've said above, Calabria is a region incredibly rich in history. Some villages, such as Pentadattilo, have been around for nearly 3,000 years and have constructions that have lasted centuries. There are also the must-see castles, like Cosenza, Normando-Suevvo, and Reggio Castle, to name a few. So, if you're in the mood to visit Italy and soak up some history, you're definitely in the right place.
Mountains in Calabria
I think one of the biggest advantages of this part of Italy is its diversity in landscape. One of the clearest examples of this is the Apennines mountain range, which crosses the whole of Calabria and is one of its most striking characteristics. For anyone who wants to visit the mountains and explore the great outdoors, a tip is to head to Sila National Park, where you can have hit the slopes at its ski station.
Beaches of Calabria
As I've mentioned, a visit to Calabria gives you the chance to enjoy many types of landscapes. So, Calabria's beaches can't be left off this list of reasons to visit the region.
Beyond having beaches to appeal to all tastes, you can also choose between two different seas since the region shares a coast with the Ionian and the Tyrrhenian Sea.
The most well-known beaches are Tropea, Capo Vaticano, and Pizzo. They are all lovely and worth a visit!
Welcoming locals of Calabria
Another characteristic that makes the region stand out is the warm and welcoming people. Generally, the Italian people are known for their friendliness. However, Italians from the south really do meet that stereotype of speaking loudly and with exaggerated arm motions!
Even in the more touristic parts of Calabria, it's not uncommon to meet people who want to learn more about you as a tourist.
And in the smaller cities, of course, it's even easier to see how they live and treat one another. You can definitely make comparisons between Calabria and the Italian heritage that we see a lot in Brazil.
Cuisine in Calabria
The cuisine is another thing to take note of in Calabria, and is perhaps one of the major reasons people go to Italy in general in the first place!
The Calabrian cuisine is extremely rich and flavorful, made for those who like to appreciate pastas and seafood, given that these are some of the specialties of the region.
Some of the most typical plates of the region are Paccheri alla Mediterranea, which combines cannelloni pasta with swordfish and eggplant, or Tagliatelle with cod, not to mention the wide collection of desserts and wines that you can also try. So, if you plan to visit Calabria, be ready to gain a few kilos (which will certainly be worth it).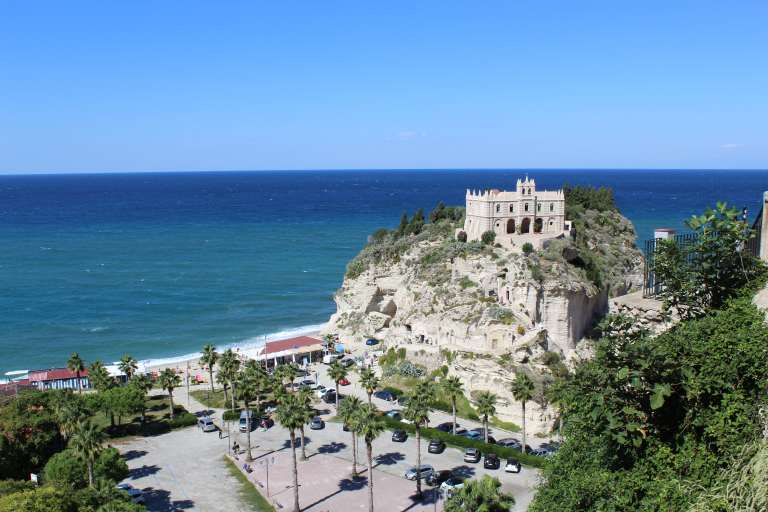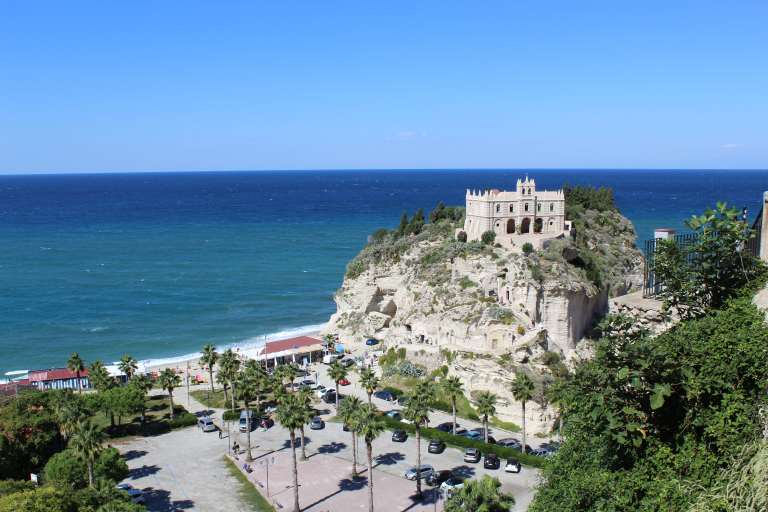 Airports in Calabria, Ital

y
Calabria has several small airports, but these are the two most well-known and which receive flights daily: Lamezia Airport and Reggio Calabria airport.
I'll talk a bit more about each one so you can choose the best one for your flight to Calabria.
Lamezia Airport
This is Calabria's main airport and, beyond serving flights from the big cities in Italy like Rome and Milan, it also serves flights from the rest of Europe, with direct flights from cities like London or Munich. If you're coming from abroad, you'll probably land at this airport.
Depending on where you come from, you might have a short stopover in Rome along the way followed by a short flight of just an hour and 10 minutes to get to Calabria.
Reggio Calabria Airport
This is a smaller airport that usually sticks to domestic flights. However, it's a great option for anyone who wants to travel to Calabria from another city in Italy like Rome, Milan, or Turin. There are also a few advantages to flying here, like the fact that it is located in a very touristic city (Reggio), which saves travel time during your trip. More information here.
To decide which airport in Calabria is best for your trip, there are a few things to consider. The first is the city you'll be coming to Calabria from, and where you want to begin your trip in Calabria. This will obviously influence the route that you take.
So, do some research to compare which of these two airports is most practical for your trip.
And don't forget to look into your flight in advance. I recommend taking a look at my article with 16 tips to save on flights for more help.
Oh, and if you are extending your Italian trip to the north and visiting Milan, don't miss out on this day trip from Milan to Lake Como article.
Should I travel by rental car or train in Calabria?
Deciding which way you'll travel and move around will directly impact your trip. So, it's an important decision to make and I created a quick chart with the main pros and cons between these two forms of transportation to help.
Calabria by rental car

Calabria by train

It's more comfortable

It's cheaper

You can split the cost with others

You have to get one ticket per person

You have more freedom in creating your itinerary

Your itinerary will have to be made around pre-established routes

You have more control

time-wise

during your trip

You can relax and sleep if you got an inside cabin

You can get to places that trains won't get to

There are places where you won't be able to get to (or at least not easily)

Driving in a new country can be stressful

This is a more local way of transport so you can get a taste of local life
As you can see, there are many differences between renting a car and taking the train in Italy. All I can say is that these two options offer very different travel experiences. Although, neither is better than the other! It just depends on what you plan to do on your trip and how you like to travel.
Whether you want to rent a car or buy train tickets, I recommend my two articles here: The 5 best and cheapest websites for renting cars in Italy and The 5 best train passes in Europe.
5-Day Itinerary in Calabria, Italy
With all this information about Calabria in mind, I can finally give you my suggestion for a 5-day Calabria itinerary. Of course, you can customize this itinerary to add more days or re-arrange the order of the cities that you visit, given that they aren't really so far away from one another. It all depends on what you're looking for!

Here's the itinerary: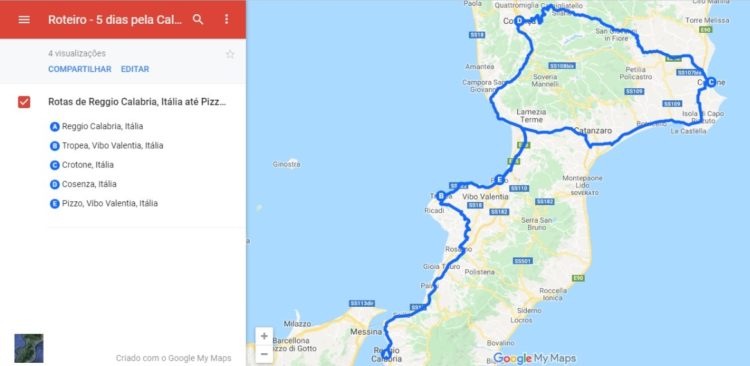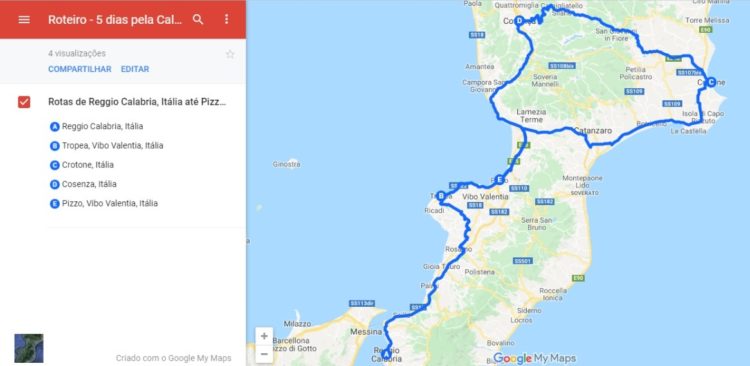 Calabria Itinerary Day 1: Reggio Calabria
The first day of our Calabria itinerary begins right at the "toe." Reggio Calabria is one of the biggest cities in Calabria and also one of the most visited. It's a city that shares a border with Sicily….which is exactly why it receives so many visitors (especially during the summer months).
Beyond the city's beautiful beaches, you can fall in love with the museums and forested parks located around the city.
I recommend at least a day to get to know the city in general. However, I've seen people that recommend at least 3 to take advantage of every lovely corner Reggio Calabria has to offer.
Calabria Itinerary Day 2: Tropea
When we talk about Calabria, it's often the image of Tropea that comes to mind. The beautiful cliffs, the stunning beaches, and the image of the famous Santa Maria dell'Isola monastery make up a landscape that is one of Italy's most well-known.
This is, perhaps, the most touristic stop on our itinerary and thus I think just spending a day here is enough. But if you like a little more chaos and don't mind the crowds, then it may be worth staying a bit longer.
And don't forget to try some of the region's typical foods here! Like the famous red onions or the savory "arancinos tropeanos," made with rice pasta and full of these famous onions. They're delicious!
Calabria Itinerary Day 3: Crotone
Crotone is a fairly large city, if we compare it to the others on the list, and the only one surrounded by the Ionian Sea. Beyond a beautiful historic center, you can visit attractions like the Castello di Carlo V and Le Castella.
Make sure you take some time to enjoy the beaches in the area. And if you're looking for nightlife, Crotone has many options which may surprise you.
Calabria Itinerary Day 4: Cosenza
Cosenza is also a big city, the capital of the province that shares the same name, and the only city on this itinerary that isn't located on the sea. I thought it was important to include here so you can get to know Calabria beyond just the beaches.
Here, you'll find a modern city that's lively and full of bars, stores, and restaurants. However, there's also a historical part – which is clearly divided from the modern part – that includes another castle you can visit.
In this region, you can also visit some of Calabria's most beautiful mountains. So, make sure to include it in your itinerary.
Calabria Itinerary Day 5: Pizzo
There's no better way to finalize your trip to Calabria than to enjoy a small city with one of the most beautiful beaches the region has to offer. Pizzo isn't very large, but it's full of stunning views and is a great place to spend a day enjoying nature and other details that only small cities seem to offer.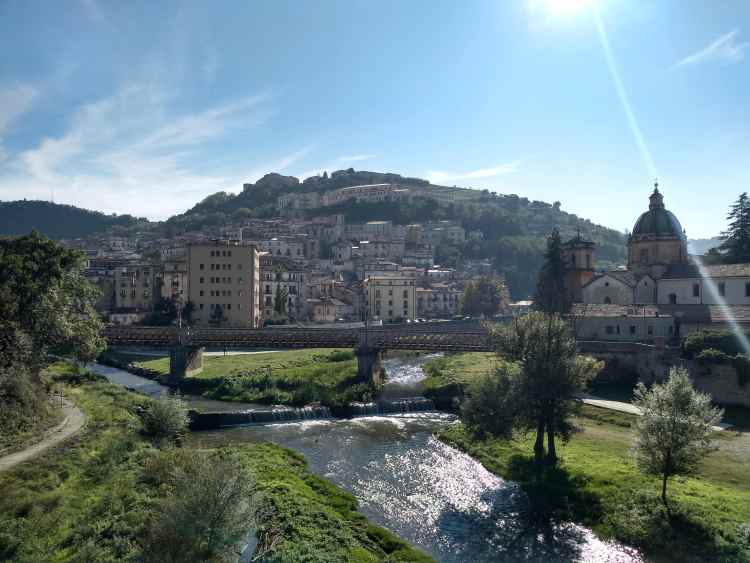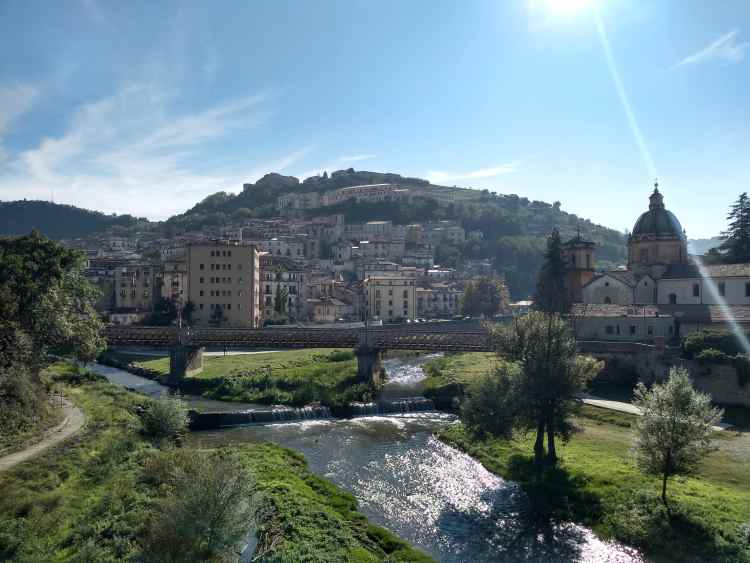 As I said before, this itinerary is made for anyone who wants to have a general impression of Calabria by visiting some of the main cities and attractions. You can also add on more days to these places based on your plans and so you can make the most of your trip. And with this set of knowledge, you're guaranteed to have an unforgettable trip.
Activities, attractions, and tours to do in Calabria
If you are exploring Calabria and would like to take tours and excursions, I recommend using the Get Your Guide website or Civitatis to research the best attractions and tours in the region. There you can find day trips to full day excursions. And there are also several attraction providers to suit every budget!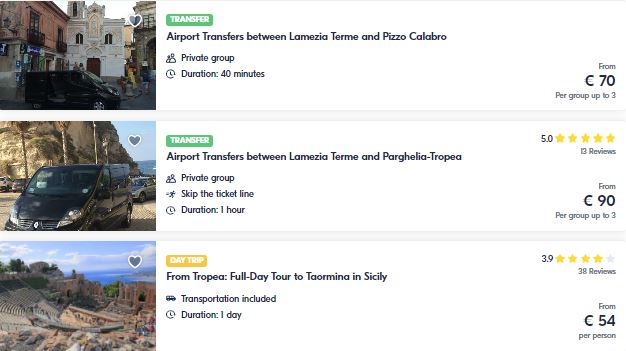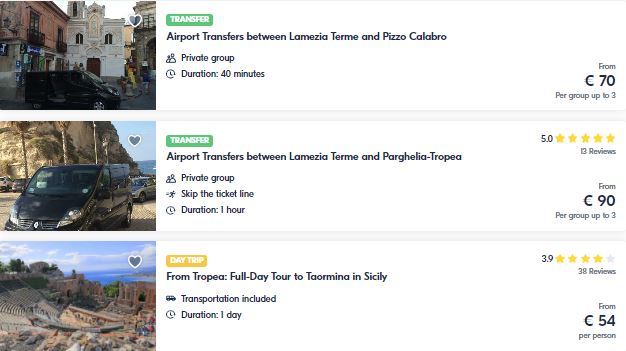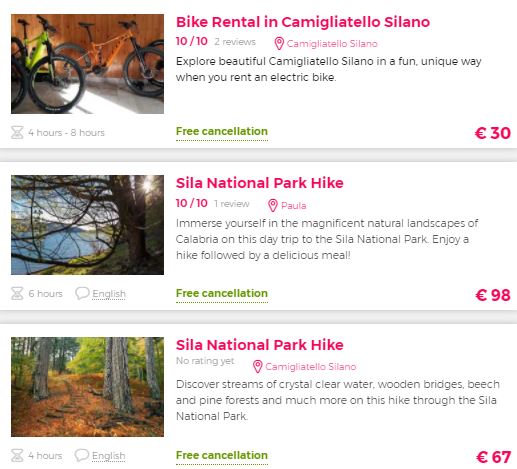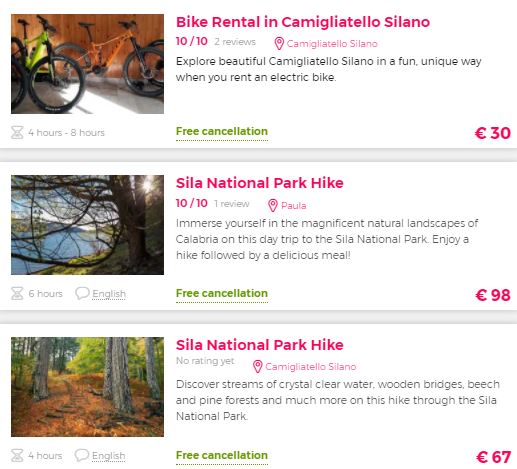 In conclusion…
Calabria is simply an amazing place to visit. I'd even take a chance and say that, as a tourist, Italy is a country with some of the greatest diversity in Europe, whether cultural, culinary or even geographical!
In my opinion, everyone who loves to travel should try to visit this region at least once in their life and enjoy all the incredible things that I've described in my article today.
And, of course, if you love food, good wine, and wonderful beaches, Calabria is the perfect destination to spend your next holiday in.
Still have any questions about destinations or this region in general? Have any other comments? Leave your comments below and I promise I'll get back to you!
Planning your next trip?
Then don't forget travel insurance! You don't want to get stuck paying a ton of money and ruining your trip if you get sick or have an accident without travel insurance. WorldNomads is ideal for adventurous travelers, backpackers, or anyone looking to be protected during their trip. They cover almost every single activity you can image! Plus, you can have a 5% discount with the coupon code comfort5.
Already reserved your hotel or hostel? If not, we recommend Booking.com. They have a huge selection of hotels and hostels all over the world. Plus, in most cases, you can cancel your reservation up to a few days before the check-in date without any costs!
Still haven't booked your plane ticket and want to save big? Take a look at Kayak and Momondo. They are flight aggregators that combine several other ticket search websites to make it easier for you to compare prices and make sure you are getting the best deal.
And finally, will you need to rent a car during your trip? Then check out Rentalcar.com to search and compare car rental companies from all over the world on a single website. Then, you can find the cheapest price for the best car!