Last Updated on by Lohanna Reis
Taste of adventure, the satisfaction that comes from exhaustion, and a sense of freedom. How does it sound to you? For me, it's the essence of bike touring, so it sounds perfect.  
My beginning with bike touring was as hard as riding uphill at 2×7 gears. I had no panniers, no physical shape, and no knowledge. Instead, I got a poor sleeping bag, so I woke up frozen and sleep-deprived. Unpaved roads and sandy trails were challenging to ride on a trekking bicycle. But you know what? It was a remarkable trip. 
I'm so sorry if my intro discouraged you; the point is that minor inconveniences don't matter when you enjoy bike touring! Imagine riding at your own pace on roads where cars aren't allowed, so you can uncover hidden tourist gems, touch the local culture and rest outdoor. And good news for comfort-seekers – yes, you can sleep in hotels! 
Now I hope you feel inspired to hit the road. In this post, I'll share my experience, basic knowledge, and 8 tips on successfully starting bike touring. 
In this post, you will find: 
What is bike touring? 

Who can go for bike touring? 

Where to go for bike touring? 

8 Bike Touring Tips For Beginners 

Find the right bike. What makes a good tourism bike? 

Pack your luggage. Bikepacking, panniers or a backpack? 

Learn the art of light packing. 

Define your traveling style. 

Learn cycling techniques. 

First Aid Kit and Repair Kit – your travel essentials. 

How to plan your route? 

Final thoughts: benefits of bike touring.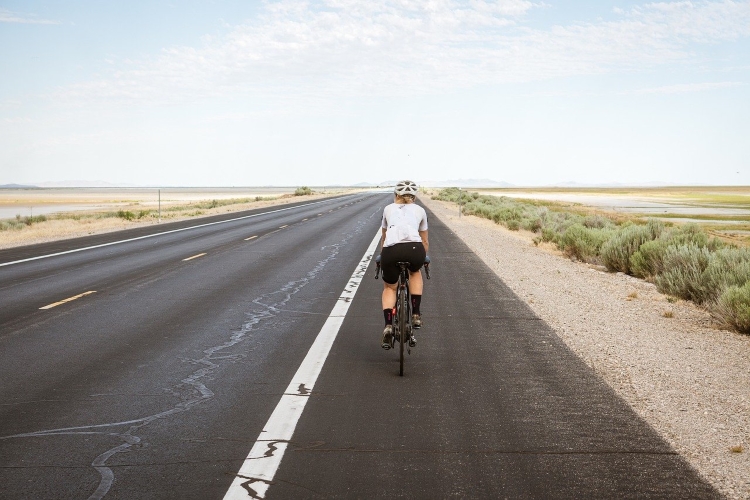 What is bike touring? 
The definition of bike touring seems obvious: it's traveling by bike. In other words, it's when you cycle instead of riding a car, hitchhiking, or trekking across the country. But that's where similarities end. People have different reasons to hit the road by bike: 
modern Indianas Joneses want to experience the adventure 

outdoor lovers like to spend time in nature and explore wild trails 

eco-freaks look at how to reduce their carbon footprint when traveling 

fitness enthusiasts enjoy active vacations 

college students want to save money 
…and it goes on and on. Bike touring is diverse – – it may be physically exhausting, but also lazy and highly comfortable. Sometimes it's relaxing in nature, and other times it's exploring the local culture by cycling from city to city. It may involve sleeping in tents and luxury hotels. The only common thing is a bike. 
Who can go for bike touring? 
Since bike touring offers varied approaches, it's perfect for everyone, regardless of age or physical shape. Depending on your needs, you can adjust the trail difficulty. Older people can try electric bikes and families – bike trailers for kids. There are even adaptive bikes for people with disabilities! 
Where to go for bike touring? 
Adventure waits on the doorstep! You don't have to go far to start your first bike touring trip. Transporting a bicycle to distant places can be pretty complex, especially if you need to take a plane. So, before you hit one of the famous world bike trails, consider starting just in your nearest area. 
When cycling in my local neighborhood, I've discovered small pottery museums, a beaver dam, and a wind farm. It's just the beginning of my bucket list – I have more old churches, nature parks, and local tourist attractions to uncover! Believe it or not, cycling changes the perspective of tourism.  
When moving so slowly – compared to a car – you can notice more details and stay to read local information boards. Moreover, when choosing less busy roads, you are more likely to find something unusual.  
So, my advice for the first bike touring destination is to start local. It's a perfect way to explore your local area and test if you like this traveling style.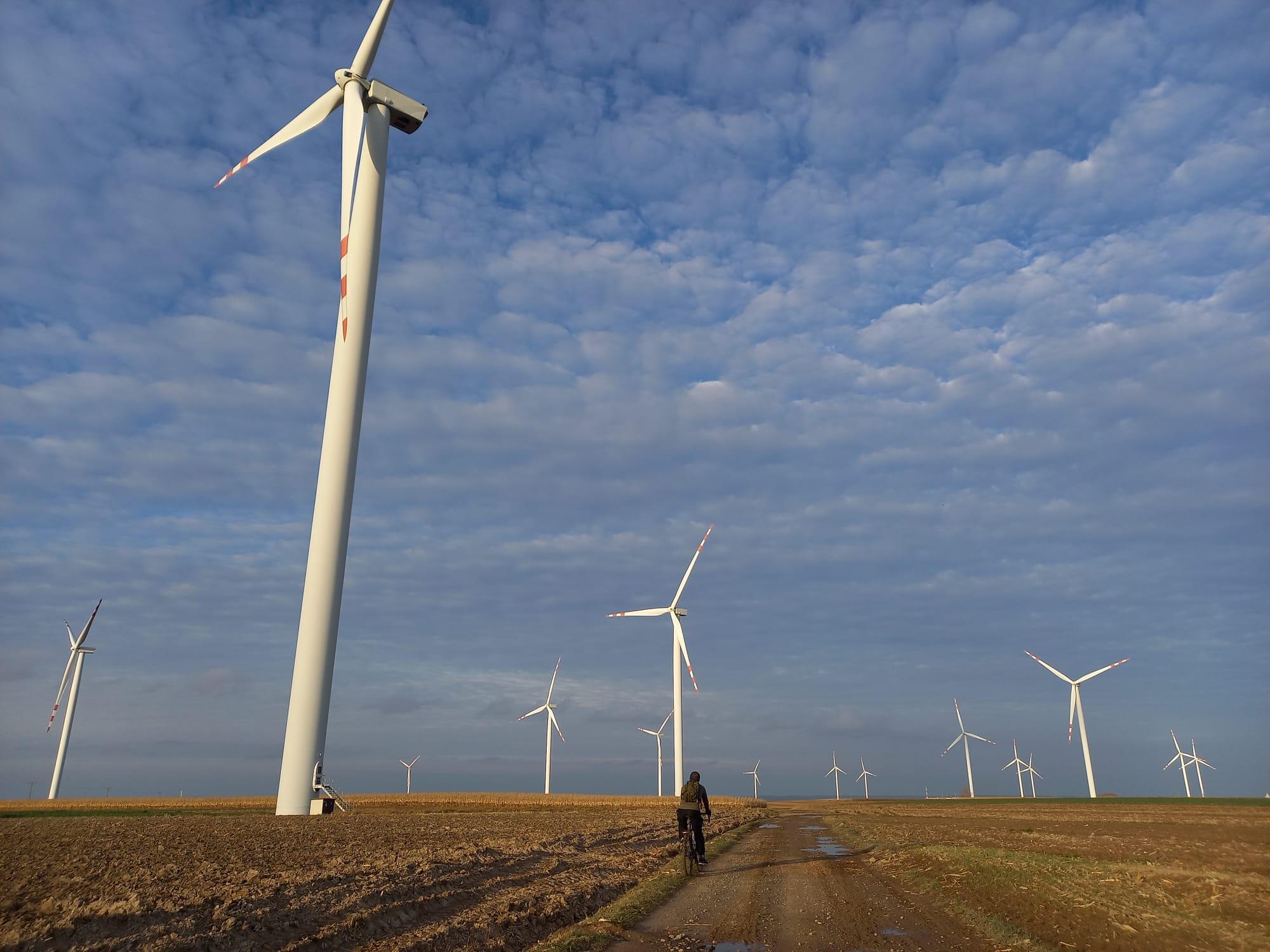 8 Bike Touring Tips for Beginners 
If you still read this, you probably enjoyed the idea of bike touring. Maybe you even feel encouraged to start your journey? Just jump on your bike right now and pedal far, far away… But – before that happens, read my tips to ensure yourself a safe, delightful trip.  
Below, I'm sharing the 8 top tips I've learned in my bike touring experience and from the experience of others. Interested? Let's ride! 
Find the right bike. What makes a good tourism bike? 
Basically, you can start bike touring with anything. I mean – any bike you have. Of course, it may be uncomfortable, but this try will help you discover if you like this way of traveling and what equipment you need. Here, I can share my firsthand experience. I took my first trip on a trekking "testing" bike, which was relatively slow, and it was losing control on rocky paths.  
During the journey, I discovered I needed a bike that was fast on asphalt, could carry many things, and could go off-road. Well, I bet on a gravel bike – a road bike that can also go off the beaten tracks. People say that gravel bikes are just a new trend invented by marketing agencies, but in my case, I feel I have hit the jackpot. 
But – I won't convince you to buy gravel, because it depends on your needs which tourism bike is the "good" one. Generally, tourism bikes should be durable to carry your heavy luggage and should be adapted to riding unpaved tracks. But this general rule doesn't apply to every type of journey. Let me share some examples: 
Mountain bikes have solid frames and are perfect for off-road. Riding through mountains won't be a problem anymore! But due to their wide tires, cycling them on asphalt is effortful. 

A road bike is high-speed on paved roads, making riding a smooth pleasure. However, it limits you to stay only on paved roads. 

Trekking bike is universal, but its standard handlebar doesn't allow you to change your position when riding. For long trails, the drop handlebar is much more comfortable. 
So, if you want to find the bike that fits your needs, follow these steps: 
Examine your usual riding route. Do you prefer paved roads or forest trails? Look for a bike that is the best for a particular type of road and if it's mixed, bet on something universal. 

Set your budget. Trekking bikes are cheaper than MTB! 

Choose the right size of the frame. Even the best bike won't be comfortable if it doesn't fit your size. Be careful – every type of bike has different measurements. 

It's not the end – be open to improvements! Test diverse saddles, tires, and handlebars to find the most convenient equipment. 
     2.

Define your traveling style. 
For me, bike touring is an adventure, but I know that many people have another perspective. So – do not think that bike touring means camping. Do you like to sleep in hotels or rented houses? Would you like to eat out rather than cook by yourself? Go for it!  
Just remember to choose your traveling style ahead of time, so you would plan your tour and pack accordingly. 
     3.

Pack your luggage. Bikepacking, panniers or a backpack? 
It's a no-brainer to say you need the luggage for your trip. Again, your type of luggage depends on the type of your trail. Below, I highlight some pros and cons of three popular solutions: bikepacking, panniers, and backpacks. 
Bikepacking means using small bags located on many points of the bike. A typical starter pack includes a frame bag, handlebar roll, and seat pack. This solution gives excellent aerodynamics and convenience while riding. On the other hand, it requires excellent problem-solving skills – packing is tricky! Also, you can't carry too many items, which reduces your comfort. 

Panniers are big bags located in your trunk. With panniers, you can comfortably pack your tent, sleeping bag, stove cooker, and even food supply, making it the perfect option for camping. At the same time, it makes your bike heavy, requiring more power to ride. Panniers make it harder to follow off-pavement surfaces and are worse for aerodynamics. 

Backpacks don't give additional weight to your bike so you can ride faster. However, carrying a backpack the whole day may be tiring for your shoulders and will make your back wet with sweat. It's a good option if you want to ride long distances, sleep in hostels and eat in restaurants, so you don't need to carry too much.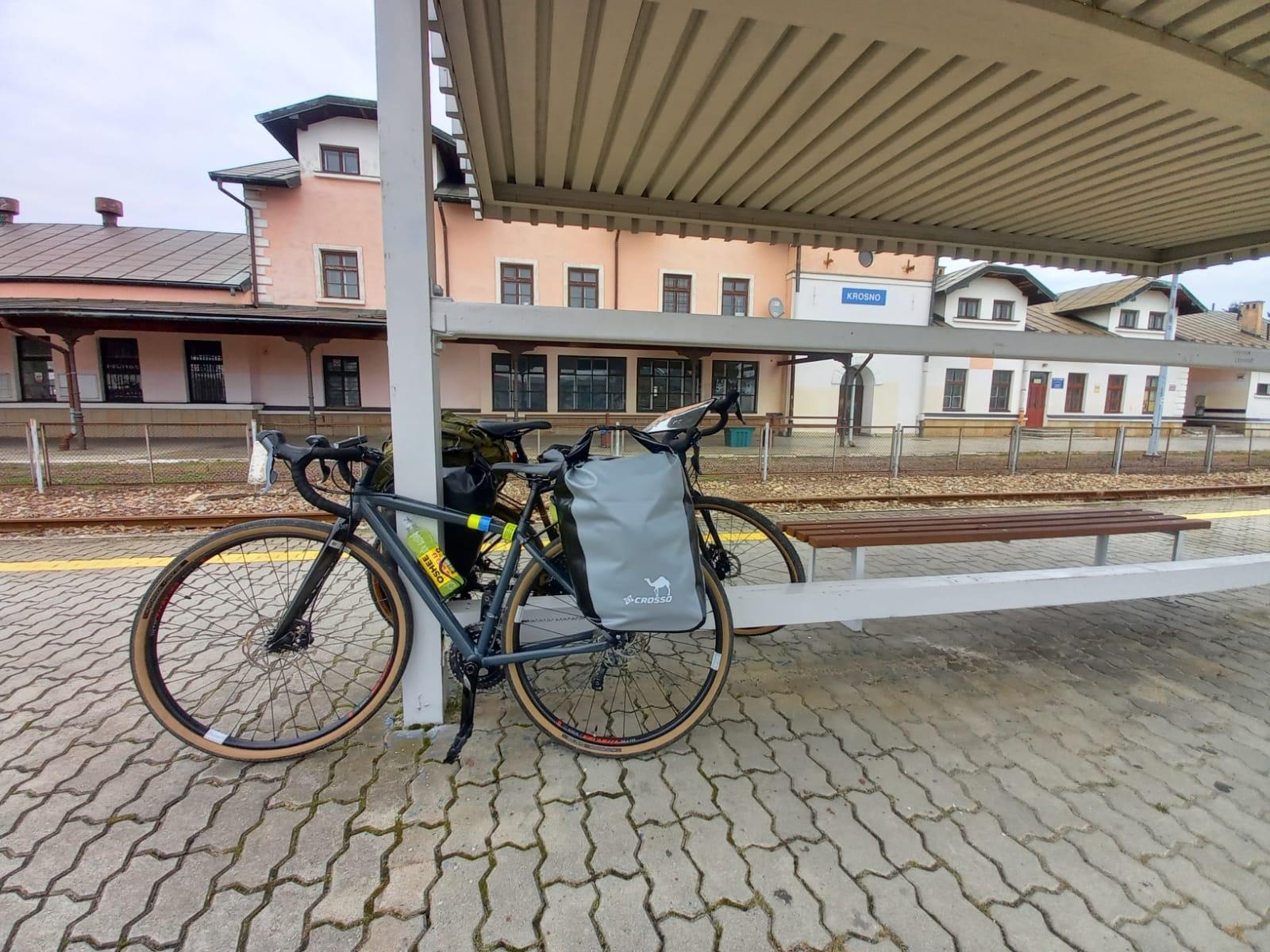 4.

Learn the art of packing light. 
Whatever luggage you choose, you don't want to carry too much on your bike tour. The lighter bag, the more power you have to ride faster and further! So, it's beneficial to learn the art of packing light.  
Be creative! Consider doing a quick laundry instead of taking extra T-shirts and underwear. Use small bottles to pack your cosmetics and look for light meal ideas. Leave your heavy camera at home, and take pictures using your mobile phone. Of course, you can also consider a light sleeping bag, but many improvements you can make without spending extra money. 
     5.

Learn cycling techniques 
There're two ways to ride faster on the bike: get a better bike or… improve your riding skills. I don't mean your strength or body capacity, but your cycling techniques.  
Have you ever tried to 
keep your heels down? 

ride with high cadence? 

make a complete turn when pedaling? 
No? So it's high time to learn a bit about cycling techniques! Riding correctly profoundly impacts your efficiency, ensuring a smooth ride. 
     6.

Hydrate & Eat well. 
Always take care of your hydration because, during physical activity, you need to drink more water than usual. Consider hydration tablets – they boost your drink with minerals and give some taste to water.  
You won't ride long without good fuel – yes, I mean food! Cycling nutrition is an extensive topic, so let me share just one essential tip. During longer than a 1-hour ride, eating 30 to 60g of carbs per hour is advisable. In practice, it's good to take a break for a banana or sweet snack every two hours of the ride, or just keep in mind to fuel yourself with carbs. Cycling consumes energy, and if you forget about eating, you may become suddenly drained. 
     7.

First Aid Kit and Repair Kit – your travel essentials. 
When going on the journey, we usually pack things we'd like to use – – excepting those two packs. First Aid Kit and Repair Kit are travel essentials we all wish to not use on our travel!  
Probably all your equipment is serviced and always greased right before a long trip. However, accidents do happen. Believe me – I'm the master of disaster. Getting punctured tires, broken bike rack, and wobbling crankset are just some of the troubles I experienced. A small sharp rock or untightened screw may change a pleasant ride into a long tiresome walk with your bike to the nearest service.  
To be ready for any troubles, complete the Repair Kit and don't move without it! 
Essentials for the Repair Kit are: 
portable pump 

tire levels (x2) 

spare tube  

tube patches, tubeless tire repair supplies (for tubeless users), or another tire repair kit 

multitool with chain breaker and wrenches 

a few zip ties 

dry chain lube 
For longer trips, consider an extensive repair kit including more spare parts. 
Besides taking care of your bike, you must take care of your health. Above all, use lights to be visible on the road when cycling in the evening. Also, always use a bike helmet. Models with a visor give extra protection from the sun to your face! 
Besides bike lights and helmets, don't forget your emergency supplies. The basic version of the Frist Aid Kit for cyclists doesn't vary from the typical one. It should include: 
Bandages 

Gauze rolls 

Sterile swabs 

Transpore tapes 

Assorted plasters 

Steri strips 

Antiseptic wipes 

Nitrile or Latex gloves 

Sunscreen (because probably you're going to stay outdoor the whole day!) 
Some cyclists also suggest Sudocrem – to avoid saddle sores – but I haven't had any problems so far, so I think it depends on your saddle. For the first trip, it's better to take it, just in any case.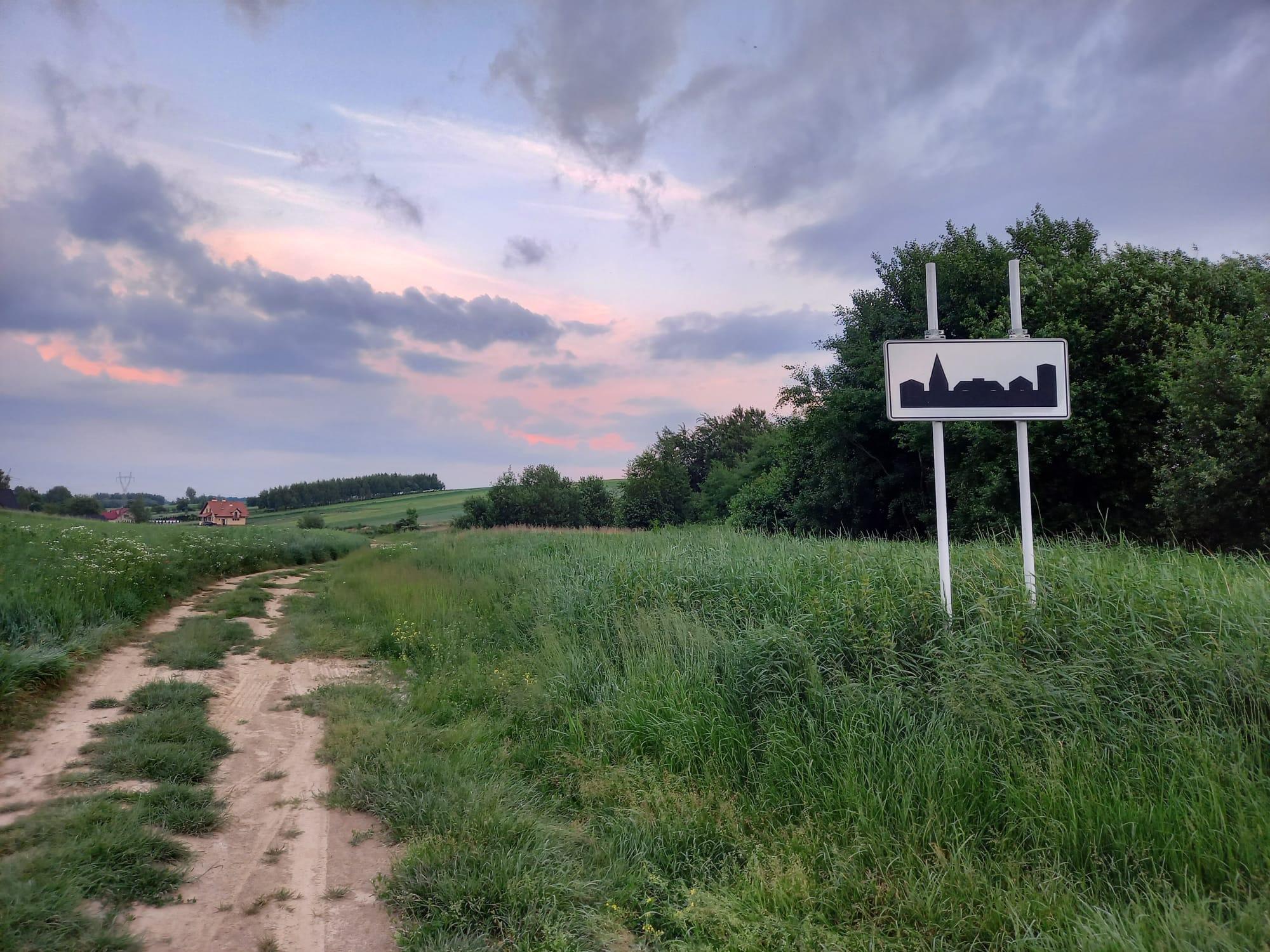 8.

How to plan your route? 
Planning your first trip may be tricky. How long should the route be? How much time will it take? Would I manage it? 
Here I'm coming up with a checklist of things to take into account when planning your first route: 
Think about your extended cycling trip and recall how you felt the next day. 

Consider how many items you will carry with you and how heavy they are. Remember that heavy luggage will make you slower. 

When planning multi-day trips, keep in mind that with every passing day, you will be more tired, and it may be more and more challenging to reach your target. 

Bear in mind your stopping points. You'll probably visit tourist attractions, have meals, and take selfies from a nice viewpoint. Plan some time for stops and rest during the day. The essence of bike touring isn't to make as many kilometers as possible but enjoy your journey. 

Be ready for the unexpected. Have a plan B in case something slows you on your trip. 

Plan your tour with a mobile or desktop app. Of many famous, like Strava, Google Maps, and Bikemap, my favorite is Komoot. This app shows trails suggested to your type of bike, estimates your speed based on your level of proficiency, and above all, shows surfaces of your planned route. 

Pay attention to elevation gain. If you don't like going uphill, you can find a longer but flatter road. 

Finally, keep calm. In the worst-case scenario – planning a too-long trip – you'll be just more tired. 
To dispel any doubts, I recommend this excellent infographic from Adventure Cycling, which helps calculate your daily range.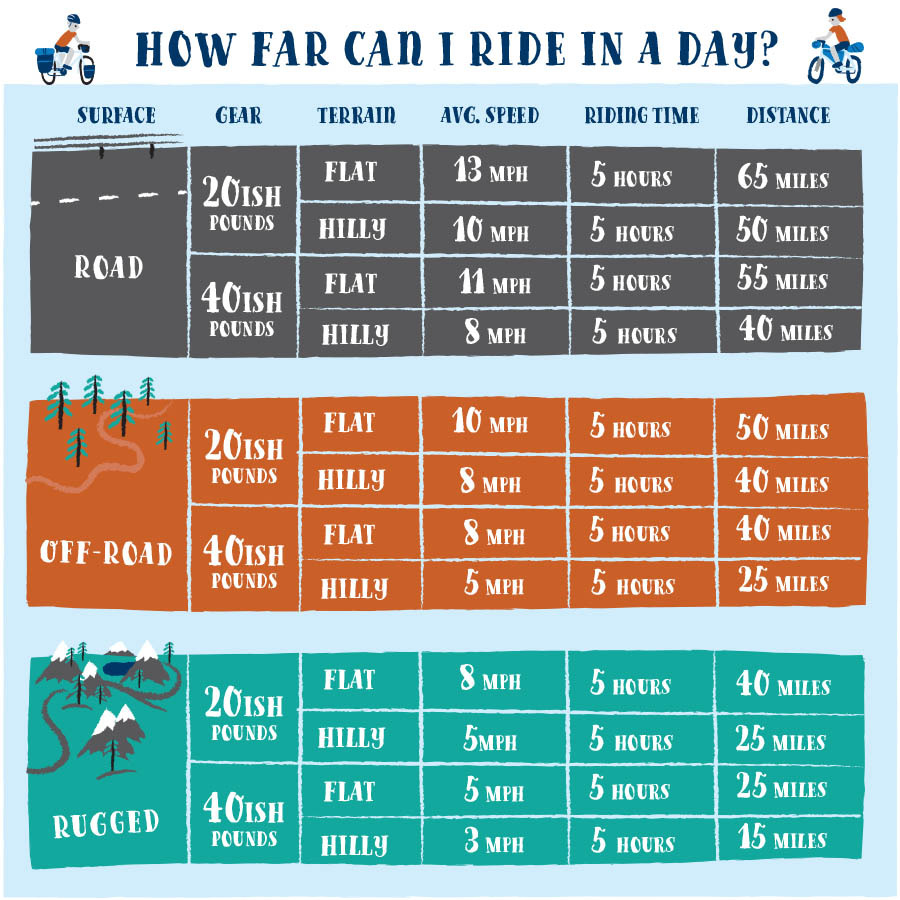 Final thoughts: benefits of bike touring. 
Happy you endured to the end! Now, I won't convince you anymore that bike touring is worth trying. Instead, let me say how it will change your life. 
You'll reduce your risk of heart disease. Studies from Purdue University revealed that if you cycle just 20 miles a week, your risk of heart disease by an astounding 50 percent – compared to those with a sedentary lifestyle. 

You'll be happier. As aerobic exercise, cycling increase the level of serotonin – the neurotransmitter that makes you happy. 

You'll save money. When cycling, you won't have to spend on fuel and tickets. 

You'll save the planet. The emissions level is reduced when you cycle instead of driving a car! 

You'll be able to visit many cities in one area quickly. Ok, at least it's faster than walking! 

You'd immerse in the scenery. No car's glass will separate you from the world. 

You won't lose time looking for car parks or checking timetables! 
Sounds good, right? 
All those benefits you can discover through bike touring. As you can see, this way of traveling has only one disadvantage – it's hard to take the first step. I hope that my article will make it much easier! 
The Author: 
Planning your next trip?
Then don't forget travel insurance! You don't want to get stuck paying a ton of money and ruining your trip if you get sick or have an accident without travel insurance. WorldNomads is ideal for adventurous travelers, backpackers, or anyone looking to be protected during their trip. They cover almost every single activity you can image!

Already reserved your hotel or hostel? If not, we recommend Booking.com. They have a huge selection of hotels and hostels all over the world. Plus, in most cases, you can cancel your reservation up to a few days before the check-in date without any costs! 

Still haven't booked your plane ticket and want to save big? Take a look at Momondo. It's a flight aggregator that combines several other ticket search websites to make it easier for you to compare prices and make sure you are getting the best deal. 

And finally, will you need to rent a car during your trip? Then check out Rentalcar.com to search and compare car rental companies from all over the world in a single website. Then, you can find the cheapest price for the best car!