Last Updated on by Editor
The 5 best and cheapest websites to search for and buy your plane tickets + other tips to save money when booking your flight. If you're not already using these 5 websites, then you're throwing money out the window!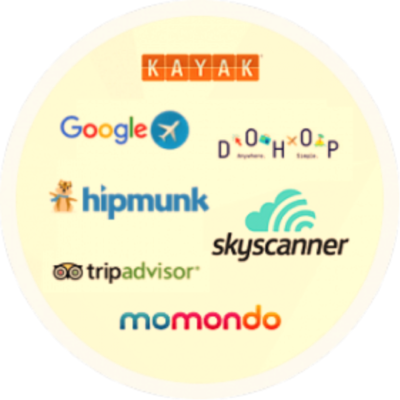 Before we dive in, here's some quick definitions for two words you'll see a LOT in the article. These definitions might sound complicated at first, but no worries! Both of them are things you have probably used before, are essential to know about if you really want the best deals on your flights, and we'll describe them in more detail below.?
On that note, here they are:
Meta searches = search engines (in this case for flights, but they also have them for hotels, tours, excursions, rental cars, etc.) that will show you flight options from all types of travel websites & companies (which we'll call OTAs, like the next definition). In general, metasearches do NOT sell flights directly. The 5 websites we recommend below are all metasearches.
OTAs or Online Travel Agencies = the third party websites & companies that meta searches direct you to that actually SELL the plane tickets (yet aren't the airlines themselves).  
Now that we've got that out of the way….let's dive in with the top question on everyone's mind: How do I find the best price for plane tickets?
In quick terms, it's about checking and comparing different websites.
But wait, there's a difference in price between websites? And isn't it better to buy tickets directly with the airline company?
Yes and no. For both questions! The thing is that, obviously, airlines are the ones who sell plane tickets. Yet, they don't just sell them directly to the traveler….they also sell to physical or online agencies (also known as OTAs, or Online Travel Agencies) who then sell them to the traveler.   
In this article, we'll talk about types of websites called "Meta Searches" that search for tickets on various OTAs and airlines. But it's important to know that these meta searches don't actually sell the tickets themselves. Instead, they are just 'plane ticket aggregators' and show you your options for flights other OTAs are selling. Then you pick the best one….(usually the cheapest one, right?

)
And what's the advantage of using metasearches to buy plane tickets?
More than anything, it's quick and easy and often the cheapest way! Instead of searching many websites and airlines, you can look on a single website and see all the possible flight options for your destination with all price options (sounds a bit like a Trivago commercial, doesn't it?) for more than 200 companies that sell plane tickets.
Another advantage of using meta searches is that you end up discovering different routes for where you want to go since it gives you options from different companies. And most of the time, flights with stopovers are much cheaper than direct flights.
It also allows you to see a larger number of flights than if you just look at one OTA – for example, Decolar.com doesn't show flight results from American Airlines because of a legal fight between the two companies.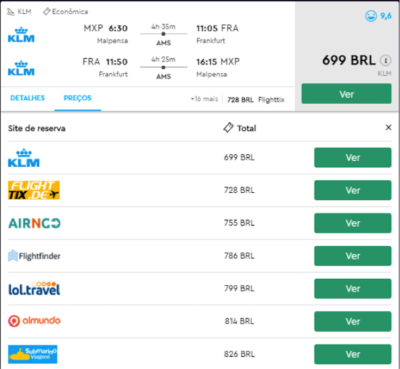 What's usually the cheapest website to buy plane tickets from?
This is hard to say, especially because there isn't a set rule! Sometimes it's cheaper to buy directly through the airline, sometimes it's cheaper to buy through an OTA. Luckily, a flight metasearch (like the 5 websites below) will show you both so you can compare.
And in some situations, there are exclusive prices listed on an OTA that you won't find on the actual airline's website (as it's just a 'special' temporary deal).
Okay, what are the best metasearch websites to find cheap plane tickets and why?   
We'll talk about the 5 main global websites out there – Skyscanner, Momondo, Kayak, AirWander and Kiwi.
Best Websites to Find Cheap Plane Tickets
#1: Kayak (my favorite)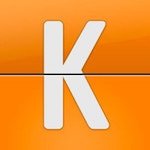 Kayak can be used to search for flights in combination with hotels as the company first began as a metasearch for hotels and was later acquired by the same group that owns Momondo, Booking.com, Priceline and other travel sites.
What's good about Kayak?
Right away on its homepage, Kayak shows flight routes that are trending or with lower-than-average prices using your country as the point of origin. This already helps the indecisive among us who don't know where to go nor when to go….just that they want to travel or take a holiday. It's a great way to begin planning your trip! 
But my favorite feature is the "Explore" button where you choose your origin and your budget, and Kayak will show you all the possible routes for your budget during your specific dates (or over the course of an entire month). It's really helpful! 
Like the 2ndoption Momondo, Kayak even gives you "advice": if it's better for you to buy your flight now or wait a bit for the price to drop based on historic price trends for your route. They also have an e-mail alert system for price drops that you can sign up for, just like Momondo.
One thing I've noticed about Kayak is that there are some flights and prices you'll only find on Kayak. Which, sometimes, means that Momondo or Skyscanner will direct you to Kayak and from there take you directly to the reservation site.
What's bad about Kayak?
I, personally, think the search interface for Kayak is a bit confusing and "heavy" – a lot of advertisements on the page and there's a scroll down that sometimes never stops. The search also takes a while to finish.
Still, I believe Kayak is one of the best websites to buy airline tickets all over the world. 
#2: Momondo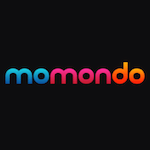 Momondo is probably the least-known of the three. Yet, this Danish company has websites in more than 15 countries and 10 languages.
What's good about Momondo?
Momondo lets you create a daily or weekly alert by email (or by app on your phone) that gives you the price of a flight you're interested in so you don't always need to be checking the site.
You can choose the notifications for a specific date, a specific month or just for a specific price anytime of the year or for flights to a specific region (example: monitor all flights from Rio de Janeiro to any city in the United States anytime during the year).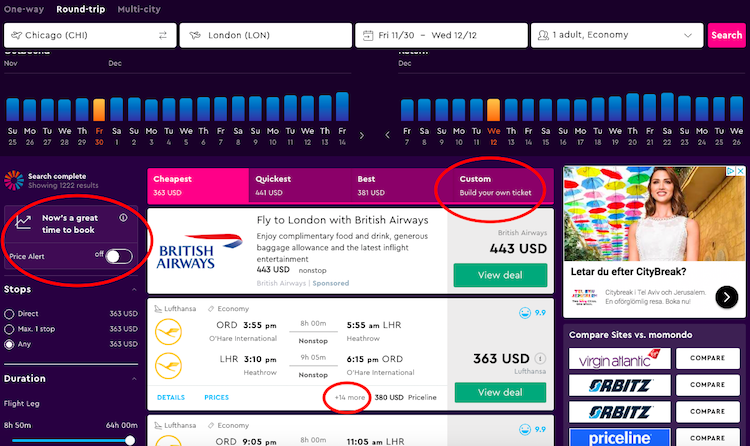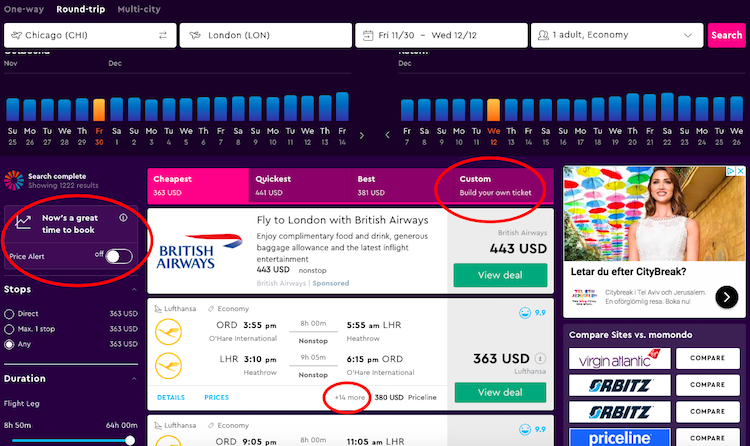 Beyond this, Momondo has a few other features that their competitors don't – they give you 'tips,' saying if the prices are above or below average for the dates nearby and also showing you a cool graph that tells you when the cheapest or most expensive month or week is to fly, alongside the company that's usually cheapest to fly this route.
Another cool feature is the possibility to "build" your trip based on your flight preferences – instead of choosing a pre-defined roundtrip, you can first choose just a single option for the outbound flight. And, based on that, Momondo will show you all the flight options back and possible price changes that may happen based on the day you choose.
What's bad about Momondo?
Their "calendar mode" (which gives the cheapest days to fly) is a bit confusing because it doesn't directly show the prices itself on the graph. Instead, you have to actually click to see the prices and you need to do a search to see the specific flight results.  
#3: Skyscanner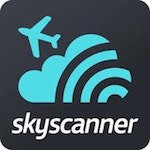 Skyscanner is probably the first metasearch for flights as well as the most well-known. Their website is available in more than 50 countries and has versions for more than 30 languages around the world.
Founded in Scotland and acquired by the Chinese company Ctrip later, Skyscanner has more than 60 million users per month and has specific searches by country, like the metasearch for ferries in Greece.
What's good about Skyscanner?
Like Momondo, Skyscanner also lets you create a price alert so you'll be notified anytime a price for a flight you're looking at increases or decreases.
Skyscanner's website is easy on the eyes and it has some really great search functions. One of these search functions is that you can search for a flight for an entire month (and it shows you a calendar with the prices for each day) or for various destinations in the same country, continent, or region.
This gives you the possibility to choose your final destination based on the cheapest price available.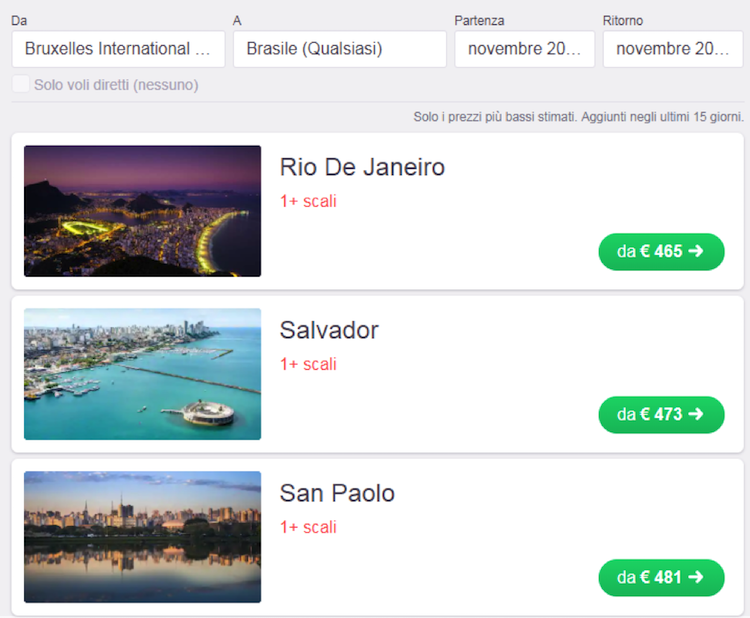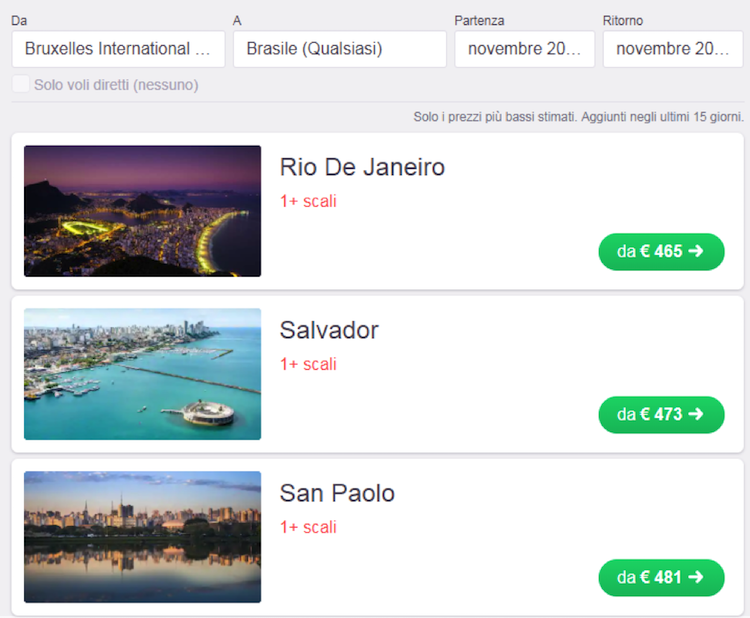 Accessibility is the name of the game with Skyscanner as you can easily choose the country, language, and currency at the top of the website. As an example, you can access Skyscanner Finland website (I know it sounds weird, but I'll talk about why anyone would want to do this in the tips section below) with all the content in Portuguese and see the prices in Euros or dollars.
Another feature is the reviews of the website/OTA that's selling the plane tickets – once you input the info for the flight you're looking for and click to see prices, it'll give you a 1 to 5-star rating for the OTA.
This is important as Skyscanner and the other websites are meta-searches and show you options from third party websites which they aren't affiliated with. In general, the websites are fine to buy from….but the customer service and the return/ticket change policies for some companies can be really horrendous.
I personally have bought from plenty of OTAs and never had a problem with the flights themselves. But if you need to cancel or change the flight, it can be very expensive (Nikki once had to pay 400 dollars to change a flight that she bought through an OTA).  
So, you can decide if you prefer to just buy from the cheapest website or if you prefer to pay a little more and buy from a website with a better reputation.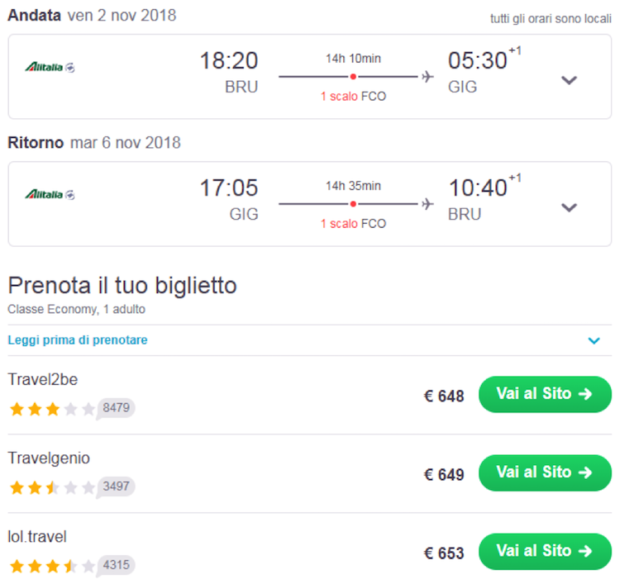 What's bad about Skyscanner?
Although accessibility is Skyscanner's main characteristic, Skyscanner is a bit slow when it tries to redirect you to the third party page where you'll finalize the payment. This happens since they do a price check on the website before sending you there, which is nice.
And if the price has changed (since tickets at certain prices can run out quickly), Skyscanner will let you know and ask if you still want to go to the page.
But….isn't this a good feature? Well, sorta.
It slows things down a bit and it can also be reaaally frustrating when that flight with the awesome price you found runs out while you're waiting.
#4: AirWander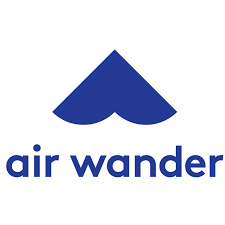 Airwander is another flight metasearch engine with a very nice difference in its operation, it automates flight combinations to add cheaper stopovers and tickets to your trip. Keep reading to better understand!
Let's imagine that you are planning a trip to Sydney from London, and when booking your tickets you realize that you will have a connection in Dubai.
On a normal connection you would have to wait a few hours at the airport, without even seeing the streets of Dubai. But with AirWander it is possible to find tickets for you to enjoy up to a few days on your connection. So, for the same amount you would pay to go to Sydney, you can visit and discover Dubai. All this with one ticket and saving a lot!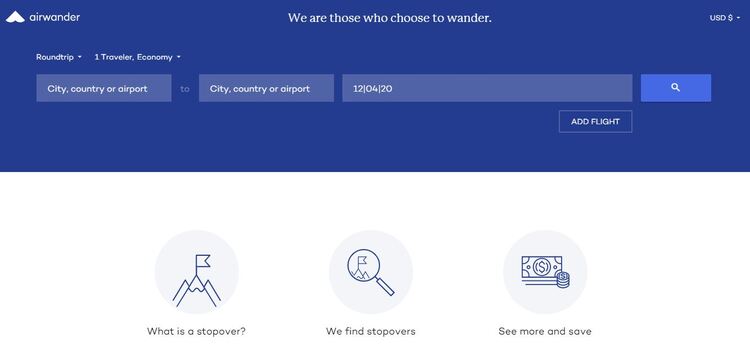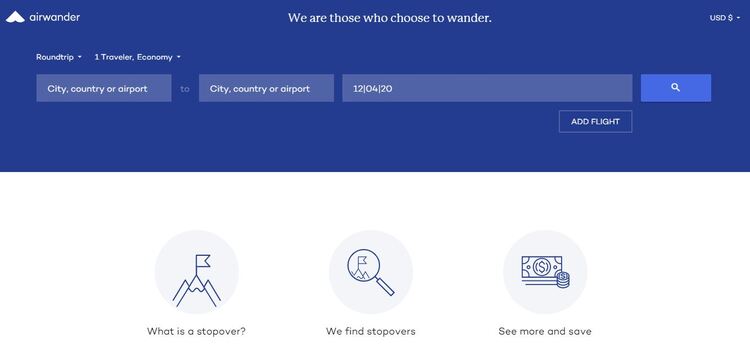 What's good about Airwander?
With Airwander it is possible to add long-stay stopovers to your flight for a very little cost (sometimes nothing!) And add extra destinations on your trip in a simple way.
To add stopovers on your route, simply click on the stopovers button and specify how many days you want to stay at your additional destination. With this, the website offers a series of stopover options and the additional cost of this stop. That's it, just choose which destination you would like to add to your trip!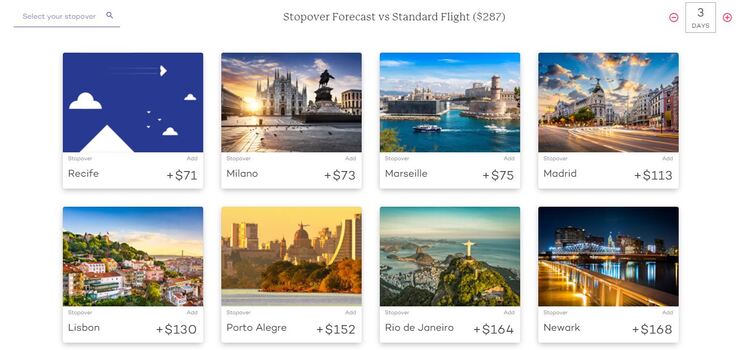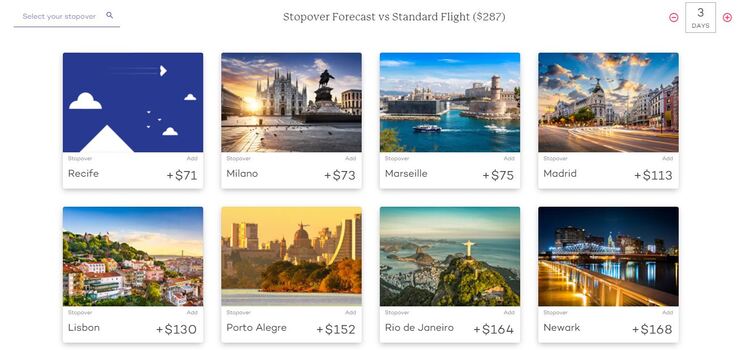 If you don't want to add long stops to your route, Airwander is still useful for you. This is because using "Flight Combinations" the company guarantees tickets up to 65% cheaper than the normal fares with fast stopovers.
Another very nice differential of the company is the World-Tour option for adventurers on duty. With the World-Tour you can find flights around the world and save on your ticket.
What's bad about Airwander?
The site only works with origin, destination and defined dates. If you are looking for a date when your ticket will be cheaper, it is necessary to do the search day by day.
The site is a little slow to show the search results, but nothing absurd.
Personally, I find the calendar mode a bit of a chore. The website does not accept that you enter the date of your trip so it is necessary that you look for the date in the calendar, which can take a bit of time.
Bonus option!
There's a new website to search for international plane tickets that's really good and has great prices: Kiwi!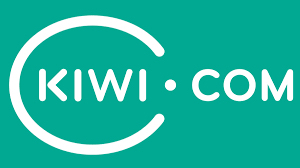 Their website has a cool tool that lets you put in your departure airport, and from there you can see all possible destinations on a map with prices.
As an example: if you want to fly from NYC to Europe but don't want to know the cheapest airport to fly into, just put in NYC for departure and "anywhere" for a destination.
And with this Kiwi discount coupon code here, you'll get a 5 euros off on your ticket: KIWI5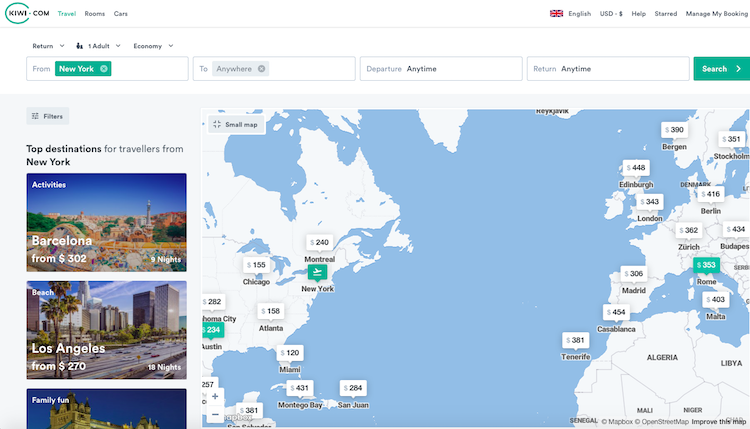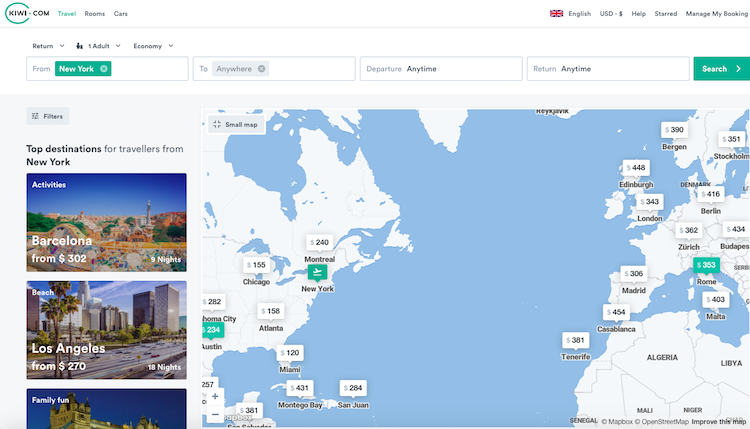 It's worth including this website on your search for plane tickets!
How can I get the most from these metasearch websites and find the best plane ticket price?
Unfortunately, I don't have a ready formula with pros and cons. But I'll drop in some tips that can help you find the best deals.
Tip #1) The country of origin you access the website from directly influences the price of tickets
Remember when I mentioned looking at the Finnish Skyscanner website in Portuguese with Euros or Dollars? Well, now you'll understand why.
The suppliers for plane tickets change by country, so it's very possible you'll see different prices if you access Momondo's Brazil website vs. their Finland website (and here's where Skyscanner gets another bonus point: they let you access the Finland page but still let you change the language to Portuguese, English, etc.)
One note: even if you use Skyscanner, if you're on the metasearch website for another country and click the button to buy, the metasearch will bring you to a version of the third party website in the local language – so if you're searching on Skyscanner/Momondo/Kayak Finland, there's a good chance that the OTA you are taken to is all in Finnish!
To fix this, just add the classic Google Translator to Google Chrome and the page will be translated with a click of the button for you.
If you want to experiment a little, try to change the country for the metasearch website that you're using and see if you can save some money on your ticket by using the website from another country – I've seen cases where the price changes by as much as 150 euros!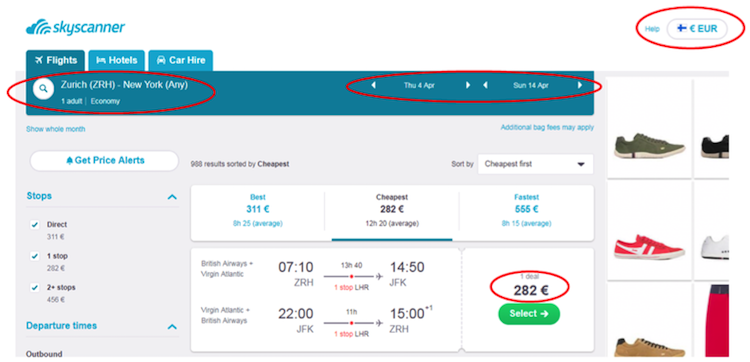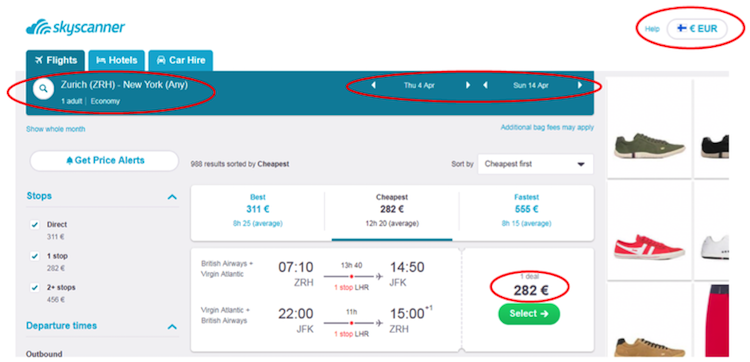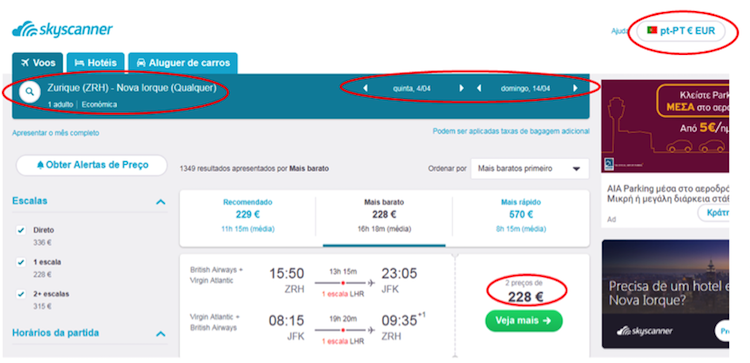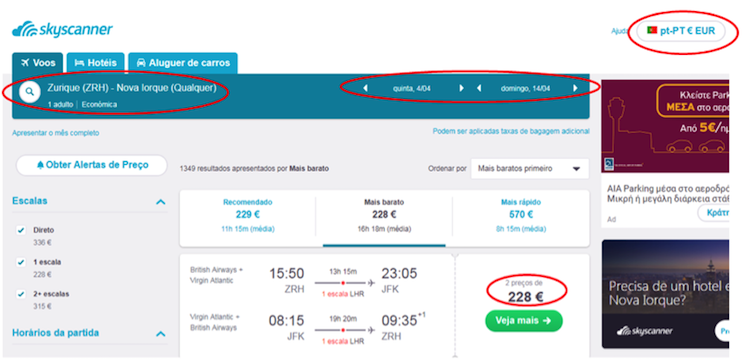 Tip #2: Be careful with service fees and other add-ons when it's purchase time
Some OTAs add a service fee on top of the advertised price, so pay attention to the final price when you're about to make your payment. It's always worth comparing the price charged to make sure the OTA isn't screwing you over and you aren't paying more than you need to.
But in general, the 5 websites I recommend should give you the final total price on the search results. This is very different (and much better) than some other search websites that give you prices for plane tickets before embarkation and service fees, thus making it much more difficult to actually compare the prices.
One more thing to know is that many OTAs will try to offer extra services like travel insurance, flexible tickets, seat selection, or other things you don't need. Keep your eyes open because some OTAs offer these things pre-selected automatically and you need to exclude them manually.
PS: If you're concerned about travel insurance, the ones I recommend here are much better (and cheaper) than what any OTA will offer.
Tip #3: The way you choose to pay can increase the price of a ticket
For low-cost airlines, it's common to be charged a small fee to pay with credit card (since many people only have debit cards and the commission paid to banks is less for the vendor).
So, just keep this in this mind since some OTAs charge much more than airlines charge for forms of payment like American Express, PayPal, or credit cards.
And be sure your card is able to be used internationally in case you have to pay in a foreign currency so you don't rack up fees!
Tip #4: Check your flight details and connections before buying.
Lately, there's been a trend in metasearch websites to offer travelers a combination of flights via separate tickets with different airlines. Some OTAs, such as Kiwi.com, will offer flights from Rio to London with a connection in Madrid, where Rio to London is done with Air Europa and Madrid to London is done with Ryanair.
The problem with this is that these different airlines aren't partners themselves, and you'll be given 2 separate tickets (each with its specific route). And if your Air Europa flight is late or there's any other problem and you miss your connection, Ryanair won't be responsible and won't have the obligation to put you on another flight. Obviously, this can be a big problem.  
(Not to mention you'll also have to pick up your bag in Madrid and re-check it in with Ryanair….and maybe even have to pay twice to check your bag with each airline!)
The metasearch and OTAs usually make it clear if the flight you're looking at is like this by mentioning that the responsibility for the connection is on the passenger and not on the airline.
I, personally, prefer not to risk buying these type of flights unless the price difference is extreme and the connection time is 4 hours or more – that way, you'll save a bit and still have enough time even if there are delays to do the whole airport 'process' (pick up bag from baggage claim, immigration, new check-in, etc.)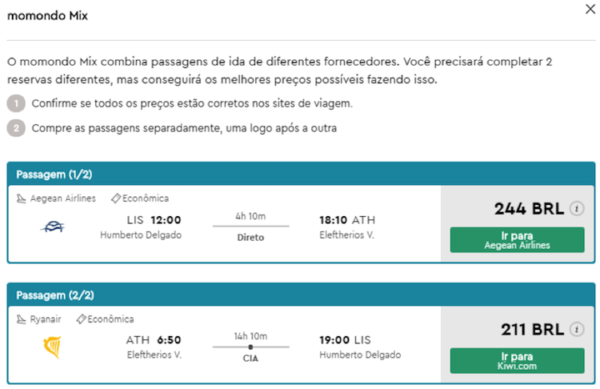 Other well-known international websites to use to find cheap flights and deals:

Priceline – https://www.priceline.com
OneTravel – https://www.onetravel.com
Expedia – https://www.expedia.com
CheapOair – https://www.cheapoair.com
And if you want more ideas on how to find cheap plane tickets, don't miss my classic article 16 Tips to Save on Flights or my newest one 10 Money-Saving Tips to Find Cheap Flights in 2019.
In conclusion….
You can have a favorite metasearch for flights…but there isn't a perfect one!
If you have the time, curiosity, and want to save some money, always search multiple sites for your plane tickets to guarantee you'll find the best price/flight combination possible.
Here's my best recommendation: check the 5 websites listed above (and the others at the bottom if you have time). Between them, you'll definitely find the best deal!
And if you can, have a bit of patience and use the tools and price alerts – you won't always find the best price right away, so keep checking in and see how the prices change from day-to-day. But always check with your card in hand so you can grab your ticket quickly when you find a great deal because it probably won't last more than a day (in some cases, no more than an hour)!
Good luck…and happy travels!
Planning your next trip?
Then don't forget travel insurance! You don't want to get stuck paying a ton of money and ruining your trip if you get sick or have an accident without travel insurance. WorldNomads is ideal for adventurous travelers, backpackers, or anyone looking to be protected during their trip. They cover almost every single activity you can image!
Already reserved your hotel or hostel? If not, we recommend Booking.com. They have a huge selection of hotels and hostels all over the world. Plus, in most cases, you can cancel your reservation without any costs up to a few days before the check-in date!
And finally, will you need to rent a car during your trip? Then check out Rentalcar.com to search and compare car rental companies from all over the world on a single website. Then, you can find the cheapest price for the best car!