Last Updated on by Lohanna Reis
Travel videos are a great way to share your experiences with friends and family. You can use them on social media as portfolio pieces for your business or for fun. Whatever the purpose, travel videos can help you grow your audience.
Travel is an experience that we all have in common. When someone sees a video of you traveling through Italy or hiking in Montana, they'll be able to relate to what you're doing because it's something that everyone does at some point in their lives. Traveling is one of those things that people love to do—and watching other people's travel videos will make them want to do it too!
It's also a great way to remember the details of an amazing trip so you can look back on it fondly years down the road. In this article, I'll show you how easy it is to make your own travel videos using your smartphone or digital camera.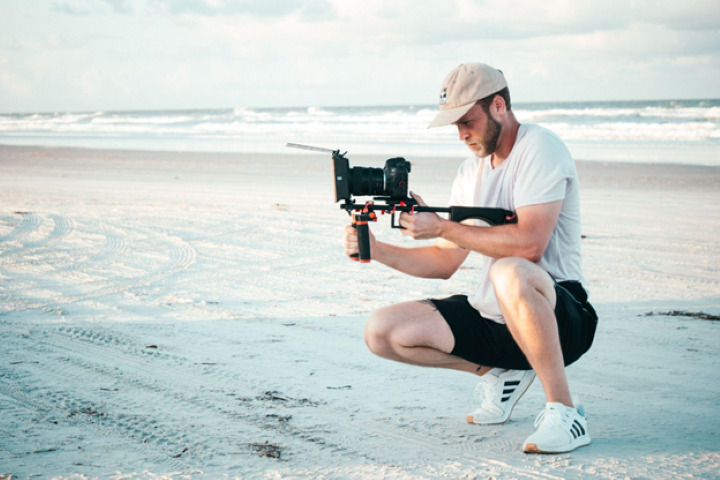 1. Decide what type of travel video you want to make
As you begin to plan your travel video, it's important to decide what kind of video you want to make. The answer will depend on the purpose behind your filming:
Do you want to show off your hometown or country? If so, then a "tourist" video is appropriate. In this type of video, viewers will see all the beautiful sights and sounds that make up your home city or country.

Do you want to film while on vacation? If so, then a "vacation" video is more appropriate than shooting a tour guide-style piece where people might not recognize themselves in some shots (unless they're from locales like Hawaii).

Do you have any travel-related experiences or stories that you would like to share with the public? If so, think of creating a documentary in the style of an interview wherein family and friend talks serve as the narration for pictures taken throughout the trip—this is a terrific way for tourists who aren't used to speaking to cameras to feel at ease being filmed!
2. Shoot as much footage as you can
I know, I know—you want to make a great video but don't have time to shoot hours and hours of footage. However, this is one of those times when "less is more." If you have only 30 seconds of video, use that time wisely.
Don't waste it on something boring (like a plane taking off) or blurry shots that don't add anything to your final cut. Instead, focus on getting the best action shots and important moments from your trip. If there's something crazy happening around you—like an elephant charging at someone—make sure it ends up in your final cut!
To help with this task and make sure you get everything in focus while keeping things moving quickly (because we all know how long filming takes), consider using a camera that has a video mode built-in so it will be easier for beginners to control everything without having too much difficulty with settings or quality issues caused by not knowing how cameras work too well yet.
3. Make sure your camera is not shaky
There are two ways that you can keep your camera steady while taking footage:
Use a tripod –

A tripod is an essential tool for anyone who wants to take professional-looking videos. You can buy one at a store or online, but I recommend getting one from Amazon since they have a wide range of tripods and other accessories that are easy to use and set up. Using a tripod will ensure that your camera isn't moving around when you're filming.

Use the self-timer –

If you don't have access to a tripod, then using the self-timer on your camera is another option. This allows you to press down on the shutter button without having to worry about holding the camera still while it takes photos or videos.
4. Film actions and reactions
When you travel, you are often faced with a new culture, new people and new experiences. A great way to capture these moments is with a film action and reaction video.
A film action and reaction video is where you show someone doing something and then react to it. This can be done in many different ways, but I would recommend that you have the person do something that may seem strange or unusual to those who are watching the video.
For example, if you were in Asia and wanted to make a film action and reaction video, you could have someone eat some exotic food from their local market. Then, when they ate the food, they would react by making funny faces or saying how they liked it or disliked it.
If they didn't like it at all then they might spit it out or throw up right away! These types of reactions can be funny and entertaining for people who watch them online or on TV.
Another example would be if two people were going out on a date together for the first time and one of them wanted to take their partner out on an unusual activity such as skydiving or bungee jumping!
5. Tell a Story
A great way to make your video interesting is to tell a story rather than just showing highlights from your trip in chronological order. This will help keep viewers engaged throughout the entire video without them feeling like they're being dragged along on a tourist trail!
You can also add some personal touches by adding photos or even video clips of yourself talking about what you've seen or doing on your travels. This will not only help people relate more closely with your brand but also give them an insight into what makes you tick as an individual!
6. Edit your footage on your computer
Once you've imported your footage into your editing software, it's time to trim the clips to the parts of the video that make up the story you want to tell.
Next, add effects and transitions. If you're making a travel vlog or an interview-style video, this step is critical in making sure your work moves smoothly from one shot to another while keeping people engaged with what they're seeing on screen.
Video compressors are used to reduce the size of each video file so that they can be uploaded or transferred more quickly for files like MOV to MP4 and AVI to MP4.
Conclusion
It's easy to get carried away with making your travel videos, but don't forget that the most important thing is to just enjoy yourself! You can make sure that you have all the footage you need by planning ahead and scheduling regular breaks for yourself.
The more time you spend on location, the more likely it will be that something interesting will happen. Once back home, begin editing immediately so that you don't lose any good ideas or moments from your trip.
Planning your next trip?
Then don't forget travel insurance! You don't want to get stuck paying a ton of money and ruining your trip if you get sick or have an accident without travel insurance. WorldNomads is ideal for adventurous travelers, backpackers, or anyone looking to be protected during their trip. They cover almost every single activity you can image!
Already reserved your hotel or hostel? If not, we recommend Booking.com. They have a huge selection of hotels and hostels all over the world. Plus, in most cases, you can cancel your reservation without any costs up to a few days before the check-in date!
Still haven't booked your plane ticket and want to save big? Take a look at Kayak and Momondo. They are flight aggregators that combine several other ticket search websites to make it easier for you to compare prices and make sure you are getting the best deal.
And finally, will you need to rent a car during your trip? Then check out Rentalcar.com to search and compare car rental companies from all over the world on a single website. Then, you can find the cheapest price for the best car!