Last Updated on by Rodrigo @ OutofYourComfortZone
I'll keep today's article short, sweet, and to the point.
Are you visiting Stavanger, Norway and want to do the famous Pulpit Rock (Preikestolen) hike without spending the expensive prices Norway is famous for? Or do you have a 1-day cruise stop in Stavanger and want a cheap and efficient way to hike Pulpit Rock and still get back before your cruise departs? Then this article is for you!
What is Pulpit Rock (Preikestolen) in Norway?
Pulpit Rock is an enormous vertical cliff of about 600 meters that sits on the edge of a Norwegian fjord called Lysefjord. The top of this cliff forms a large, almost perfectly flat viewpoint, and this rock is the main tourist attraction in the region and one of Norway's most famous landmarks.
It's absolutely stunning, but be ready for crowds as it's a very popular attraction. So even if you're in shape and trying to go up quickly, you'll likely be slowed down by a packed trail where it's difficult to pass other hikers.
How long does it take to hike Pulpit Rock?
For most people, you can expect to get to the top of Pulpit Rock from Preikestolhytta Mountain Lodge (the trailhead area with food and accommodation) in about 2 hours, and then come down a bit quicker than that. After factoring in some time spent admiring the views and perhaps eating some lunch at the top, the general recommendation is to plan for about 4-5 hours in total to do the hike.
That said, if you are really in a rush (AKA you have limited time since you have to get back to your cruise ship) and you are in very good shape, this can be done significantly faster. We made it to the top in just about an hour, but it was rather painful so I really don't recommend it unless you really need to!

What can you tell me about Stavanger?
Stavanger is the fourth largest city in Norway and the Norwegian "Oil Capital," given that much of the infrastructure and administration for Norwegian oil exploration is located in Stavanger…just one more reason that the city is so expensive.
But beyond that, Stavanger is a pleasant little town to explore, as well as a base for hiking some of the most beautiful trails in Norway, including the famous Pulpit Rock (Preikestolen) and Kjerag, both located in the Lysefjord fjord.
Is it really possible to hike Pulpit Rock on a 1-day cruise stop in Stavanger without an excursion? If so, how can I get to Pulpit Rock from the Stavanger cruise terminal?
With some careful planning to get your timing just right and a good level of fitness, it certainly is possible to hike Pulpit Rock on your Stavanger cruise stop! We hiked Pulpit Rock on our 1-day cruise stop in Stavanger ourselves, and we had a great day and then made it back to our cruise ship just fine.

Of course, this will depend on how long you have at shore (our ship was a little late, so we were in Stavanger from about 9:00 – 17:00). But assuming you have a similar cruise itinerary, if you want to hike Pulpit Rock, you'll definitely want to get off your ship as early as you can. From there, we'd recommend following option #3 (by bus) in the next question for the cheapest and most efficient way to get to Pulpit Rock.
In our case, we took the 10:00 bus from Stavanger to Pulpit Rock, arrived at Pulpit Rock at 10:50 and then took the 15:00 bus back to Stavanger for a 15:50 arrival, leaving us about an hour to get back to our ship (make sure to read our tips about this bus below though!).
How can I get to Pulpit Rock from Stavanger? What's the cheapest and easiest way to get to Pulpit Rock from Stavanger on my 1-day cruise stop?
Essentially, there are 3 main ways to get to Pulpit Rock from Stavanger.
Renting a car:

this is a pricey option as the cost of renting a car itself as well as the cost of gas are pretty high in Norway…not to mention, you'll ALSO have to pay a toll to go through a massive tunnel to get to Pulpit Rock (140 NOK in each direction) PLUS about 250 NOK to park at the Pulpit Rock trailhead. But if you do want to rent a car, my article with the 7 best websites to rent cheap cars in Norway can help.
Taking a ferry:

in Stavanger, you'll find plenty of tour companies promoting boat rides to see Pulpit Rock from below…though you will miss the incredible view from above, in this case. But if you're interested, here's a tour company to look into:

https://www.norled.no/en/
Getting a bus to the Pulpit Rock trailhead (the best and cheapest option!):

in the past, the only way to get to Pulpit Rock was to take a ferry and then a bus. But since the recent construction of a new tunnel through the mountain, you can get directly from Stavanger in Pulpit Rock by bus in about 45-50 minutes! We'll talk more about this bus below, but you can get one directly from the bus terminal in Stavanger (near the center) that will drop you off right at the Pulpit Rock trailhead for about 360 NOK roundtrip.
How to reserve and get the bus from Stavanger to Pulpit Rock step-by-step
Go to

www.pulpitrock.no

.

www.gofjords.com

is another option if the buses from the first company are already full, though this one is a bit more expensive and has fewer daily buses.

Choose a ticket with the departure time from Stavanger that you'd like. I'll add a table with the timetable for this bus below. If you're going on a cruise, choose the earliest one that you're able to (we didn't arrive early enough for the first bus of the day, so we took the second one at about 10:00 AM). Note: the bus has pickups throughout Stavanger, so just make sure you pay attention to exactly where you pick it up and what time.

Ride the bus for about 50 minutes from Stavanger to the Pulpit Rock trailhead: Preikestolhytta Mountain Lodge. Then enjoy your hike!

Important!:

Although you'll buy a roundtrip bus ticket, you can't reserve the exact time for you to come back to Stavanger. So make sure you take a look at the bus schedule to come back ahead of time, and then finish your hike WAY before the bus leaves since the buses from the Pulpit Rock parking lot to Stavanger normally get totally full and it's first come, first served. This is extra important if you have a cruise ship to get back to!
Bus schedule from Stavanger to Pulpit Rock Hike
Depending on the season, there are about 6 or 7 daily departures from Stavanger to Pulpit Rock from www.pulpitrock.no. But make sure to check the exact schedule for the day you want to hike.
But generally, during high season you can get the bus from the Stavanger bus terminal at 9:00, 10:00, 11:00, 13:45, 14:45 and 17:10. The bus takes about 50 minutes to get from Stavanger city center to the Pulpit Rock trailhead.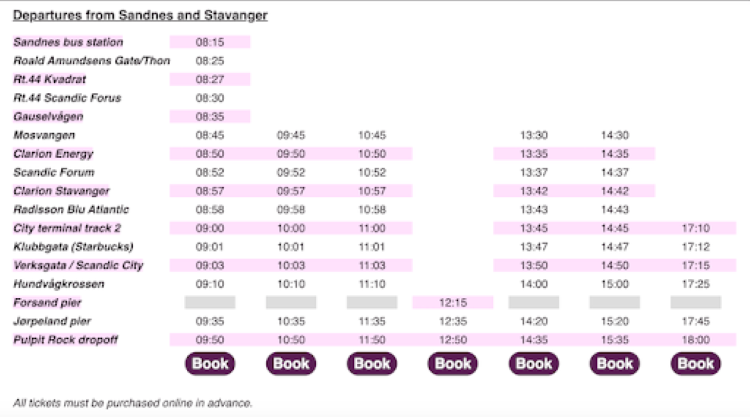 Bus schedule from Pulpit Rock parking lot to Stavanger
As we mentioned above, you aren't able to reserve the exact time for your bus back to Stavanger like you can for your bus to Pulpit Rock. But you'll still use the same ticket both ways, just show the ticket on your phone to the bus driver when you get on.
But as we said above, the buses back to Stavanger fill up quickly, so make sure you finish your hike early so there's still space for you!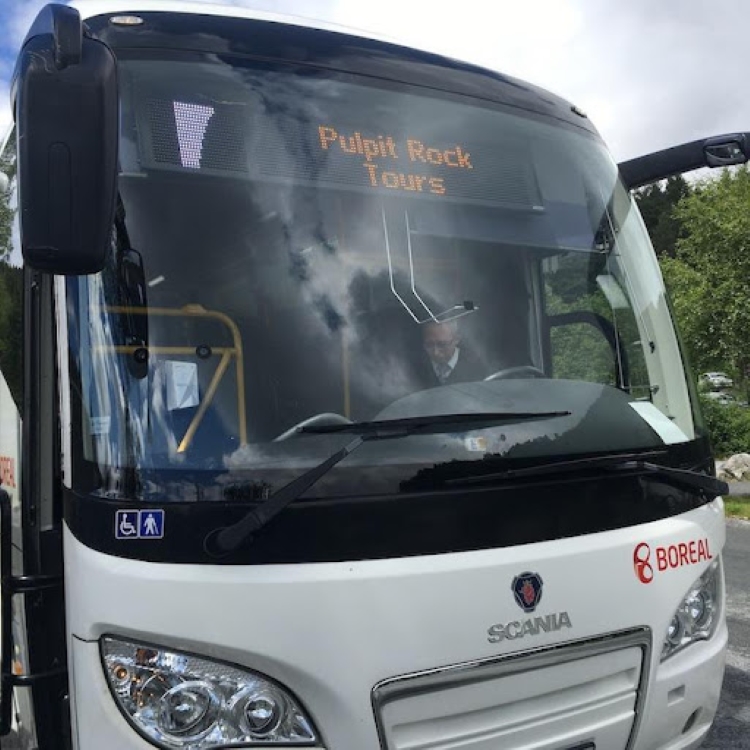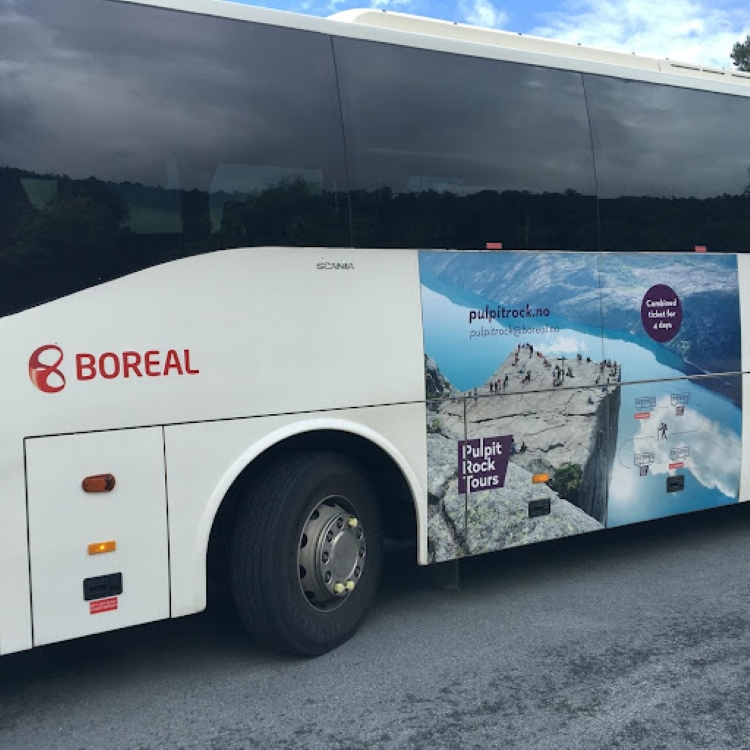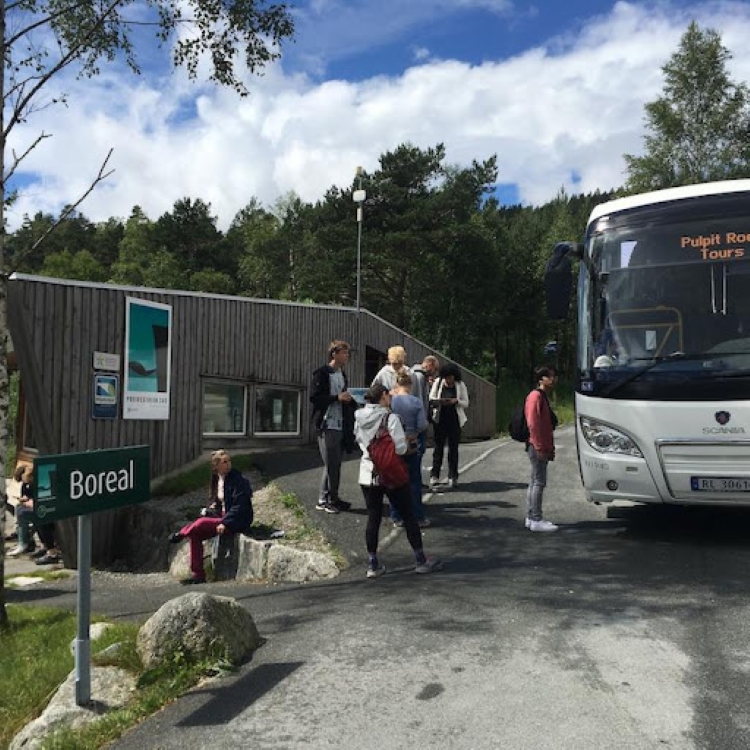 And that's it! Like I said, today's article was short and to the point. But if you still have any questions, just leave them in the comments area below and I'll get back to you!!
Happy travels and enjoy beautiful Norway!
Legal notice: I didn't receive any compensation from the companies I mention here. I paid full price for any that I did use…or didn't use them at all. I just mention them here as they really were the cheapest way from Stavanger to Pulpit Rock that I found during my trip.
Planning your next trip?

Then don't forget travel insurance! You don't want to get stuck paying a ton of money and ruining your trip if you get sick or have an accident without travel insurance. Our page with The 3 Best and Cheapest Travel Insurance on the Market can help you choose the right plan and will give you some discount coupons for the biggest insurance companies!

Already reserved your hotel or hostel? If not, our article with The 6 Best and Cheapest Websites to Find & Reserve Accommodation can help you out. You'll also find some promotions and discount codes.

Still haven't booked your plane ticket and want to save big? Take a look at our page with 16 Tips to Save on Flights where you'll also find the 4 best websites to buy your plane tickets.

And finally, will you need to rent a car during your trip? Then surely our page with The 5 Best and Cheapest Websites to Compare and Rent Cars Around the World will help you choose the best rental car and find a good deal.