Last Updated on by Rodrigo @ OutofYourComfortZone
Heading to Europe? Want to save $$ on transportation while there? Want to know what transportation options there are beside the trains? Then read on! This article will give you the best website to compare all types of transportation in Europe and tell you about the #1 cheapest way to travel around Europe!
Of all the continents, Europe has got to be one of the best connected. It has some of the best public transportation systems in the world!
Plus, there's usually a bunch of transportation options between any two cities on the continent: car, train, bus, plane, or even boat.
All of this makes Europe one of the easiest places to travel in the world because the traveler – whether a luxury tourist or a backpacker – won't have much difficulty getting around….there's (almost) always a way to get to your destination.
This is very different from places like the United States where the car is king (and your only option in many areas), or Brazil and South America in general where there are almost no trains.
But all these different types of transportation in Europe make one small problem for travelers: what's the best option?
And that's why this article is here! To help you choose the best form of transportation between two destinations in Europe.
The cheapest form of transportation in Europe if don't care how long it takes
Then check out FlixBus (especially for short distances).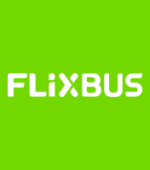 FlixBus – www.flixbus.com
FlixBus is one of the biggest bus companies in Europe and has the biggest interurban bus network on the continent with more than 1,200 destinations in 22 countries.
Just take a look at their route map!!
Plus, all FlixBus buses have free wifi, outlets, and bathrooms.
So if you are traveling in Europe and want to save on getting from place to place, I wouldn't miss looking at their site to check prices. Sometimes, they even have deals as low as 1 Euro!!
But wait…
How can I see and compare all of my transportation options in Europe at once?
If you check website by website for each mode of transportation, this will take a bunch of time and effort. But if your goal is to find the best mode of transportation in terms of cost and benefits, there's a tool that can help with the process: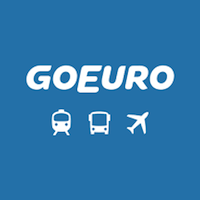 GoEuro – www.goeuro.com
With GoEuro, just put in your departure city and your final destination and the website will give you all the options between those points along with the price and duration of each trip.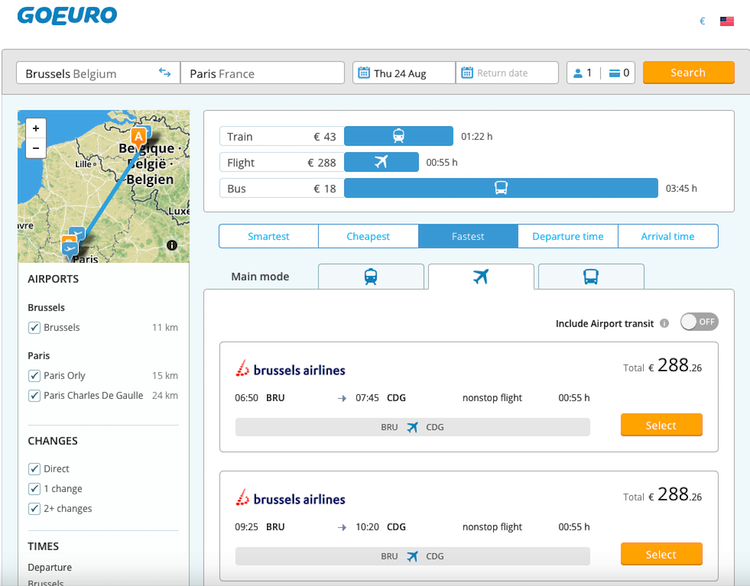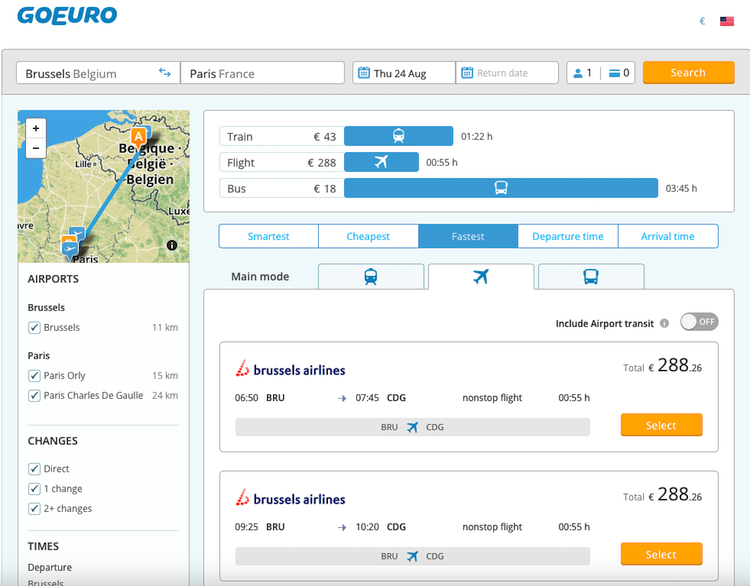 This will make your life a LOT easier because you won't have to stick it out comparing all the prices for trains, with those from the bus, with those from flights, etc….
When the choice of transportation is about more than just money and time
Europe is a beautiful continent, covered with stunning mountains, lakes, and forests. So, often arriving at your destination isn't the most important thing, but HOW you get there is.
And when it comes to Europe, there are 3 types of transportation that can't be beaten in terms of access to natural beauty and incredible scenery: train, car, and bicycle.
Being in Europe and not traveling by train at least once is almost unimaginable! You have to give yourself this "luxury." And there are plenty of fantastic trains rides on the "old continent" that can be done if you have the chance.
You can see what European train trips not to miss in our article with The 10 Most Incredible Train Trips in the World.
When traveling by train in Europe, you can buy tickets individually or go with one of the famous European train passes. Read all about them in our article with The 5 Best European Train Pass Companies.
Another type of transportation in Europe that isn't always the most practical or cheap, yet still has its charm, is traveling by car on a road trip.
Besides having total flexibility in terms of time and the places you can visit, just as with train, there are some unbelievable European road trips by car!
Once again, our article with The 13 Most Incredible Road Trips in the World can give you some ideas. Though this article doesn't talk about driving on the German Autobahn….something that's still on my list of things to do in life…?
Just remember that finding parking in big cities in Europe can be a nightmare…and expensive!
And if you're interested in a European road trip, you'll probably need to rent a car. So don't forget to check our article with The 5 Best and Cheapest Sites to Compare and Buy Rental Cards Around the World.
I love bikes and am still planning to do a big trip with one somewhere in the world (whether Europe or not). Plus, this is a transportation option where neither time nor money really influences your decision….if only this was always true!?
BONUS!
This type of transportation is relatively common in Europe but not around the world. But it's definitely a viable option for travelers who have a lot of time to spare and little money in their pockets.
If this is your thing, we talk about it a little more and give some tips in our looooooong article about saving on overland transportation during your trips.
What should I consider when choosing my transportation in Europe (or anywhere, really)?
Price
Need I say more?
Travel time
This is pretty straightforward. Think about if it's worth take a bus from Amsterdam to Rome just to save a few euros if it means you'll end up losing almost a whole day in travel. Sometimes, it's better to just fly to make the most of your time.
Plus, when it comes to long distances, in general flying can be cheaper than bus, car, or train.
Total travel time including getting to the station or airport (as well as leaving it to get to your destination)
If you want to fly, besides the time you spend on travel itself, you should also consider the amount of time it'll take for you to get from where you are in the city to the airport. And upon arrival, how long it'll take you to get from the airport to the center of the city (or the address of where you're staying).
For example, if I'm going from Brussels, Belgium to Paris, France, the length of the flight is only 55 minutes. But you also have to add in all the time you need to get to the airport outside the city (at least 1 hour before your flight), getting through the check-in line, passing through security, etc…
Upon arrival, you then also have to include all the process of leaving your final destination's airport to get yourself to the central areas of the city. And most airports around the world aren't that close to the city center. Both of Paris's main airports are around 20 km from the city center.
But if you choose the train, you'll leave directly from the center of Brussels and arrive in the center of Paris in about 1 hour and 22 minutes. In other words, your total travel time will definitely be much less if you take a train than if you take a plane.
Baggage
This is another important issue, especially if you are taking a long trip in Europe with a big bag.
Today, most domestics flights (or those within Europe) in economy class don't have a free checked baggage allowance. So, you'll have to pay to check your bags and can only bring one small bag "for free" on the plane with you.
This isn't only true with the low-cost carriers, but also with the big traditional airlines as well.
On the other hand, if you are traveling by train or bus, the free checked baggage allowance is much larger. With FlixBus, you can put two bags of up to 30 kg down below and can also bring a small one on the bus with you.
And with trains…wow!….I've bought basically my whole house with me on some of my train trips in Europe and never had a problem. So, no need to worry there!
In other words, you should definitely consider extra baggage costs when you choose your type of transportation in Europe.
NOTE! Don't forget that there are also security restrictions with baggage. If you don't check a bag on the plane and need to bring everything with you into the cabin, remember that you can't bring sharp objects, certain liquids, and, maybe in the future, even computers!
And that's it! It was a short and specific article, but hopefully, you liked the tips for cheap tourism in Europe.
If you have any other suggestions or ideas about transportation and traveling cheaply in Europe, please leave a comment below!
Happy European travels!!
Planning your next trip?

Then don't forget travel insurance! You don't want to get stuck paying a ton of money and ruining your trip if you get sick or have an accident without travel insurance. WorldNomads is ideal for adventurous travelers, backpackers, or anyone looking to be protected during their trip. They cover almost every single activity you can image! Plus, you can have a 5% discount with the coupon code comfort5.

Already reserved your hotel or hostel? If not, we recommend Booking.com. They have a huge selection of hotels and hostels all over the world. Plus, in most cases, you can cancel your reservation without any costs up to a few days before the check-in date!

Still haven't booked your plane ticket and want to save big? Take a look at Momondo and Kayak. They are flight aggregators that combine several other ticket search websites to make it easier for you to compare prices and make sure you are getting the best deal.

And finally, will you need to rent a car during your trip? Then check out Rentalcar.com to search and compare car rental companies from all over the world in a single website. Then, you can find the cheapest price for the best car!
If you want to hear about new articles, check out our latest pictures, and read our newest updates, be sure to follow us here….
…..and subscribe to our newsletter below!