Last Updated on by Lohanna Reis
Whether you are buying for your partner, family member, friend, or even colleague, coming up with new and creative Christmas gift ideas each year can be quite a demanding task. This becomes particularly challenging when you're shopping for a travel lover, as they always seem to have every tool and gadget needed for making their journeys more fun and enjoyable. To help you make this process a bit easier to handle, here are some unique Christmas gift ideas any traveler will love: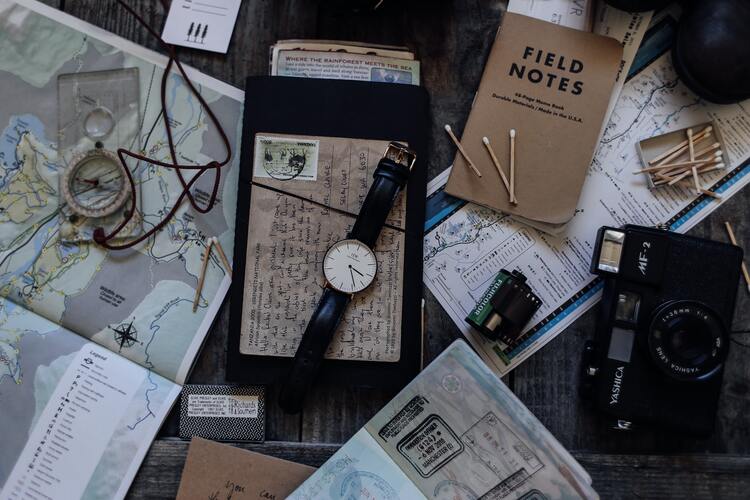 1. Passport wallet for business people
Business people often embarking on corporate trips might need travel gadgets that not only offer functionality and practicality, but also look great. In that case, a leather passport wallet can be a wonderful option. Coming with separate compartments for passports, cards, cash, and other important documents, such a wallet makes it easy to keep all essentials in one place and stay organized on the go. Apart from making the wallet look more sleek and elegant, the leather material is also ideal for embossing, giving you the option to personalize the gift with the person's initials or even a short message, if you wish.
2. Scratch map for the overachiever
If you're buying a present for a traveler attempting to visit every corner of the globe, a travel scratch map is a lovely option. Rather than placing a pin on the map to mark every destination they've been to, like in the old days, travelers can now simply scratch off a layer of gold foil on the map to mark the destinations they've already visited. Not only is this a more practical solution, but a black and gold scratch map also makes for a more aesthetically appealing wall hanging that might even help to beautify their home. Any traveler with specific goals, travel dreams, and high expectations is bound to enjoy a thoughtful gift like this.
3. Wireless tracker for tech lovers
When it comes to travelers who love technology and experimenting with the newest tools and gadgets, a wireless bluetooth tracker can be a wonderful gift idea. These trackers are small and practical enough to easily be stored in luggage, wallets, or other valuable belongings, while also effortlessly connecting to a smartphone and allowing you to track the location of your items in real time. Such a tracker is ideal for any traveler always on the go, especially if they have a tendency to misplace or lose important items along the way.
4. Backpack for the adventurer
For any adventurer that spends most of their time outdoors, additional gear always makes for a great gift. A travel backpack can be a brilliant solution, due to the practicality and flexibility it provides. And if you choose a rucksack with plenty of additional pockets, such as separate compartments for laptops, shoes, water bottles, cards, and valuables, it will be even more handy to bring on any journey, and ideal for staying organized on the road. Combining functionality with smart design, a quality travel backpack will surely be appreciated by any avid adventure traveler. However, it could be beneficial for other types of frequent travelers as well.

5. Massager for active travelers
If the adventurer in your life prefers more active forms of travel, spending their time practicing sports and other forms of physical activity, they're likely no stranger to soreness, fatigue, or even some travel-related stress. An effective handheld massager could be the perfect gift for this person. Such a high-quality and durable tool is specifically designed to reduce built-up tension, ease muscle stiffness and fatigue, and provide precise relief from soreness and pain. What's more, a handheld massager is also lightweight and portable enough that it can easily be carried during travels, thus being the ideal solution for any active traveler.
6. Moisturizing set for skin care lovers
It's no secret that the airplane air tends to be quite harsh and drying, particularly during the long-haul flights. That is why a face moisturizing set can be a brilliant option for the skin care lover in your life that flies frequently. Moisturizing skin care will allow them to stay refreshed and hydrated during each journey, while also providing an enjoyable pampering experience no skin care enthusiast could truly refuse. As the sun might also be more dangerous when we're that high up in the air, don't forget to throw in a good sunscreen into the set as well. This will ensure your traveler is always safe and protected when flying.
7. Water bottle for sustainable travelers
When you are shopping for greener, more eco-friendly travelers, anything that supports their sustainability efforts can be quite a lovely and thoughtful gift. A reusable water bottle could be a great solution, allowing them to refill it anywhere and at any time, without creating plastic waste along the way. This could be a particularly good option if you choose a collapsible water bottle, as its small and compact size truly makes it perfect for travel and easy storage in any luggage. To delight a sustainable traveler even more, this present can also be paired with other eco-friendly tools that make green travel easier, like bamboo cutlery sets, cotton tote bags, etc.
8. Packing cubes for the organizer
In case the adventurer in your life prefers staying neat and organized on their journeys, a set of packing cubes could be the ideal solution for their needs. From clothes and dirty laundry to documents and electronics, everything can be stored neatly in color-coded packing cubes, keeping everything clutter-free and categorized no matter which type of luggage they are packed in. These cubes also make for great stocking fillers, as they are already quite affordable, but you might even be able to get a good discount on them on popular online marketplaces as well.
9. Neck pillow for the frequent traveler
Whether it's a bus, train, or plane, we all know how uncomfortable and sometimes painful sleeping on long journeys can actually be. But with a great travel pillow, those issues won't be a concern anymore. Just make sure you opt for an anatomic pillow that offers proper neck support and aids in sleep, along with being easy to pack and handy for carrying around in luggage, and any frequent traveler in your life is bound to be delighted with this thoughtful gift.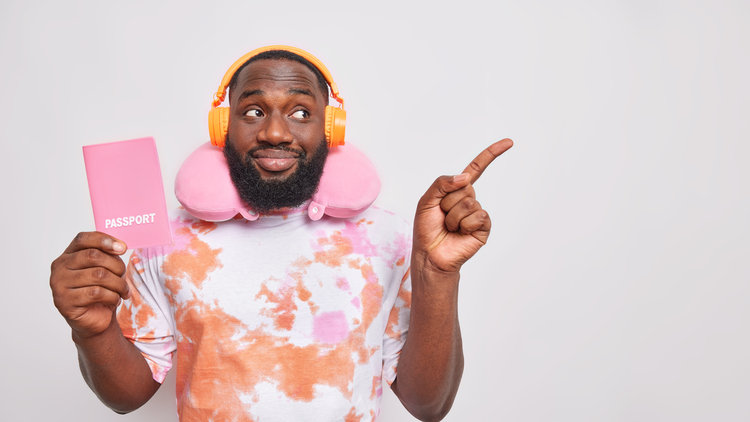 Concluding
Buying Christmas presents each year can often be a challenging task, especially when it comes to avid travelers who always seem to have it all.
Hopefully, the guide mentioned above will give you some good gift ideas that will delight even the most adventurous of travelers. If you have any questions or suggestions, leave them in the comments!
Planning your next trip?
Then don't forget travel insurance! You don't want to get stuck paying a ton of money and ruining your trip if you get sick or have an accident without travel insurance. WorldNomads is ideal for adventurous travelers, backpackers, or anyone looking to be protected during their trip. They cover almost every single activity you can image!
Already reserved your hotel or hostel? If not, we recommend Booking.com. They have a huge selection of hotels and hostels all over the world. Plus, in most cases, you can cancel your reservation without any costs up to a few days before the check-in date!
Still haven't booked your plane ticket and want to save big? Take a look at Kayak and Momondo. They are flight aggregators that combine several other ticket search websites to make it easier for you to compare prices and make sure you are getting the best deal.
And finally, will you need to rent a car during your trip? Then check out Rentalcar.com to search and compare car rental companies from all over the world on a single website. Then, you can find the cheapest price for the best car!