Last Updated on by Rodrigo @ OutofYourComfortZone
When they hear the word Turkey, most people usually think of three things: beaches, all-inclusive hotels, or shawarmas. 
While they're not entirely wrong, there's actually so much more to Turkey than just a few words — and the best way is to find out for yourself and go on a backpacking trip!
In fact, you'll find a treasure trove of history, culture, food, and more. Take, for example, Istanbul, whose history has lasted through numerous civilizations. Or perhaps the fairytale-like landscapes of Cappadocia are more of your jam? No matter where you plan to go, there's bound to be something eye-catching in Turkey.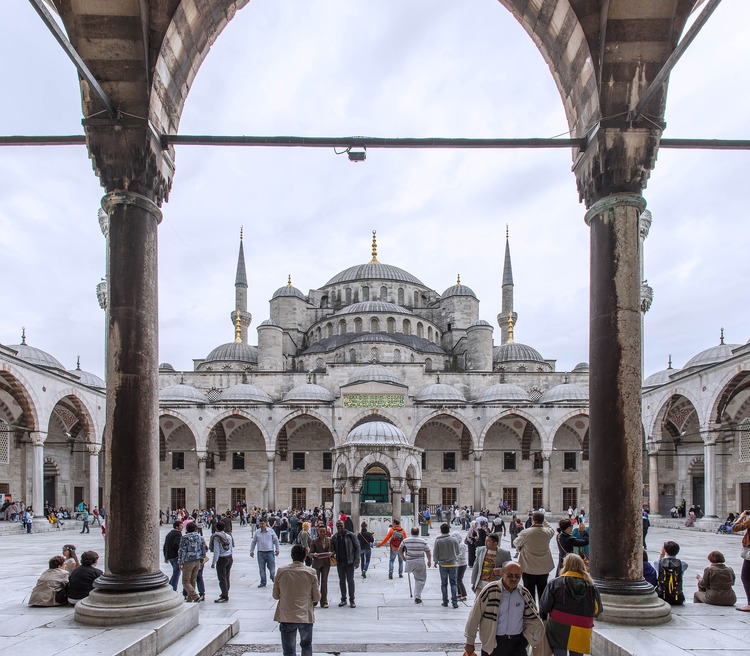 Entering Turkey from abroad is also very easy thanks to its lax visa policy, while traveling around the country is convenient due to Turkey's excellent infrastructure. From planes to buses, ferries, and high-speed trains, there are plenty of budget-friendly ways to zoom across the country. 
If a trip to Turkey is in your future travel plans, be sure to save this article — it has everything you need to know before traveling to Turkey as a backpacker.
   1. Where to go in Turkey for first timers
Istanbul is typically the first city from which all travels begin in Turkey. While it's not the capital (that's actually Ankara), it is the most popular city in Turkey – and for good reason. 
Istanbul is brimming with sights, restaurants from the world's best chefs, and plenty of fascinating history. In the ancient district of Sultanahmet, the Grand Bazaar is sure to surprise and delight: it's made up of more than 61 'streets' and houses more than 4,000 shops. No wonder it's one of the most visited markets in the world! 
Not in the mood to go shopping? No worries — Topkapi Palace will surprise any history fan with its intricate mosaics and luxurious decor, while the Blue Mosque and Hagia Sophia will amaze you with their enormous size. Best of all, the two latter attractions are absolutely free to visit. 
In addition to the sights, Istanbul has many hidden streets where you can find various alternative boutiques and cozy cafes for every taste.
Another popular city is Izmir. Izmir, unlike Istanbul, is a more modern city in which student life is in full swing. The city is located on the coast of the Aegean Sea and is chock-full of natural wonders and sweet seaside promenades. 
In the city center, there are many museums, restaurants, and beautiful streets with architectural details. Another bonus of visiting Izmir is that it's about 20 to 30% cheaper than Istanbul, which makes it an excellent backpacking destination. 
If popular cities and buzzing metropolises aren't your thing, just look to the east. 
Compared to its western cousins, Eastern Turkey is still relatively unexplored and very off the beaten path. Eastern Turkey is the land of ancient cities, vast plains, and landscapes that look as if they've been taken straight from a National Geographic magazine.
Start off with a trip to Lake Van, which is famous for its incredible views, swimming cats, and the most delicious breakfasts in Turkey (they even have a special name: Van Kahvaltısı) 
Those who have an extra week or two should visit one of the ancient ghost towns of Ani, near Kars, the atmosphere of which cannot be expressed in words. Likewise, outdoor enthusiasts should hike up to Mount Nemrut, where ancient statue heads will be patiently waiting for guests. 
   2. Accommodations in Turkey
There are plenty of options for accommodation in Turkey, which means travelers are spoiled for choice when it comes to hostels, hotels, apartments, guesthouses, or something else.
However, a word of warning: when booking an accommodation on Booking.com, keep in mind that the website will not allow you to book places if you are already inside of Turkey. If you're spontaneous and like to book last-minute deals, a good VPN will be your best friend. 
Hostels in Turkey
The cheapest and most economical option is, of course, a hostel. In big cities, there are quite a lot of options in terms of hostels, both in the city center and residential areas. 
Many of the hostels in bigger cities (such as Istanbul, Ankara, or Izmir) are often newer, having comfortable amenities and a stylish design. Many also offer private rooms for a slightly higher price, which is worth looking into if you're planning to go backpacking with friends. 
Hotels in Turkey
Prices for hotels in Turkey are very reasonable, especially when compared to other parts of Europe. A hotel room will cost a little more than a hostel, but in return, you get a private room with more comfort and space. 
It's good to keep in mind that Turkey is very popular during the summer and, as such, prices are usually slightly higher as the tourist season comes into full swing. You can expect a double room in a small, well-rated hotel with breakfast included, costing around $30-50 per night. Best of all, the included breakfast is a great way to save time and money.
Holiday Rentals & Apartments in Turkey
If you're planning to stay in a city for more than 3 days, renting an apartment on Airbnb or another booking platform is an excellent option. The apartments usually have everything you need, including a washing machine, fridge, and kitchen — perfect for cooking meals at home and saving money. 
   3. Transportation in Turkey
When it comes to tourist infrastructure, Turkey is a utopia. From budget-friendly domestic flights to sleek intercity trains, convenient buses, underground metro systems, and more, it's easy to get from Point A to Point B. 
Turkish Urban transport
The urban transportation system in major cities such as Istanbul, Antalya, and Izmir is well developed and easy to use. Near each stop, there is a vending machine where you can buy a single-use ticket or a multiple-use pass. The machines typically come in different languages and accept a wide variety of bills.
Intercity buses in Turkey
Traveling by bus between cities is one of the most economical ways to travel around Turkey. 
For just a few Turkish lira, you can travel to lesser-known cities and towns to get a better understanding of local cultures. Busses are typically best for short trips — for example, going from Antalya to the small and charming town of Kas, which is only 2 hours away. 
If you're planning a longer trip (i.e. 6 hours or more), consider taking a domestic flight instead. 
Domestic Flights within Turkey
For traveling longer distances, a domestic flight will be your best friend. Thankfully, there are plenty of budget airlines in Turkish, including Pegasus (the most popular) as well as Anadolujet and SunExpress.
Best of all, a plane ticket can take you almost anywhere in Turkey — and usually for only a few dollars! For example, an economy class one-way ticket from Istanbul to Antalya will typically cost around $25 to $35, depending on when you buy it and during which season you're flying.
Renting a car in Turkey
If you prefer to see things 'from the ground,' renting a car is one of the best options for traveling around Turkey. In addition to being quite cheap compared to European countries, taking a road trip through Turkey is sure to be a memorable experience. 
The roads are excellent, there are plenty of well-equipped gas stations along the way (even in small villages!), and you'll get to see interesting spots off the beaten path. 
   4. Turkish Food
Turkish cuisine is one of those things that will make you fall in love with Turkey at first sight (or rather, bite!) 
The national cuisine of Turkey has dozens of different dishes, from delicious meat wraps to vegetarian-friendly soups and salads, tasty desserts, and much more. 
Before the main course, expect to be met with good ol' Turkish hospitality — in the form of appetizers and meze with fresh bread, olives, and various sauces. 
Of the exceptions, it is worth remembering that pork dishes are not served in local establishments, since this meat is frowned upon in Islam.
Street food is cheap and plentiful in Turkey
Turkey is a true paradise for street food lovers, because here you can try various dishes of local street cuisine on every corner. 
You can buy many types of shawarma (meat and vegetables wrapped in pita bread) virtually anywhere, while kiosks near the water sell mussels and Balık Ekmek (freshly caught fish in a soft bread roll). There are also many options for grilled meat, islak burgers, and many other street food dishes. 
Most dishes typically cost under 30 Turkish Lira, or less than $3 USD! 
Examples of Turkish food
Each region of Turkey has its own specialties. Let's take a look at some of the most popular dishes in Turkey:
Grilled dishes in Turkey deserve special praise, especially shish kebab and fire-roasted meats.  The most loved by the Turks is Adana Kebab, which is a mix of minced meat that is grilled on a skewer and served with soft bread. 
Likewise, the Turkish are masters at cooking delicious rice. Dolma is especially worth trying, which is spiced rice wrapped in grape leaves. There are other variations of this dish with tomatoes, peppers, and eggplants, but invariably the filling is rice with spices.
Of course, desserts also occupy a special place in Turkish cuisine. There are so many desserts in Turkey that it would take another post to list them all! Typical elements of Turkish desserts are an abundant use of honey, nuts, and fruits. It is especially worth trying Turkish delight (lokum), baklava, and halva. If you're a fan of unusual desserts, add tavuk göğsü to your list — it's a sweet pudding made from chicken!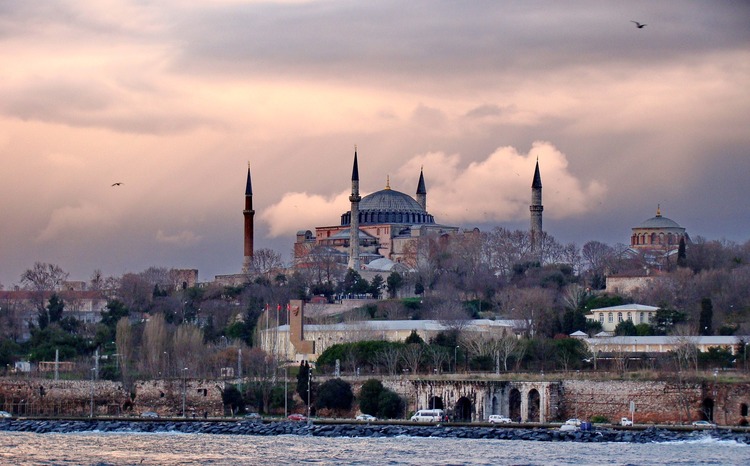 5. Drinks in Turkey
The main drink of the locals is none other than Turkish tea. It is served in tulip-shaped cups and found almost everywhere, from small cafes to big restaurants and streetside tea sellers. In fact, some souvenir sellers may even invite you for a complimentary cup of tea if you buy something from them. If you have some free time and want to chat with locals, be sure to accept this invitation. 
Another popular drink here is Turkish coffee. Locally known as kahve, Turkish coffee is very strong due to the fact that it is brewed according to a special recipe. A whole spoonful of coffee and sugar is placed in a small container and boiled for some time, then poured into a small cup and served with a glass of water. 
Speaking of water, it's important to note that tap water in Turkey is generally not drinkable. A better idea would be to buy bottled water, which costs just a few lira. 
Finally, don't miss a special drink called Şıra. Originally from the Bursa region, this Turkish drink is made from slightly fermented grape juice (although it's still non-alcoholic!). The drink has a sweet fruity taste with bubbles and does not resemble a typical soda.
Summing up…
The 5 tips for first-time backpackers in Turkey are:
Where to go in Turkey for beginners

Accommodation in Turkey

Transport in turkey

Turkish food

Drinks in Turkey
Concluding
Turkey is an amazing and budget-friendly place to venture out, which makes it the perfect destination for backpacking and budget travel. I hope these tips have helped you plan your trip to Turkey. Any questions or suggestions, just write in the comments. It will be a pleasure to help you!
Planning your next trip?