Last Updated on by Rodrigo @ OutofYourComfortZone
Some people may find it hard for them to maintain their fitness journey amidst traveling. Yet, it is not impossible to maintain a fitness routine while you are traveling. You can stay on tracking your progress along with your fitness goals even when you are on the go with just a little bit of creativity and planning.
Use a fitness tracker to help you track your physical activity. Not only that, but it also monitors your heart rate, and set goals for yourself. Another awesome thing about using it is it can help you to stay on track with your fitness goals.
Some fitness trackers nowadays can connect to apps and other devices, such as smartphones, that provide additional features and insights, such as tracking your sleep patterns, calorie intake, and many more. By tracking your fitness progress over time, you can also identify patterns, such as when you are most active, and make adjustments to your routine to help you achieve your goals.
Here are some steps that you can do to maintain your fitness routine while on the go: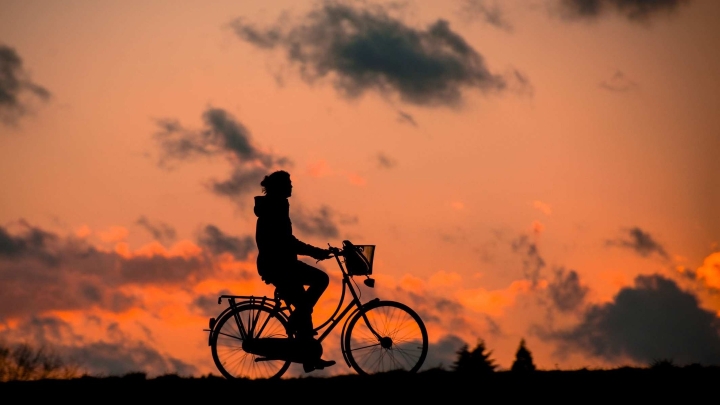 1. Plan Ahead
Best to always plan ahead. Take some time to plan out your workouts before you leave for your trip. Planning ahead when traveling can help you maintain your fitness routine by allowing you to schedule time for finding suitable facilities, exercise, and making healthy meal choices.
Scheduling your workout sessions in advance can help ensure you make time for exercise despite a busy travel schedule. Know the area where you will be staying and try looking for nearby parks, gyms, or other outdoor spaces where you can exercise.
If your hotel apparently has a gym, always make sure to check the hours of operation and what equipment is available. If you are traveling to a city, look for running or bike paths that you can use for your workout.
2. Pack Your Workout Gear
It is always a general rule that you do not rely on your hotel or vacation rental to have everything you need for your workout. Packing your workout gear when traveling can help you maintain your fitness routine by providing you with the equipment and clothing necessary to exercise.
This allows you to continue your regular workout routine, even when you are away from home. For example, if you usually lift weights, you can pack a resistance band or a set of dumbbells to use in your hotel room. If you prefer cardio, you can pack your running shoes and workout clothes to go for a run outside.
Packing your workout gear also eliminates the need to find suitable gear at your destination, which can be time-consuming and expensive. It also gives you the flexibility to work out at a time that is convenient for you, and not to be dependent on gym timings or closures.
Always pack the necessary things such as your own workout shoes, clothes, and equipment, like a yoga mat or resistance bands. With this, this will ensure that you have everything you need to stay on track with your fitness routine.
3. Get Creative
If you really cannot find a workout space or gym or workout space nearby, get creative with your workouts. Being creative when traveling can help you maintain your fitness routine by finding unique and innovative ways to exercise, even when you do not have access to traditional workout equipment or facilities.
Bodyweight exercises, such as push-ups, squats, and lunges, can be done anywhere and do not require any equipment. Go for a run or bike ride in the local area, or take a yoga class at a nearby studio.
4. Incorporate Activity Into Your Travel Plans
One of the best ways to maintain your fitness routine while traveling is to incorporate activity into your travel plans. This way, it can help you maintain your fitness routine by making physical activity a regular and intentional part of your trip. Instead of taking a taxi or bus, walk or bike to your destination. Take the stairs instead of the elevator.
Go for a hike or swim in the local area. These small changes can add up to a significant amount of activity over the course of your trip.
5. Set Realistic Goals
Set realistic goals for your fitness routine while traveling because it can help you maintain your fitness routine by giving you a clear plan to follow. This includes setting specific times for exercise, such as a daily morning run or a scheduled gym session, as well as identifying nearby parks or open spaces to do bodyweight exercises or yoga.
Furthermore, setting realistic goals can also help you make healthy food choices and avoid overindulging on vacation. You will be more likely to stick to your fitness routine and return from your trip feeling refreshed and energized by planning ahead and staying committed to your goals.
Remember that you are on vacation and you should enjoy yourself. Instead of trying to maintain your usual workout routine, aim for something more manageable, such as 30 minutes of exercise each day. This will help you stay on track without feeling like you are missing out on the fun of your trip.
6. Make it Fun
Incorporate fun activities that keep you active while exploring the new place. Making exercise and physical activity fun can help you maintain your fitness routine when traveling by making it more enjoyable and motivating. This can include finding fun ways to stay active, such as trying new sports, taking dance classes, or taking a guided fitness tour.
Another way to make exercise fun is to include friends or family in your workout routine, or to find a local running or cycling group to join. You can also make it fun by setting personal challenges, such as trying to run a certain distance or complete a certain number of reps in a workout.
Adding a fun element to your fitness routine can make it feel less like a chore and more like an enjoyable part of your travel experience. For example, instead of just going to a museum, take a walking tour of the city. Instead of just lounging on the beach, try water sports. This way, you are exploring the place while getting some exercise.
7. Prioritize Sleep
Traveling can disrupt your sleep schedule, but getting enough sleep is essential to maintaining your fitness routine. Prioritizing sleep when traveling can help you maintain your fitness routine by allowing your body to recover and repair after exercise, and also by giving you the energy and focus to stick to your workout schedule.
Getting enough sleep is important for overall health and well-being. Adequate sleep helps to boost your immunity, improve your mood, and sharpen your focus, which are all important factors to maintain your fitness routine. When you are well-rested, you are more likely to have the energy and motivation to stick to your workout schedule.
Additionally, when you're well-rested, you are less likely to make unhealthy food choices, and more likely to make healthy choices that support your fitness goals. Your body needs to rest as well so always check on yourself. Aim for at least 7-8 hours of sleep per night and stick to a consistent sleep schedule as much as possible.
8. Be Flexible
It is always a plus to be flexible! Traveling can be unpredictable, and it is essential to be flexible with your fitness routine. Being flexible when traveling can help you maintain your fitness routine by adapting to the changing circumstances and making the best of the resources available.
This may mean adjusting your workout schedule or routine, being open to trying new types of exercise, or being willing to use unconventional equipment or facilities. If your plans change or you are unable to stick to your usual routine, be open to trying new things or adjusting your workout schedule.
Nevertheless, being flexible means being able to adjust to different time zones, jet lags, and other travel-related challenges, and not being too hard on yourself if you miss a workout or two. Instead, focus on making up for it later or finding alternative workouts that fit your schedule or energy level.
Conclusion
Maintaining a fitness routine while traveling takes some effort, but it is worth it to stay on track with your fitness goals. By planning ahead, getting creative, and incorporating activity into your travel plans, you can enjoy your vacation and stay fit at the same time.
Remember to be realistic, make it fun and prioritize sleep, and do not be afraid to be flexible. By following these tips, you can maintain your fitness routine while traveling and return home feeling refreshed and energized.
Planning your next trip?