Last Updated on by Rodrigo @ OutofYourComfortZone
Backpacking for many people is an awesome experience filled with beautiful sights and interesting cultures. Many people go on adventurous hikes throughout the year to see different places in the different seasons.
While backpacking, it is important to travel as light as possible. When journeying on foot, you carry everything you bring with you, literally. So it's crucial to take only the most essential items, especially concerning clothes.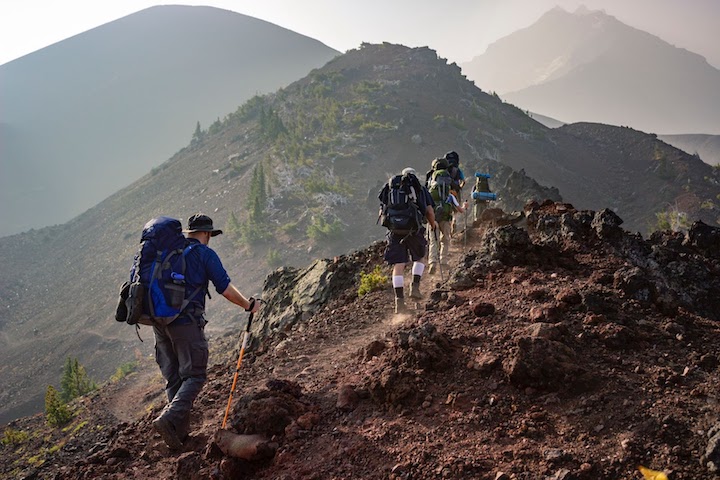 Image source: Pexels.com
Types of Clothing to Pack
For a hiker, in particular, clothing is divided into these three categories or layers, each one performs a unique purpose;
1. A Base Layer
This is the first layer worn near the skin of the adventurer. This should wick sweat away from the body to keep the skin dry so as to prevent an illness. Ideally, it should be a quick-dry t-shirt made of polyester or merino wool.
2. An Insulating Layer
This layer should insulate against weather conditions and trap heat in warm air pockets. We recommended carrying multiple light clothes for this purpose. This is better than wearing a single bulky jacket which may not work for all situations.
3. A Waterproof/Windproof Layer (Shell)
A shell layer's prime purpose is to protect you from adverse weather conditions outdoors. It does so by providing a barrier between your skin and the elements. Since the outside weather conditions can change suddenly, it's always best to prepare for just about anything.
A shell layer prevents moisture from seeping through. A waterproof jacket offers optimal protection from pretty much any type of inclement weather.
It also provides warmth since some are insulated for added warmth in icy conditions, as often happens at higher altitudes.
Importance of Layering
Since trekkers tend to be exposed to harsh weather conditions, their clothing needs to respond accordingly. Therefore, layering is a widely accepted concept in the backpacking world.
Layering provides insulation and protection from the elements. Layering is versatile and can be used for different activities.
Essential Hiking Clothes
Every adventurous traveler must get essential clothes for a smooth trek. Your clothes should be comfortable and durable but easy to wash. A good set of travel clothes can be easily packed into a small bag. Ensure that you take enough essentials to last you through your whole trip.
1. Moisture-Wicking T-shirt(s)
Hiking, mountaineering, and trekking are physically demanding activities that require high-performance gear. If a camper wants to be comfortable, no matter the weather conditions, the most important piece of gear is clothing. It is one of the most vital pieces of hiking clothing because it is in direct contact with your skin.
If you're worried about the plain t-shirts not being fashionable enough, you can buy custom t-shirts online and customize them to your liking. Lots of websites allow you to personalize your custom face t-shirts.
As with choosing special undies for hiking, you should also carefully select t-shirts for your trek. Choose t-shirts with synthetic material because they are quick-drying and absorb less moisture. You can also go for merino wool t-shirts; they are breathable and have odor resistance.
Consider getting t-shirts with sun protection and antimicrobial properties. These will protect you from the sun and remain fresh even after days of use. T-shirts with comfortable seams and durability are also essential factors to consider.
2. Moisture-wicking underwear
When you're heading out for a hike, you have to give a lot of thought to the kind of underwear to take along. Underwear will make or break you – they play a big part in your comfort while adventuring.
Here's some advice: skip the cotton and invest in underwear made from a breathable synthetic material. The best options are made with merino wool or polyester, which wick moisture away from your skin and dry quickly, so you'll stay extra comfortable on the go.
Not only will breathable, comfortable undies prevent you from getting a rash, but they'll also help prevent infections in your nether region. This is because, without undies that wick sweat, they will remain damp. Wearing damp undies for a considerable amount of time might encourage harmful bacteria to multiply, causing an infection.
Choose comfortably snug undies that aren't too tight and have tagless waistbands and flat seams. These won't irritate your skin when your backpack presses against them.
3. Quick-Drying Pants/Shorts
One mistake people make, especially new hikers are wearing jeans when hiking. Jeans look good and rugged and may give the impression that they're perfect for roughing them in the great outdoors.
The opposite is the reality when it comes to jeans and hiking. Steer clear of jeans when going hiking. They are heavy, hot, and quite useless – maybe even dangerous – when wet.
Luckily, hiking pants have come to the rescue! They're made especially for this purpose. They're versatile, comfortable, and practical. Hiking pants are lightweight and quick-drying, perfect for hiking.
Comfort, soft, and quiet hiking pants are ideal for hiking. They also now can be converted to shorts by just unzipping them at the knees.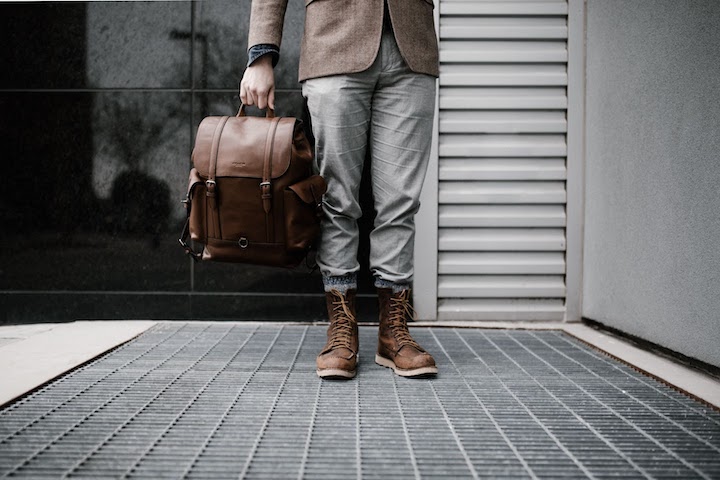 Image source: Unsplash.com
4. Long-Sleeve Shirts
A mix of fabrics will help you from overheating, which is best for short hikes out where the temperature rises steadily as the day progresses. Your base layer should fit comfortably and be lightweight so that it can be easily washed and dried.
A shirt made with a synthetic blend is usually ideal. It also accumulates less sweat and stops it from seeping through to your outer layer.
You'll discover that a long-sleeve shirt over your tank top protects you from harmful sun exposure and sunburn. It will also save you from insect bites.
5. Lightweight Fleece or Jacket
Fleece is such a perfect fabric – it isn't too thick, and it isn't too light. It is incredibly comfortable, warm, and durable. One of the things that we love most about fleece is that even though it's wearable in many different climates, you will barely feel like you have one on your back.
Imagine wearing a big heavy jacket on a hot summer's day; not so pleasant, right? The best thing about warmer seasons is being able to go out without having to wear much at all. With fleece, we're happy to wear less but stay as cozy as if we've layered up with thick jerseys!
As well as locking in the heat (and sometimes even regulating body temperature), fleece is a wicking material that will wick moisture away from the body.
Fleece jackets offer excellent warmth and protection from the cold with wind-proof properties. In addition, the raised collar protects against strong winds, keeping you warm despite it.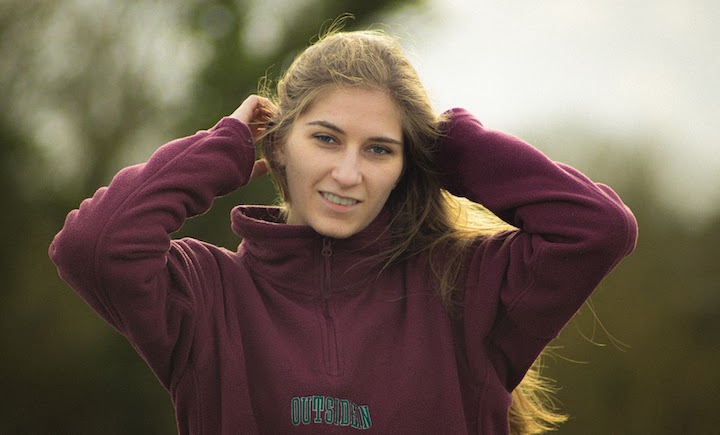 Image source: Unsplash.com
6. Rainwear (Jacket and Pants)
Hiking rain pants are designed to protect you from the rainy and chilly weather. There are different kinds of hiking pants that can be worn when it rains and the temperature is cold outside.
If it is not convenient for you to wear a rain jacket or scarf, hiking rain pants will be your best companion. They will protect your upper legs from getting wet. They will also shield you against the chilling effects of rainfall or cold wind.
Choosing pants that have a large volume of space is important. This is because there are situations where you might get stuck in bad weather conditions and would require extra clothing layers. Hiking rain pants would remain comfortable to wear even when they get wet.
Remember that they should be made with materials that allow body heat to go through without making one sweat excessively. Remember that this happens during warmer days out there too.
7. Sun-Shielding Cap Or Hat
A hat may not necessarily be the first thing that comes to mind when most people decide to go hiking. However, you should always include it in your hiking packing list.
Weather in the mountains can change quickly and unexpectedly. Therefore, it's essential to protect both your head and eyes from the sun's rays or sudden bursts of rain if you live in a place with unpredictable weather.
The best hiking hats are made of various styles and sizes to suit each hiker's preferences. They've been designed specifically for hiking with maximum protection from the weather comfortably.
Depending on where you intend to hike, you may go with either a minimalist baseball cap style hat or one that provides full coverage from the sun's rays like what would be needed if you were scaling higher altitudes where it gets more frigid at night.
Get hats with mesh panels to allow your head to breathe and adjustable drawstrings to keep the hat firmly on your head even when it's breezy.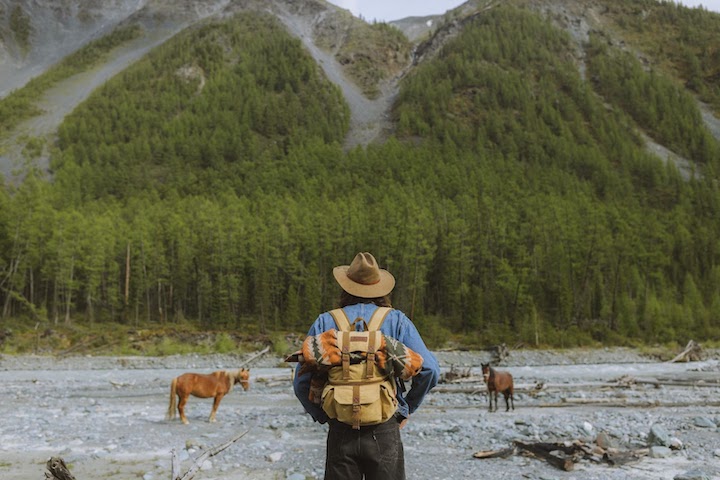 Image source: Pexels.com
8. Sleepwear
"Overnight kit" or "base-layer" are commonly used terms in the backpacking and geocaching (caching) communities. They are for clothing and other small items that hikers or hunters wear to bed.
They also have these clothes on next to their skin when they start on an adventure. Hikers can put them on as additional cold-weather clothing once their outer layers get wet in wet conditions.
Overnight kits are notable because they are so compact. They are big enough to function as a single set of clothes. But they're also small enough to fit into smaller storage compartments while backpacking or caving.
They can save space and bulk by helping you do certain things. An example is tucking your socks into your boots when it starts raining at night. This is so they stay dry inside the pair of shoes already stuffed with your sleeping bag.
Socks, shirts, sports bras, long underwear, hats, scarves, and gloves are typical overnight kit components. This is especially so among experienced backpackers who know how to layer correctly.
Changing into sleepwear before bedtime can have psychological effects on you as a backpacker. This is because it can help your mind switch from busy to relaxed and aid in better sleep at night.
Sleeping in fresh clothes separate from your sweaty, hiking clothes can also aid in better sleep. It will also keep your sleeping bag/quilt clean and make you warmer at night.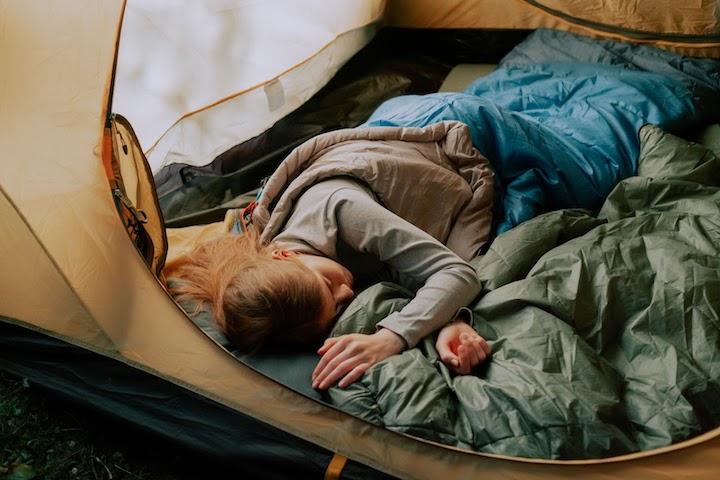 Image source: Pexels.com
9. Bandana or Buff
When you shop online for a product like a buff, you'll find that there are all sorts of options to choose from with different colors, patterns, and fabrics. Some buffs are made of merino wool or poly-cotton, while some are lined with soft fluffy fleece.
These amenities alone have made the buff even more flexible than perhaps a scarf could ever be. The versatility of what you can use your buff as is quite astounding.
You could use it as an accessory or headwear to keep your ears warm. You could also place it over your nose and eyes to help block out cool air or dust.
10. Synthetic or Wool Socks
It takes roughly 2000 steps for the average person to travel one mile. Factor in the up and down of a hiking trail and the roots, rocks, and pebbles you will encounter along the way, and that number only gets higher.
With every step you take, having a good pair of socks is crucial for comfort and protection from blisters and other foot injuries along your hiking journey. Choosing a high-quality pair of socks is key to this!
Hiking socks allow hikers to walk more comfortably, have freedom unrestricted from blisters, and enhance their overall hiking experience. Each hiker has a certain level of endurance as far as walking goes.
Hiking socks vary in height. To choose the right cuff, take a look at your footwear. The higher the cuffs are on sneakers or boots, the taller you want your socks to be so they can protect your skin from coming into direct contact with your footwear.
While thickness is a significant factor in choosing whether or not to pack an extra pair of socks, you have to consider where you are going and what the weather will be like.
For those who frequently go on long hikes and treks, thicker socks might be best, as they offer support for your feet. In addition, they're made from stronger material to withstand more vigorous activities (like running or backpacking).
However, for those who enjoy jogging occasionally, thin socks should suffice and provide adequate performance.
It's also important to note that wearing too many warm layers can cause one to sweat excessively and become dehydrated in warmer conditions…stay cool by opting for breathable materials like cotton (note: not 100% cotton).
If you feel that your thick socks may end up causing you discomfort due to sweating, give them some time to air out every night before using them again the next day.
Having a variety of fabrics on hand is also a good idea because different types of materials (e.g., nylon compared to snug wool) will provide the right amount of warmth depending on the activity.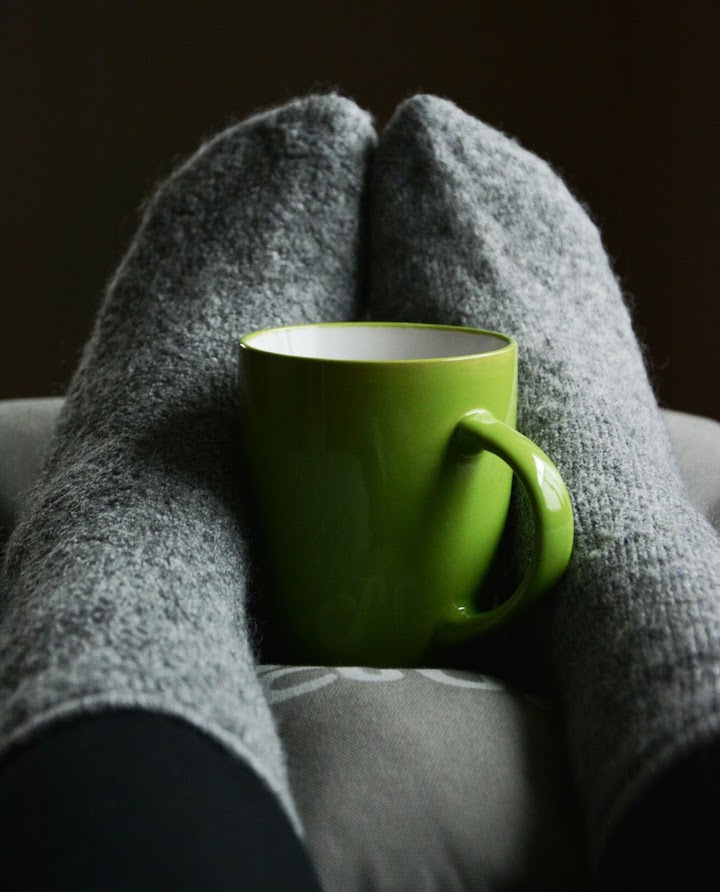 Image source: Pexels.com
11. Hiking footwear; sandals and other shoes
Good hiking shoes are crucial to a good hike. It's always good to use a lot of caution when hiking since the conditions of a trail can change at any given moment.
Certain dangers are usually easy to spot, but it's also important to be aware of the little ones, such as sharp rocks or branches. A good pair of hiking shoes is essential to getting through nature safely.
Although there are varying types of footwear for hiking, each class offers different benefits. There are three fundamental categories of hiking footwear: boots, sandals, and shoes. Each category is different in both its primary purpose and construction.
As an avid hiker, finding the right kind to use can be tricky since it depends on what you need most while trailblazing. You should consider where you're going to be hiking and what you'll need when wearing boots.
Also, think of your most common activities while hiking when researching them because they have more support or protection than shoes or sandals. This leads to better ankle support in addition to preventing injury altogether, but only if you have good ones!
Factors to Consider When Buying Boots
Know your size. It's important to first have your feet measured either in-store or by a certified professional who can properly assess the length, width, and arch of your feet. Foot volume may also be evaluated by different types of shoes or boots that you are looking to buy. You can compare these measurements later online versus available sizing charts to find your ideal size for any brand of footwear. Double-check the length later by pulling out the insoles from the shoes. If there's too much space between your longest toe and where it ends, it's most likely too big for you and should be returned for something smaller!
Your feet swell up throughout the day with your active lifestyle, so make sure to try them on late in the day when they are their biggest size!
You should walk around in them a bit and take note of how they feel. Walk up and down steps and ensure you aren't feeling any pinching or discomfort. This is to test out how they feel hours later when you're walking along the more rugged terrain.
Finally, take a stroll outside and walk along an inclined surface. This will help you see what kind of stability that particular pair of boots offers you against an uneven playing field.
Try them on with socks you intend to wear
When on the trail, make sure the thickness of your socks matches what you intend to wear with them. For example, if you are going to be wearing thin running shoes/trainers, then opt for thinner/slimmer sports socks.
In addition, when buying new athletic performance wear, it's always best to check the labels. This will help you make sure that they are suitable to use in conjunction with the other things you already own.
For Cold Weather, Add:
1. Warm Insulated Jacket or Vest
When we are outdoors and have just started drifting off to sleep, it can be tricky to keep the warmth in. This is because of a layer of cold air that gets trapped between our sleeping bags and our body.
But what if there was a way to ensure you could stay warm all night long and wouldn't get chilled while trekking across the Great Divide?
What if, by wearing the right gear outdoors, your body temperature was able to remain at a consistent level even when exposed to colder temperatures?
There is, in fact, and it's called insulation. Through insulation, one can ensure your body doesn't get too hot or too cold, depending on what type of outdoor adventure you plan on embarking on.
It's usually worn as a mid-layer or outer layer when dealing with dry and cold climates. Insulation works by trapping any warmth our bodies create and maintaining it in a system of dead air pockets.
How do these dead air pockets stay warm? The answer lies within the fill. Depending on your type, the filling will be placed into these individual pouches made from fabric that forms your vest or jacket's shell.
There are two main types:
Down-fill

means that the feather structure of geese and ducks is used to make fleeces or jackets. Down is also much lighter than wool but will not provide as much warmth.
The most sought-after down is 'goose down,' but many other varieties of down are used in jackets. These include some feathers from eider ducks and swans. This is because they have a more open structure, so there is less space for insulation.
These feathers will provide less warmth than goose feathers. As a result, they are typically mixed with goose down to give a higher quality level of warmth.
Insulating synthetic fill

jackets are best for backpacking in wet conditions. The synthetic filling works by imitating the light, air-trapping microfibers of down with moisture-resistant polyester strands.
These strands fill gaps in the jacket's lining and create warm pockets that reflect heat onto a person's body.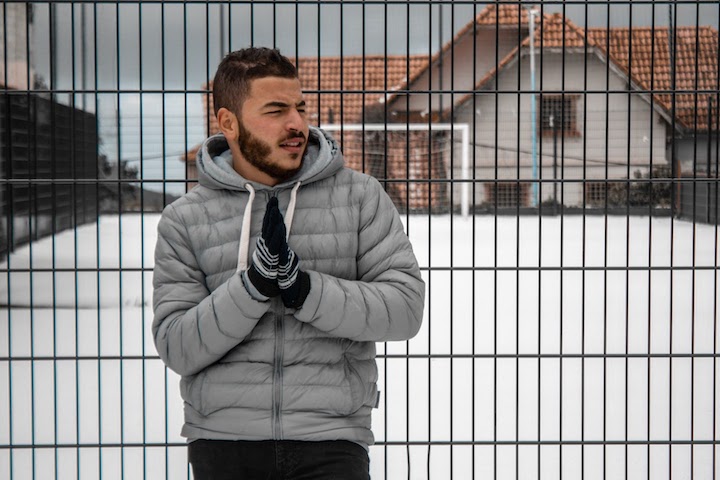 Image source: Unspalsh.com
13. Gloves or Mittens
Gloves are essential components of any outdoor activity during winter or bad weather. Our hands are extremely sensitive to the cold, given that less blood flows through them.
Our limbs are also placed further away from our hearts, so less blood flows to them, especially when it's cold. Gloves not only give us the comfort we need when out on a bitterly cold day; they also offer protection against cutting and abrasions.
Mittens have a lot of advantages. For example, they are good for colder weather or if you have sensitive hands. However, mittens make your fingers not as nimble as you'd like them to be and, therefore, can do fewer tasks than gloves allow you.
Let's say you're outside in freezing conditions, for example, or just want some extra protection for your sanity on those chilly winter mornings outdoors. In this case, mittens are ideal for their protection qualities with minimal compromise on functionality.
Conclusion…
As you can see, backpacking can be an amazing way to experience the world. If you're ready to start your backpacking journey, these tips on clothing to wear and take with you should keep you well-informed.
Now that you know what you need to bring, start planning your next backpacking adventure! You can check out other posts on backpacking to learn more about the best backpacking destinations and how to stay safe on the trail.
In Sum…
The best tips for backpacking are:
A Base Layer

An Insulating Layer

A Waterproof/Windproof Layer (Shell)

Moisture-Wicking T-shirt(s)

Moisture-wicking underwear

Quick-Drying Pants/Shorts

Long-Sleeve Shirts

Lightweight Fleece or Jacket

Rainwear (Jacket and Pants)

Sun-Shielding Cap Or Hat

Sleepwear

Bandana or Buff

Synthetic or Wool Socks

Hiking footwear; sandals and other shoes

Warm Insulated Jacket or Vest

Gloves or Mittens
Planning your next trip?

Then don't forget travel insurance! You don't want to get stuck paying a ton of money and ruining your trip if you get sick or have an accident without travel insurance. Our page with The 3 Best and Cheapest Travel Insurance on the Market can help you choose the right plan and will give you some discount coupons for the biggest insurance companies!

Already reserved your hotel or hostel? If not, our article with The 6 Best and Cheapest Websites to Find & Reserve Accommodation can help you out. You'll also find some promotions and discount codes.

Still haven't booked your plane ticket and want to save big? Take a look at our page with 16 Tips to Save on Flights where you'll also find the 4 best websites to buy your plane tickets.

And finally, will you need to rent a car during your trip? Then surely our page with The 5 Best and Cheapest Websites to Compare and Rent Cars Around the World will help you choose the best rental car and find a good deal.