Last Updated on by Lohanna Reis
Are you on the lookout for secluded beaches where you can just relax, unwind, and be one with nature? If you are, then you've come to the right place! In today's post, we will walk you through the unique Instagrammable vacation spots that the locals are very proud of.
Instead of listing popular destinations like Boracay and El Nido which almost every foreigner knows, we will delve into the best family-friendly tourist spots hidden away from the hustle and bustle of the metro.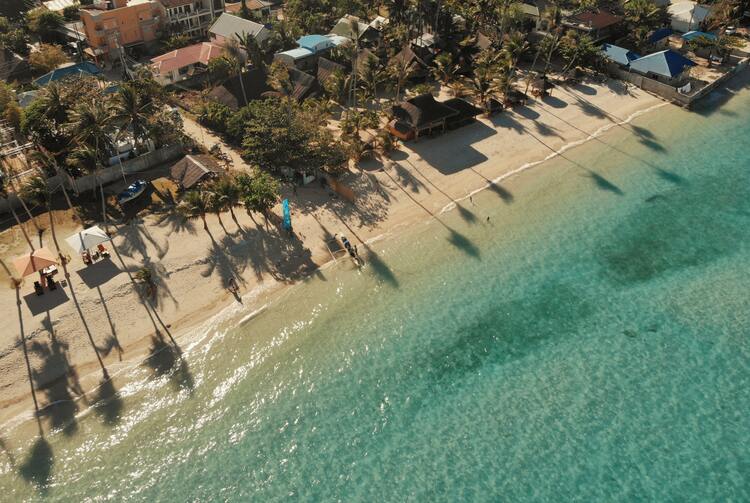 1. Palaui Island, Cagayan Valley
Get your sunglasses and beach towels ready as basking in the sun at the white beach of Palaui Island will be an experience you will definitely not want to miss! Situated at the Northeastern part of Luzon, this island is also known as the Boracay of the North and it attracts people who are passionate about diving, snorkeling, and even sailing.
Since the place is basically guarded by the Philippine Navy, you can expect that the whole area is maintained and regulated. Perhaps, this is also the reason why this specific area is the home to tons of different species of fishes and corals. 
Aside from its glorious waters, it has a jaw-dropping natural landscape making it a solid choice for camping enthusiasts and hikers. However, you might also want to check out some of the budget-friendly resorts and hotels accredited by the Cagayan Economic Zone Authority (CEZA) on the island which can literally just cost you less than 20USD per night.
But before you pack up and breathe in the natural beauty of Palaui Island, please do note that staying overnight might be a challenge for some since there is actually no electricity from around 8 pm to 1 am. 
When transacting with the locals, please remember that they mainly speak different dialects including Tagalog and Bikol Naga, but you may also converse using English.
If you want to score some brownie points and instantly make some Filipino friends, be sure to download a language learning app so that you can find the right words and expressions to start and hold a conversation without ever making them uncomfortable. 
   2. Bitaog Beach, Catanduanes
Pack up and be ready to completely embrace a relaxing time when you take a dip on the aquamarine waters of Bitaog Beach situated at the Dinagat Islands of Surigao City.
What sets this beach apart from others is that it not only boasts a spectacular coastline with powdery, white sand, but it also has glorious rock formations and calcareous summits that have truly been protected by its locals. Bitaog also boasts tons of activities including trekking, island hopping, camping, and snorkeling.
As of writing this post, there are no entrance fees and anyone can make use of the rugged huts where visitors can leave their belongings. You may also set your own picnic or add your hammock!
If you are more interested in a place that is more private and secured, you may want to rent a cottage or a room in some hotels on the island which will only cost you less than $30. Before you book a flight to the Philippines to visit this place, please note that the waves here are a bit stronger since this is already part of the Philippine Sea so it would be great not to leave really small children hanging around here. 
   3. Borawan Island, Quezon Province
Just two to three hours away from Lucena City, the Borawan Island of Pagbilao can be viewed as the bridge that connects Boracay and Palawan in terms of its natural beauty.
Sporting the same white sand of Boracay and the limestone rock formations of Palawan, what makes this beach truly interesting is that it is a cheaper way of experiencing the best of what the two aforesaid beaches offer.
For just $10, you can easily rent a tent and spend the rest of the night stargazing or having some bonfire session with family and friends. You may also bring your own tent and snacks to score some major savings and practically stay at the island for free!
Given that the island is secluded and that the beachfront cannot really accommodate lots of visitors at once, you can expect that there are only a few facilities on the island including a small store, restroom, and rugged cottages.
When speaking with the locals, be sure to transact using their native language since not many may understand English right off the bat. For this reason, it would be wise to download a language learning app that can be accessed offline even if you do not get a stable signal. 
   4. Jomalig Island, Quezon Province
After a six-hour boat ride and a four-hour land trip, you will instantly fall in love with the majestic and unspoiled beauty of Jomalig Island. As the boat draws closer to the island, you will notice almost-golden sand and instagrammable blue waters that will truly excite the adventurer within you.
Once you step foot, you can easily set up camp or ride a local habal-habal and small boat so that you can explore areas like the Salibungot beach, Manlanat Islet, Bigwangan River, and the Kanawai Twin Island all of which are perfect for swimming, diving, and snorkeling. 
Whether you plan to book a room in a hotel or sleep in your tent, it would be wise to know that electricity on the island is only available from 6 pm to 2 am. For this reason, be sure to bring snacks or food items that are non-perishable so that you won't have to worry about cooking or storing them.
There are also some sari-sari stores (traditional Filipino convenience stores) and small-time food carts where you can purchase necessities at a cheap price. To transact using the Tagalog language, you can simply say "pabili po" which means "can I buy?" and don't forget to say "salamat po" to express your gratitude. 
   5. Bantayan Island, Cebu
If you are in search of a quiet place where you can do some personal reflections, visiting the Bantayan Island will be your best move. Just about an hour away from Manila, the Bantayan beach is where you can do a wide range of water adventure activities.
Aside from swimming, you can explore by island hopping and try cliff diving, kayaking, snorkeling, and even skydiving! In addition, this island also has several attractions under its belt including Paradise, Kota Ogtong Cave, Virgin Island, and Hilantagaan Island.  
Before you leave the island and take home some pasalubong (Tagalog word for souvenirs), be sure to grab yourself some danggit or Filipino dried fish that is perfect for dried fish. Usually, the dried fish from the airport shops and in the city will be pretty expensive but you will definitely enjoy cheaper prices at the Bantayan. 
When striking conversations, please do note that the locals mainly use Cebuano but they also are fluent in the English language. When a Filipino helps you with something during your stay on the island, you can simply say daghang salamat which means thank you in their native language.
In short
The 5 best paradise and secluded beaches in the Philippines are:
Palaui Island, Cagayan Valley

Bitaog Beach, Catanduane

Borawan Island, Quezon Province

Jomalig Island, Quezon Province

Bantayan Island, Cebu
Conclusion
And there we have it! Have you visited any of these spots before? Let us know in the comment section below. Aside from the sumptuous cuisine and the friendly vibe of the locals, the country has a lot to offer and there are still other natural beaches and tourist spots that you surely do not want to miss out on. As we put this post to an end, we hope that you were inspired to make the Philippines your next travel destination. 
Planning your next trip?