Last Updated on by Talita
When most people think of a destination to visit in North Africa, Morocco is the one that tends to get all of the love. 
But after my recent visit to Tunisia, a fellow North African country just a few borders over, I'm here to confirm that Tunisia has just as much – if not more! – to offer.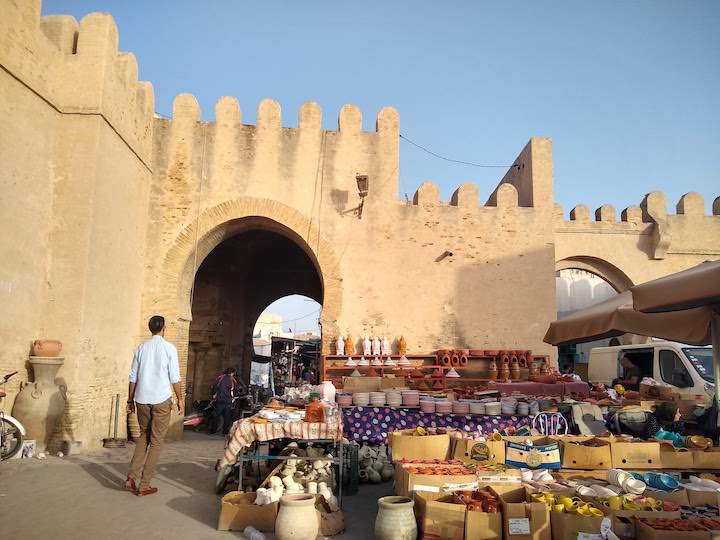 Because when you visit Tunisia, you'll have the chance to: 
Wander through ruins from that span civilizations and thousands of years (including a Roman amphitheater that can rival its more famous Italian cousin, the world's largest collection of Roman mosaics, remnants of the ancient Phoenician city of Carthage, abandoned Berber settlements 500+ years old, and more) 

Take a trip through (or even camp out on!) the famed golden dunes of the Sahara Desert 

Lounge on your pick of pristine Mediterranean beaches 

Lose and find your way again in one of the country's vibrant, labyrinthian medinas and souks  

Check out the unique, otherworldly filming locations for several of the Star Wars movies (110% worth a visit whether or not you're a fan!)  

Explore

all of this

with fewer tourists and more friendly (AKA less "pushy") locals than you may find in neighboring Morocco 
In other words, there's a LOT to occupy you during your time in Tunisia. So to help with your planning, I put together today's article with the best Tunisia itineraries for you to choose from. 
But first… 
1. TUNISIA FAST FACTS 
   1.1 Where is Tunisia?

Tunisia is a small country in northern Africa wedged between Algeria and Libya. It has the Mediterranean coast to its north and the Sahara desert to its south. It's surprisingly close to Italy – you can even take a ferry from the capital, Tunis, to Palermo in Sicily (AKA Italy's "boot"). 
   1.2 Is Tunisia safe to visit? 
Tunisia is, objectively, one of the safest destinations you can visit in North Africa. 
Yes, it is recommended to avoid getting too close to either the Tunisian and Algerian or the Libyan borders. But there's not really any reason for you, as a tourist, to get that close anyway. 
In fact, less than a decade ago Tunisia used to be a major hotspot for vacationing Brits and other Europeans seeking the sun (alongside a healthy dose of culture and history). However, in 2015 there were a handful of coordinated terrorist attacks targeting tourists in the capital city and coastal resorts. 
This, as you may expect, caused the number of visitors to plummet. And tourism, unfortunately, hasn't recovered since then. (The abundance of abandoned Mediterranean beachside resorts and hotels you can see today is a testament to that.) 
It is worth pointing out that Tunisia has been absent of any additional tourist attacks since 2015. And if you visit, you'll notice that the police presence is very strong in any tourist zone. 
Personally, we felt very safe throughout our whole visit (even in more "isolated" areas where we were the only tourists) and would comfortably recommend visiting Tunisia to anyone. 
   1.3 Is Tunisia safe to visit as a woman? 
Generally, I'd say yes. My caveat here is that I was with my partner Rodrigo, a man, for the trip so I felt safe and experienced minimal unwanted attention (aside from a few stares). 
There was one occasion where I walked out to our car by myself and still managed to get a few small comments from local men (despite it only being about a minute and a half alone). But they didn't push when I ignored them and felt harmless enough. Just annoying. 
However, as with many other predominantly Muslim countries, dressing conservatively as I did likely helps avoid some of that unwanted attention. Honestly, wearing sunglasses so men can't make eye contact helps, too. 
To be frank, if I had traveled solo, as a woman I probably would have stuck just to the places in the 5-day itinerary below. I likely would not have done the longer 7-day itinerary completely on my own. But that's just a personal preference.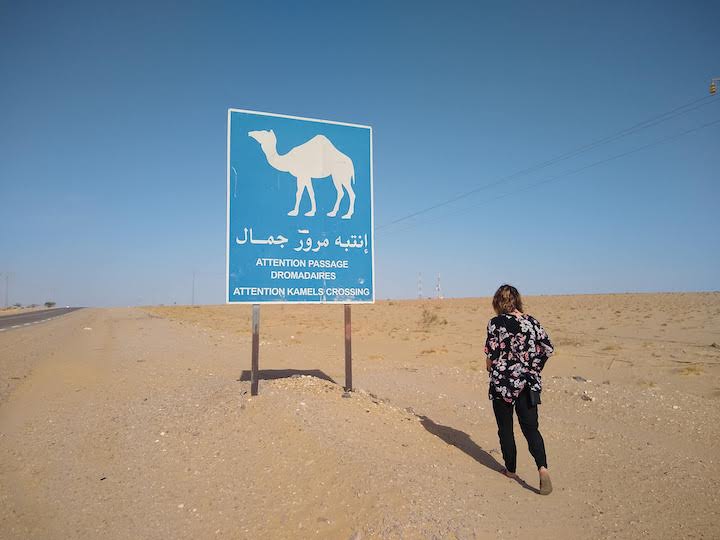 1.4 What language do they speak in Tunisia? 
The official language in Tunisia is Darija, a north African dialect of Arabic. However, many people (particularly in the larger cities) also speak French as Tunisia was a former French colony. That said, I wouldn't necessarily expect or rely on French to work perfectly in the more remote areas. 
We communicated primarily in French, so I can't speak too much on the average level of English. But in the larger cities and with younger Tunisians, you'll likely find enough English speakers to get by.  
Though even if you do run into a bit of a language barrier, locals are friendly enough that they'll go out of their way to help you no matter what! 
2. HOW TO PLAN A TRIP TO TUNISIA 
   2.1 How to get to Tunisia 
You can find flights to Tunisia from pretty much anywhere in Europe or the Middle East (and as I said above, if you're in southern Italy you can even take a ferry). 
Flights to Tunisia from the United States can be surprisingly cheap as well! In fact, we actually ended up going to Tunisia on kind of a last-minute whim. 
We were looking for flights to Europe for a wedding, and noticed that it was actually going to be cheaper for us to buy a ticket to Tunisia and then get a separate flight to Italy from there…rather than buy one ticket from the U.S. to Italy. 
So we decided to embrace the find and make a little side trip to Tunisia out of it 🙂 
As the borders with Algeria and Libya can be a little complicated, you likely won't want to be doing any land crossings to get into Tunisia.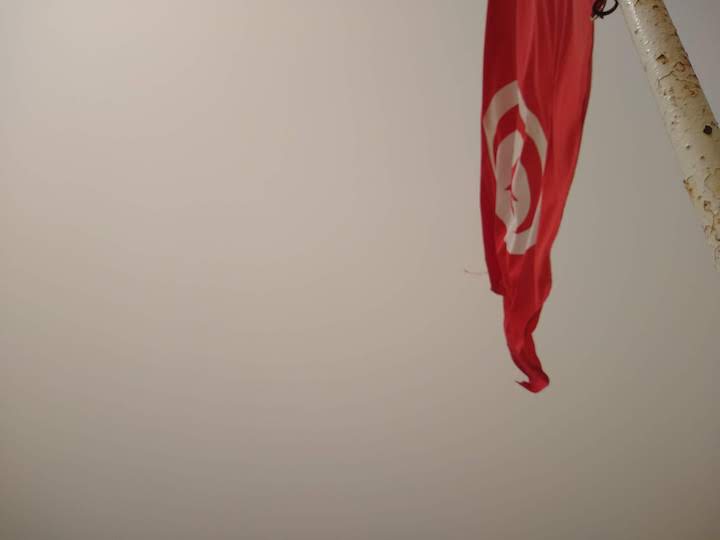 2.2 How long to stay in Tunisia 
If you're coming from somewhere that's not too far away (like Italy), even just 3 days in Tunisia could give you enough to get a taste if you were to stay in Tunis and do day trips. 
However, we'd really recommend a minimum of about 5 days. We personally were there for 6 days, and felt a little rushed (the 7-day itinerary below is the one we did, but we recommend adding another day which is why it's 7). 
But if you wanted to spend more time in the desert or beach, you could easily extend your stay to 10+ days. Or if you plan to follow our itinerary but do it by public transportation, you'll want to add some more time as well. 
   2.3 When to visit Tunisia 
Tunisia gets HOT in the summer, which can be especially challenging if you're a woman who wants to dress on the conservative side to avoid attention. 
Otherwise, the weather is pretty pleasant all year. Though if you want to spend time swimming at the beach, you might want to avoid winter as the water isn't quite warm enough yet. 
Or if you're considering visiting in the spring, make sure you look up the exact dates of Ramadan in Tunisia for that year. Otherwise, you might arrive only to find everything is closed! 
   2.4 Where to stay in Tunisia 
Our accommodation in Tunisia was a combination of guesthouses and Airbnbs. 
We found all of our guesthouses on Booking.com and enjoyed them immensely as they were often large, traditional homes with beautiful tiling and communal courtyards. 
One of our favorite stays was called Dar Ya, a beautiful home with a delicious breakfast and wonderful owners right in the heart of Tunis's medina.  You can find current pricing and make your reservation for Dar Ya on Booking.com here.
   2.5 How to visit Star Wars film sets/filming locations in Tunisia 
As I said in the intro, if you have the time, these sets are totally worth visiting whether or not you are into the films. 
All of the film sets we recommend are located in the southern desert part of the country. You can see exactly where they are on our itinerary map here (listed under the 7-day itinerary), or take a look at the Tozeur and Tatouinne sections in the 7-day itinerary section below for more details.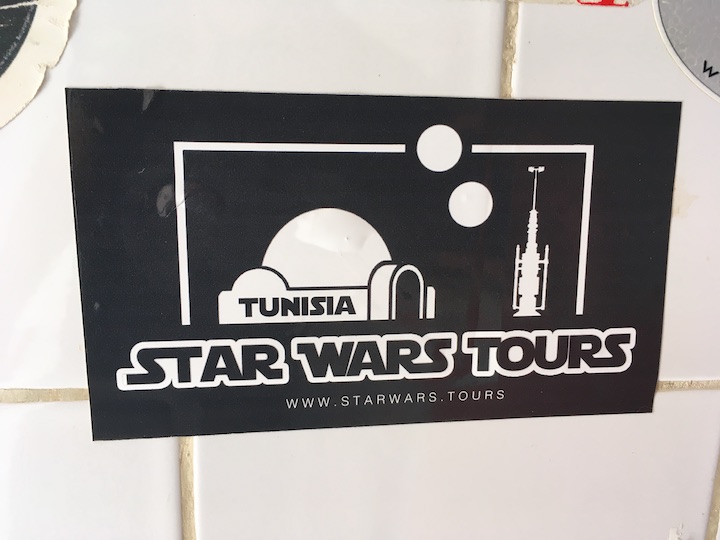 3. TUNISIA TRANSPORTATION OPTIONS 
   3.1 How to get around Tunisia 
You can find a decent bus system within most cities in Tunisia. In the capital city, Tunis, there's an above-ground metro that will take you just about anywhere within the city as well as to neighboring suburbs like Carthage (where you'll find the ruins of ancient Carthage) and Sidi Bou Said. 
To get between cities, we personally decided to rent a car as we were a little short on time for all the places we wanted to go (see next section for more info on renting a car in Tunisia). 
However, there is a pretty decent train system between cities as well as a cheap shared taxi system (called "louages") that can get you most places. 
So although the itineraries below are recommended for road trips, if you give yourself some more time you can likely do a lot of them by public transportation. 
   3.2 How to rent a car in Tunisia (and what to know before you rent)
Renting a car in Tunisia is pretty cheap. If you want to rent in Tunisia, our article with the 7 best and cheapest websites to rent a car might help. That said, driving in Tunisia is NOT for the faint of heart and drivers seem to like to make their own rules. 
And although Rodrigo was fine to drive (he did, after all, grow up in the 20-million-person behemoth that is São Paulo), I know for a fact that I would have freaked out. 
So if you're a nervous driver, you may want to rely on buses and public transport when you're in a city (we didn't, for example, use our rental car at all in Tunis). And instead only use the rental car when you're going between cities or going to the desert. 
Note: tolls in Tunisia only accept cash. So make sure you have some extra coins on hand if you're driving! 
4. WHAT TO DO IN TUNISIA (OUR 5-, 7-, AND 10-DAY TUNISIA ROAD TRIP ITINERARY BY CAR) 
   4.1 What to know before we begin 
A few quick notes about these itineraries before we dive in. 
Except for Tunis, Sidi Bou Said, and Carthage, we did this entire itinerary by car. You probably could do most of the main stops of this itinerary by public transportation (buses, shared taxis, train), but it will take significantly longer and you may not be able to find your way to some of the more remote destinations, like the various attractions near Tozeur and Tatouinne. In which case, you'd then have to rely on taxis or tours once you arrive. 

All of these itineraries start and end in Tunis as this is likely where you are going to fly in. However, your exploration of Tunis is at the end of your trip rather than when you first arrive. We always like to plan our itineraries this way so we're as close to the airport as possible for our last few nights in case anything happens. But that's up to you. 

The 7-day itinerary below is the one we did personally (though we crammed it into 6 days, which I wouldn't recommend). 

All of the places on the itineraries below are marked on the map below

. Click the map to zoom in and then check/uncheck options on the left to see what's included in each itinerary.
    4.2 5-day Tunisia itinerary by car (or public transportation) 
Of all the itineraries listed here, this is the one that is most doable by public transportation (train, shared taxi) as the distances aren't nearly as long. However, you would likely need more than 5 days to get to all these stops if you choose not to rent a car. 
Since you just have five days and four nights, you'll be spending two of those nights in Sousse (one of my favorite cities!) and two nights in Tunis with plenty of day trips in between.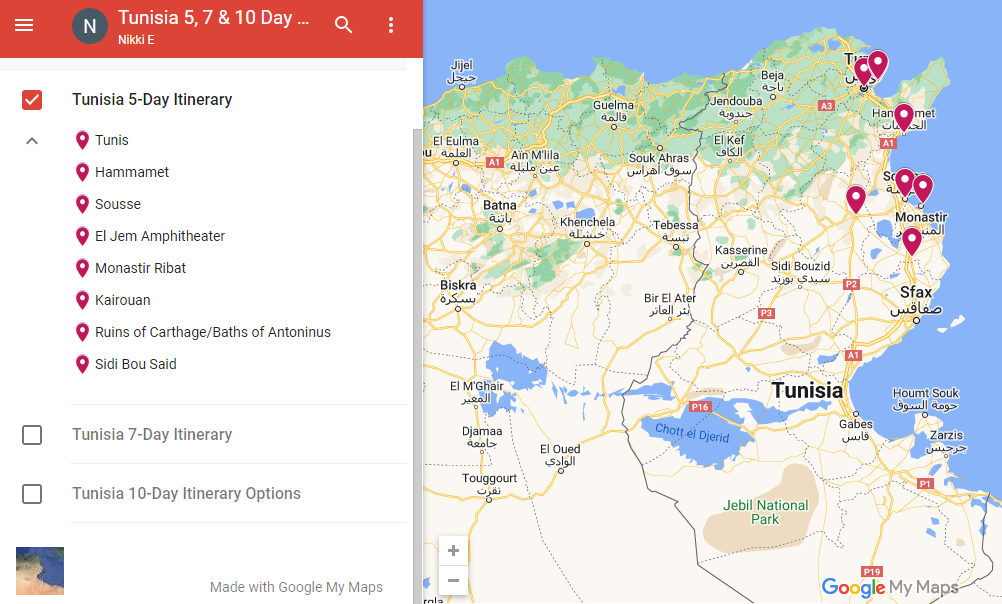 Day 1: Arrive in Tunis, drive directly to Sousse with a stop in coastal city Hammamet (overnight in Sousse, approx 2 hrs of driving).
WHAT TO DO IN HAMMAMET 
Hammamat is a popular beachside town right off the main road between Tunis and Sousse. It's not big, but it's worth a stop to take a stroll along its coastal pier, historical medina, and colorful souk.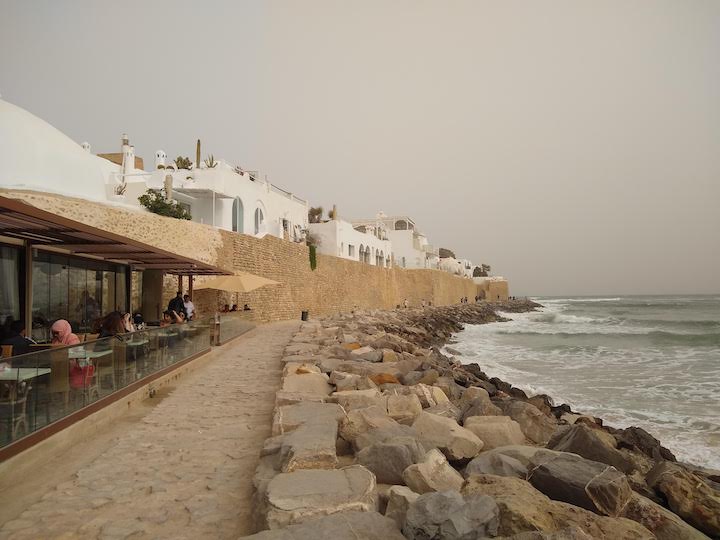 WHAT TO DO IN SOUSSE 
Sousse is Tunisia's third-biggest city and likely my favorite city in the country. Depending on when you arrive on this first day, you can begin exploring Sousse today, or fit it into day 2 or the morning of day 3. 
While in Sousse, be sure to visit: 
The medina and souk 

Sousse Archaeological Museum (I highly recommend making sure you don't miss this one! Their collection of ancient Roman mosaics is impressive, and it's a good alternative to Tunis's famous Bardo Museum which has sadly been closed permanently.) 

The Great Mosque

Avenue Hedi Chaker and Bou Jaafar Beach (this is Sousse's main drag and will take you directly along the beach…and is also an interesting place to see many seaside abandoned hotels) 
If you like, you can also visit Sousse's Ribat (or fortress). However, you'll be going to what I would consider a more interesting ribat in Monastir on day 2, so I'd perhaps skip the one in Sousse. 
   Day 2: Day trip from Sousse to El Jem and Monastir (overnight in Sousse, approx 2.5 hrs of driving) 
WHAT TO DO IN EL JEM (HOW TO VISIT THE EL JEM AMPHITHEATER)   
There's one reason El Jem is one of the most visited spots in all of Tunisia: it's home to a magnificent amphitheater that can rival its more famous cousin in Rome! 
El Jem is considered to be the third-largest ever amphitheater ever built, after the Colosseum in Rome and an amphitheater that was destroyed in Capua, Italy. But the best part is that you explore this one with a fraction of the tourists you'll find anywhere in Italy 🙂 
El Jem is just a 1-hour drive from Sousse, making it a perfect day trip.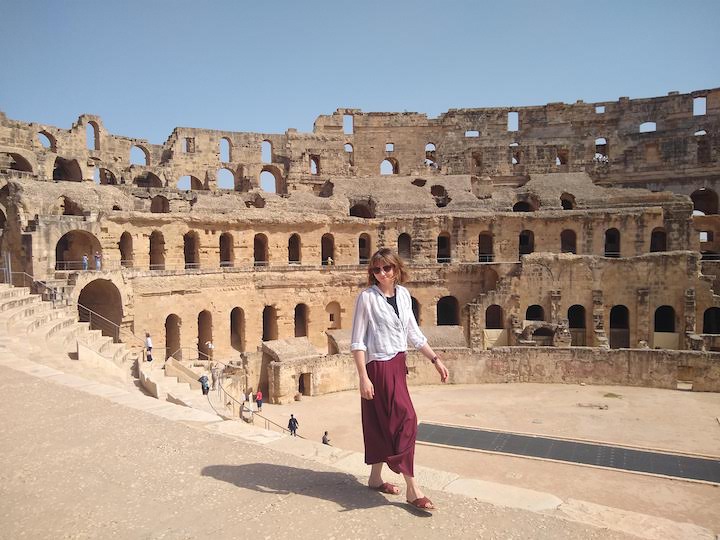 WHAT TO DO IN MONASTIR  
Monastir's highlight is its beautiful Ribat overlooking the sea. Make sure to climb up its towers for a great view!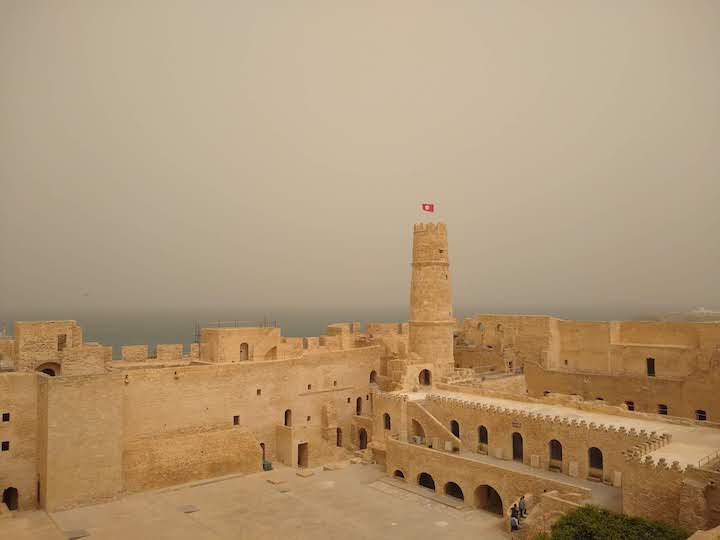 Right next door, you'll find the imposing Mausoleum of Habib Bourguiba, Tunisia's first president and a champion of their independence from France.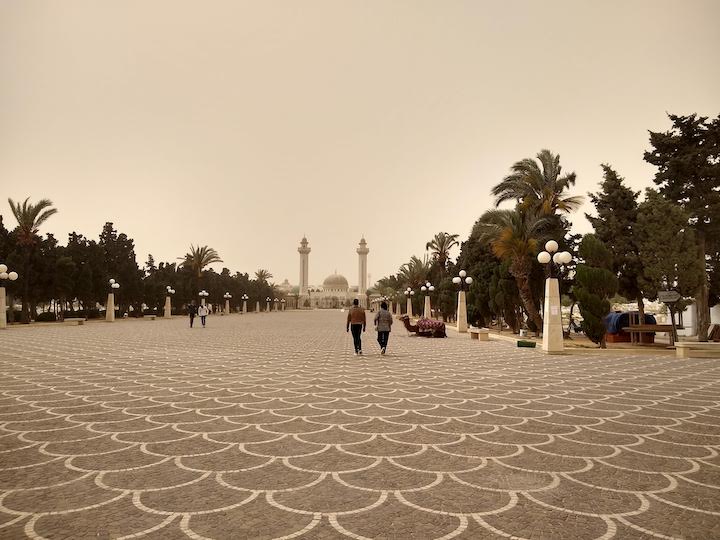 We didn't go inside the mausoleum (I'm not sure if you can), but it's still quite a sight to see even from the outside. 
Monastir is about a 1-hour drive from El Jem and a 30-minute drive from Sousse, allowing you to visit all 3 in a day with about 2.5 hours of driving in total. 
Also remember to prepare a guide for Monastir!
   Day 3: Drive back to Tunis with a visit to Kairouan (overnight in Tunis, approx 3 hrs of driving)
WHAT TO DO IN KAIROUAN  
Kairouan is one of the holiest Muslim cities in the world (it ranks fourth, coming after Mecca, Medina, and Jerusalem) and is an important Islamic pilgrimage site. 
During your stop in Kairouan, you can visit: 
Kairouan's Great Mosque (only muslims can go inside, but non-muslims can enter the courtyard) 

One of the cafes or rug/souvenir stores near the Great Mosque that have a rooftop you can visit (you'll score some amazing views!) 

The medina surrounding the Great Mosque 

Zaouia of Sidi Sahab (The Barber's Mosque) 

Basins of Aghlabides (a network of pools that have provided locals drinking water since the medieval ages…though I wouldn't drink from them now!)  
WHAT TO DO IN TUNIS 
As Tunisia's largest city, one of the best ways to spend your time here is simply letting yourself get lost within the city's extensive medina and many, many souks. (Bonus points if you can find my favorite cafe: Cafe el Medina!) 
For a taste of modern Tunisia, complement your stroll through the old medina with a stroll down the city's most famous commercial street: Habib Bourguiba Avenue.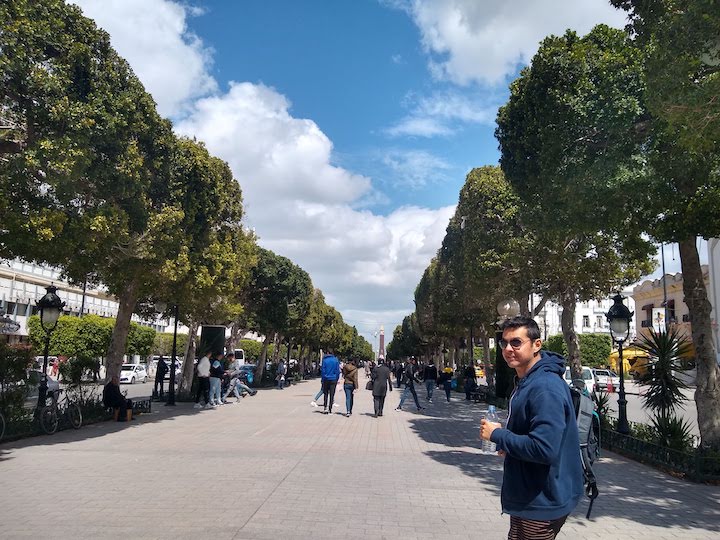 I can also highly recommend doing a free walking tour of Tunis with Saber! We really enjoyed our tour with him, and it gave us a fascinating look into some of the city's hidden corners.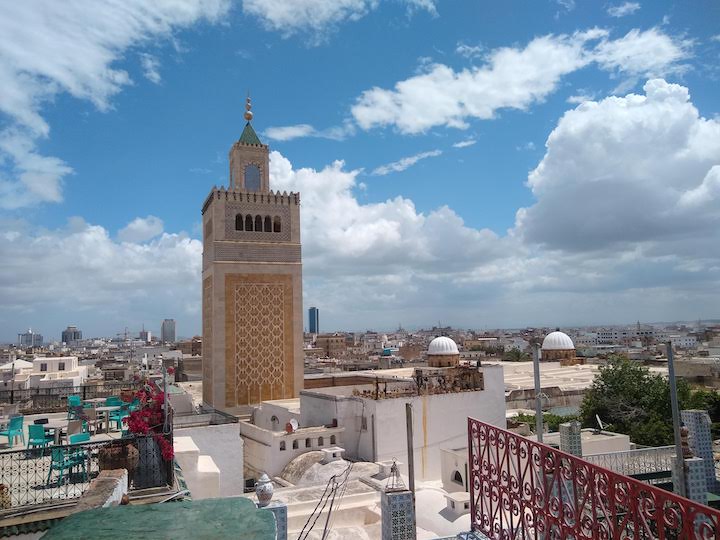 For this 5-day itinerary, I added this free walking tour to day 5 the morning before flying out. But of course, feel free to move this tour around to another day if you have an early flight. 
   Day 4: Day trip from Tunis to Sidi Bou Said and the ancient ruins of Carthage (overnight in Tunis) 
HOW TO VISIT ANCIENT CARTHAGE RUINS  
With just a short metro ride away from Tunis, you'll find the ruins of Carthage, an ancient Phonecian city that was once one of the world's most affluent cities and important trading centers. 
Today, you can visit what's left of this once mighty city as ruins scattered throughout the suburb that's still called Carthage. 
The various archaeological sites of Carthage are pretty spread out, so I'd recommend just picking a few to focus on. If there's one site I recommend you don't miss, it's the Baths of Antoninus (also called Antonine Baths).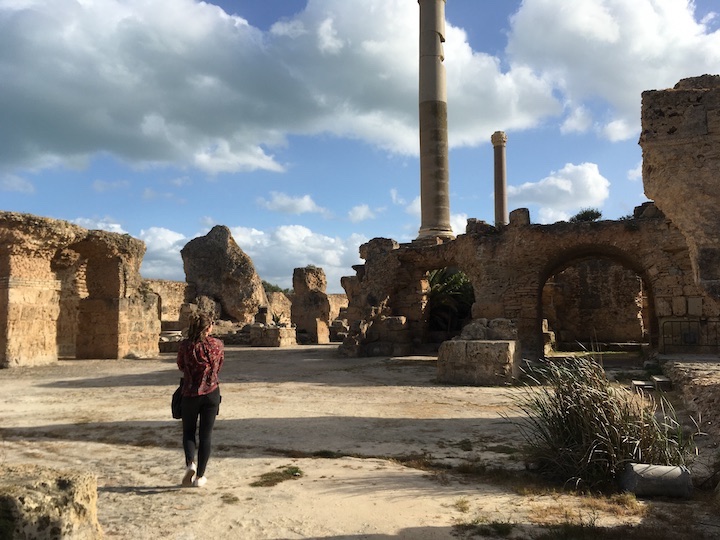 There are a few different Carthage metro stops you can get off at, so choose the one that's closest to whatever site you want to start at. You can buy one single ticket at any of the sites to get access to all the sites.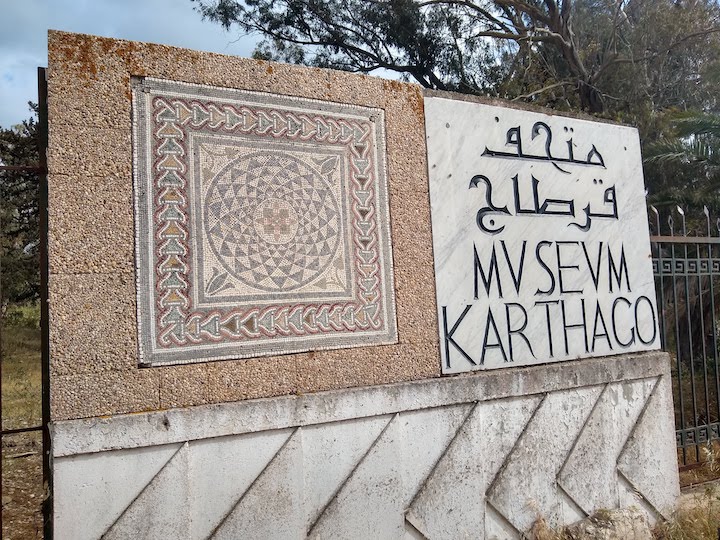 WHAT TO DO IN SIDI BOU SAID 
With turquoise, picture-perfect views reminiscent of Greece's Santorini, Sidi Bou Said is a cliffside suburb of Tunis home to its expats and wealthy citizens.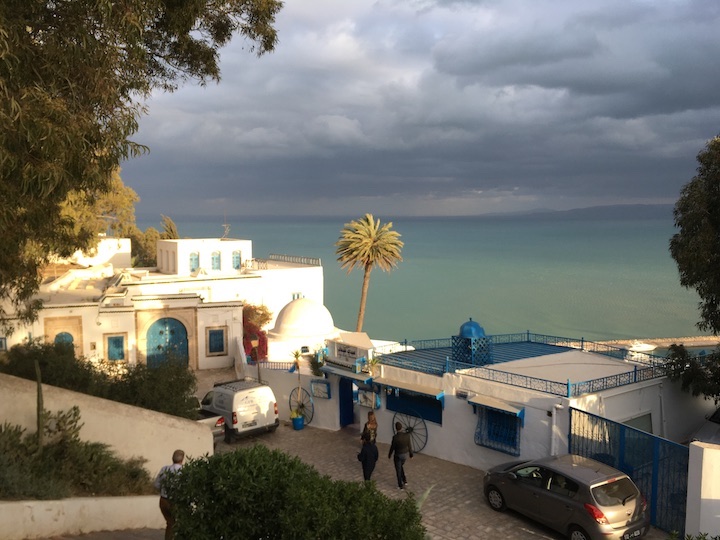 You can get to Sidi Bou Said very easily by metro from Tunis in about half an hour. Once there, the best way to spend your time is with a stroll along the city's pedestrian center to appreciate the views (likely with a selfie or two along the way). 
   Day 5: Tunis free walking tour, Tunisia departure
If you have time, on your last day take the Tunis free walking tour I linked to above on day 3. From there, to the airport you go!  
   4.3 7-day off-the-beaten-path Tunisia itinerary by car 
Our 7-day itinerary will include all of the stops in the 5-day itinerary above (though they are rearranged a bit) as well as a few days in the desert in southern Tunisia. Because of this, there is significantly more spent driving, though I did my best to alternate between short driving and long driving days. 
Thankfully, the scenery on the long driving days is pretty interesting….plus gets you to spots where you'll see far fewer tourists! So if you have the time, I'd highly recommend following this longer, more off-the-beaten-path Tunisia itinerary if you can. 
Note: Google Maps is surprisingly accurate in Tunisia, even for the more remote stops. So just copying the names of the stops I've given here into Google Maps should get you exactly to where you want to go.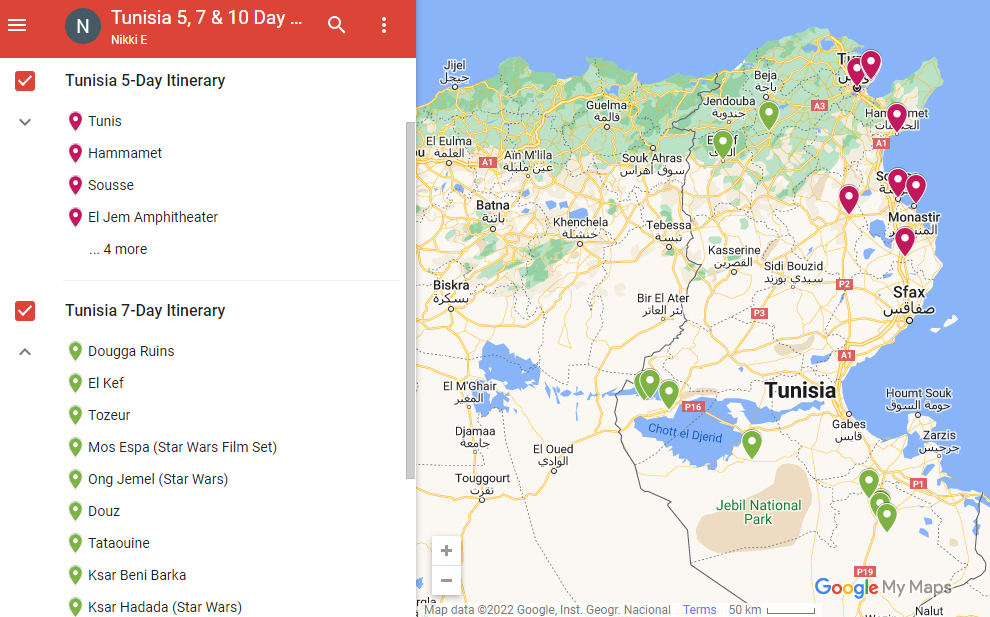 Day 1: Arrive in Tunis, drive directly to Tozeur desert town with a stop at ancient Dougga archaeological site and El Kef (overnight in Tozeur, approx 6 hrs of driving)
Our first day here kicks off with a lot of driving. So if your flight arrives in Tunis later in the day, you may want to spend your first night in Tunis and only begin the drive the following morning. 
Overall, it's a lovely drive taking you through rolling green hills before switching to the desert landscape that many associate with north Africa.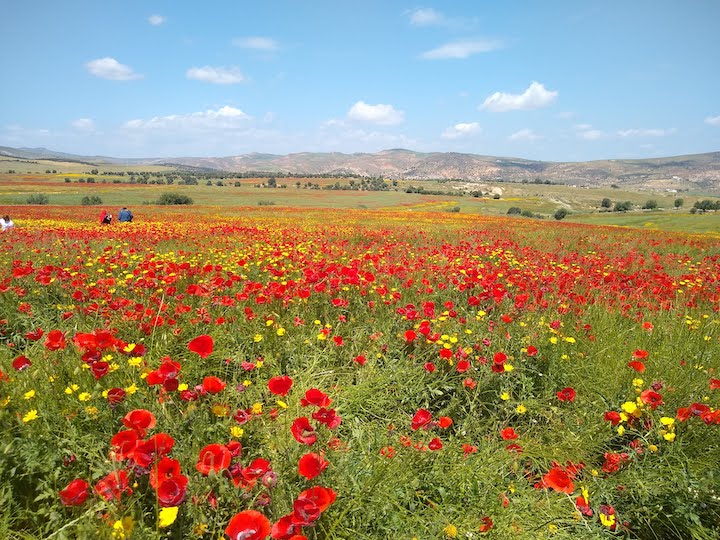 Along the way, you'll have two stops to break up the drive: Dougga and El Kef. 
HOW TO VISIT DOUGGA (TUNISIA)  
The first stop is the impressive Dougga/Thugga archaeological site, which you'll find about 2 hours into your drive from Tunis. Dougga is an ancient Punic/Roman/Berber settlement that sits atop a hill overlooking a valley of olive groves. 
It's a UNESCO World Heritage Site on the grounds that it represents "the best-preserved Roman small town in North Africa." 
Unfortunately, the site was closed during our drive as it was Eid al-Fitr. That said, it was still pretty impressive when we saw it from the side of the road!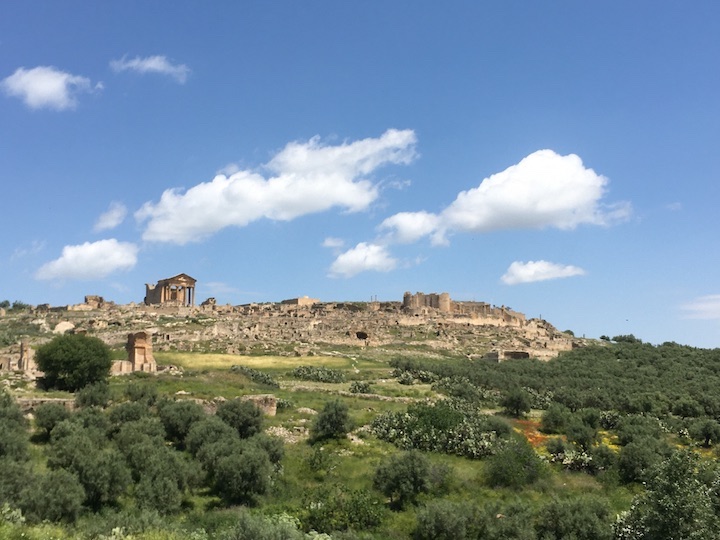 WHAT TO DO IN EL KEF 
Your second stop of the day is the city of El Kef, which you'll find about 1 hour from Dougga. 
El Kef is a small but picturesque city built up the mountain and absent of all tourists (we were the only ones there). You probably won't need too long here, but it's a good stop to stretch your legs as you wander the city's kasbah (an ottoman-era fortress built in the 1600s) and medina for a great view of the surrounding valley.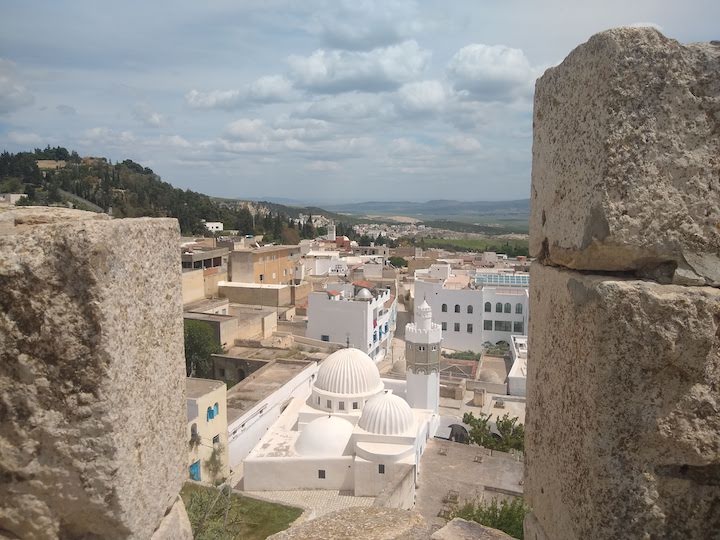 (The best stop to put into your Google Map for this is "Kasbah Square, El Kef.") 
   Day 2: Visit the Mos Espa Star Wars film set, drive over the salt lake from Tozeur to Douz (overnight in Douz, approx 2-3 hrs of driving) 
The city of Tozeur itself is perhaps less interesting than its surroundings (though there is supposed to be a nice park called "The Oasis" which we tried and failed to find). 
So after your overnight in Tozeur, you'll start your morning with a bit of a drive through the desert to visit the "alien" city of Mos Espa. From there, you'll drive through the desert and over a dried, seemingly-never ending salt lake (Chott el Djerid) all the way to Douz. 
Alternative: if you don't feel like driving again today or want to spend more time in the desert, consider staying a second night in Tozeur and signing up for a desert tour. Then on day 3 you can drive directly from Tozeur to Tatouinne and skip Douz. 
HOW TO VISIT THE ABANDONED MOS ESPA STAR WARS SET IN TUNISIA 
Mos Espa is an "alien" city film set that was built in the middle of nowhere about a 40-minute drive through the desert from Tozeur. There are some places on the road with quite a bit of sand, so just keep your eye out and drive carefully so you don't get stuck. 
You can also organize a desert tour from Tozeur with a stop here  if you prefer. 
Once there, it's free entrance and you can explore at your leisure. As you can see by the pictures, it's pretty cool to see even if you're not a Star Wars fan!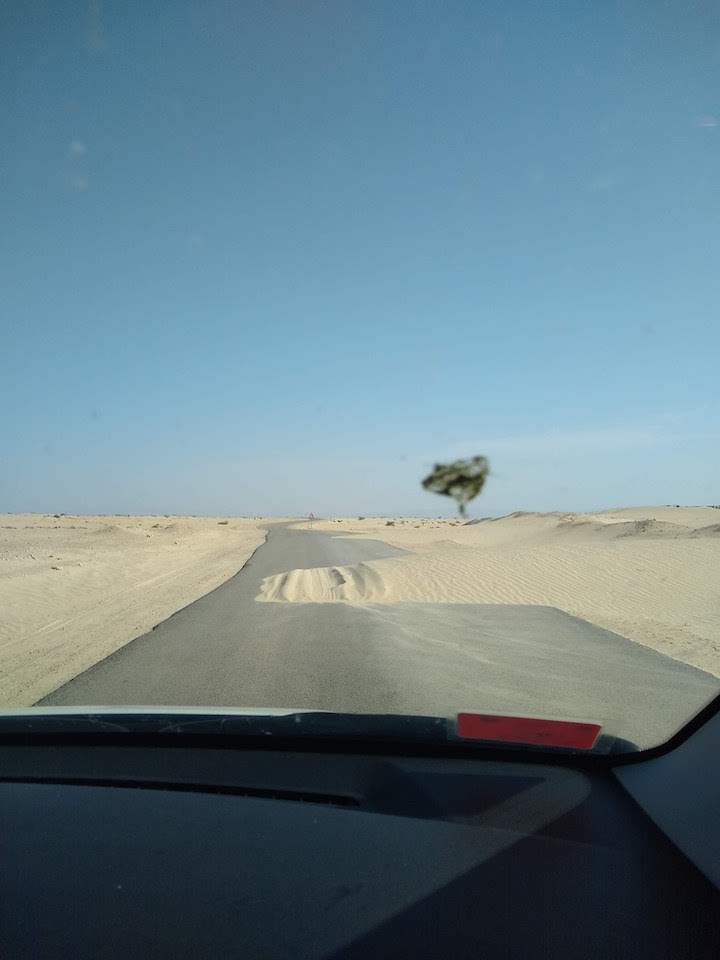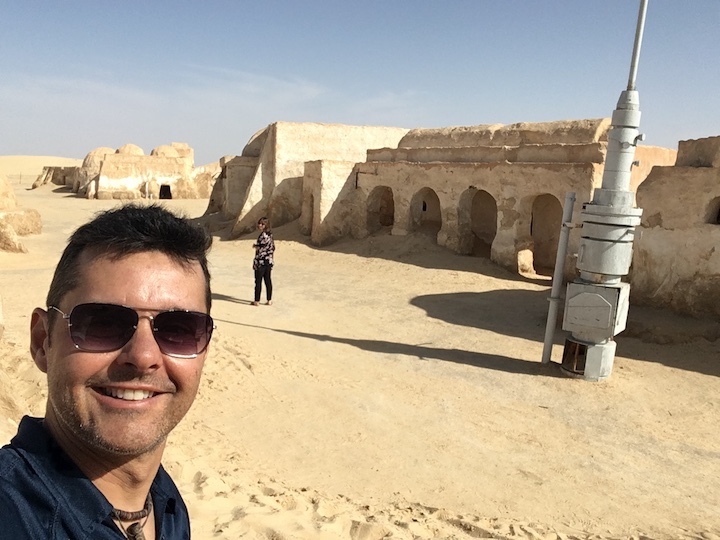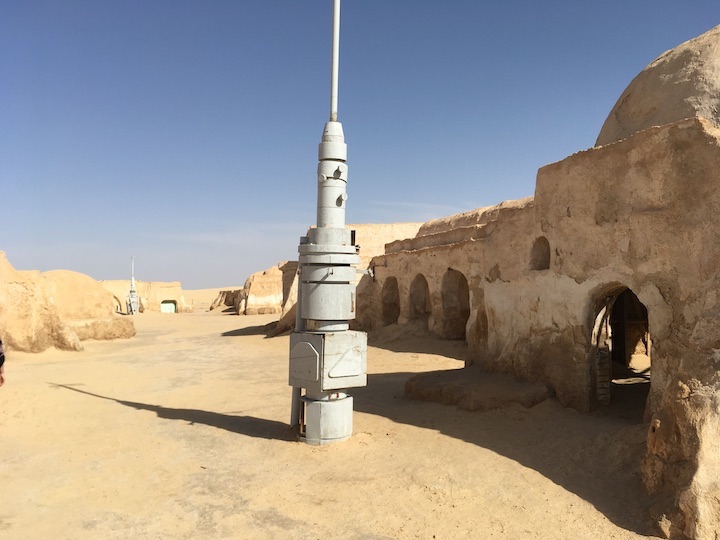 There's also a rock formation not too far away called Ong Jemel ("Camel's Neck") that was also featured in Star Wars. But since we were a little short on time this day, we skipped it. 
   Day 3: Drive from Douz to Tatouinne with stops in Ksar Hadada, Ksar Beni Barka, and Ksar Ouled Soltane (overnight in Tataouine, approx 3 hrs of driving) 
Douz is considered Tunisia's "gateway" to the Sahara as it sits alongside Jebil National Park. So if you're interested in desert excursions, consider extending your time in Douz (we've already spent a lot of time in deserts, such as the Wadi Rum in Jordan, so we decided to skip the desert adventure this time). 
Otherwise, the stops on this day may very well have been my favorite…including unique Berber structures unlike anything I've ever seen before – and that were later used as Star Wars film locations – and an eerie abandoned fortress atop a hill where you're unlikely to see another soul. 
WHAT TO DO IN TATAOUINE (OR HOW TO VISIT TATOUINNE'S STAR WARS FILM LOCATIONS IN TUNISIA)  
As with Tozeur, it's the surroundings rather than the town itself that make it worth a stay. So before you stop in Tataouine for the night, these are the three stops I recommend you make (in this order). And don't forget you can also see exactly where they are on our itinerary map here. 
(P.S. And yes, the planet named "Tatooine" in Star Wars was taken directly from this very same Tunisian town named "Tatouinne.")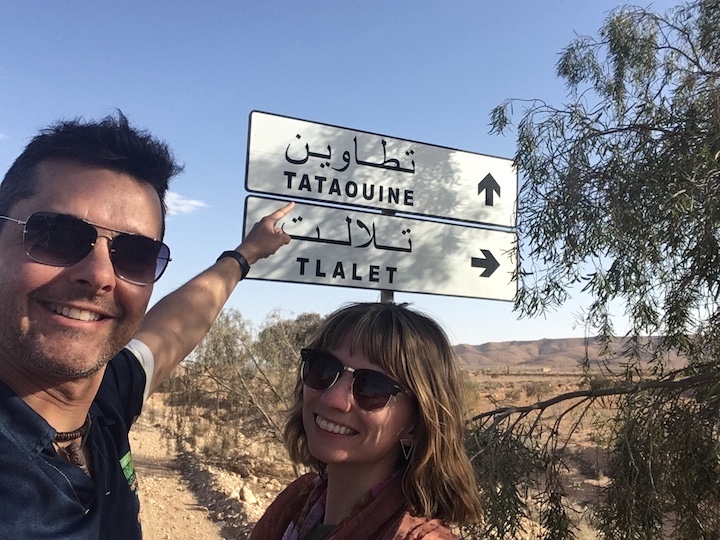 Stop #1: Ksar Hadada (500-year-old Berber structure, Star Wars filming location) 
Once a fortified granary built by the Berbers, Ksar Hadada's now abandoned cave-like structures were later used as the slave quarters in Star Wars Episode 1.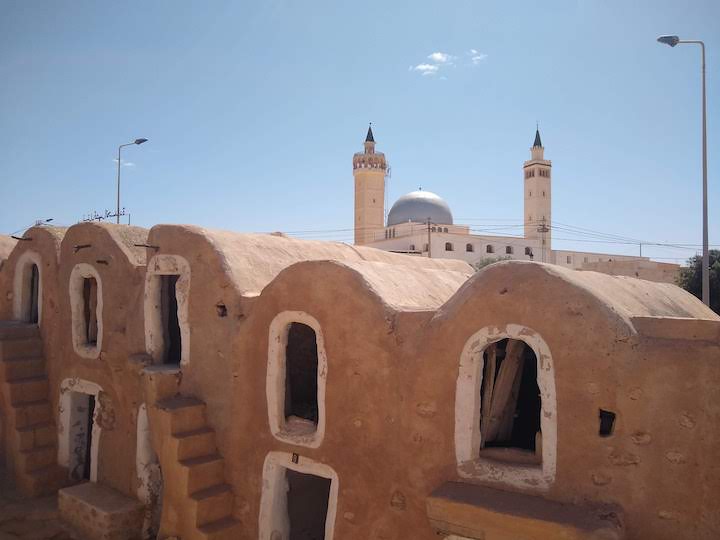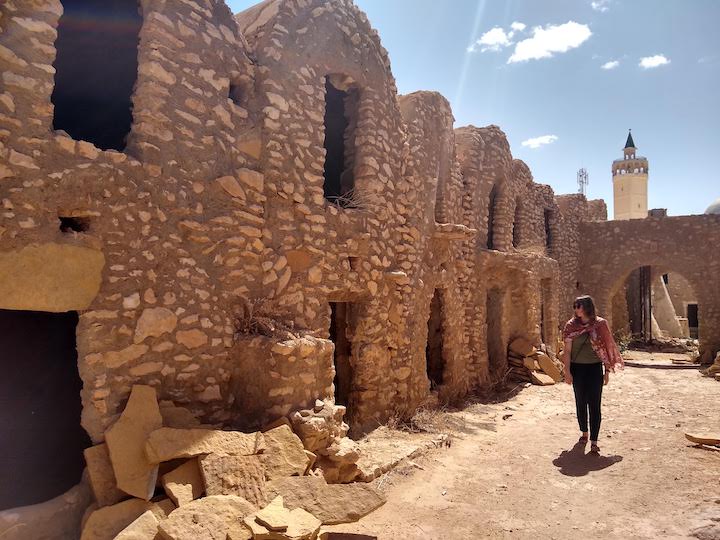 It looks like there was briefly a hotel here, but that appears to be long since forgotten about. We weren't honestly sure if it was open for visitors or not as it was walled off and the main door was closed. However, we simply knocked on the large wooden door and a man who appeared to be the caretaker let us in. 
Note: this was a little hard to find as Ksar Hadada is also the name of the village. Your best bet is probably to put "Mosque Blacksmith Palace" into your Google Maps. The stop you're looking for will then be just across the road (look for the wall and the info sign about Star Wars film sets that looks like the picture below).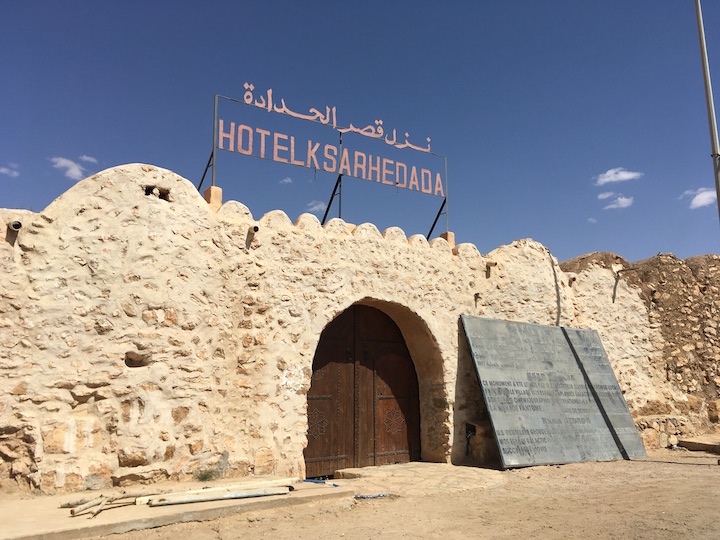 Stop #2: Ksar Beni Barka (abandoned cave dwelling and fortress – and the coolest stop on our entire trip!)  
Ksar Beni Barka was, hands down, one of the coolest stops on our entire trip.  
Located at the end of a remote winding road, Ksar Beni Barka is an abandoned cave dwelling and fortress built by the Berbers (in the 15th century?) as protection from Bedouin attacks.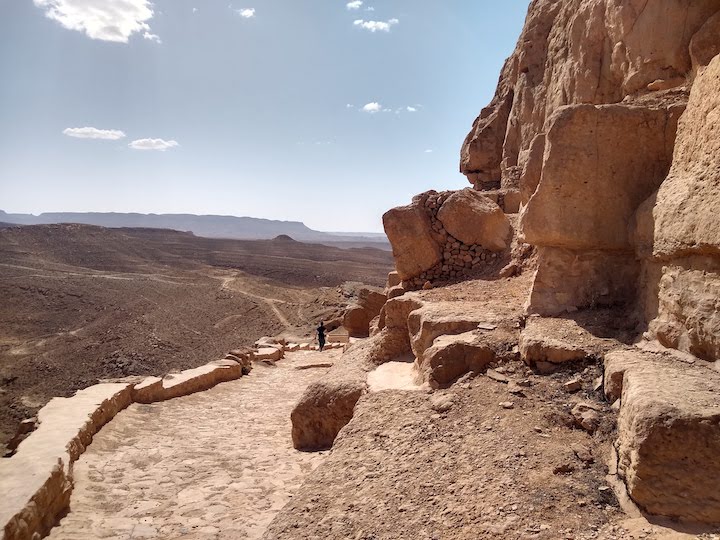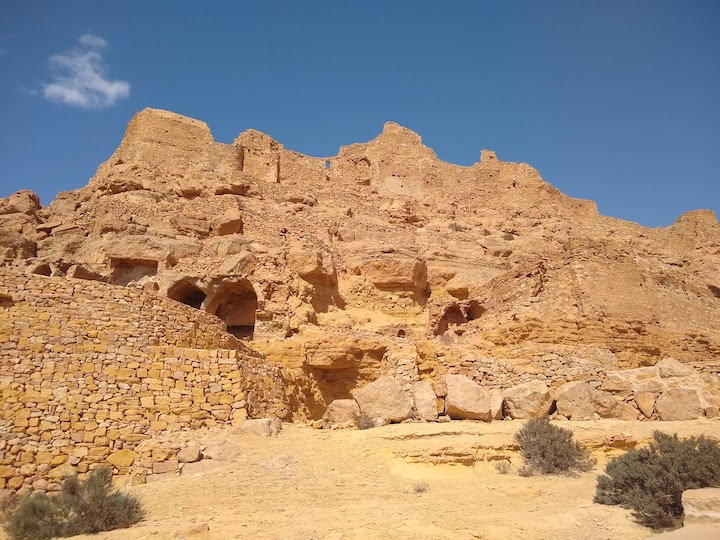 It's an incredible place and, if you go, you'll likely have the entire place to yourself like we did. There's no ticket office, staff, or barriers making any part of the complex off limits to visitors. 
Unfortunately, we were able to find very little information about the fortress itself as there were no signs at the site itself and pretty minimal sources online. This website was about as good as we could get. 
So if you are able to learn anything more about the history of this place, please let us know in the comments below! 
Stop #3: Ksar Ouled Soltane (500-year-old Berber structure, Star Wars filming location) 
To finish out your day, you'll make a stop at the truly otherworldly Ksar Ouled Soltane. 
Like Ksar Hadada, this is another fortified granary built by the Berbers 500+ years ago that was also chosen by George Lucas as a filming location for Star Wars. 
And after looking at some of the pictures below, I think you'll see why!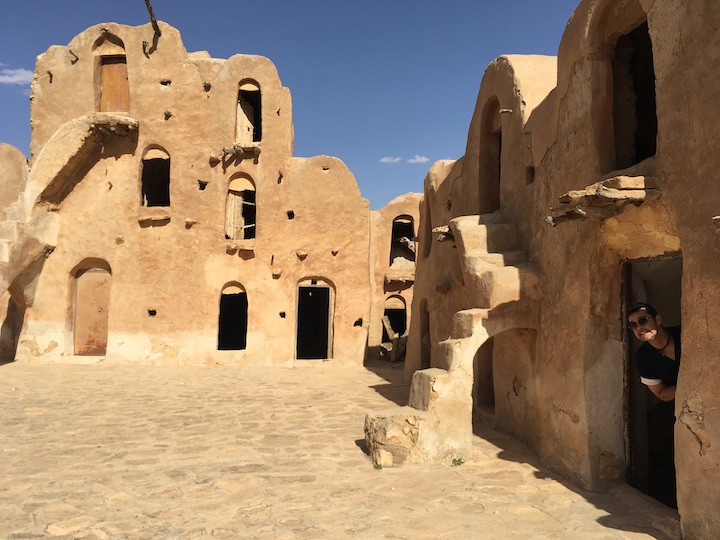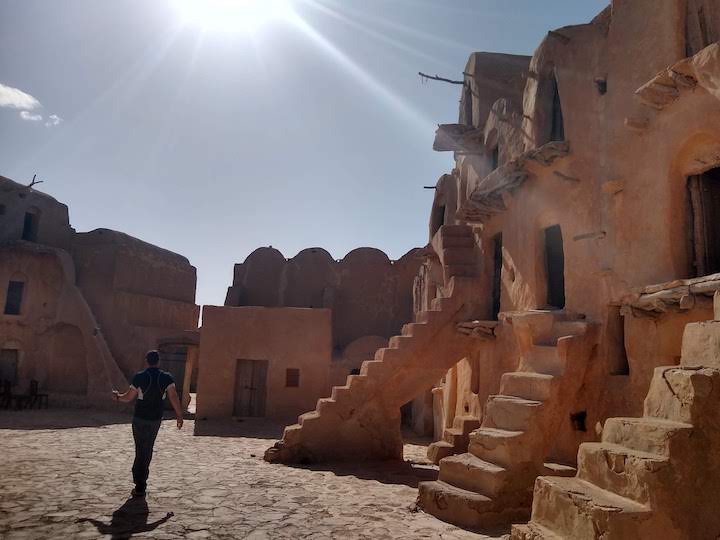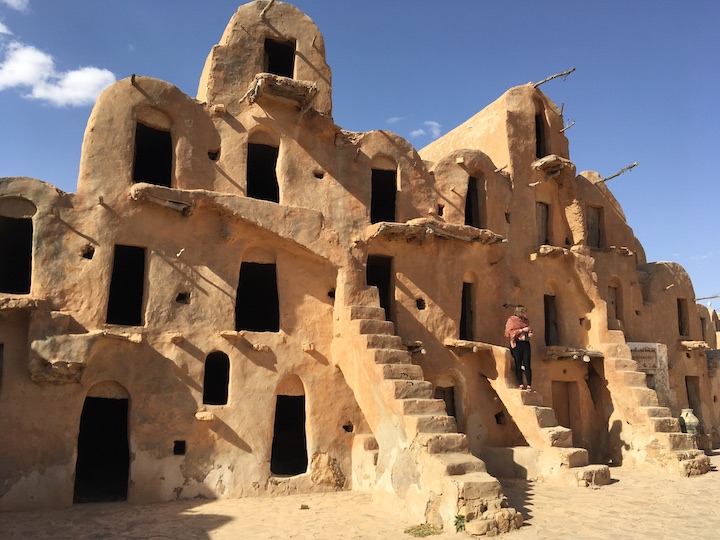 Day 4: Drive from Tatouinne to Sousse with stops in El Jem Amphitheatre and Monastir (overnight in Sousse, approx 6 hrs of driving) 
On day 4, you'll have a bit of a drive ahead of you. But thankfully, you'll have two great stops to break up the trip! 
Please see day 2 of the 5-day Tunisia itinerary above for more on what to do in El Jem and Monastir. 
   Day 5: Visit Sousse medina and archeological museum, drive to Tunis with a stop in Kairouan and Hammamat (overnight in Tunis, approx 3.5 hrs of driving) 
Please see day 1 of the 5-day Tunisia itinerary above for more on visiting Sousse and Hammamat, and day 3 for more on visiting Kairouan. 
   Day 6: Day trip from Tunis to Sidi Bou Said and the ancient ruins of Carthage (overnight in Tunis, no driving needed!)
Please see day 4 of the 5-day Tunisia itinerary above for details on how to make day trips from Tunis to Carthage and Sidi Bou Said. 
   Day 7: Tunis free walking tour, Tunisia departure
For your final day in Tunis, join a free walking tour with local guide Saber! Free walking tours are one of the best ways to get an inside look into somewhere new, and Saber's tour didn't disappoint.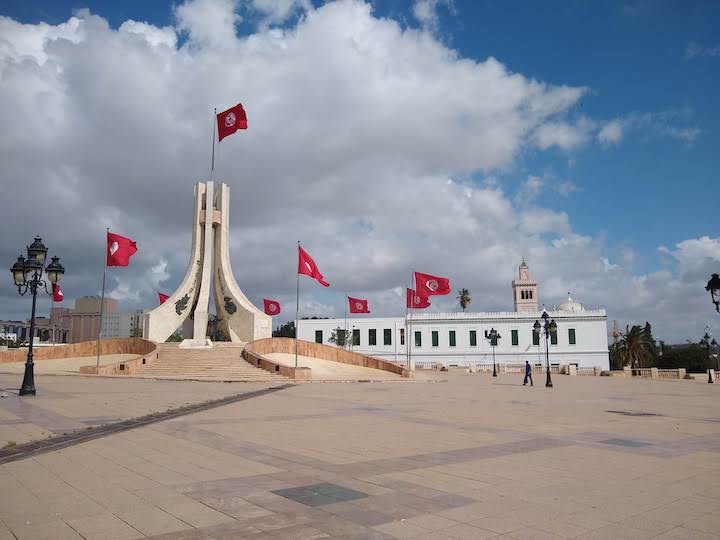 If you have an early flight on your last day, feel free to move this tour to the morning of day 6 before visiting Carthage and Sidi Bou Said. 
   4.4 10-day Tunisia itinerary by car 
To extend your stay in Tunisia, I'd recommend first using our 7-day itinerary as a base, and then adding in some days in the desert or at the beach. 
If you're interested in desert excursions like camel tours, hiking, or overnight camping/glamping, look at tour companies operating from Douz or Tozeur. 
If you're interested in spending some more time on the beach, look into any of the many seaside resorts near Sousse, Tunis, Hammamat, or the famous party island of Djerba. 
As a reminder,here is the map with the stop options for your 10-day Tunisia itinerary.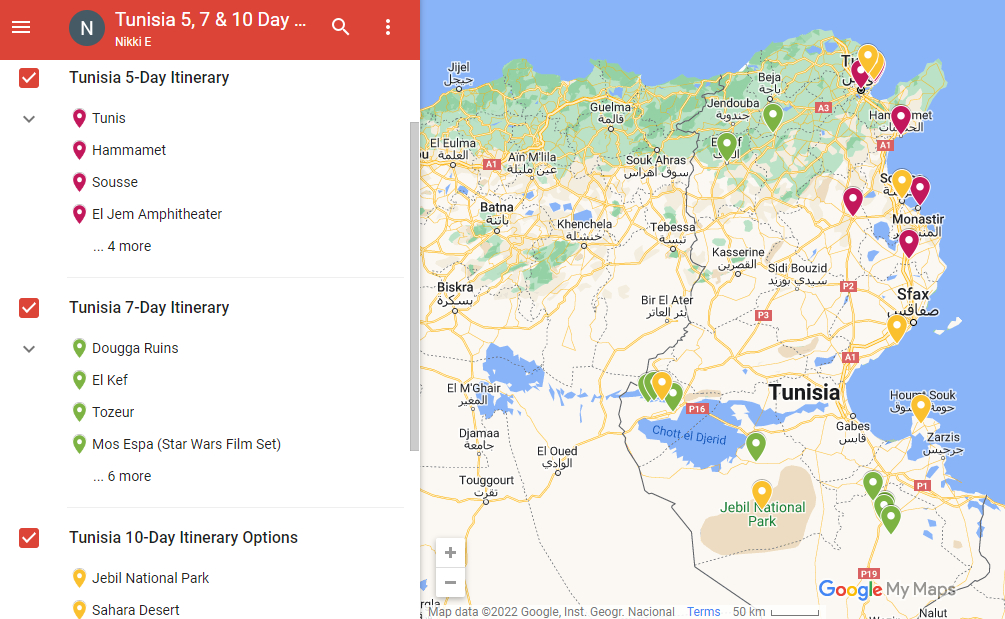 5. FINAL TIPS FOR VISITING TUNISIA 
Before we go, here are a few final tips to take note of before your trip: 
Few places accept credit cards so keep cash on hand.

If you're trying to get to Europe from elsewhere in the world (like somewhere in North or South America), remember that a flight to Tunisia and then a separate flight to Europe may actually be cheaper than flying directly to Europe. It was for us, at least!

If you're going to be driving and want data to use a map on your phone, you can buy a SIM card very cheaply right at the airport when you arrive (there are 3 vendors –  who are all more or less the same – right in the main entrance hall).

Don't underestimate the desert heat…bring water, sunscreen, and good clothes! 

The famous Bardo Museum (home to the world's largest collection of Roman mosaics) in Tunis has been closed for the last few years with no apparent plans to re-open. The Archaeological Museum in Sousse makes a good alternative. 
Other activities, attractions, and tours to do in Tunisia

Still looking for some other attractions or tours you can do in Tunisia? If so, I recommend taking a look at Get Your Guide or Civitatis to see your options with local tour operators. Just give the links below a click, and search for your destination and dates.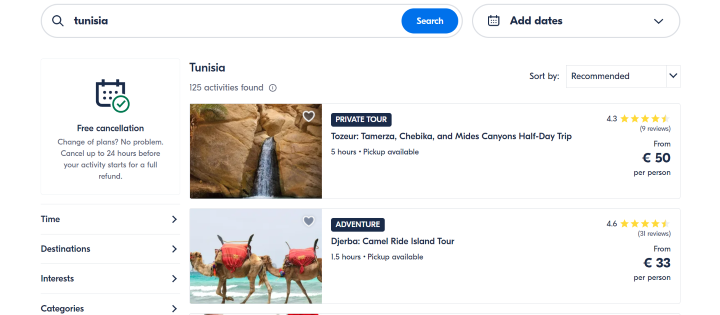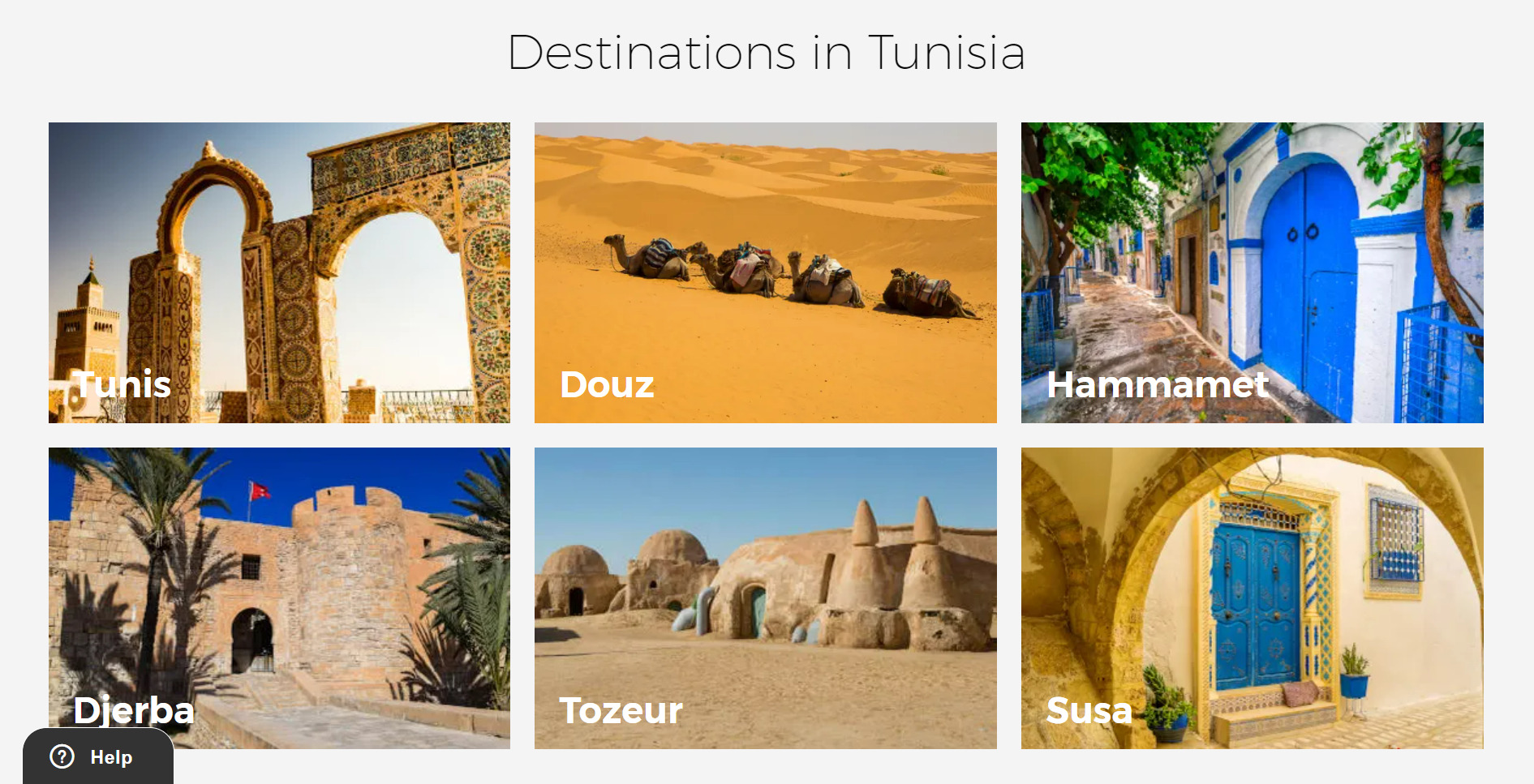 And that's it! I didn't arrive in Tunisia with a lot of expectations, but I was truly blown away by my time there and feel confident that you will be too. 
So on that note…if you've been to Tunisia before and have any additional advice you want to share or if you have any final questions before your trip, let us know in the comments area below and we'll get back to you! 
P.S.: This story was also featured on Drive South Africa!
Planning your next trip?

Then don't forget travel insurance! You don't want to get stuck paying a ton of money and ruining your trip if you get sick or have an accident without travel insurance. WorldNomads is ideal for adventurous travelers, backpackers, or anyone looking to be protected during their trip. They cover almost every single activity you can image!

Already reserved your hotel or hostel? If not, we recommend Booking.com. They have a huge selection of hotels and hostels all over the world. Plus, in most cases, you can cancel your reservation without any costs up to a few days before the check-in date!

Still haven't booked your plane ticket and want to save big? Take a look at Momondo. It's a flight aggregator that combines several other ticket search websites to make it easier for you to compare prices and make sure you are getting the best deal.
And finally, will you need to rent a car during your trip? Then check out Rentalcar.com to search and compare car rental companies from all over the world in a single website. Then, you can find the cheapest price for the best car!